We used our time backpacking in Malaysia to recharge the batteries while battling and overcoming our first case of travel burnout.
So our visit was all about relaxing, eating, working and watching Netflix. This was exactly what we needed and it came at just the right time.
After getting PADI certified in Indonesia, our only regret was not having the energy to visit the Perhentian Islands on the East coast of Malaysia for some diving. But we just couldn't muster the enthusiasm and we didn't want to force it. We needed a break.
Our first 11 days were spent in Kuala Lumpur followed by 15 days on the island of Penang. In Kuala Lumpur we used our time to revisit our favorite sites from our first visit with my friend, catch up on the blog, explore new areas of the city and secure our visas for China.
15 days in Penang was spent relaxing, writing, editing photos, planning our trip to South Korea, exploring Georgetown and trekking in the Taman Negara National Park.
Overall, we think Malaysia is a great country to explore in SE Asia, even though it doesn't have the appeal of its neighbors.
We do plan to revisit the east coast and get a visit to those Perhentian islands done in the near future, now that we are rested.
---
Backpacking in Malaysia: 3 Week Recap
---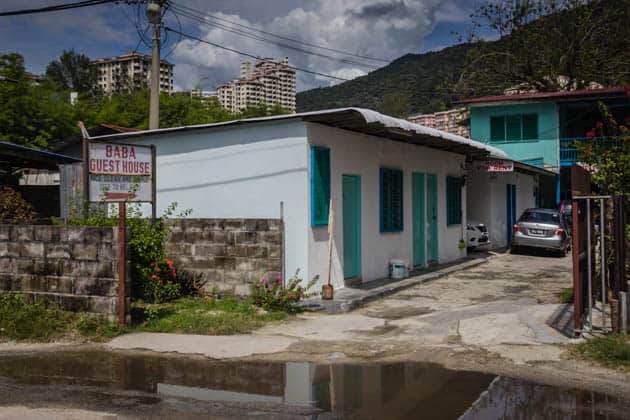 What We Loved About Backpacking in Malaysia
Our guesthouse in Batu Ferringhi on Penang was just perfect; we would literally wake up, eat and head to the beach. They provided us with beach mats and we would spend most of our days reading books and enjoying the sunshine.
The bus system on Penang. It is incredibly affordable and reaches everything you can imagine on the island. We used it to travel to Taman Negara National Park, Straights Quay and Georgetown.
The buses were super clean and the drivers were all so nice, despite that they didn't all speak English. They would go out of their way to make sure we were on the right bus and had the right tickets.
The Penang locals. We met so many incredibly warm hearted people during our stay in Penang. We would visit one of the local cafes on the corner daily and the owner would come right over to visit with us.
The owner of our guesthouse would check in with us daily to make sure everything was good and to have us tell him about our day. We learned so much about the people and the island through these interactions and this was so special to our visit.
Having a chance to show one of my best friends the Batu Caves in Kuala Lumpur. When David and I got married we did a 3-week backpacking honeymoon through SE Asia and visited the Batu Caves.
It is the only thing that stood out to me about Kuala Lumpur from our visit and it was incredibly nostalgic to revisit it with my friend.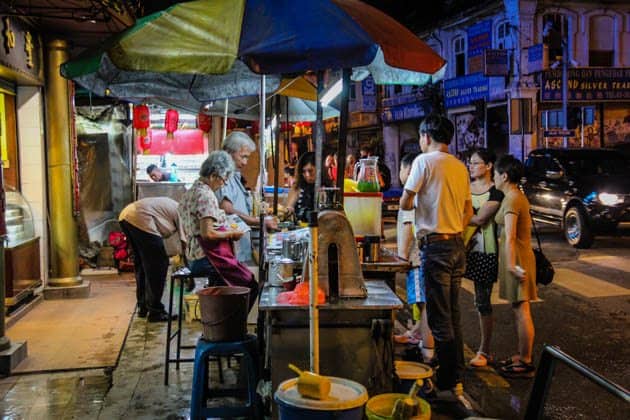 What We Didn't Love About Backpacking in Malaysia
Kuala Lumpur. Yes, a return visit couldn't do much to change our original feeling about this huge third world city. We just plain don't like it. Every city we visit has a vibe, some of them we mesh with and some of them we don't.
This city is a big NO LIKEY for us. We thought our original visit opinion was made on false pretense since we only had one full day, so we were eager to revisit and give it a chance.
To no avail, after spending 10 days in the city, we just plain don't like it and have no plans of ever returning, with the exception of transiting through the airport.
Street food prices. This is a very minor dislike, but we figured warranted a mention. We found the street food prices in Kuala Lumpur on the expensive side.
Often times we found the street food was more expensive then the local restaurants. This was in all the major street food areas, Petaling, China Town and Jalan Alor. We didn't expect this, so it was disappointing. No reflection on the food though.
Garbage in the Ocean after a huge thunderstorm. During the last couple days we spent in Ferringhi we had some huge thunderstorms that caused some flooding. Naturally this flooding pushed some things into the Ocean that didn't belong there.
We had just finished up a relaxing swim where we stood up and started walking to the beach only to find a sanitary napkin bag, complete with tampon, floating in the water. YUCK.
Getting ripped off in our guesthouse in Kuala Lumpur. Yes, we had money stolen from us in Kuala Lumpur.
We had returned to the guesthouse after a day at the Chinese embassy applying for our visas for China to find our room turned over. Not in a super obvious way, but for someone like me, with an incredible sense of detail, I noticed right away.
Our things had been rummaged through and after counting our money stash (which we had hidden in the LINING of our backpack) we realized we had been robbed.
We marched straight to the front desk to ask why our room was 'cleaned'. The first answer was that is hadn't been. Then we were told, 'oh you left the key with us'. I was holding said key at the moment.
Which resulted in a large amount of backpedaling followed by a question about there being a problem. I informed them of the theft and asked for the manager. It wasn't easy but after a serious fit we were reimbursed.
I am still shocked they turned it over. I think the only thing that saved us here was that I had the dollar amount written on the envelope and it was clearly short. Plus one of the staff members admitted he had entered the room in front of the manager and us. It was an awful experience.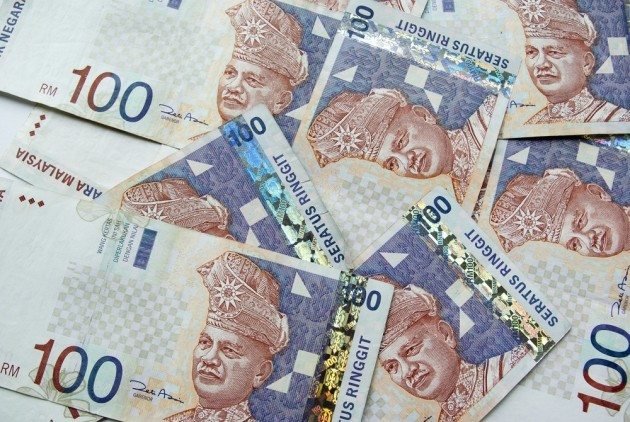 What Did We Spend?
We spent an average of $46USD per day for 2 people while backpacking in Malaysia. This included a private room and 3 meals per day. Needless to say, we were thrilled with this number as our target was $50USD per day.
Honestly speaking, it was a pretty uneventful 3 weeks for us in Malaysia. This kept us way under budget, so I can't complain and by unexciting I mean most of our time was spent lying on the beach.
Transportation: We hopped a flight to Kuala Lumpur from Sumatra for a whopping $20 each on AirAsia. Once in Malaysia we used a bus to get into Kuala Lumpur and then used the metro while we were in the city. From the city we took a coach bus to Penang, where we used a taxi to get to Ferringhi and then spent the rest of our time there using the local bus system. This system was cheap and very efficient for traveling around Penang.
Accommodation: We spent most of our time staying at the Baba Guesthouse, which was a step from the beach. We had a private ensuite room with a desk, refrigerator and A/C. It was heaven for us for the 10 days we spent there.
Activities: We didn't do much here that didn't involve a beach mat and sunscreen. We did do some trekking in the Taman Negara National Park and this only cost us the RMB6 we paid for a bus ticket there and back (for both of us). Hiking in the park is free and we got a really nice 6-hour hike done there. We also did a lot of walking in Georgetown but again; this was free.
Food: In Kuala Lumpur we lived on a combination of local noodle dishes, street food and Subway sandwiches. In Penang, we bought eggs and hardboiled them at the guesthouse for breakfast and dined at the local cafes for lunch, eating mostly fried rice dishes. For dinner we would visit the night market and gorge on the local dishes. In Georgetown, we lived on street food and it was amazing.
Our Backpacking in Malaysia Favorites
Favorite Beach: Monkey Beach, Taman Negara National Park, Penang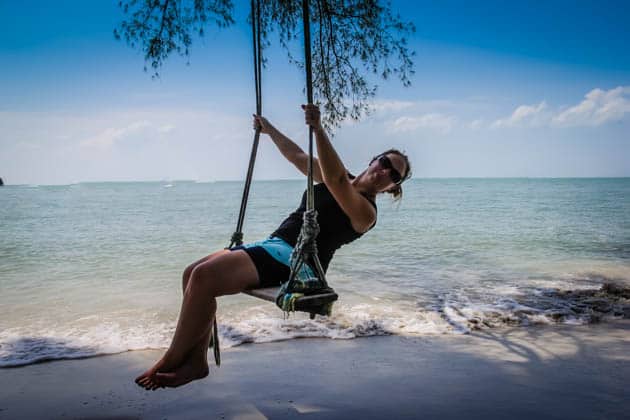 Favorite City: Georgetown, Penang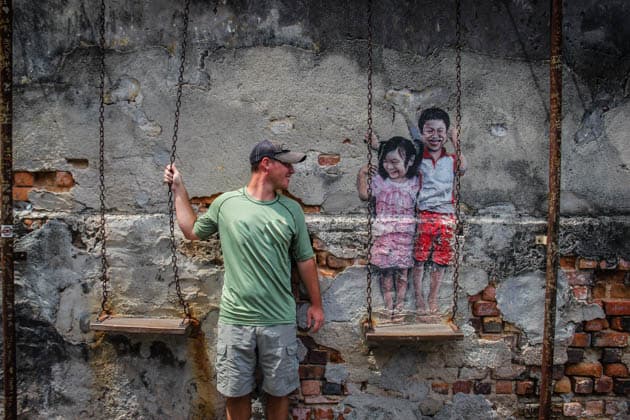 Favorite Activity: Jungle Trekking in Taman Negara National Park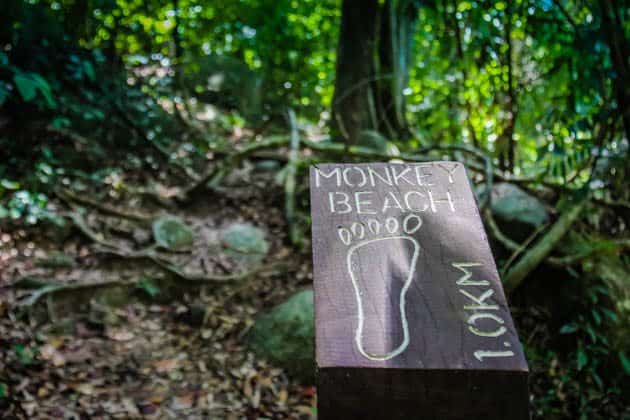 Favorite Meal: Wan Tan Mee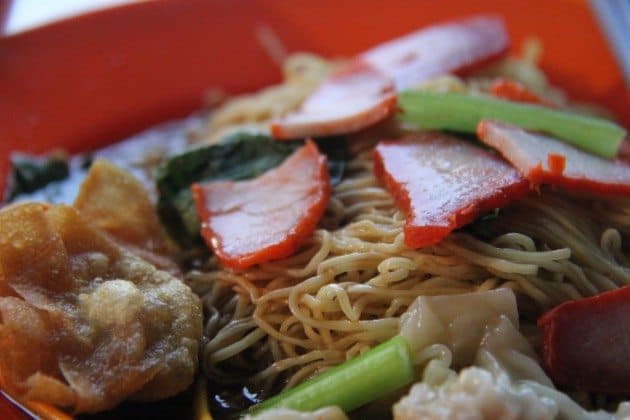 More on Malaysia:
Did you like this story? Share it!