When I think of Malaysia I think of rich culture, sandy beaches and endless adventures from Kuala Lumpur to Penang. Terengganu has been on our radar since our past visits but no matter how hard we tried we just never made it to the northeast. We were finally ready to explore Terengganu when we were invited to join the 2015 International Squid Jigging Festival.
The Duyong Marina and Resort in Kuala Terengganu was our main base for the duration of the festival. It's just a simple cab ride to enjoy the different local markets, museums, the Crystal Mosque, beaches and even simple half-day or full day trips to all of the tropical islands that sit just off shore. It was nice to wake up and watch the sunrise over the ocean. After a full day and a half of travel we were in need to some much needed R&R and the rooms were a huge surprise to us with lots of room.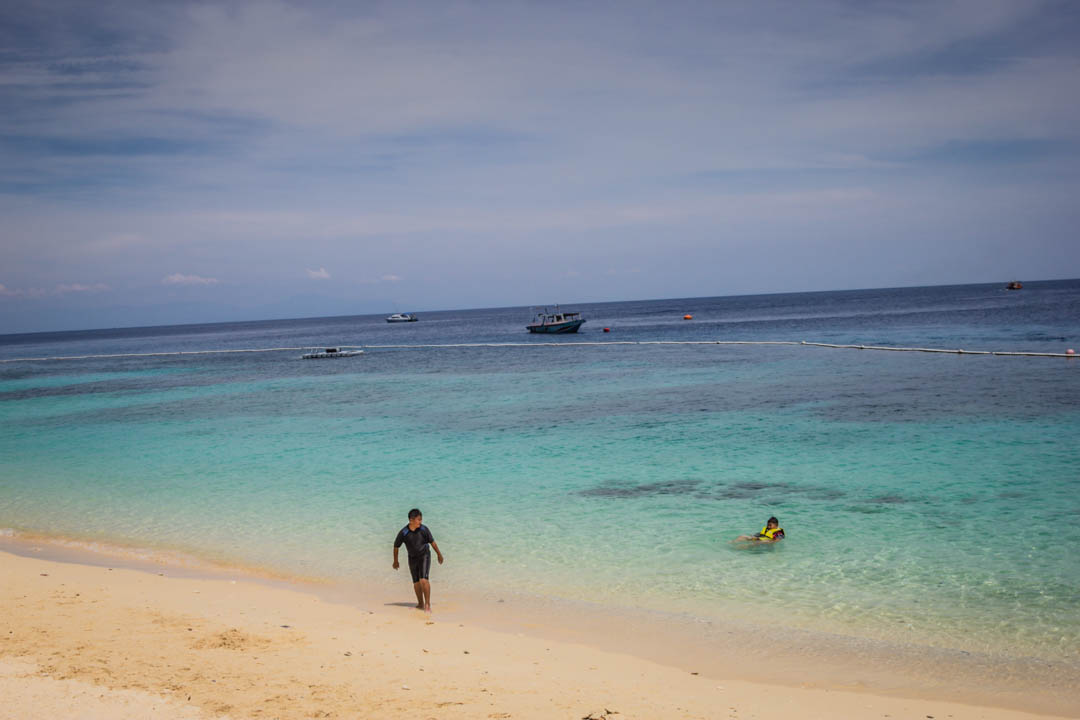 Redang Island
One of the best places to get off shore in Terengganu is Redang Island. This was the first place we headed to kick off the festivities on the 2015 International Squid Jigging Festival. With sand under our feet we made our way to the unexplored parts of Redang, relaxed on the beaches, stayed in beachfront properties and then headed out to sea to kick off the squid jigging event.
The islands off the coast of Terengganu are best known for some outstanding scuba diving opportunities and while we didn't get our masks wet this time around but we spent plenty of time on the water hanging off the side of a squid jigging boat in which we came up totally skunked. It is harder to squid jig then people think!
Our little time spent on these islands only fueled our need to head back to Malaysia soon to do some scuba diving and some much needed R&R.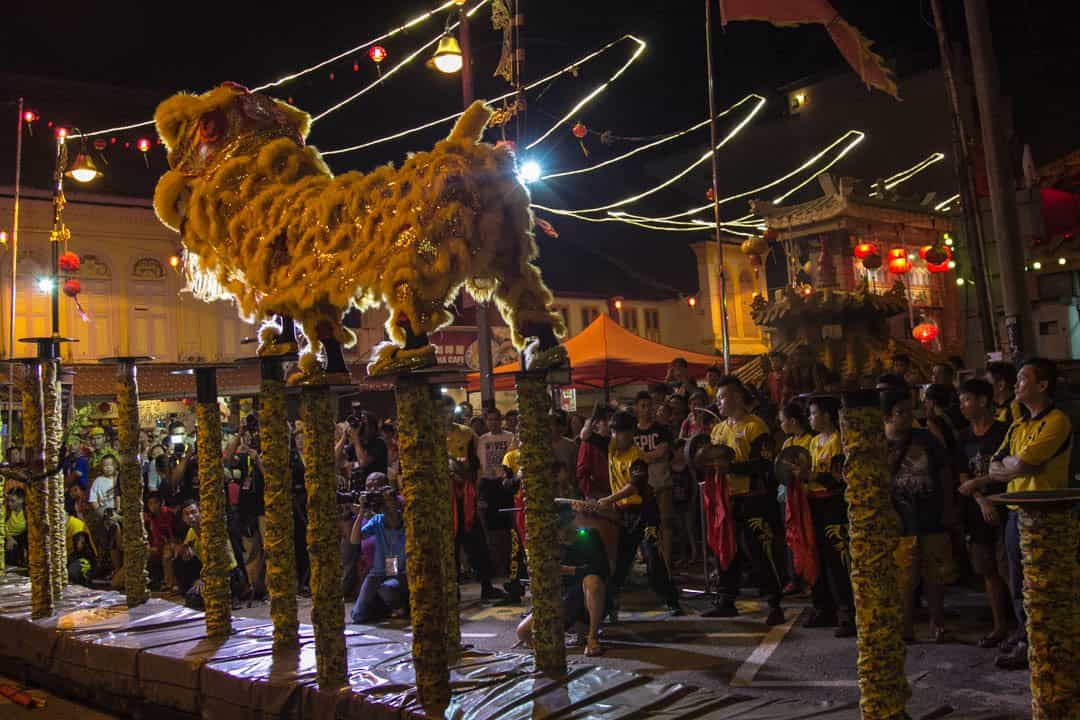 Terengganu Peranakan Festival
Back on the mainland, we filled our days with various day trips around Terengganu state. One of the highlights of this trip was taking part in the Terengganu Peranakan Festival in the streets of China Town. Just like other parts of Malaysia, when the sun goes down, the lights start shinning and the towns come to life. Setting foot into the China town district of Kuala Terengganu transported us straight into culture. The cobble stone streets smelt like local Chinese food and above the street hung large decorations of red lanterns.
The festival was lively with the drums beating and large dragons moving to every beat. Down from the large dancing dragons were two lions. One lion was red and the other was white. Once the music started up the two lions danced together on tall pillars. The pillars started out at four feet and went up to eight feet high. Each pillar was spaced a good part from the other pillars. The lions jumped from pillar to pillar performing a magical dance while doing handstands and hopping on one foot.
The rest of the night provided more entertainment from local and national singers.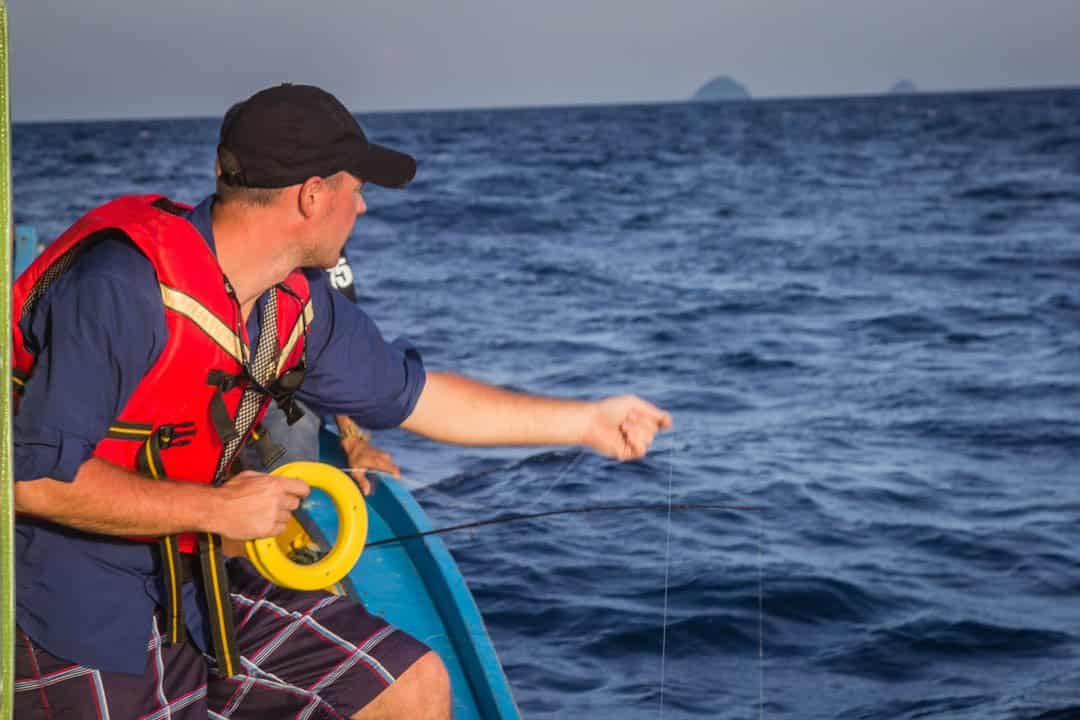 The Main Event Squid Jigging
Warning: Squids were harmed/hooked but enjoyed by everyone as dinner and they were good!
What is squid jigging? In my terms, it's fishing for squids with a round spool. Yes, you can use a fishing pole but that's not the way the locals do it. Once out on the water we were given basic instructions on technique followed by tossing the line and lure into the deep ocean water. What technique is used? You just let the line out until it hits the bottom then you use your arms to create a bounce that moves the jig up and down just off the seabed in hopes of catching a squid. It's that simple.
Knowing best, our captain found a good spot for us to drop our lines into the water. Squid jigging is just like fishing anywhere else in the World, it takes time. We placed ourselves on the right side of the boat, Lina was sitting at the back and I was sitting in the middle. Our arms grew weak as we jerked them up and down to bring the jig off the seabed.
After what seemed like ages, Lina gave out a yell. She had felt a tug on her line but wasn't entirely sure she had caught a squid. Pulling up the line is not a quick process as you let several meters off to reach the seabed. During the reel in, she could barely feel the squid on the end of here spool but she kept on puling in the line. As it made it to the surface she could finely see that she had really succeeded in catching a squid!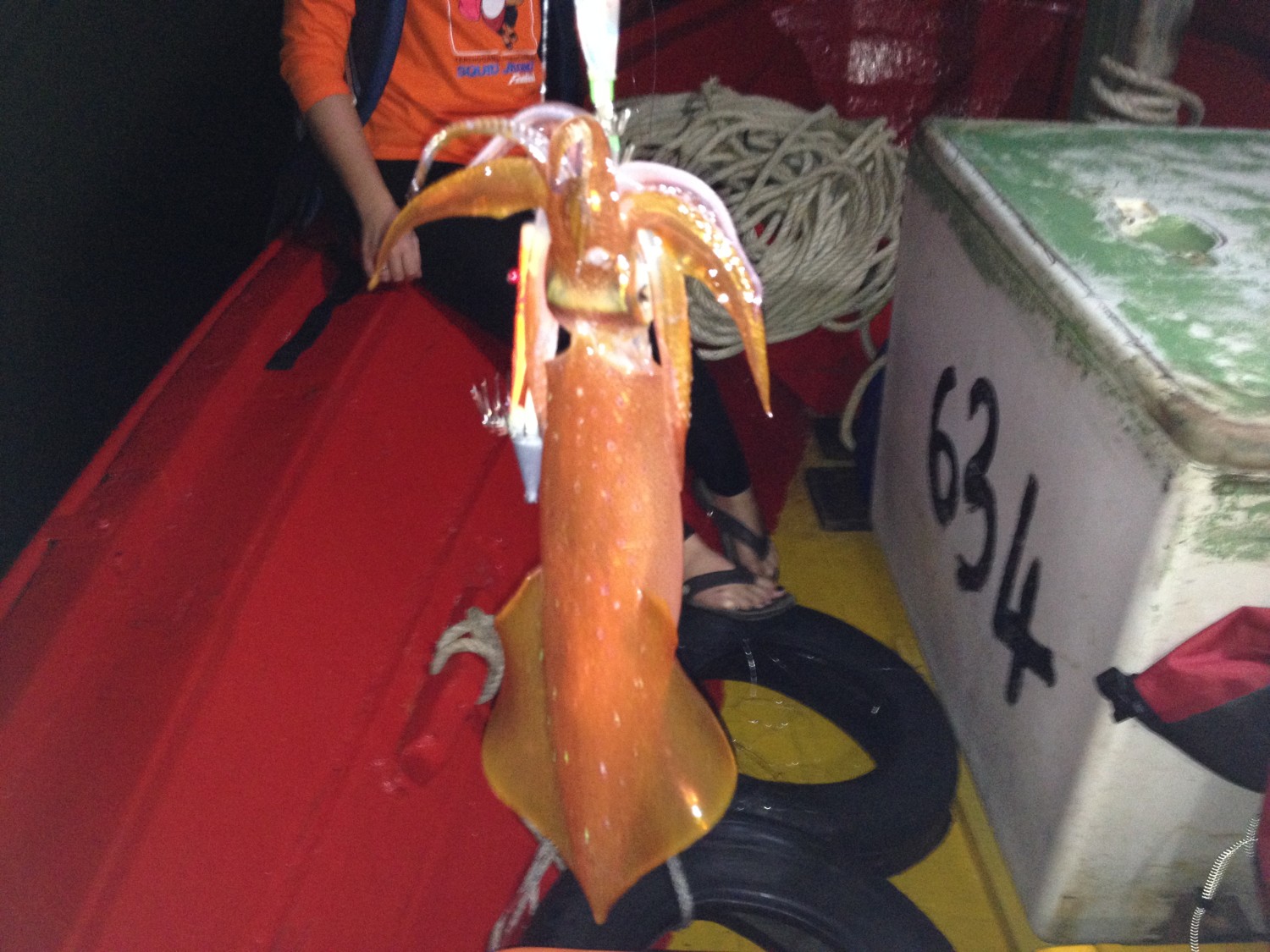 Tips for Catching that Trophy Squid
-Pink or Yellow lures with large amounts of metal or luminous strips on them are the best for getting the squids attention in the water.
-Jigs come in different weights, try to select a weight that allows your lure to slowly sink down towards the seabed.
-Not catching any? Try changing your lure's weight, size or Color.
-Squids generally start feeding just after dark and then often taper off until midnight or later.
-Don't give up, it takes time. Just enjoy being out on the water until that giant squid bites.
Pay attention to the instructions on technique, as this is what attracts the squid. How you move the lure really does matter.
Squid jigging season off the coast of Terengganu is May to August. If you find yourself in eastern Malaysia and would like to try your hand at this cultural practice, just ask your hotel. They should be able to arrange a boat and crew.
Have you ever been squid jigging before?
A special thanks to Gaya Travel Magazine and Tourism Terengganu for inviting us to participate in the 2015 International Squid Jigging Festival and giving us the opportunity to explore their beautiful state. All opinions are 100% mine. All photos created and owned by Divergent Travelers.
Don't forget to check out some of our other adventures in Malaysia:
Paying a Second Visit to the Batu Caves in Kuala Lumpur
Penang Sunset with Blue Whale Cruises
Jungle Trekking to Monkey Beach, Penang
Explore Georgetown's Street Art in Penang
Birding in Borneo on the Kinabatagan River
Travel Guide to Sepilok Orangutan Rehabilitation Center
Complete Guide to Diving Sipadan Borneo
Travel Recap: 2 Weeks in Sabah Borneo
Travel Recap: 3 Weeks in Malaysia
Travel Insurance: We use for Allianz for travel insurance and have since our first trip to Mexico in 2003. They've been there for us on our adventures – and many friends and readers – multiple times over! If you want to book with Allianz Travel Insurance, simply use this link to get their travel insurance!