The first thing that comes to mind when someone mentions Penang is beaches and sunsets. At least for me, so I was pleasantly surprised when we were told we could go jungle trekking in the Taman Negara National Park to visit Monkey Beach instead of taking a boat.
This was more our type of outing and we knew it would lead to a good adventure.
---
Trekking to Monkey Beach in Penang National Park
---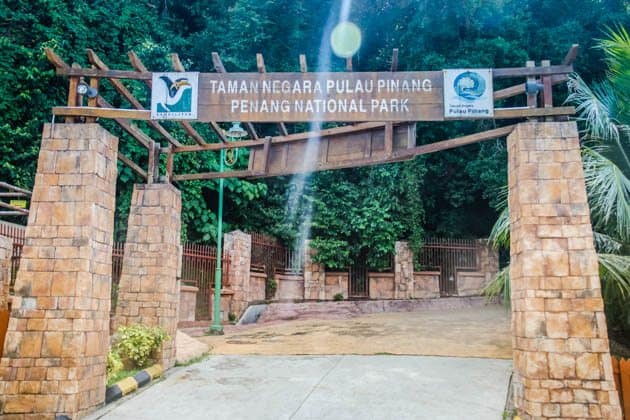 Our day started by taking the bus from Ferringhi to the entrance of the national park. The walk to the entrance area from the bus stop is short and easy to find. Be sure to use the bathroom here before heading into the park.
There are no facilities once you are inside the park on the trekking trails. You are also required to sign in with the front office window, admission is free, but they need to know who you are and where you are going when you enter the park. This is to ensure that you come back out and are not lost.
The trails are marked pretty well, but with no consistency. The trail starts out really great, its even paved which is sort of a luxury as far as trekking goes.
Once you reach the first couple areas, you have the option to branch to the left to the more commercial areas that are visited by tour groups or you can head to the right and into the jungle.
Of course, we were on a mission to Monkey Beach so we headed into the jungle.
Navigating Jungle Trails
The trail quickly turned into a narrow jungle path with uneven footing and large roots protruding from the ground. We saw a couple other people, but spent most of our 2 hour one way trek alone.
The trail takes you past a couple remote, unspoiled beaches and a fishing village before you reach the infamous Monkey Beach.
We had heard stories of the little macaques that inhabit this part of Penang, so we were prepared to deflect them upon arrival. Only problem, there were no monkeys at Monkey Beach.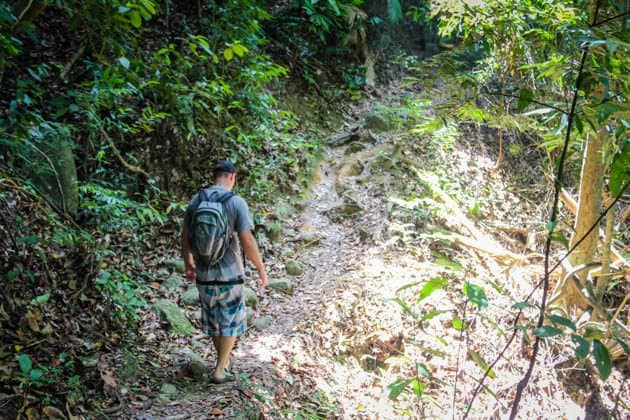 Arriving to Monkey Beach
That's right, not a single one. As we walked through the first part of the beach and made our way the far end, we found a place that had been warped by time.
There were so many people there you could hardly walk from one end of the beach to the other. The boats we had avoided to bring us here had caught up with us and so had the tourists.
People were everywhere, cooking out, splashing in the water, drinking beer and hanging out. It was like a campground in a beautiful place.
Locals have setup food stalls all along the shore to sell food, yet none of them care to pick up the garbage off the ground from the products they are selling. It was kind of sad.
We hurried through this area to avoid the crowds, where we ended up on the third section of the beach. Here we found the paradise we expected from Monkey Beach. It was absolutely gorgeous, but again no monkeys.
There were a couple of people swimming at the far end but other than that, we had the place to ourselves.
Enjoying Paradise in Penang National Park
We spent over an hour here swinging on the swings and laying in the hammocks that were tied to the palm trees by the beach. It was one of our favorite moments from our time in Penang.
Enjoying the beach was the recharge we needed to complete the 3 hour return trek to the park entrance to take the bus back to Ferringhi.
This time through the tide had gone out so it made things a little easier in places where we had to walk through water on the way to Monkey Beach.
We couldn't help but talk about the absence of the little critters that gave the famed beach it's name. How is it that they just disappear?
It is a monkey haven, lots of food vendors and people leaving unattended bags everywhere, yet there are no monkeys. This is so strange to us.
Monkey Encounter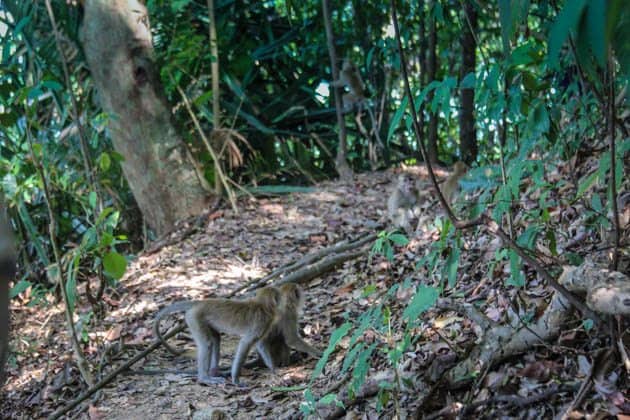 Having just accepted the fact that we wouldn't see monkeys on this trek, we rounded a corner and out of nowhere a macaque dropped from the trees above us onto the trail.
This was a pleasant surprise, there ARE still macaques in the Taman Negara National Park, they just don't frequent the famed beach these days.
As fast as he dropped from the trees, he was joined by a large group of friends. We had come across a whole family group of curious macaques and they were really curious and into our backpack.
I got the sudden feeling these guys were used to holding up hikers on the trail for things, so as David filmed them I stepped back and promptly broke myself off a branch from a nearby tree. This girl would be holding a monkey stick for this encounter.
A good thing too, because there were a couple times they tried jumping on us from above but one swift wave of that monkey stick and they decided it wasn't a good idea.
They followed us through the trees for several meters before losing interest with us and pursuing hikers further behind us on the trail. I wasn't taking any chances though, I carried that monkey stick with me for the rest of the hike.
Final Thoughts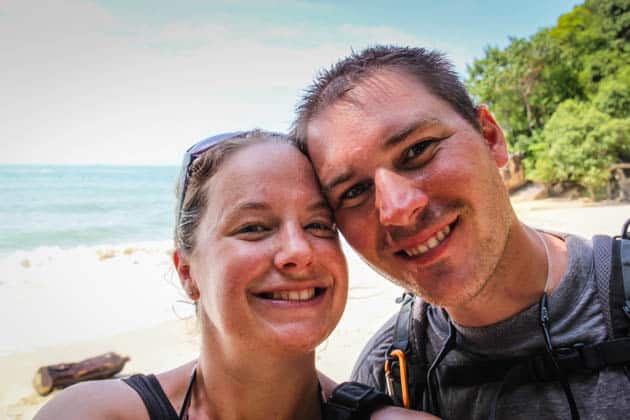 As an active person, despite the fact that we used Penang to recharge our batteries, I loved the day we spent hiking in the park.
It was one of my favorite days from our time in Malaysia and the little haven we found at Monkey Beach, past the crowded area, was our favorite beach. 
Finding the monkeys on the path in the jungle was a much better experience for us and felt so much more natural then had we found them on the beach as expected. They were where they belong, in the jungle.
---
Tips for Visiting Monkey Beach
---
Getting there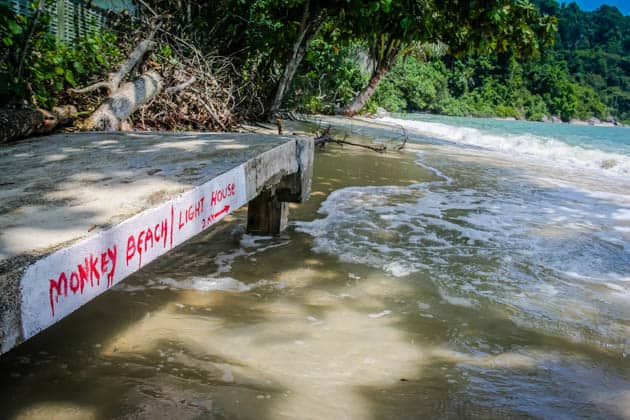 If you are physically able, hiking through the jungle is the absolute way to go. It is an adventure all in itself and takes you through some beautiful scenery.
Arriving on Monkey Beach is so rewarding after you have completed the hike. Plus, it's FREE.
Alternatively, you can take a boat from the park entrance or even from the beach in Ferringhi. Prices vary, but we heard a lot of RM50 ($15USD) for a whole boat, not per person.
Sign In
Be sure to register yourself at the office window near the entrance before you head into the park. This isn't necessary if you take a boat, but if you are hiking don't forget to do this.
Take out what you pack in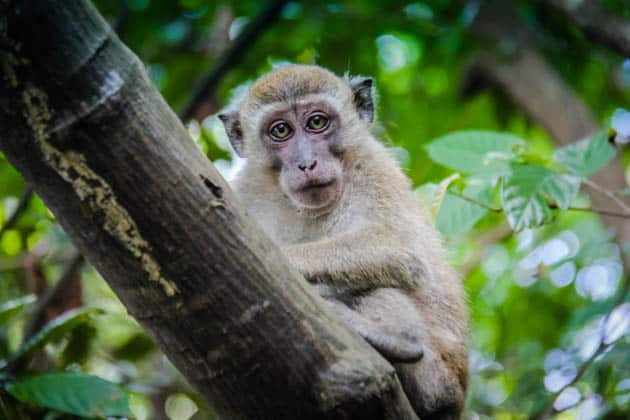 Plain and simple, DO NOT leave trash at this beautiful place. It is a damn shame and pity that so many people just chuck their garbage into the bushes here.
This is not responsible tourism and if you see someone else doing it, please remind them to pack their garbage back in their bags and take it back to the hotel.
Animals you may encounter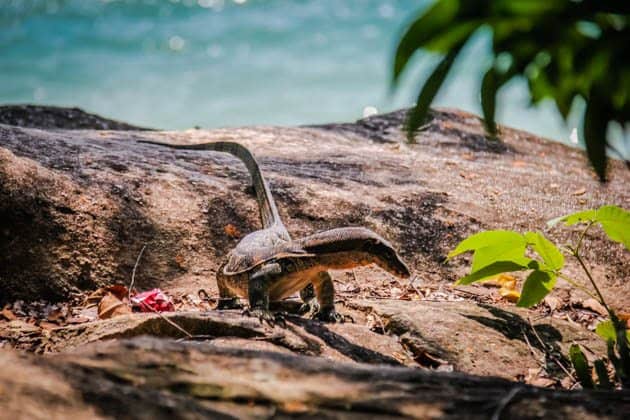 If you opt to hike it is good to be aware of the animals you may encounter. These include crab-eating macaques, large monitor lizards, snakes, butterflies, spiders and a variety of birds.
Feel free to take photos, but be smart. Do not try to touch or feed the animals. Maintain a safe distance (10m) and don't chase them.
More information on the Penang National Park and Monkey Beach can be found here.
More on Malaysia:
Did you like this story? Share it!