Backpacking in Borneo is an absolute dream and the only negative thing I can say about our time there is that we regret not spending more time there.  We had planned to spend much more time and for some reason, we got there and realized we would have to cut our time short.
It was just poor planning on our part, but it gave us a good taste of what there is on offer there and we have no doubt we will be back.
As you know if you follow along, I am a rainforest jungle junkie. Whenever we get a chance to get out of the city into a forest or jungle I am completely in my element, so you can imagine that visiting the equatorial rainforests of Borneo was a highlight for both of us.
There is just something about the sound of nothing, the sound of distant birds and crashing monkeys that just makes me feel at peace. Borneo delivered on this aspect.
Top that off with some of the most stunning islands and underwater life we have ever seen and we are raving about this destination. Simply put, we cannot wait to get back and it seems our list of places to revisit in Southeast Asia continues to grow.
Now that I have told you about our new found love I'll divulge on a couple other things. This island is an adventurers paradise with a variety of things to do on the ground, in the clouds and under the water.
The opportunities are endless if you have the energy. Getting around the country in really easy with efficient bus routes and perfectly scattered airports. Transportation is affordable as well.
There really isn't a real reason to not come here and just explore all that it has to offer, other than time of course. That will be your only limit.
---
Backpacking in Borneo: 2 Week Recap
---
Where Did We Go?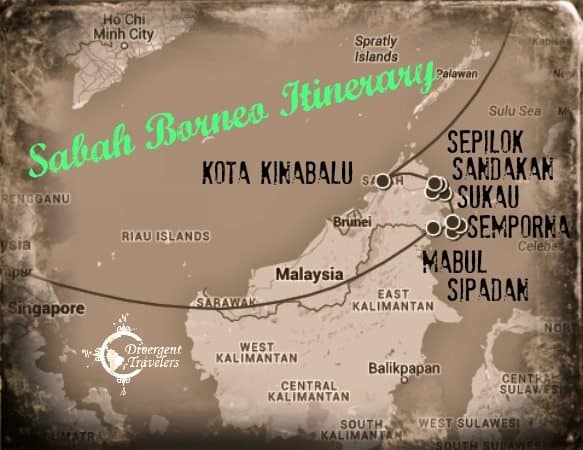 We visited the Malaysian State of of Sabah, leaving Sarawak State and Kalimantan, the Indonesian side of Borneo unexplored for now.
Our stops included Kota Kinabalu, Sandakan, Sukau, Kinabatangan River, Sepilok, Semporna, Mabul, Kapalai, Siamil and Sipadan.
What We Loved About Backpacking in Borneo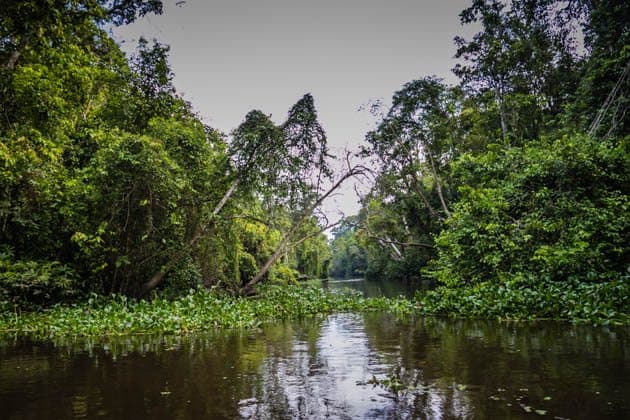 Borneo is stunning and the few parts we saw delivered on all aspects of what we expected.
Adventure. Sabah is an adventure lovers paradise. There is a trek, climb, safari, dive and more around every single corner. The cities of course are modern and it is easy to find your every day comforts but once you get outside of them, nothing but adventure awaits you in the undeveloped areas.
Prime Equatorial Rainforests. Ah, I get goosebumps just thinking about it and regret not spending more time exploring them. I am genuinely fascinated by dense rainforests and after seeing many different versions of them around the World, there was only one that swept me off my feet, the Amazon Rainforest. That was until we paid a visit to Borneo, while it's not as big, the rainforests here are a close second and well above many others we have trodden through over the years.
World Class Scuba Diving. Well, I had to mention this as Sabah boasts one of the World's top 5 dive sites with Sipadan Island. Of course we couldn't resist the urge to dive here, so we spent 5 days living on an island diving Sipadan and the surrounding islands of Mabul, Kapalai and Siamil. It really was world class.
The wildlife. Borneo is home to so many endemic species, I can't even remember them all. This makes for spectacular wildlife viewing just about anywhere you go. We even went out birding and on a wildlife safari where we spotted Proboscis Monkeys, Silver Langurs, Orangutans, several varieties of Hornbills and other endemic species.
What We Didn't Love About Backpacking in Borneo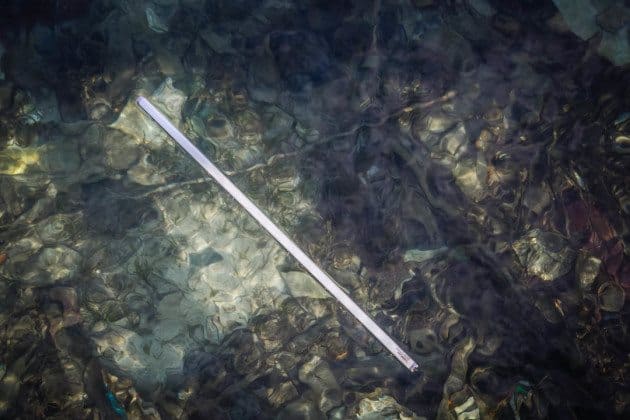 ~ Light bulb floating over a sea bed of garbage at Mabul Island ~
Palm oil plantations. No matter where you go in Sabah, you won't miss the Palm oil plantations. What first appears as a beautiful field of palms soon shows its ugly face as one of the biggest problems in Borneo. While the palm oil plantations bring in money for the owners and the governments, they are destroying the rainforests. The massive deforestation has caused significant loss of vegetation and animal habitat.
All the garbage. I don't know what it is with Malaysia, but they don't give a shit about picking up their garbage. We saw garbage everywhere in Penang and again in Sabah. Anywhere there is people, there are mass amounts of garbage, everywhere. While in Sukau, we arrived while they were setting up a small weekend market, not far from our lodge. When we wandered back down later, the market was down, all the people gone and layers of garbage just left lying on the ground. The worse of it was in the islands near Semporna. There are villages on the islands that leave their trash everywhere. Nothing like garbage in paradise.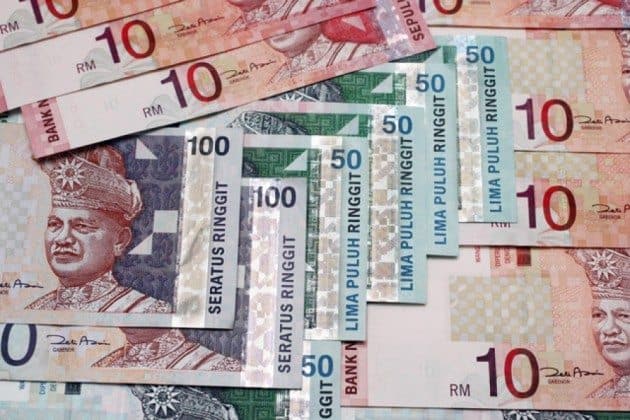 What Did We Spend?
We spent an average of $170USD per day for 2 people while backpacking in Borneo. This included a private room and 3 meals per day. Woofta! There are so many things to get up to in Borneo and we only scratched the surface.
We had originally planned more time here but ended up cutting our time short due to having a time constraint with visitors arriving. This only helped to drive that alarming average up without quieter days of less spending to offset all the activities.
All in all, we don't regret the money we spent, but we do regret not staying longer. We are already talking about a return visit.
Transportation: Our budget includes 2 flights, one in from Manila and then a flight from Kota Kinabalu to Sandakan. The rest of our time we used boats and buses, which are cheap and frequent when traveling between cities and islands.
Airlines Used: Malaysian Air
Accommodation: We stayed in a variety of hostels, lodges and resorts while here. All private rooms, some with shared bathroom and some with private bathroom. Hostels in Sabah are affordable but they made up a small portion of the budget. The main expense came from staying at the dive resort in Mabul during our dive package.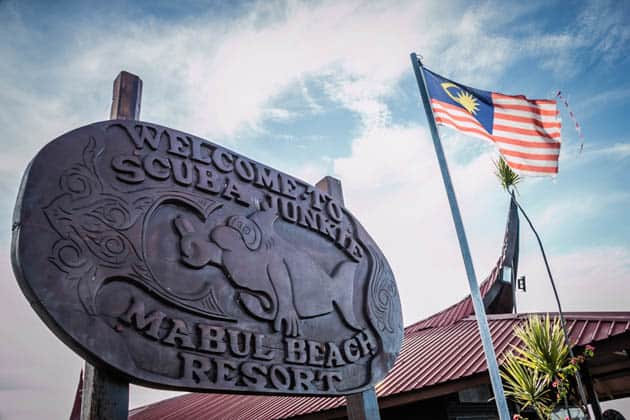 Places Stayed:
Borneo Swiss Guest House, Kota Kinabalu
Sukau Greenview Lodge, Sukau
Sandakan Backpackers Hostel, Sandakan
Scuba Junkie Dive Hostel, Semporna
Scuba Junkie Dive Resort, Mabul Island
Activities: Well, we did a lot in our short time here. We took a wildlife safari and went bird watching on the Kinabatangan River, we visited the Orangutans at Sepilok Orangutan Rehabilitation Center and we spent 4 days diving in one of the top dive spots in the world. It all adds up and makes up the majority of our expenses for this stop.
Food: Unlike the great food in Penang, we didn't eat out much here. When we were adventuring in Sukau, our meals were included at our lodge and the same went for the dive resort on Mabul. The staple of food was rice and noodles with some sort of vegetables and usually chicken. Nothing to write home about, but it was stable and easily consumed.
Our Favorites
Favorite Beach: Siamil Island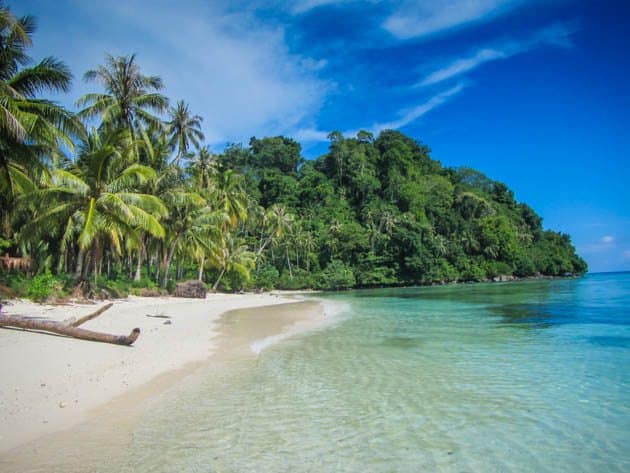 Favorite City: No cities for us in this place, here's a photo of our Sukau Lodge!
Favorite Activity: Wildlife Safari on the Kinabatangan River and diving at Sipadan Island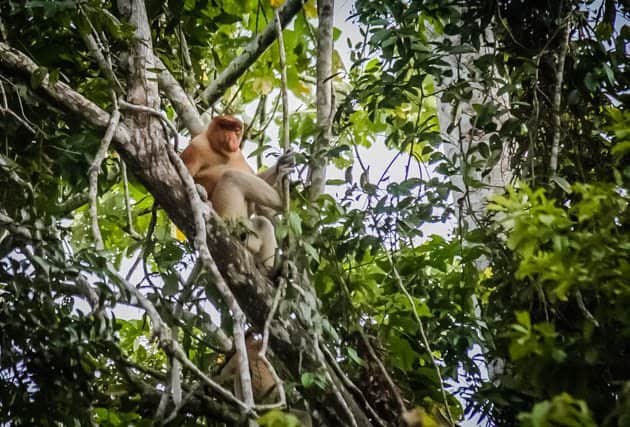 Favorite Meal: Freshly made local dishes
More on Borneo:
Did you like this story? Share it!