Besides a chance to experience the dense primal rainforest, most people head into the Kinabatangan River area in search of wildlife. Borneo is home to many rare, endemic species as well as some of the planets most endangered.
If you're lucky, you'll get a chance to spot Orangutans, Maroon Langurs, Silver Langurs, Probocis Monkeys, Pygmy Elephants and more birds than I can list here.
If it's birds you seek, hop over and take a look at our experience birding in Borneo with photographer Stephen Siaw and Borneo Nature and Photography Tours. I can make you one guarantee, you won't be bored.
Additionally, if you seek more than just birds, he delivers on that as well with an eagle eye and keen ability to get you close to the other animals as well.
Of all the animals on offer here, we only missed out on a few, including the Pygmy elephants. They just didn't come out during the times we were exploring the river, although we did see several signs of them.
Regardless, your chances of spotting animals and enjoying the rainforest peacefully will go unmatched in Sukau.
As we mentioned above, we didn't spot all the species in this region, but want to give you a good luck at the ones we did. It was a jam-packed adventure with lots of wildlife spotting. One of travels greatest gifts is the chance to view animals in their natural habitat.
---
Wildlife Safari in Sukau Borneo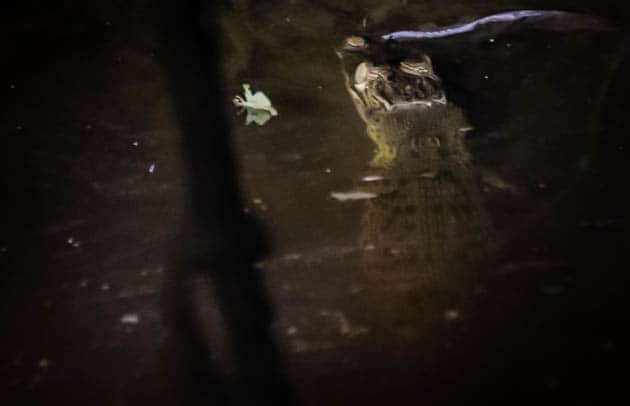 ~Juvenile Crocodile lurking in the shallow water ~
Crocodiles
Like all jungle river, this one has its own population of crocodiles. We searched the river banks for then during our night cruises and were able to spot a few juveniles lounging on shore and in the shallow waters.
Spotting juveniles is always fun as it's hard to grasp their size. At 1 year old, they are barely a foot long, however the male crocodiles will literally double their size each year until they reach their max length.
The crocodile is a fierce predator and we were told that the biggest of them can be found around the inland lakes and near the mouth of the river where it meets the ocean. Regardless, it isn't a wise thing to try a swim in the Kinabatangan River, especially at dusk or dawn.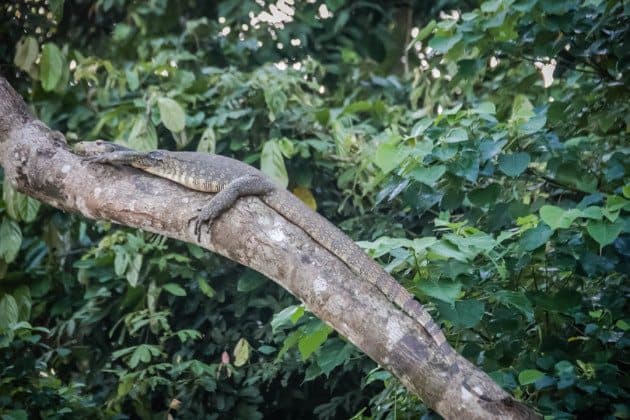 ~ Adult Monitor Lizard lounging on a tree trunk ~
Monitor Lizards
Another reptile you're likely to encounter during your wildlife safari is the monitor lizard. These guys are the closest relatives to the world's largest lizard, the Komodo Dragon. They are fast and equipped to kill, although you will almost always see them moving slowly or lounging somewhere.
They blend in to their surrounding well and they are always good for a startle because you usually do not see them until you are right on top of them. They are pretty common in most South East Asian countries so it was no surprise for us to see them here, although they are always fun to observe.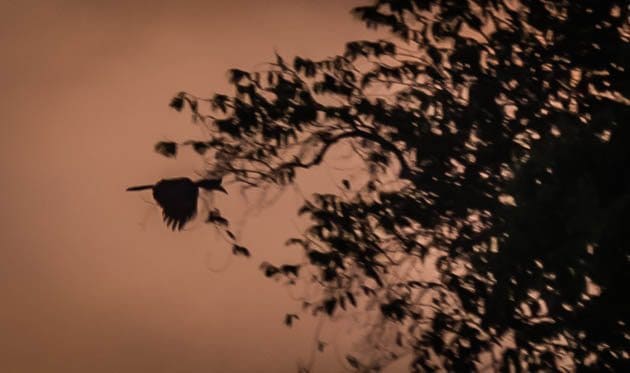 ~Rhinoceros Hornbill taking flight at sunset ~
Birds Galore
Seeing birds in this area is a very special experience. Borneo is at the top of every serious birders bucket list and it wasn't hard to see why. This particular area was bursting with bird life and we spotted long lists of endemic and special birds to this part of the World.
For more specific information on the birds we encountered, have a look at our birding in Borneo experience.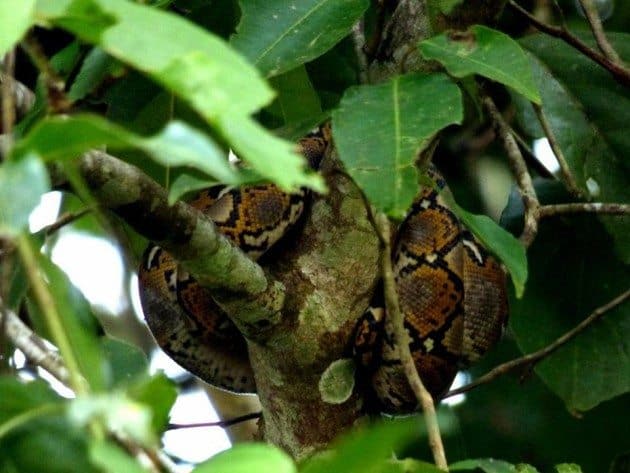 Snakes
Being a rainforest, of course there are many species of snakes here. This knowledge always creeps me out. I have seen more snakes on this trip then I have seen combined in the first 30 years of my existence. Yes, my spine just shivered as I wrote that! Snakes creep me out, but I do think they are beautiful.
We only spotted one snake during our 6 boat cruises and it was a lone Reticulated Python. He was extremely beautiful as he laid coiled around a low hanging tree branch over the river.
I do not know how the boat driver spotted him, but there he was. He didn't move while we maneuvered the boat under him and took photos. Stephen and the boat crew couldn't stress enough how lucky we were to see him, the snakes tend to be pretty elusive, especially during the day.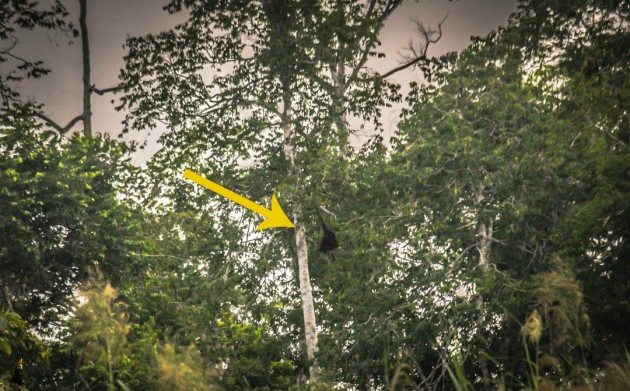 Bornean Orangutan
Borneo is one of two places in the world where Orangutan's still exist in the wild. Many people travel to the Sukau region of Malaysian Borneo each year in search of a rare rainforest sighting. They can be elusive, but we managed to spot one hanging high up in a tree inland from the river.
The one we spotted was a long ways off shore, but identifiable through binoculars. However, none of us in the boat could get a clear shot as the light was leaving the sky. He was hanging peacefully and we were happy to see him, despite not getting great photos. It is always a treat to see these red apes in their natural habitat.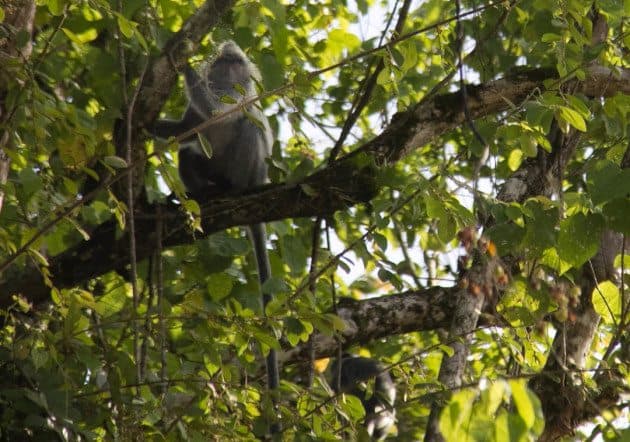 ~Cropped 10x, sorry about the quality but wanted to show what they look like ~
Silver Langur
Another primate species that enjoys the height of trees, which makes them hard to photograph in a moving boat. I apologize for not getting any better photos of them. This is a primate that can be seen in a couple locations throughout Southeast Asia, however this species is threatened due to habitat encroachment and deforestation.
It was on our last cruise that we came across a small group of them playing in the trees above the river. They were close to the river, but high in the trees on a bright sunny day.
This made for difficult photography conditions, but I snapped a couple shots anyways and then just observed them playing and eating. They are a curious primate and good for a laugh as the hair on their head stands up like a mohawk.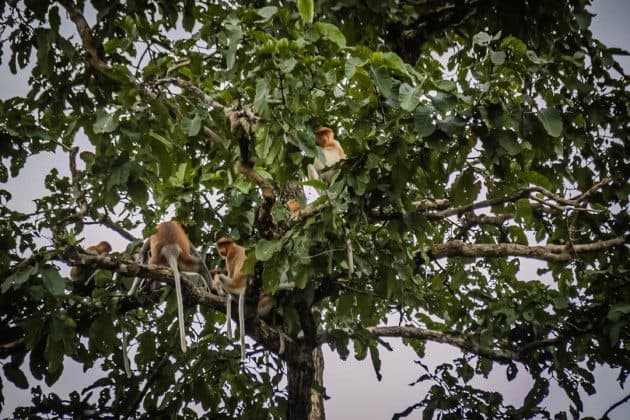 ~ Large group of Proboscis Monkeys in a tree ~
Proboscis Monkey
These guys pretty much steal the show in the Sukau Kinabatangan River area. Despite being endangered, we saw several groups of them during our many boat cruises.
They were a highlight and it was always an exciting moment to come across them while we cruised around looking for wildlife. These primate are endemic to Borneo and can only be found in some parts of Malaysian Borneo.
They primarily habitat the Indonesian side of the island, Kalimantan.
Proboscis monkeys tend to be a little braver then the other species, coming down closer to the boat and river and having a general curiosity about what we were doing.
At one point, we pulled down a small tributary off the main river and came across a lone male sitting in a tree not more than 6 feet from our boat. He stared at us, picked his nose and continued eating.
Of all the animals to see here, this was high on my list. You literally cannot see them anywhere else in the World, so seeing them was a must. Luckily, we located them on all but two of our cruises and were able to spend long amounts of time observing them from the river and taking photos.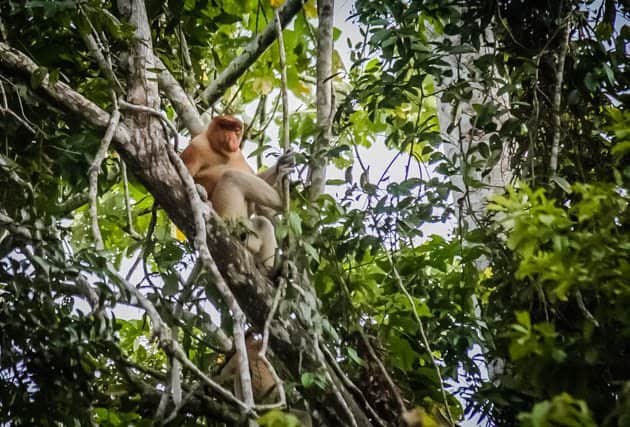 ~ Male Proboscis Monkey chilling in a tree ~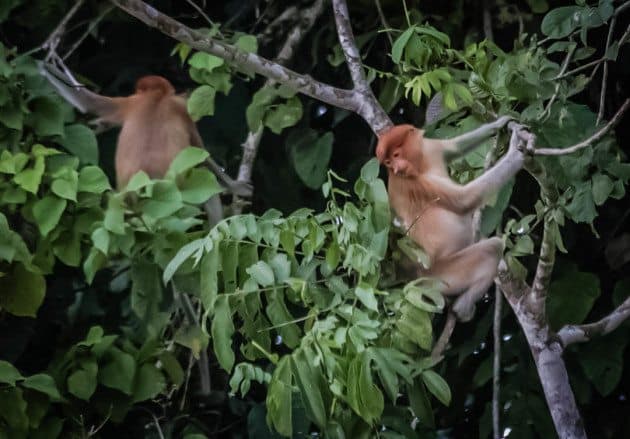 ~ Female Proboscis Monkey- notice the difference? Tiny nose! ~

~ Active male showing off for us ~
Stunning Borneo Rainforest Scenery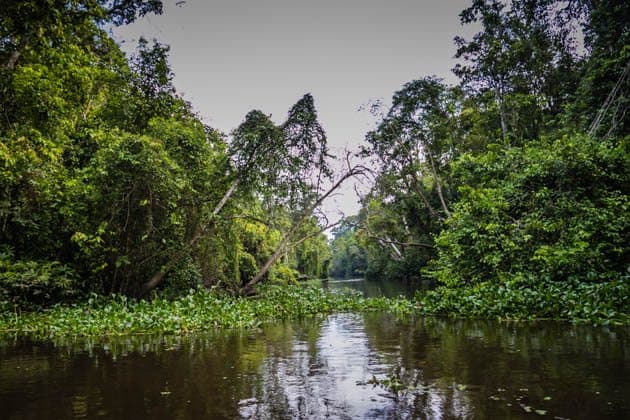 ~ Lush, dense rainforest ~
Lastly, you can't help but notice the scenery in this neck of the woods. It is seriously some of the best rainforest I have ever had the privilege of visiting on our travels.
It is wild, untouched and an unparalleled habitat for the fragile species it cares for, so not mentioning it would be offensive. Yes, scanning the trees, water and skies for the abundance of wildlife is a thrill, but don't forget to slow down, even just for a minute, and just gawk at the wonder of this rainforest.
The forest is dense and lush as it engulfs the shores of the river and moves in harmony with the water that rushes past it. When you leave the boat in search of more wildlife, take a moment to just stop and listen to the wind move through the trees.
More importantly, hop in a boat and catch a sunset, the ones we experienced on this river, over the rainforest will not soon be forgotten.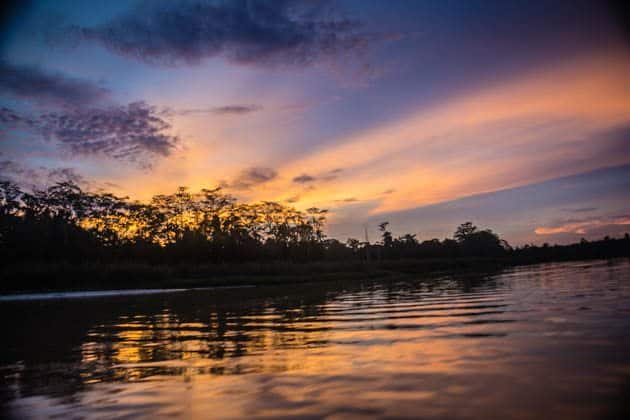 Disclosure: We partnered with Stephen Siaw and Borneo Nature & Photography tours to bring you this adventure. However, all opinions are 100% mine. All photos created and owned by Divergent Travelers.
More on Borneo:
Did you like this story? Share it!