There are only two places on this planet where Komodo dragons exist in the wild. We had boarded a plane from Bali, flew over an erupting volcano to the island of Flores in Eastern Indonesia. From this location, our journey to the land of the dragons would begin.
Ironically, these two places are both located in Indonesia and are 2 small islands located in close proximity to each other. The islands of Rinca and Komodo are sanctuaries for this large predator lizard.
We are lucky to be able to visit the islands, as Indonesia maintains them as National Parks. They have staffed rangers that rotate living on the island and maintaining it.
They are trained to guide people that want to see the Komodo dragon and accompany everyone that enters the islands. There are several hiking trails that take you through the popular areas and having a well-trained guide ensures your best chances of seeing them.
But even so, the Komodo dragons are wild animals and you are not guaranteed to see them on your visit.
Having the opportunity to travel to Indonesia and visit the remote parts in the east isn't something we can do every day, so increase our chances of sighting this amazing creature, we made arrangements to visit both Rinca and Komodo Island.
We figured that if we doubled our odds, we should see them at least once. We ended up getting pretty lucky and despite the hot trekking and mountain climbing, we saw them on both islands.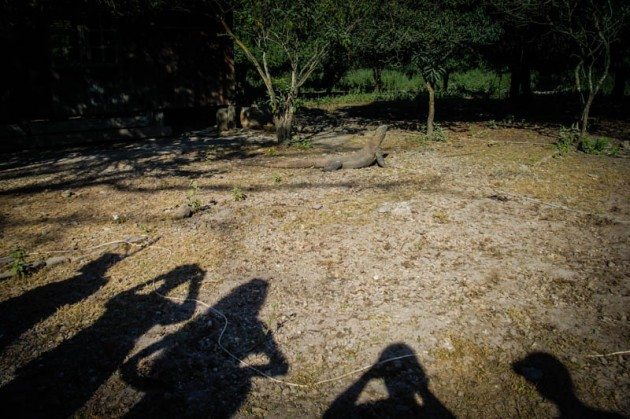 Rinca Island
The first day of our cruise landed us on Rinca. The water as we approached the island was enticing with visibility that allowed us to see straight to the reefs at the bottom and then follow them all the way to the shore. At that moment, each of our eyes caught the sign on the beach.
No swimming, crocodiles. Hmph, it was hotter than hell and the island looked dusty so all we could think of was a nice dip in the crystal clear water. We exited the boat into the dinghy and were shuttled to shore.
At the dock, we noticed a thick layer of dust. It took only a moment to realize that it wasn't dust; it was volcanic ash from the recent eruption on Bima.
When we flew over the volcano the day before, it never occurred to me that we could be dealing with ash on the islands that we were visiting. Thick, grey dusty ash and it was everywhere. We walked up the dock and were greeted by our rangers.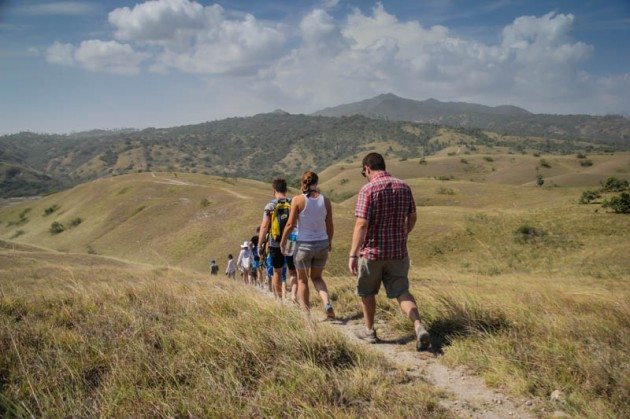 No one is allowed to walk on the islands of Rinca or Komodo without rangers. Komodo dragons are extremely lethal and can easily come out of nowhere and attack a human.
Think you can run? They can reach speeds up to 20km/hour is they are in pursuit. A bite from a Komodo dragon is filled with fatal bacteria that if allowed to enter your bloodstream would certainly result in the loss of a limb and even death.
They aren't messing around, nor taking any chances, so after leaving the dinghy, we were escorted to the ranger station to pay our camera dues (50,000IDR for camera and 150,000IDR for video camera) before being briefed on our activities for the day on Rinca island.
The staff was concerned about the volcanic ash, many of them wearing face masks and long-sleeved shirts and pants. We were never offered anything to cover our faces or ourselves. Guess being white tourists makes us immune to the toxicity?
By the end of the day, we all had black shoes, socks, and skin. The ash dust got everywhere.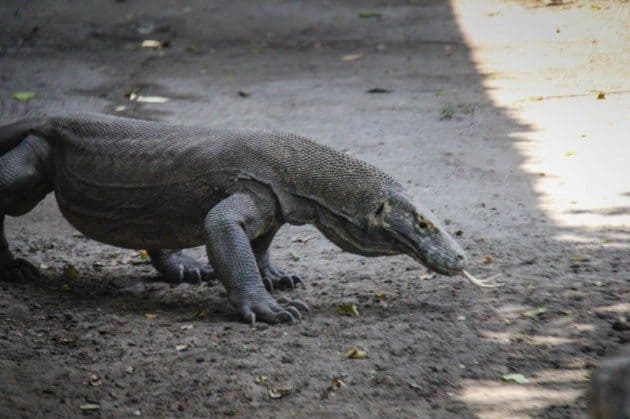 ~*~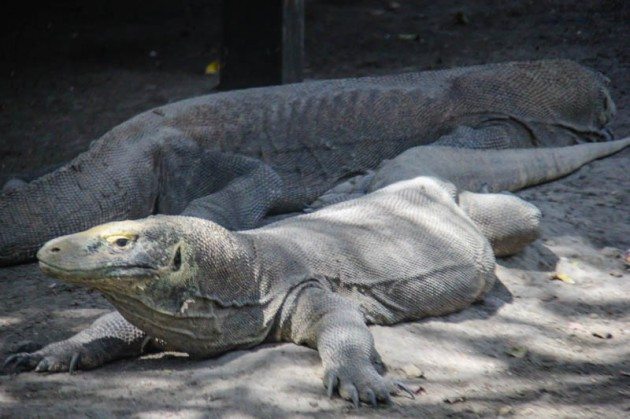 Regardless, we didn't find the ash had any real effect on us as we hiked 4km through the jungle then up to the top of the highest peak on the island. The walking was tough in the hot sun but the view on the top was fantastic.
This walk afforded us 2 Komodo dragon sightings and a water buffalo. We had better luck after descending from the peak and making our way to the ranger stations on the other side of the island where we started.
There were no rangers living here, but we saw many deer and 3 Komodo dragons just hanging out in the shade.
The Komodo dragons on Rinca were laid back and quite lazy, not moving much and stayed in one spot long enough to capture many photos.
Not exactly what I had in mind for our expedition on the island, but hey, I saw Komodo Dragons, I can't complain.
Komodo Island
Day 2 found us on Komodo Island. Much like our stop on Rinca, our plan was to go ashore, hike through the island while enjoying the views, in search of the Komodo dragon. The dock here is huge in comparison and we were able to dock and walk, versus using the dinghy.
We were the first boat to arrive for the day, so we had the entire place to ourselves. I couldn't help but notice the thick sheets of volcanic ash that covered the dock as we made our way towards land. The volcano had really done a toll on the environment here.
Things are much more structured on Komodo Island as opposed to Rinca. The ranger stations are larger and many things are marked and easy to find. Much like yesterday, we were met by our ranger, escorted to the station and then briefed on our hike for the day.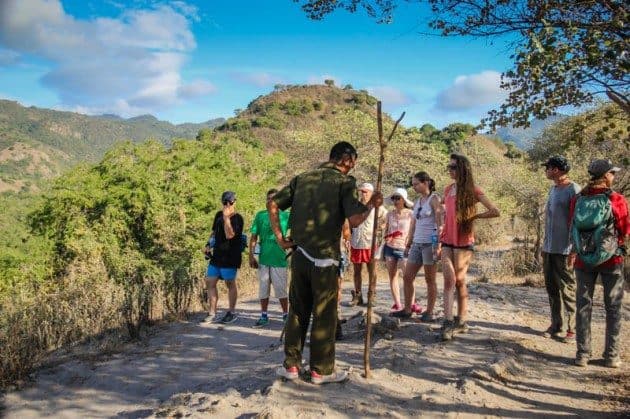 Today, we would also climb to the peak of the island. This would be the second mountain in 2 days that we had climbed in the blistering sun with no shade. Hey, this is an adventure, right? In my opinion, nothing short of one and we were ready to take on the challenge.
The Komodo dragons were not just lounging around on this island and we walked several minutes before seeing anything at all. When we approached the water hole we caught a glimpse at some wild deer and a large boar. They scattered on our approach, but no dragons to be seen.
We began our hike to the top of the peak where out of nowhere we saw something go crashing through the grass. Our guides, in their excitement, shouted for us to follow closely and stay behind them.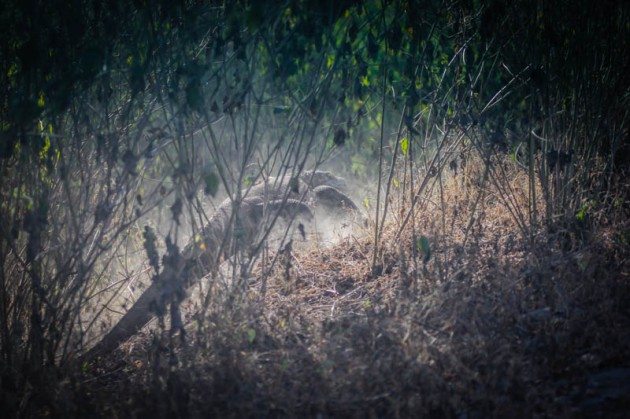 We had located our first Komodo and it was a large male. He wanted nothing to do with us and snuck through the grass while we walked down the path. Oddly enough, and even though he ran, he followed our group for quite a ways after. Probably hoping one of us would stray and he could seize the opportunity.
After that excitement, we searched diligently for another sighting. We walked to the top of the peak and were afforded another breathtaking view; Indonesia is a stunning place. We all lined up and stared into the distance.
I realized at that moment I didn't need to see another dragon, I was on a remote island in Indonesia and had already seen Komodo Dragons on both islands. Reveling in my satisfaction, I spun on my heel to presume the hike and there it was.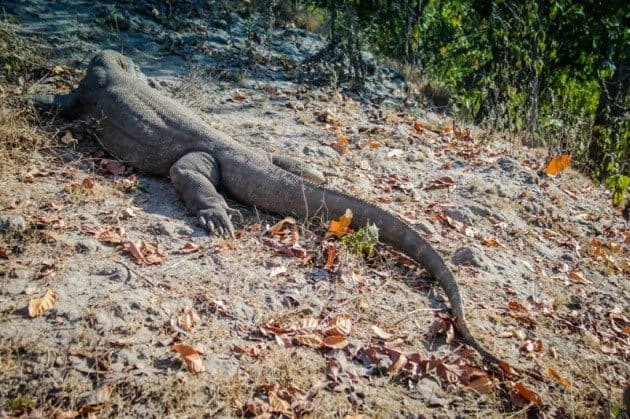 A large male Komodo was lying right behind our group. He hadn't been there when we arrived, but there he sat, waiting for us to make a move. It startled me and I quickly hollered to the guide who ran over to stop it from coming closer to us.
We had literally been sized up for the attack. How cool is that? (I can see my mother cringing as I write this!) The nice thing about this encounter is he wasn't scared of us and he didn't run.
We were able to spend a solid 15 minutes photographing and staring at this magnificent creature.
Of course, all under the watchful eye of our guide and it was one of the most amazing things I have ever seen. The sheer power and stealth of the world's largest lizard were sitting right there, on a remote island, in my presence. It was a great moment for both David and me.
If you love wildlife and seek a rare adventure, then don't overlook a trip to this beautiful, remote part of the World.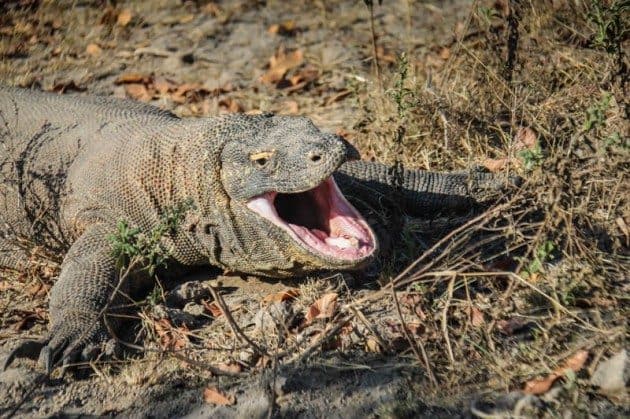 ~*~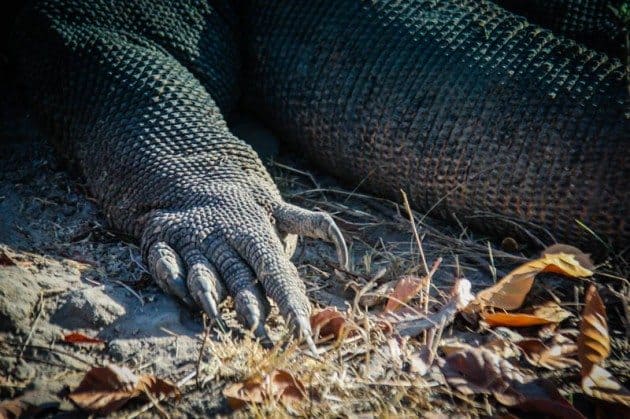 More on Indonesia:
Did you like this story? Share it!