Temples are all the to-do in Bali, and with good reason. Everywhere you turn there are beautiful temples waiting to be discovered. You could spend a week or two in Bali just seeing temples. One of the temples on our list is the temple by the sea, Uluwatu.
As we walked down the streets in Kuta, we saw numerous photos of various temples that can be visited and the one that continued to capture my attention was a beautiful temple located on the sea. However, we left Bali without paying a visit to it.
So upon our return to Bali, after visiting the eastern islands in Indonesia, the first thing on our minds was paying a visit to Uluwatu. The location of this temple looks close on a map, but with the traffic conditions and having to drive around the airport, it is actually quite a trip. It took us a solid hour or more in a taxi.
Don't leave home without: Lonely Planet Bali, Lombok & Nusa Tenggara (Travel Guide)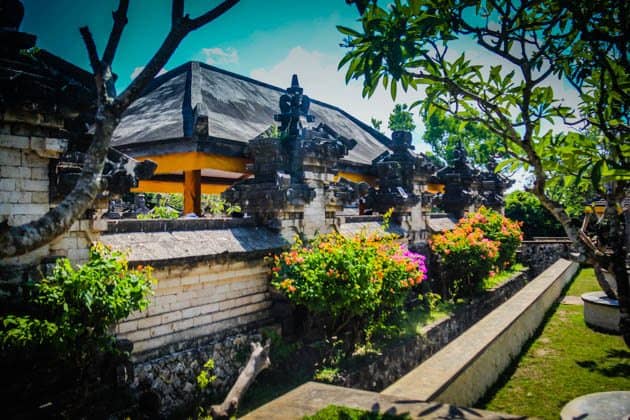 Once we arrived, we realized the location was remote and it wouldn't be able to hail a taxi off the street to get back to Kuta. Our taxi driver was kind and offered to stick around with the meter running while we enjoyed the temple.
When we entered the temple we were given sarongs and belts to wear for our visit. It turns out there were celebrations and praying going on at the time of our visit and the temple was overloaded with people.
We had heard from other travelers that this temple had monkeys; we made it our mission to figure out where they were. This was made difficult with all the people around, but my friend that was visiting from the states had never seen them before.
We wandered from to the far side of the grounds along the walkway that bordered the cliffs and back to the top of the temple. At this point, I realized that this temple was not the temple that we kept seeing in all the photos.
That temple still eluded us but we were making the most of our visit to Uluwatu.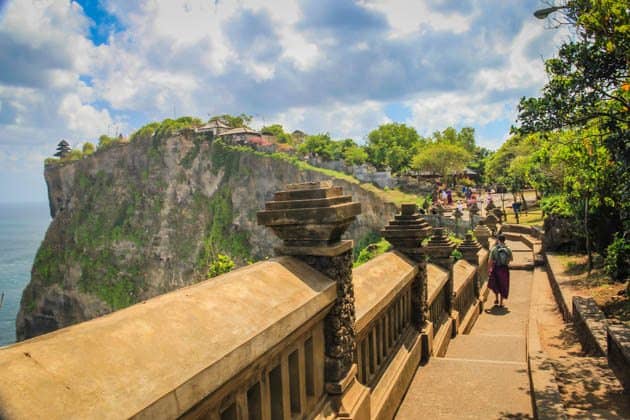 ~*~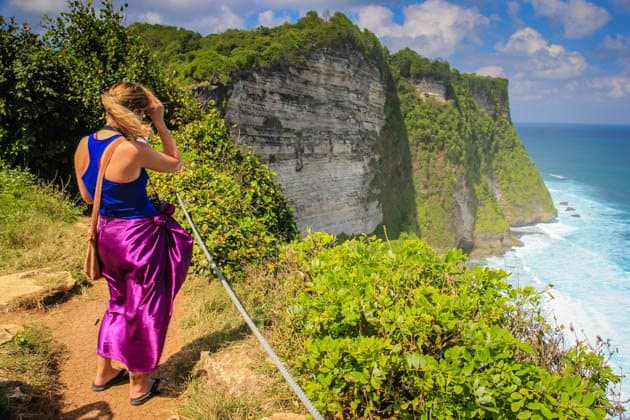 The temple itself is not very impressive, but our visit was made colorful with the locals participating in gathering. We were welcomed by many members of the group to observe from within the temple and photograph the service. All of sudden the disappointment of being at the wrong temple didn't seem to matter.
We watched until the service let out. Hundreds of kids then flooded out of the temple and onto the steps that led down the backside of the cliff, this is when we found the monkeys. The same type of monkeys we encountered in Ubud, the long tail macaque.
The kids took immediately to interacting with them as we watched from the back of the crowd and took photos. The monkeys here were quite different than the ones at the Monkey Forest in Ubud.
They were a lot fatter and a lot meaner. They didn't want people too close and we're not afraid to tell you that.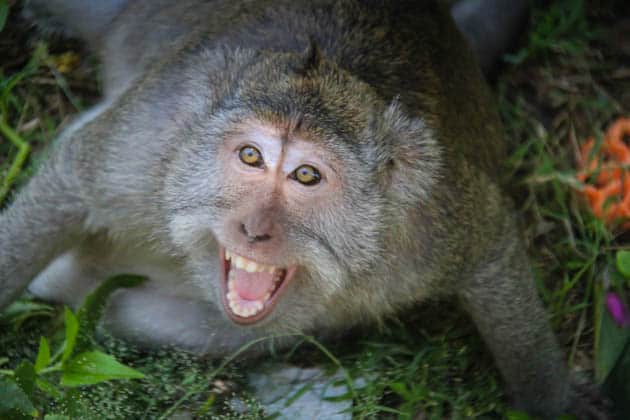 ~*~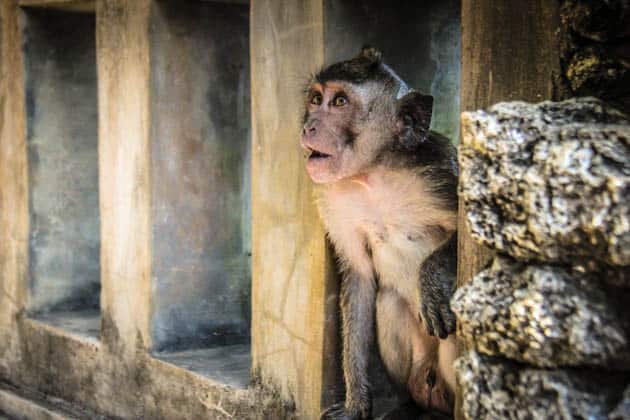 This made the encounter slightly uncomfortable because you could maintain distance from them, but they would sometimes wander into your space and then get territorial.
We didn't see anyone get bit, and the local kids were not afraid of them, but they were not very social. They just wanted food and stuff.
Our overall visit was enjoyable, we spent just over an hour at the temple and this was plenty of time.
I would imagine on a day with no local celebrations, you could spend 30 minutes or less there, which would really make me consider taking the long and expensive cab ride from Kuta to this temple.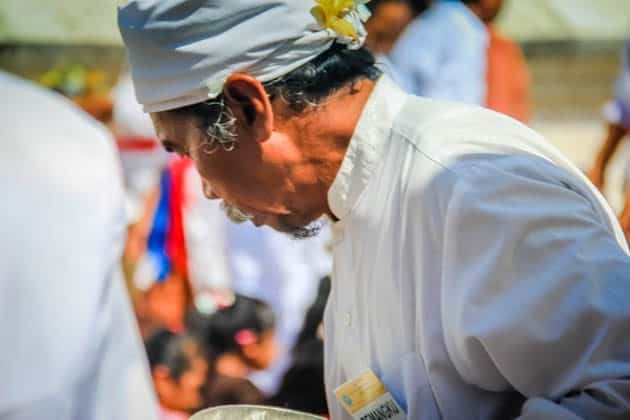 ~*~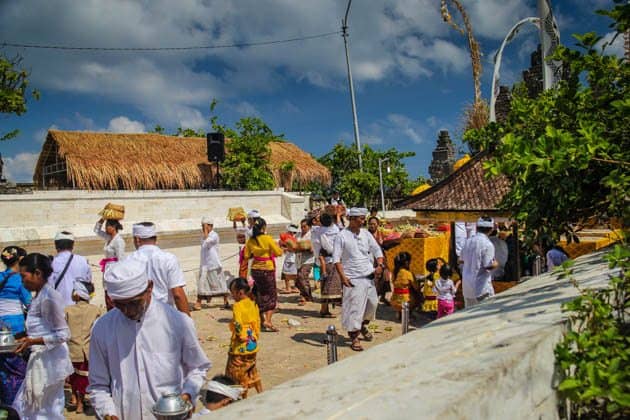 ~*~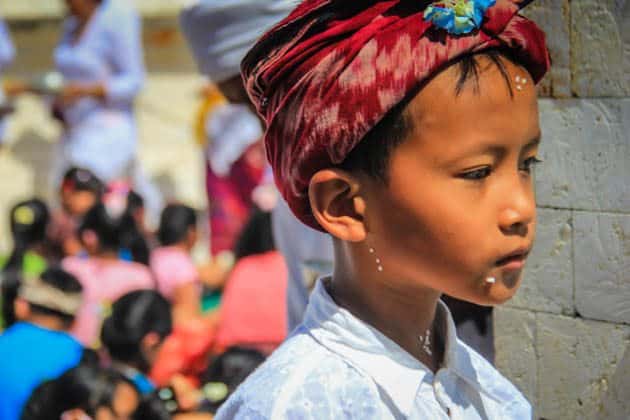 Visiting Uluwatu
Transportation: You have 2 options from Kuta. You an either join a day tour or hire a taxi. Tour prices will vary and if you take a taxi, be sure to have them use the meter and hang around while you are in the temple. You will not easily find transport back to Kuta.
Admission: 20,000IDR (roughly $1.80USD)
Monkeys: Keep your distance. The monkeys here are not as friendly as the ones in Ubud. Follow the same rules about your stuff as they are keen to grab sunglasses, jewelry, stuff from pockets, etc. We saw them hiss and bite at several people, don't be that person that gets bit.
Respect: Be sure to cover your knees. We were given sarongs and sash belts despite having our knees covered. Tank tops seemed ok. If there are services going on be sure to ask permission to observe before barging in and taking photos.
More on Indonesia:
Did you like this story? Share it!