Exactly 25 hours of transit had elapsed when my legs stretched from the speedboat causing my feet to make a connection with the wooden jetty. Waves of exhaustion that flooded my body from the long hours of travel simply faded to nothing when my eyes met the clarity of the water and followed the jetty right into the jungle-clad interior of the Raja Ampat islands.
We had made it. I had made it. Finally.
For years I have dreamed of the far reaches of SE Asia and the wonders that they hold. The last time David and I traveled to Indonesia I had been determined to make a trip to Papua but it never came to be.
It is incredibly expensive and hard to access this region of the World. If you cannot get your timing just right, it will not come together, as would happen to us in 2014, so you can only imagine my excitement when I was offered the opportunity to visit Raja Ampat, Indonesia this fall.
While I don't believe that this part of the World is much of a secret anymore, I do believe there are very few people that will go through the effort to visit.
For those of us brave enough to undertake the journey and embrace like without internet for a while, I am going to give you all the tools and information you need to make this dream trip a reality.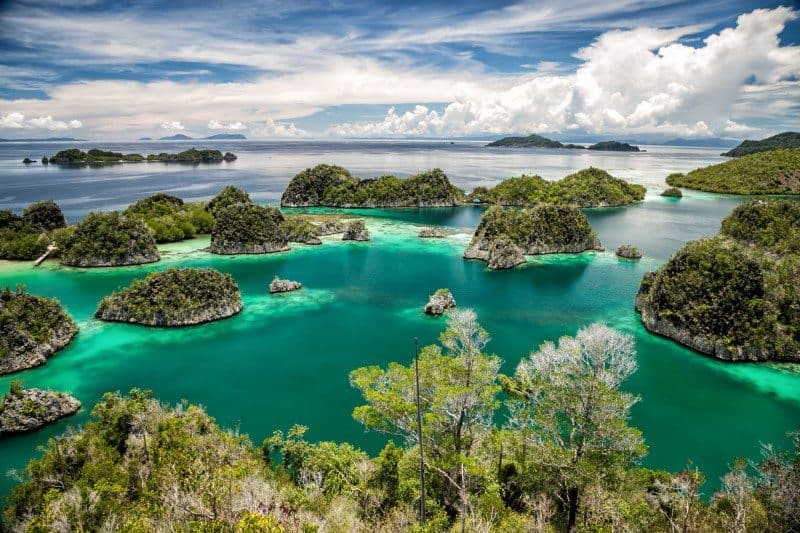 Raja Ampat, Papua – What's All the Fuss About?
The Raja Ampat is an archipelago made up of over 1,500 small islands, cays and shoals surrounding the four main islands of Misool, Salawait, Batanta, and Waigeo.
Also the smaller island of Kofiau. All are located off the northwest tip of the Bird's Head Peninsula on the island of New Guinea in the West Papua province of Indonesia.
It is the four main islands that give Raja Ampat its name, which translates to 'four kings' in Bahasa Indonesia. The entirety of the Raja Ampat islands includes over 40,000 km² of land and sea and is considered to be the global epicenter of tropical marine bio-diversity.
Including the Cenderawasih Bay, the largest marine national park in Indonesia, it is the crown jewel of the Bird's Head Seascape.
The Raja Ampat islands are located smack dab in the center of the Coral Triangle, which contains the richest marine biodiversity on earth, and is known as the Amazon of the Oceans.
After seeing what I've seen there, that's not a stretch either. Raja Ampat is said to contain more species within its reefs than the entire Caribbean Sea.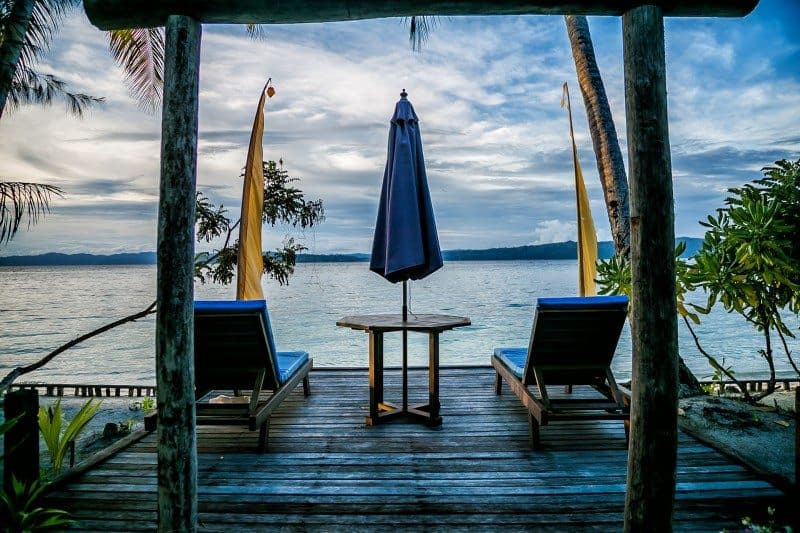 We spent our afternoons snorkeling off the jetty and quite frankly, one could visit Raja Ampat, Indonesia, never scuba dive and still see more wild marine life than any other location in the World, combined.
One night we took a flashlight, GoPro and some good luck with us to the beach where we spent over an hour filming the recently discovered Walking Shark as it fed on a dead fish near the shore.
If the underwater life isn't enough to make you excited, go ahead and pair that with some of the most pristine, white-sand beaches you'll ever see and clear, turquoise water.
Add a measurable touch of lush, green rain forest and mangroves and you've found yourself in a paradise that delights both above and under the water.
The varying topography of islands even shows your steep limestone cliffs in the Wayag islands that offer treks inland for views you'll find nowhere else.
If you want to spend some time away from the beaches, then the jungle interiors of most islands give you a chance to catch a glimpse of the many rare bird species that inhabit the islands.
While the challenge will be in getting there, embrace it. As long as it remains a challenge, the islands of Raja Ampat will remain an unspoiled paradise that few of us can say we've visited in our lifetimes.
Where are Raja Ampat Islands located?
To give you some clarity, I wanted to show you a map. The above shows you the location of Indonesia and it's relation to other places in Southeast Asia, like Papua New Guinea, Borneo, Philippines, Malaysia, and Singapore.
I have pinned the location of the Raja Ampat Dive Lodge for context. As you can see, it's remote and in a very exotic location. This alone is what makes it both expensive, yet worth the effort to visit.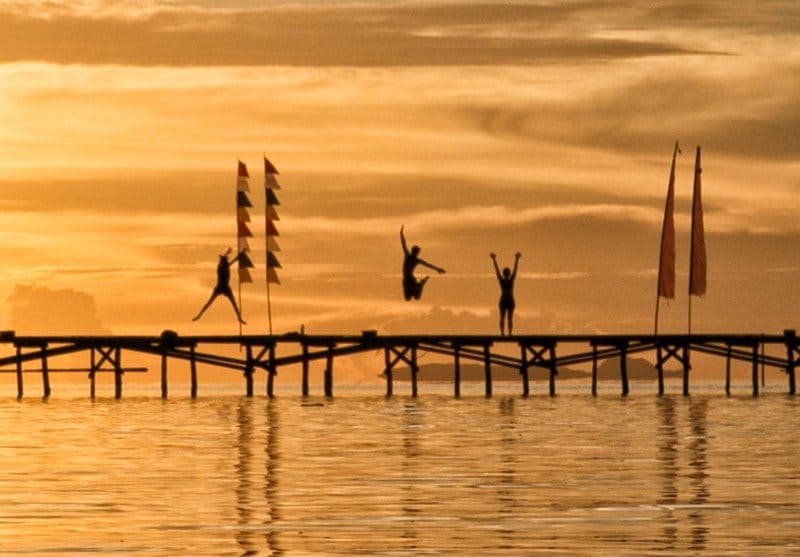 How to Get to Raja Ampat, Indonesia
Papua is not an easy place to get to nor is it as well serviced as other parts of Indonesia. This means that getting to the Raja Ampat islands is going to involve a long, multi-leg trip with lots of waiting between segments.
Regardless of where you start your trip in Indonesia, you'll first have to fly into Sorong, one of the largest cities in West Papua. There are flights into Sorong from several domestic destinations, such as Jakarta and Bali.
You can also fly there from a few other cities in Southeast Asia such as Singapore, Kuala Lumpur, or Davao.
After flying from Bandung to Jakarta and spending a 7-hour layover in the airport, we were able to take a non-stop flight from Jakarta to Sorong, albeit red-eye, via Express Air. The airline left a lot to be desired but we made it nonetheless.
The flight time was approximately 5 hours.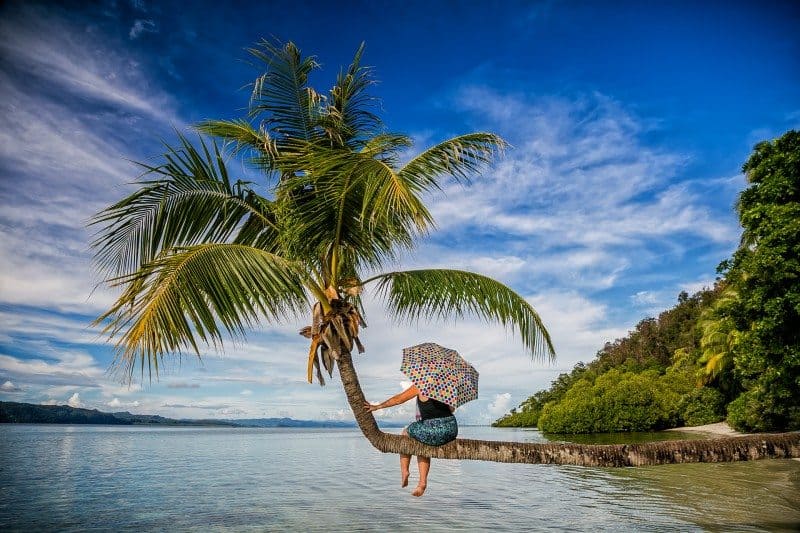 Most other airlines offer routes from other domestic locations in Indonesia that include a stopover in Makassar, which will make the duration around 7 hours. Airlines that operate this route include Express Air (the one I was on), Sriwijaya Air, Merpati, Batavia Air, Lion Air, Wings Air, Silk Air, Garuda Indonesia, and Pelita Air.
Once you land in Sorong city, you'll have to make your way to Waisai, which is the capital of Raja Ampat. The most affordable way to reach Waisai is by public ferry boat, this takes roughly 2 hours.
There are 2 a day – one in the late morning and one in the afternoon. If you are looking for a faster option, there are speed boats available to take you there and it takes around one and a half hours to reach Waisai.
You can either stay on Waisai Island or hire small boats to get to the other islands. For my trip, we took the ferry from Soron to Waisai where we boarded a speed boat that took us to the Raja Ampat Dive Lodge.
Broken down, the journey looks like this:
A direct flight from Jakarta to Sorong (5 hours) or via Makkasar (will take around 7 hours)
Taxi from Sorong airport to the harbor (15 mins)
Take the Bahari Express ferry from the harbor to Waisai on the island of Waigeo. (2 hours)
Lastly, you'll take a taxi boat from Waisai to your accommodation in Raja Ampat. If you have booked in advance (which we highly recommend), it is likely that your resort/lodge/homestay will have arranged this part of the transport for you.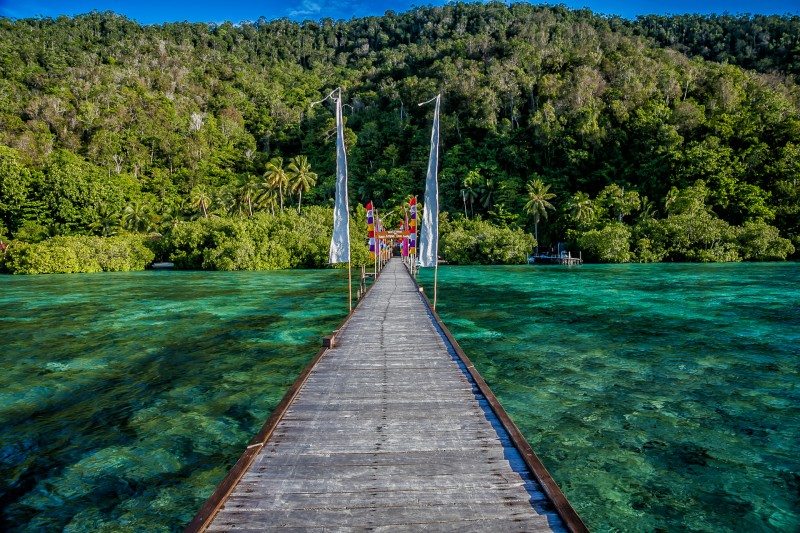 Best Time to Visit Raja Ampat
Raja Ampat is close to the equator so you'll find the temperatures don't vary much year-round. Air temperatures range from around 25oC (78oF) to 31oC (89oF) but it can feel quite a bit hotter since the region's average humidity is 83%.
I spent a lot of time sweating and swimming to balance the temperature.
The ocean is warm year-round, too, with an average surface temperature of 29oC (84oF), meaning you can do most of your scuba diving without a wet suit if you want.
October and November claim to have the calmest months for scuba diving, with calmer waters and less intense currents. Although, we did experience some very high currents in early October during my visit.
Overall, the best time to visit Raja Ampat, Indonesia starts from October and extends until April during the dry season. It will be hot but you won't get wet or deal with crazy storms blowing into the area.
The best months during that period is from October to December. Try to avoid the summer months – June through September is monsoon season in this area and will bring heavy rains and unpredictable storm patterns.
---
Things to Do in the Raja Ampat Islands
I won't lie to you since you'll be traveling for many hours to a very remote place, you will have a small pool of activities to choose from. However, don't pout just yet, the few available are guaranteed to be spectacular.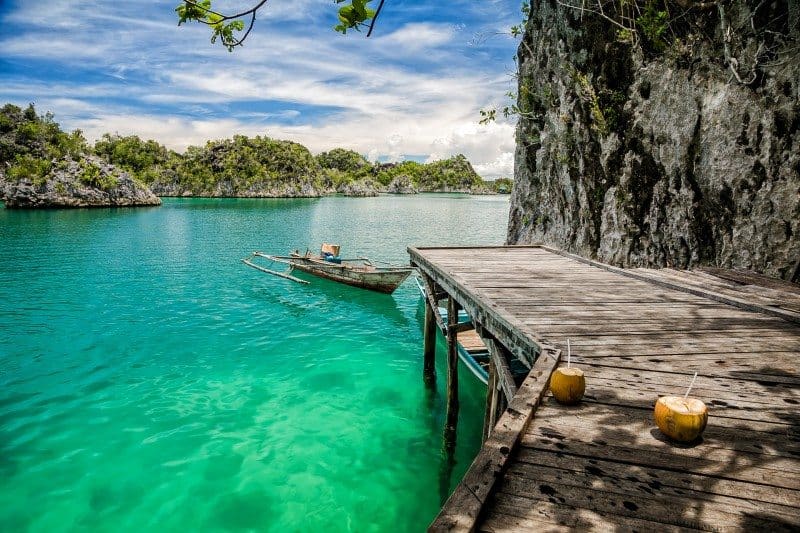 Scuba Diving in Raja Ampat
Get ready for a real treat in this part of the World. As I already mentioned above, this part of the World is located right in the middle of the Coral Triangle.
It's nicknamed the Amazon of the Ocean because it has the highest diversity of marine life ever recorded on Earth. Raja Ampat is regularly named as one of the top ten best dive spots in the world for this reason.
Thanks to the islands' remote location, the coral reefs here are pristine and relatively undisturbed by humans.
As for underwater life, marine life diversity is considerably greater than any other area sampled in the entire Coral Triangle, an area composed of Indonesia, Malaysia, Philippines, Papua New Guinea, Solomon Islands, and Timor-Leste.
Considering the Coral Triangle is the heart of the world's coral reef biodiversity, that makes Raja Ampat the richest coral reef ecosystem in the world.
If you love to scuba dive, Raja Ampat is a must-dive spot at some point in your travels.
We stayed at the Raja Ampat Dive Lodge.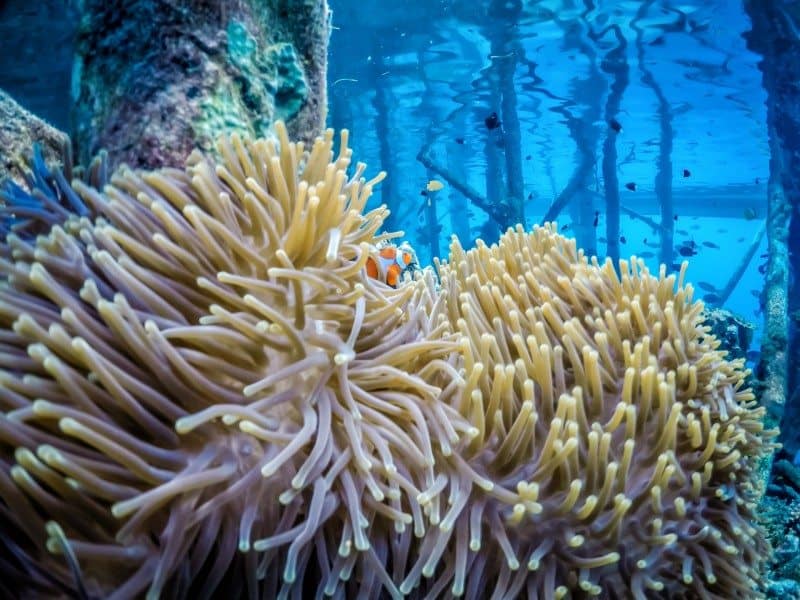 Snorkeling in Raja Ampat
If diving isn't your thing, no worries, the snorkeling is just as good. You don't have to go deep under the water to experience the amazing diversity the area has to offer.
We would spend every afternoon snorkeling right off the jetty and I was simply shocked at how thick and full the reefs were here. Not to mention the amazing amounts of fish. I even encountered 4 families of Anemone (Nemo) fish just snorkeling from shore at the Raja Ampat Dive Lodge.
Swim with Manta Rays, sea turtles, and huge schools of fish – the Raja Ampat area is home to 1,508 fish species, 537 coral species, and 699 mollusk species! It is imperative that you invest in a GoPro camera before your trip to the Raja Ampat islands and make sure you know how to use it!
Bird Watching
It was not uncommon for me to wake up each morning to the songs and calls to the many bird species that inhabit the thick jungles on each island. Endemic to the area is the red Bird of Paradise and these birds are beautiful. Despite the early morning wake up call that is required to see them, it will be worth it.
Jungle Trekking
If you are into hiking and trekking then hire yourself a guide and head off into the island interiors. I can't stress enough how important it is to have an educated and skilled guide with you though.
This part of the world is VERY wild and easy to get lost in and is not the place to be wandering off by yourself. However, taking the time to go for a stroll (with a guide!) can be a rewarding experience.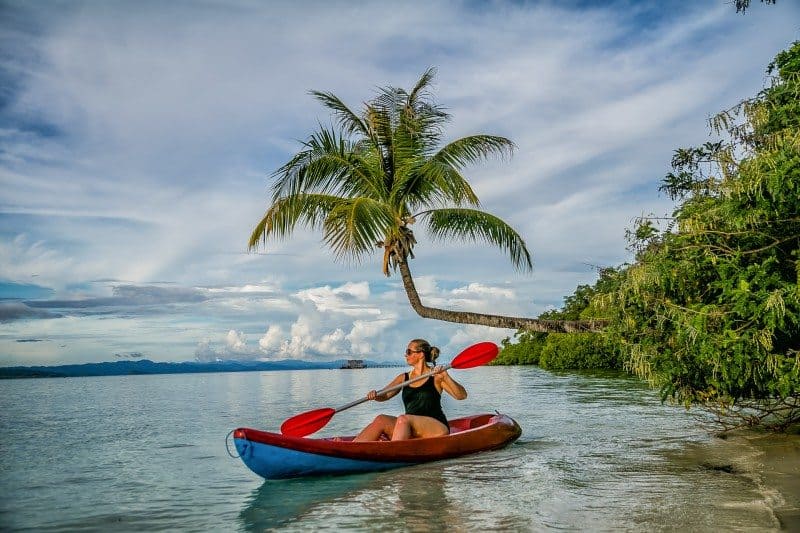 Kayaking
Grab a kayak from the resort or lodge and go for a nice long paddle around your resident island. The area is littered with pristine, white-sand beaches where the jungle runs right up to the ocean.
You can't reach them without a kayak and I can guarantee you'll have them all to yourself. This also gives you a chance to follow the reef shelf along the island and do some more great snorkeling.
Island Hopping
There are around 1,500 islands in Raja Ampat, Indonesia so you probably won't have the time nor the resources to see them all, however, it is worth going for a few day trips to the islands in the archipelago for a different experience.
From my visit there are two that stand out to me as must-sees, starting with Arborek. This is a small inhabited island where you can get a good glimpse of local life.
The Papuan people are kind and welcoming, giving you a chance to see their island and enjoy the beaches and reefs on its shore. There is also a dive lodge here that can take you out diving or if you like it, book a room and stay awhile.
The second must-see is Piaynemo. Those dreamy shots of the Raja Ampat islands that you see online, everywhere, come from this very spot.
The arrival is enough to blow your mind and then you dock, enjoy a fresh coconut and then start the climb to the top of the island where you'll get the best views of the region. It's worth the couple hour speed boat ride you'll endure getting there.
---
Fun Facts about Raja Ampat
Raja Ampat's name comes from a local myth of a woman who finds seven eggs. Four of the seven eggs hatch and become kings that occupy four of Raja Ampat's main islands while the other three become a ghost, a woman, and a stone.
The main occupation for Raja Ampat, Indonesia inhabitants is fishing since the area is dominated by the sea. Inhabitants live in small colonies of tribes that spread throughout the area.
Although Indonesia is a predominantly Muslim country, most inhabitants of Raja Ampat are Christian.
On Um Island, you can bear witness to bats circling the skies during the day and seagulls flying around at night. This little island is home to diurnal bats and dotted with caves.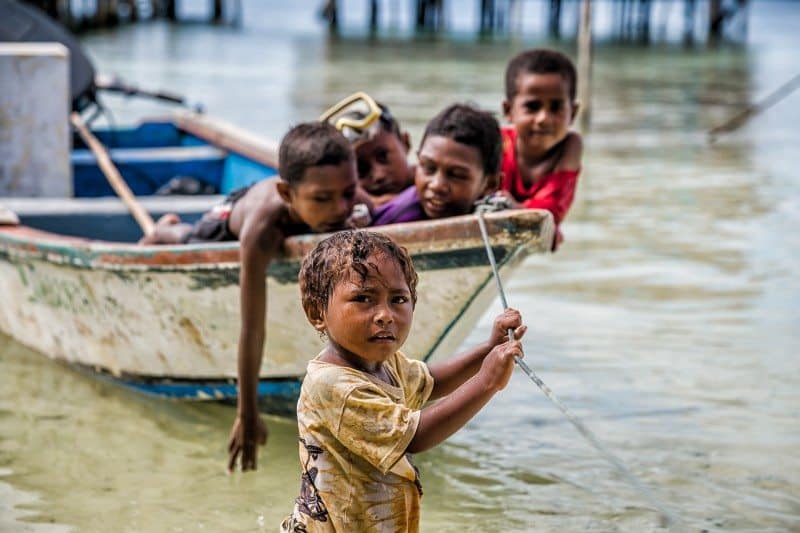 Raja Ampat Travel Tips
Travel to remote parts of the World like West Papua can come with a certain degree of difficulty so it's important to be prepared. Paying attention to a few extra things will make your trip smooth and much more enjoyable after you've survived that long transit day and just want to enjoy the destination.
Bring Provisions
There are hotels and homestays on several of the smaller islands – if you're staying on one of them, make sure you take your essentials with you.
Many of the smaller islands don't have shops so pick up things like toilet paper, snacks, and drinks before you leave Sorong or you may be without for the duration of your time in Raja Ampat.
If you're not staying in an all-inclusive resort or on a dive package, your dining options on Raja Ampat will consist of small restaurants, outdoor markets, and warungs (family-run cafes and stores).
A good option is to stock up on ready-to-eat, pre-packaged food in Sarong before heading to Wasai.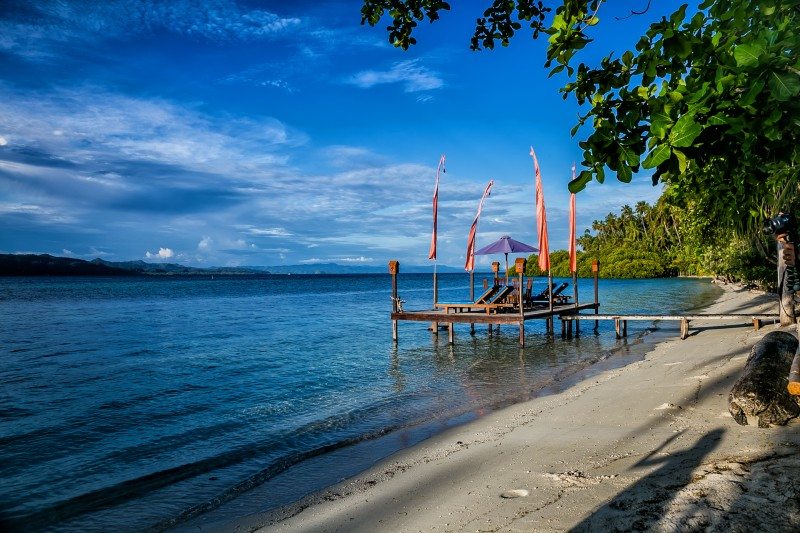 Getting Around
Waisai is the main island and there are longboats, speedboats, motorboats and dive boats that connect Waisai to all the other islands around the Raja Ampat archipelago. Transportation on the islands involves either walking or taking an ojek (motorcycle taxi).
Travel Insurance
It's also always a good idea to make sure your adventures and possible travel mishaps are covered. We highly recommend World Nomads as they cover travelers from over 150 countries around the world, offer great rates, and cover a range of travel-related costs from the more commonplace – lost baggage and cancellation costs – to the more severe – emergency medical and evacuation assistance as well as coverage for a wide range of adventure sports and activities.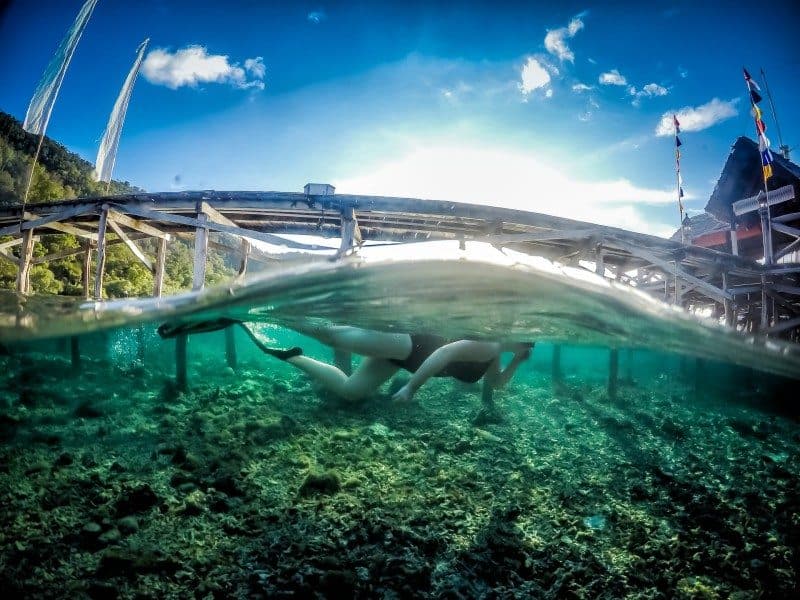 How Much Does It Cost To Visit Raja Ampat?
Indonesia is an affordable place to travel to. Once you are in Raja Ampat, you'll find this to be true as well. However, the cost to get there is much higher than moving through the lower islands. That being said, it is well worth the cost.
General costs to get to Raja Ampat include (all costs are approximate estimations and can vary):
Return flights from Jakarta to Sorong: $250
Taxi from Sorong Airport to Sorong Harbor: IDR 100,000 ($10)
The visitor permit fee for Raja Ampat international visitors: IDR 1,000,000 ($100).
Express ferry tickets: IDR 130,000 ($15) for economy class or IDR 220,000 ($25) for a VIP ticket.
The total cost to reach Raja Ampat: $400
These costs do not include accommodation, meals, scuba diving or activities while you are there. You will find that food is very affordable on the island, however, accommodation is pricey for Indonesia. Especially if you choose one of the handfuls of dive lodges.
We stayed at the Raja Ampat Dive Lodge on Mansuar Island, rooms there run approximately $300 per night for a double room that includes A/C and wifi. They also have meal plans and options for dive packages.
Raja Ampat Dive Lodge
During my trip, we used the Raja Ampat Dive Lodge as a base to not only explore the area but also to soak in the remoteness of these islands. The lodge is beautiful on a private beach with no other resorts on the site.
The accommodation is comfortable with working air conditioning, power, and comfortable amenities. You can experience amazing snorkeling off the house jetty and they also operate a dive center from the resort that gives you access to many dive sites within 15-20 minutes.
Check prices and read reviews: Raja Ampat Dive Lodge
A special thank you to the Ministry of Tourism Indonesia for inviting me on the #tripofwonders and giving me the opportunity to experience more of their beautiful country.
More on Indonesia:
Did you like this story? Share it!