Simply put, there are some incredible places to visit in Indonesia, the biggest country in Southeast Asia, the fourth largest country in the world and with over 17,000 islands, the largest archipelago in the world.
So it should come as no surprise to you that this country comes with an overwhelming wealth of diversity to offer those who visit.
While this isn't a complete list of all the places to visit in Indonesia, it will certainly be a great start for your travel planning.
We've been lucky to spend several weeks exploring this country and while we've only scratched the surface, we've uncovered many special places.
This guide is not exclusive to all the wonder on offer in Indonesia but we're hoping it will provide you with the inspiration you need to plan your own adventures to this fabulous country.
Don't leave home without: Lonely Planet Indonesia (Travel Guide)
---
11 Unreal Places to Visit in Indonesia
---
1. Bali
While Bali is obviously a must-see for Indonesia, take your visit with a grain of salt. This is not the location for the carefree and picturesque scenery seen in Eat Pray Love or other cinematic depictions of the "paradise island."
Don't expect to find a deserted beach unless you're prepared to travel to the far reaches of the island, away from modern comforts.
Read more 21 Epic Things to Do in Bali
The most popular parts of this island are thriving with large crowds of tourists and locals that want your business and who are willing to lie, cheat, and steal to get it.
So rent a bike from your accommodation and take to the streets to merge with the local frenetic energy and experience the culture for what it is.
All this said Bali is one of the best places to visit in Indonesia, at least for your first trip to the country.
Walk through the streets of Kuta for a day then opt for a more upscale experience in Nusa Dua for some relaxation and a break from the busy streets.
Afterward, head inland to the beautiful, yet still touristy, Ubud for a visit to the Monkey Forest, towering rice fields and water temples.
Read more 15 Unmissable Things to Do in Ubud, Bali
If its adventure you seek, climbing Mount Batur in the wee morning hours is a right of passage when visiting Bali and will offer an experience away from the large crowds in the South.
Another great option for exploration is Nusa Penida, off the coast and a nice day trip from Kuta. It has a few sister islands and any of these places will offer you great landscape views.
Our Top Recommended Tours:
2. Flores
Located in the group of Lesser Sunda islands, you can experience smoking volcanoes, crater lakes, and beautiful rice fields all in just a few days.
What we love about Flores is that it hasn't been changed by tourism. The main street still holds its original state and visiting a place like this is a true immersion into local life.
One of the great sights this "Cape of Flowers" is most famous for is the Kelimutu Volcano and its crater lakes in Kelimutu National Park.
They are best known for their regularly changing colors that have a wide range from aqua blue to chocolate brown due to the ever-changing volcanic minerals that mix with the water.
Not to mention, the main draw to this island is scuba diving and snorkeling. The reefs in this area are world-renowned for their beauty.
The waters are teeming with marine life and beautiful reefs but don't put this trip off for too long because the local trade of dynamite fishing has not proven great for the reef's longevity.
The main draw to the city of Labuan Bajo on Flores is the access to the Komodo Islands. Most people jet in here only to hop on a boat the next morning to Komodo.
We get it, that part of the world is stunning but try to plan a day or two of exploring this island first.
Very few people do this and you'll find a bit of the last frontier when you head into the interior. If nothing else, book a hotel that overlooks the bay as that view is what makes Flores one of the must-visit places in Indonesia.
3. Komodo Islands
This is literally a land of dragons. A short hop from Flores, the Komodo Islands are where you can find a plethora of endangered Komodo dragons.
In fact, it is the only place in the world to see them in the wild. The islands comprise about 80% of the remaining Komodo dragon population, housing about 4000 total.
Komodo Island also has a population of around 2000 people, all of whom are said to be descendants of convicts who were exiled there in the 19th century by a sultan.
An interesting list of inhabitants for one of the seven islands in the world to have a beautiful pink beach.
The red coral pigment produced by the microscopic foraminifera found in nearby shores mixes with the white sand and creates a soft pink coast that, along with its beautiful underwater life, makes an amazing place to snorkel.
The island's main activities, outside dragon hunting, of course, are diving, snorkeling, and hiking, remember a good pair of walking shoes will be your most reliable mode of transportation here.
The best way to see the Komodo Islands is by boat, so book yourself a multi-day boat trip from Flores.
Other options for seeing this area are liveaboard dive boats and adventure boats that sail between Lombok and Flores stopping at many different islands along the way.
This is how we saw the area and despite some sketchy stories, we made some great new friends and had a fabulous time. The Komodo Islands have definitely earned their spot on our must-visit places in Indonesia list.
Our Top Recommended Tours:
4. Lombok
Is there no end to the beautiful islands in this country? Lombok is another member of the Lesser Sumba island chain and is best sought after for its beaches and surfing.
Just east of Bali, Lombok is made of many smaller islands which are best traveled by small boats and scooter when on land.
Read more 17 Epic Things to Do in Lombok
Some great things to see among this picturesque destination are the Gili Islands, Mount Rinjani, the Pusuk Monkey Forest, and numerous lovely beaches, waterfalls, and local markets.
Above all, Lombok gives you the feel of Bali, 30 years ago. This makes it the paradise you hope to discover on a trip to exotic Indonesia.
This island is not crowded, not busting from the seams with tourists and seedy salesman; it retains stunning natural beauty and is a place you can find true solace if you that is what you seek.
There are not many places left in the world like Lombok and luckily, we don't see this changing any time soon. A great option for accommodation in Lombok is the Novotel Lombok Resort & Villas.
Traveling with your family or children? Check out this awesome article: Our Ultimate Guide to Lombok with Kids — Indonesia Family Travel.
Our Top Recommended Tours:
5. Gili Trawangan
A small desert island trimmed with sandy white beaches and palm trees, sitting in an unreal turquoise lagoon, Gili Trawangan (affectionately known as Gili T) is one of the top Indonesian destinations among backpackers and the most popular of the Gili Islands.
In addition to its relaxing beaches, scuba diving and snorkeling allure and a youthful, reggae backpacker atmosphere vibes throughout.
The diving among the Gili islands is some of the best on offer in Indonesia, despite the large amounts of people that dive this area every year. One of the things we love in particular about this island is the lack of motorized transport.
You have a couple of options, hire a bike, take a horse carriage or stretch your legs because you won't find any cars here.
The overall vibe is very hippy and you'll find an abundance of hookah bars and clubs peppered along the shore of the island.
It truly is an island that doesn't sleep so be prepared to spend your days in the ocean and your nights in the club.
Our Top Recommended Tours:
6. Mount Bromo (Java)
Experiencing the sunrise after an early morning hike up Mount Bromo is one of Indonesia's most sought after adventure activities.
Located inside the Bromo-Tengger-Semeru National Park, Mount Bromo is one of the most active volcanoes in the world and its potential danger is exceeded only by its majestic beauty.
Getting here is a real adventure as it cannot be accessed by air, instead only by traveling overland from a popular hub.
This means you can travel from Bali or Yogyakarta. Both are equally a task taking the better part of 12 hours from either direction.
To access Mount Bromo you'll spend the night in the tiny mountain village of Cemoro Lawang after making the long drive day only to get 4 hours of sleep to be up and off in a jeep to catch the sunrise.
After witnessing a breath-taking sunrise, most continue on to summit its 10-kilometer wide crater and stare into the depths of the sleeping volcano.
The walk is steep and very dusty with volcanic ask and dirt so be sure to bring a face mask of some type to protect your lungs.
It's worth it all though when you're at the lip of the crater watching the inside of its steam with unparalleled views all around you. You won't find any official hotels here! Expect to rent a room in a family home.
Our Top Recommended Tours:
7. Borobudur (Java)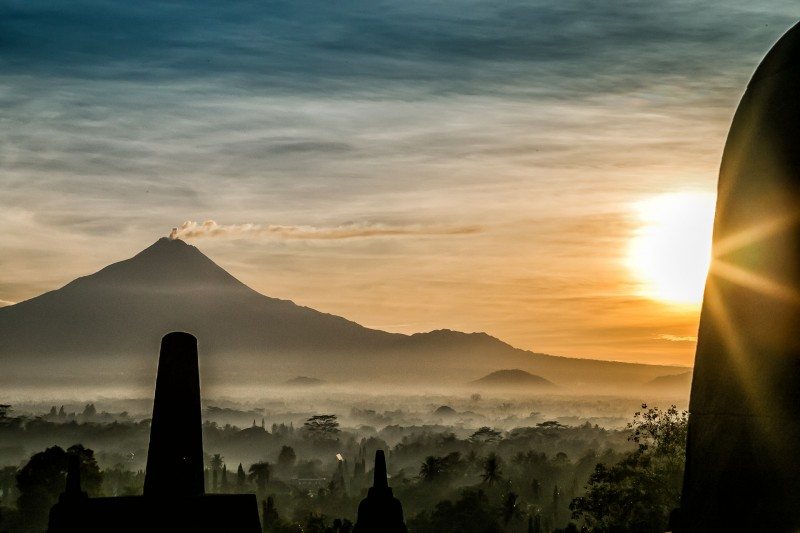 The largest Buddhist temple in the world and dating back to the 8th century, this Buddhist complex is the most visited attraction by both tourists and locals alike in all of Indonesia.
The design of the temple is very unique, featuring layers with highly detailed carved reliefs.
Once you reach the top, you'll be treated to a contrasting change of architecture that features multiple stupas, both large and small, that guard a variety of Buddha statues and give you breathtaking panoramic views of the area.
This site is a frequent focal point to experience the sunrise or sunset and an opportunity to capture some truly incredible photographs of the surrounding landscape.
Most people base themselves in nearby Yogyakarta and visit Borobudur on a day trip. However, if you want to witness a sunrise here, it's best to stay in nearby Magelang as it's a long drive from Yogyakarta in the morning.
Exhausted after a long day of exploring? Rest your head at the Hotel Manohara Borobudur.
Our Top Recommended Tours:
8. Yogyakarta (Java)
Want to experience a little more of Indonesian culture? Yogyakarta is a large city located on Java known for its cultural performances and traditional architecture.
It is home to the Kraton Sultan Palace and is in close proximity to both the Borobudur and the Prambanan temples.
You will find it an unexpectedly enjoyable home base for many of your tours where you can learn about the history, local foods and traditional arts that make Indonesia such a captivating destination.
We also found the overall vibe of Yogyakarta to be welcoming, especially in comparison to the main Java city of Jakarta. The people are friendly and the city is a great one for getting out on the streets and taking it all in.
There are many markets selling both local and tourist goods, an abundance of food stalls for sampling authentic Indonesian cuisine and plenty of museums and monuments to check out. It's especially photogenic as well.
Situated just a few steps from the Tugu Monument, The Phoenix Hotel has elegant hotel features, both a bar and a restaurant. Popular amenities, such as an outdoor pool and a sauna, ensure a satisfying stay in Yogyakarta.
Our Top Recommended Tours:
9. Bandung (Java)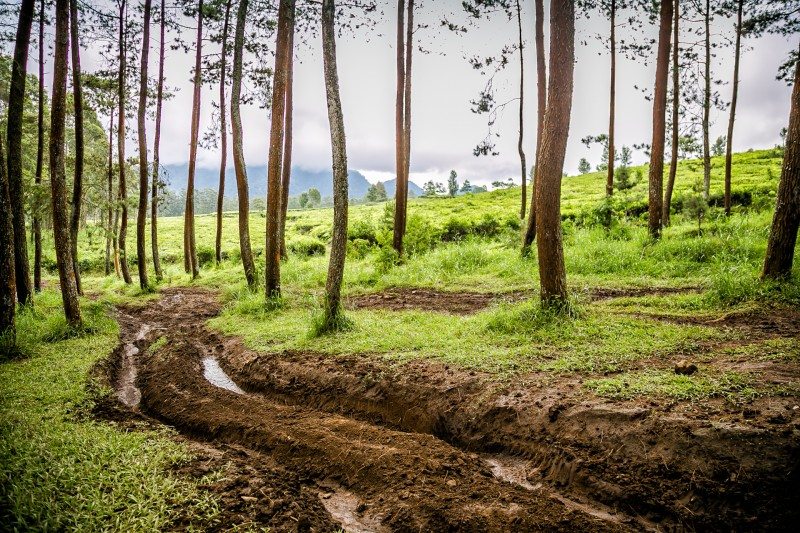 The second-largest city in Indonesia, Bandung is a surprise addition to the itinerary.
You may be expecting to find another boring metropolis, but instead, it is actually a great home base for many exciting side adventures. Bandung is basically a central hive to a very diverse natural area of Java island.
Read more 9 Interesting Things to Do in Bandung
Whether you want to visit another live volcano at Tangkuban Perahu, blaze through mud trenches on a land rover or just experience some traditional music at a Saung Angklung Udjo show, there is plenty to do in and around this lively city.
Situated in Bandung, the Sheraton Hotel Bandung is a short drive from Bandung Institute of Technology and offers on-site parking. It also features a gym, a sauna, and an outdoor pool.
Our Top Recommended Tours:
10. Bukit Lawang (Sumatra)
Ready for your jungle trek? Bukit Lawang is a small village situated on the bank of the Bahorok River and located next to the dense Sumatran jungle which must be experienced in the company of a licensed jungle guide.
Personally, Bukit Lawang is a paradise that sees few tourists and offers an experience you'll be hard-pressed to replicate anywhere else.
Our days in the village were spent swimming in the river and visiting with the locals in the middle of a very dense jungle setting.
A number of beautiful animals can be spotted in the vast forests of Gunung Leuser National Park, the most popular of which are the red-haired orangutans and other elusive monkeys.
These jungles are one of only two places in the entire world where orangutans still exist in the wild.
In addition to the orangutan rehab center that exists on the outskirts of Bukit Lawang, any multi-day jungle trek into the jungle will afford you views of the red ape in the wild.
There are also families of larger cats, rhinos, and elephants nestled within Bukit Lawang but you would be hard-pressed to find them.
Regardless, this jungle trek will be very rewarding so find yourself a fantastic guide and be prepared to be blown away by the remoteness of Sumatra.
Our Top Recommended Tours:
11. Raja Ampat (West Papua)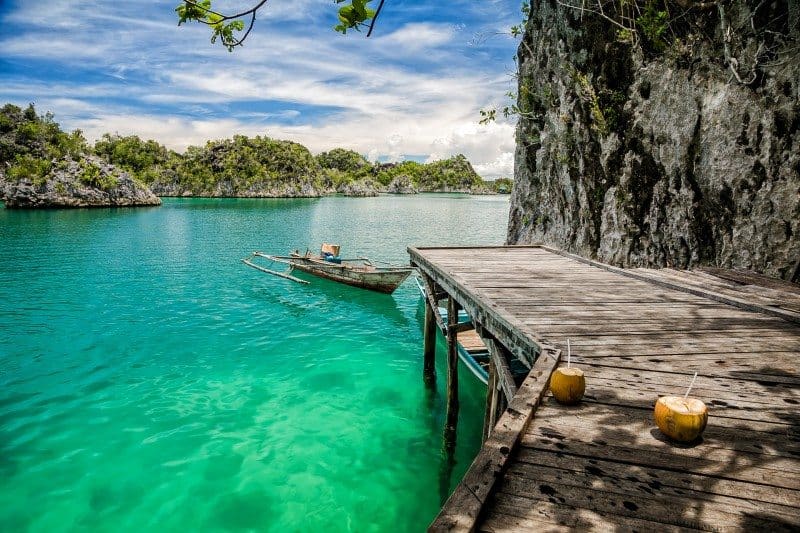 The expansive archipelago of Raja Ampat is our last pick for a great trip to Indonesia.
If you have the determination and money to journey to this incredible and still mysterious collection of islands, you will find it one of the most stunning tropical destinations in the world.
Located dead center of the Coral Triangle, the four main islands of Raja Ampat, which translates to Four Kings, contains the richest marine biodiversity on earth and is known as the Amazon of the Oceans.
Teeming with diverse marine life and the clearest turquoise water you can find, Raja Ampat is a perfect place for your oceanic adventures and will give you an experience you will never forget.
Raja Ampat and West Papua are remote, exotic, expensive to reach and regulated but it's these things that make is one of the must-visit places in Indonesia.
Raja Ampat is home to some of the best scuba diving locations in the world. It would be a shame to pay a visit and not hop in the water.
Raja Ampat Dive Lodge provides 3-star accommodation, as well as a 24-hour reception, meeting rooms, and free Wi-Fi.
It also offers a tour desk, a dry cleaning service, and an airport shuttle. The Dive Lodge also features both a restaurant and a bar where guests are able to relax of an evening.
---
Our Favorite Places to Visit in Indonesia
We've spent the better part of 7 weeks exploring these places to visit in Indonesia during our travels and suffice to say, we're ready and waiting for a chance to return again.
The combination of intense natural beauty, charming people, captivating culture and rare wildlife makes every visit a real treat both sensually and photographically.
If you're ready to plan your own trip and only have 2 weeks, we suggest these routes:
Bali → Flores → Komodo → Lombok → Gili T
Jakarta → Bandung → Raja Ampat → Lombok → Gili T → Bali
Bali → Mount Bromo → Yogyakarta → Borobudur → Sumatra
No matter how you choose to spend your time in Indonesia, we guarantee you'll discover amazing things and have the time of your life.
More on Indonesia:
Did you like this story? Share it!