Most world travelers make plans to visit popular places like France or Italy. Most never consider visiting lesser-traveled places like Indonesia. It is a well-hidden gem that tourists and vacationers seldom think about exploring.
A country rich with history and beautiful landscapes, it offers up many activities that are unexpected. Whether you're a seasoned traveler or a yearly vacationer, you will find yourself making Indonesia a destination you want to visit again and again.
Don't leave home without: Lonely Planet Indonesia (Travel Guide)
---
Things to do in Indonesia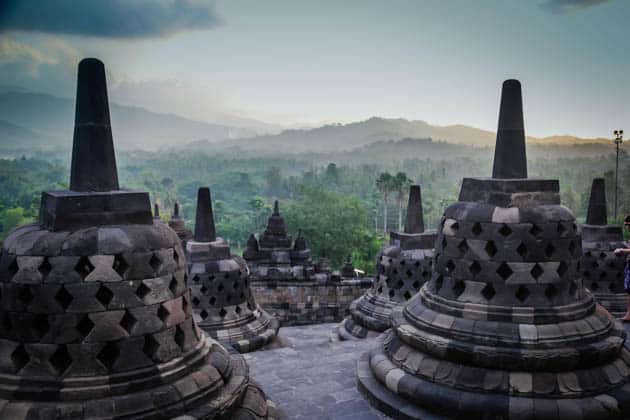 History Buffs Indulge
For the history lover in all of us, Indonesia is home to some of the most beautiful ancient temples in the world. Tow of them is located close to the city of Yogyakarta. The Borobudur Temple is a Buddhist temple that stands largely untouched as it did centuries ago.
The Prambanan Temple is a Hindu worship place that has been well preserved over time. Both are all inspiring examples of ancient religions standing so close together and yet so very different. They are both awe-inspiring marvels that will make you feel as if you stepped back in time.
Becak Sight-Seeing Tours
If you would like to immerse yourself in the beauty and history of Indonesia upon arrival, it is highly recommended that you take a Becak carriage to see the sights. The Becak is much like a rickshaw that is cycle driven from behind.
You will be sitting up front and your view will be unobstructed. You'll find yourself feeling very much a part of the sites around you as you learn about some of the beautiful architecture and history of the Indonesian culture.
It's a great way to get to know the people and the cities. Take the time to relax and get a feel for the area while you learn about the area.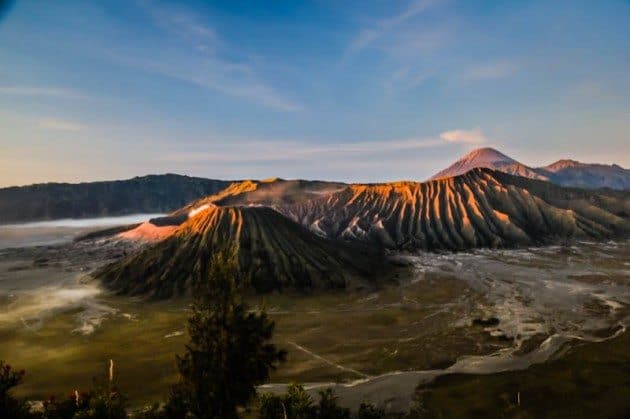 Visit An Active Volcano
If you have ever contemplated visiting an active volcano you can cross this one off your bucket list when you visit Indonesia! The famous Mount Bromo is one of those active volcanoes and is located in Java.
It's one of the most popular destinations in Indonesia to visit. Bring your camera and take a hike up to the tip of the crater at sunset for the best photos and enjoy a view that is one of the most breathtaking in the world.
You can experience the adrenaline-pumping thrill of being close to an active volcano without the danger of being swallowed up by lava. You will positively feel as if you're in another world.
Togian Islands Diving
If water sports are more your speed, then it you can't leave Indonesia without visiting the Togian Islands. This spot boasts some of the most beautiful aquatic reef and underwater life in the world.
Hosting a biological variety of over 3000 species, your diving experience promises to be one unlike any other. Be on the adventurous side and rent your own dive gear. Spend an entire day exploring the sea bottom that is a world all its own.
Consider purchasing a water safe camera when panning this activity to capture the breath taking and colorful reef that is teeming with aquatic life.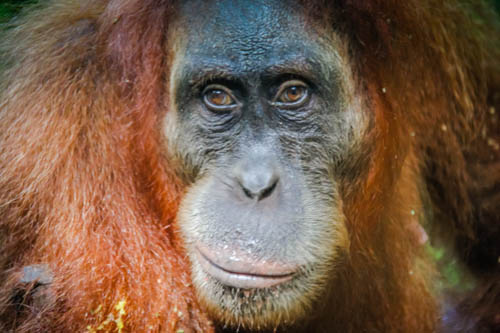 Hike In The Forest
If you love exploring local wildlife then a visit to the local rain forest is a must. Indonesia is one of the only places in the world that you can see the majestic orangutan in the wild!
The Butik Lawang rain forest boasts being one of the last few wild habitats on earth that is home to this wonderful and mysterious animal. You'll get to experience their day-to-day life and the natural habitat that surrounds them.
Be sure to check out this guide to finding the right jungle guide for you. You'll fall in love with the beauty of the lush forest and the adorable antics of the baby orangutan as they hang from the trees and frolic around.
This is a one-of-a-kind experience you won't get anywhere else. We recommend Thomas Jungle Tours for your time in Bukit Lawang.
Shop Indonesia
If spending the day perusing local markets is what you desire, you are in luck. There are a variety of options from the malls of Jakarta to the smaller markets and malls around the city.
Indonesia has some of the world's best shopping and you can always bargain for a great deal. Whether your intent on spending a lot of money or looking for a cheap bye, you will be impressed with the variety and quality of the items you'll find. Go ahead and load up on souvenirs for the whole family.
Considering a Trip to Indonesia Soon?
So next time you start to plan a trip to an exotic location, consider Indonesia as a destination. With so much to offer and a variety of activities to fill your vacation itinerary, you'll enjoy every second of your time.
With unmatched beauty and experiences for any traveler, Indonesia promises to be a favorite vacation destination.
Whether you're intent on relaxing on a white sandy beach or hiking mountain trails, shopping in the market district or enjoying local fare, there's something for every traveler in beautiful Indonesia.
It doesn't stop at this list either! Be sure to check out our adventures in Indonesia for more great ideas and things to do during your visit:
More on Indonesia:
Did you like this story? Share it!