The Sacred Ubud Monkey Forest in Bali comes with its a fair share of controversy. We have met people that won't set foot in the place because of the experiences they have had or the stories they have heard from others.
On the other side of the spectrum are the people that have visited the monkey forest and enjoyed it.
We are part of the group that has paid a visit to the sacred Ubud monkey forest and enjoyed it.
We prepared ourselves mentally before our visit and took a number of precautions to ensure we would have an enjoyable time and ended up spending a half-day at the temple just exploring and observing the monkeys.
A visit here should not be done lightly or without caution, but I do feel that the Ubud Monkey Forest is a great place to visit on your next trip to Bali.
You can have a pleasant visit if you are mindful of the rules and always remember that these monkeys are not pets, they are wild animals.
Don't leave home without: Lonely Planet Bali & Lombok
---
Survival Guide to the Ubud Monkey Forest
---
Pre-Visit Preparations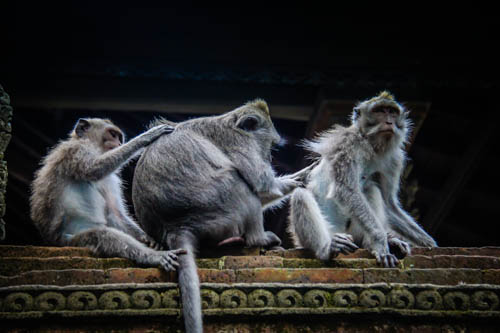 Be sure that you prepare for your visit BEFORE you get to the temple. Do not bring anything with you that you don't want to lose.
Better yet, don't bring anything but the admission fee and your camera when going on the trek to the Ubud Monkey Forest. This includes sunglasses, flashy jewelry or anything you might have hanging off you.
We did have a backpack on us, but we emptied all outside pockets, cleared the inside of any food and locked the zippers. We never took it off or opened it while in the temple and the monkeys never gave it a second look.
We did see several people carrying purses or backpacks that had not secured them become subject to monkey thievery. When the monkeys set their eyes on something, you will be hard-pressed to stop them from taking it.
Once they have your stuff, say goodbye to it. They don't give it up willingly and we saw many become aggressive with hissing, teeth barring and chasing when challenged for things they had stolen.
Be smart about your visit and mindful of what you bring with you into the Ubud monkey forest.
Just Say No to Bananas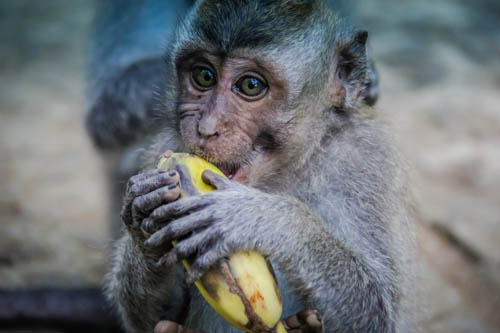 Upon arriving at the Ubud monkey forest, you will be greeted by some women sitting at a table selling bananas.
My first tip, don't buy any bananas. Head straight to the ticket counter, purchase your ticket and then proceed into the temple.
Some of the horror stories that come from visiting the Ubud Monkey Forest revolve around food. It is not smart to take food in, even if you are dying for a closer look at a monkey.
In addition, do not bring outside food into the Ubud monkey forest. Be sure to check all bags and pockets for food, candy, etc before entering.
You might have forgotten it was there, but the monkey will know straight away and they can be quite persistent about retrieving anything they want off of you.
Don't worry, if you resist the urge to buy the bananas like a good tourist, there will be several people inside that didn't.
We spent large amounts of time just observing some pretty ignorant people with their bananas while they interacted with the monkeys.
You will see people teasing monkeys, coaxing monkeys onto their shoulders, heads, laps, you name it. It is an insane sight to witness.
Don't be one of these people, respect that monkeys are wild animals and this is a sacred monkey forest.
No Touchy the Monkeys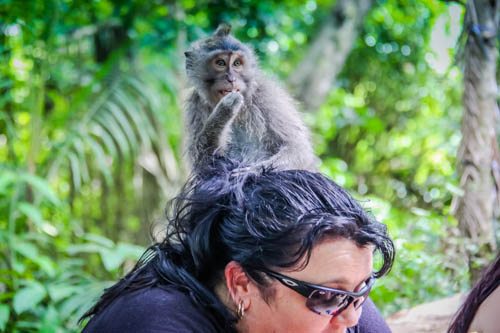 I will blatantly admit, many of the monkeys in this temple are very tame. They have been around humans their whole lives and are comfortable interacting with people on a daily basis.
However, under no circumstances should you attempt to touch them while in the Ubud Monkey Forest.
They may look cute and cuddly but they are actually ferocious little hellions. They can become territorial and aggressive in the blink of an eye.
We witnessed one person coax a monkey in with a banana then attempt to pet it. The monkey was tolerant at the first attempts but the person then decided to get braver, move in closer and take selfie photos with the monkey.
This turned bad real fast and resulted in the guy getting bit on the finger. The bite was bad and was bleeding profusely.
Being scratched or bitten by a monkey poses some serious risks to you. Rabies is a disease that is rampant in many parts of Asia and can sit dormant in animals for up to 2 years before they begin to show signs or symptoms of carrying it.
A bite or scratch from an animal that is carrying rabies can prove fatal if proper action is not taken immediately.
We were sure to get our pre-rabies vaccinations before leaving the United States to travel, but we still exercise caution. Getting treatment in a third world country for rabies isn't an easy task and can quickly ruin your holiday.
Enjoy Yourself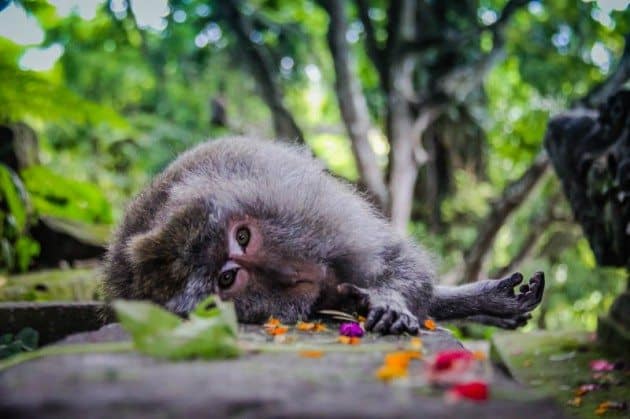 Yes, after all of the 'could happen' talk, don't forget to enjoy your visit to the Ubud monkey forest. There isn't anywhere else quite like it and it is a beautiful escape from the busy streets of Bali.
The biggest thing is to use your common sense, keep your distance and just enjoy being able to see these amazing creatures so close.
The workers in the temple do a good job of keeping them fed, so they are all healthy looking and if they know you don't have food, they are happy to let you observe them from a distance without ever bothering you.
Be sure to check out all the layers of the temple and make a stop at the water fountain in the main area. We were able to witness many monkeys playing and swimming in the water here.
Facts About the Ubud Monkey Forest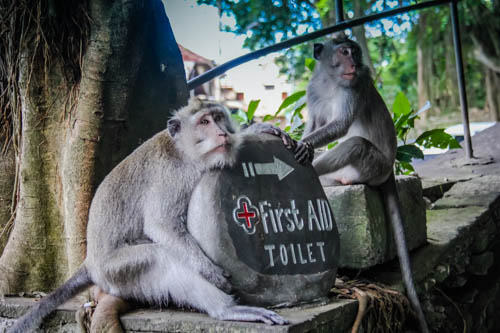 Remember, this is a temple and you should dress accordingly for your visit. No skimpy clothes. Tank tops and modest shorts were acceptable during our visit while in the Ubud Monkey Forest.
Ubud Monkey Forest Admission: 80,000IDR per person (roughly $5.50USD)
The monkeys that inhabit the Sacred Monkey Forest are Long-Tail Macaques.
The monkeys are not afraid of humans, remember this during your visit.
If you are bitten or scratched during your visit, seek medical attention to ensure you do not contract a disease.
More on Indonesia:
Did you like this story? Share it!