Have you ever stumbled upon a city or location while traveling that completely surprised you? This happened to us while traveling in Indonesia. We had wanted to visit Mount Bromo and in true backpacker fashion, decided to travel overland from Bali to save money which landed us in Yogyakarta unexpectedly.
However, there is nothing in the small town of Cemoro Lawang except Mount Bromo, so this means all the tours we were looking at started in Kuta, Bali and ended in Yogyakarta, Java. Not putting much thought into the end destination, we booked it figuring we could move on to Sumatra from Yogyakarta afterward.
What we weren't prepared for was how much we would love Yogyakarta and regret our decision to only spend 2 days there. Nevertheless, we made the most of our time there and now have a place we would like to revisit on our return to Indonesia.
While we realize there are many things you can do in Yogyakarta on a longer visit, we wanted to share with you how we filled our two days and what we recommend that you add to your itinerary if you are planning your own visit to this cool city.
---
Day One in Yogyakarta
Start your day by wandering down the street and grabbing your breakfast from a street stall. This will consist of either rice or noodles and a fried egg. While not conventional by Western standards, this is how the Indonesian people start their day and you should give it a try.
Plus, it will only put you out a mere 50 cents.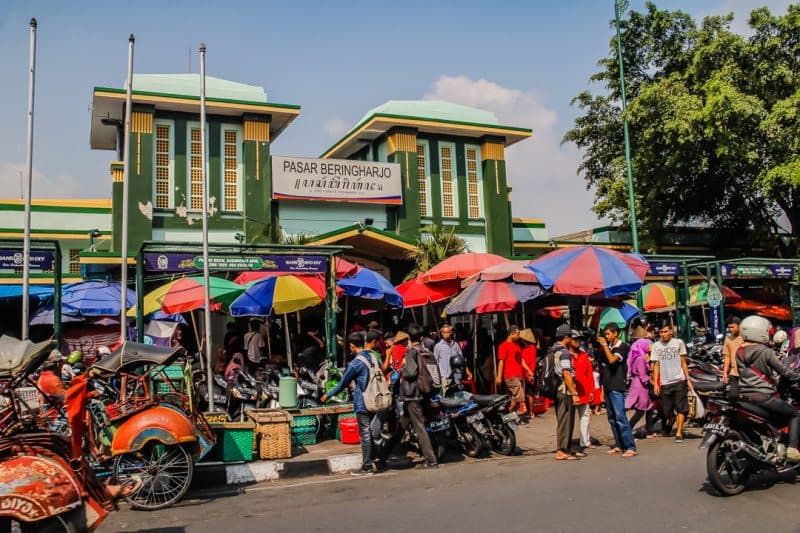 Shop the Markets
Yogyakarta is known countrywide for its huge markets. Some of them are designed exclusively for tourism but most of them will leave you blown away by the variety available. Give yourself the morning to get right into the thick of things and browse all the goods.
If you like collecting bracelets as I do, then prepare to be in a bracelet haven.
Take a Becak Tour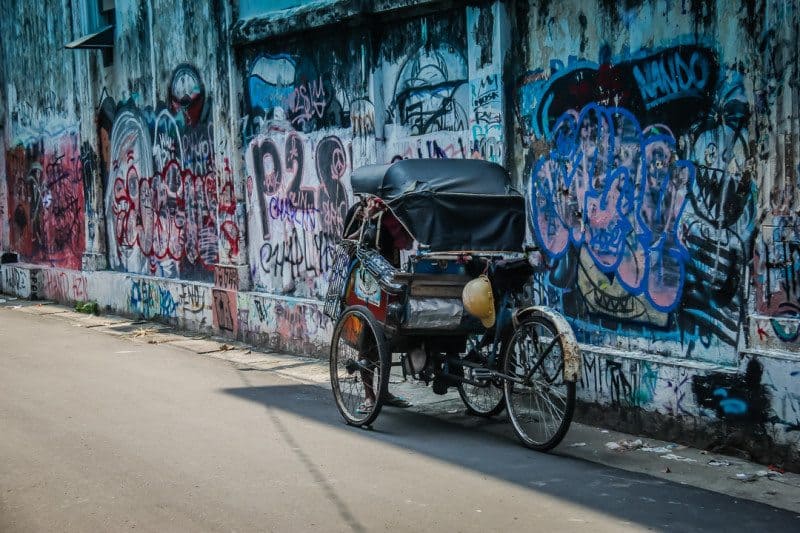 Traditional transportation throughout the island of Java involves riding in a becak, known as a tuk-tuk in other parts of the World. It is easy to hail a becak from the road and negotiate with the driver for a city tour.
If you have a specific area or district in mind, be sure to tell the becak driver when you are negotiating. Hot tip, negotiate but don't pay until you are finished with the agreed-upon tour.
Tour the Kraton Sultan Palace
Still used today by the current Sultan of Yogyakarta, the Kraton is a great place to spend the afternoon learning about the history of the city. Admittedly, it does lack organization, so don't expect a lot of plaques but the stuff is really neat to see and a solid piece of history for the city.
Accommodation Recommendation
Check out the reviews and prices for the Phoenix Hotel. This hotel is opulent and beautiful, built-in 1918, it has the flair of an exotic colonial mansion set in the heart of the city.
---
Day Two in Yogyakarta
If you want to see more of Yogyakarta, then you can easily fill today with a variety of other sites within the main part of the city. However, I recommend you take a day trip out of the city to an amazing UNESCO World Heritage site for the day.
Visit Borobudur Temple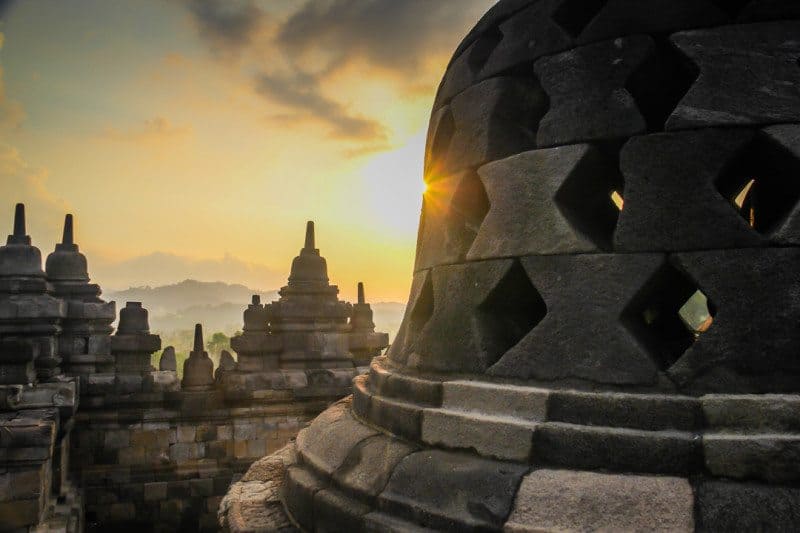 I know this means you miss out on a precious day in Yogyakarta, but trust me when I say that it will be worth it. Borobudur Temple is the largest Buddhist temple in the world and is listed as a UNESCO World Heritage site. Borobudur is located 40km outside of the city and takes roughly 2 hours to reach with private transport.
Transport
Private transport from Yogyakarta will cost you between 75,000IDR and 200,000IDR ($7 – $20USD) depending on how you choose to visit the temple and if you want to include other stops.
Dress Code
You must have your knees covered during your visit. Regardless, you will be issued a sarong and belt when you purchase your ticket to wear inside the temple complex.
Admission
Unfortunately, there is a foreigner price for entrance, which is much higher than the local price. Expect to pay 200,000IDR ($20USD) for your ticket. This also includes refreshments upon entering the park.
Combine Borobudur with Prambanan
We didn't do this because I wanted to be at Borobudur right up to sunset for photos. However, most people choose to visit both UNESCO listed temples during their day trip outside the city. It won't be hard to add the Prambanan Temple Complex to the agenda if this is something you wish to do.
Accommodation Recommendation
To save time, consider spending the night near Borobudur Temple so you can catch the sunrise. Check prices and read reviews of hotels located close to Borobudur Temple.
---
Tips for Visiting Yogyakarta
Hotel Location is Key
I can't stress enough how important it is to choose a good location when you have a short time to spend in Yogyakarta.
Using a service like Traveloka will ensure that you find great, centrally located hotels to maximize your ground effort when exploring. The closer you are to the sites, the less amount of time you and money you will spend getting to them.
Don't be afraid to haggle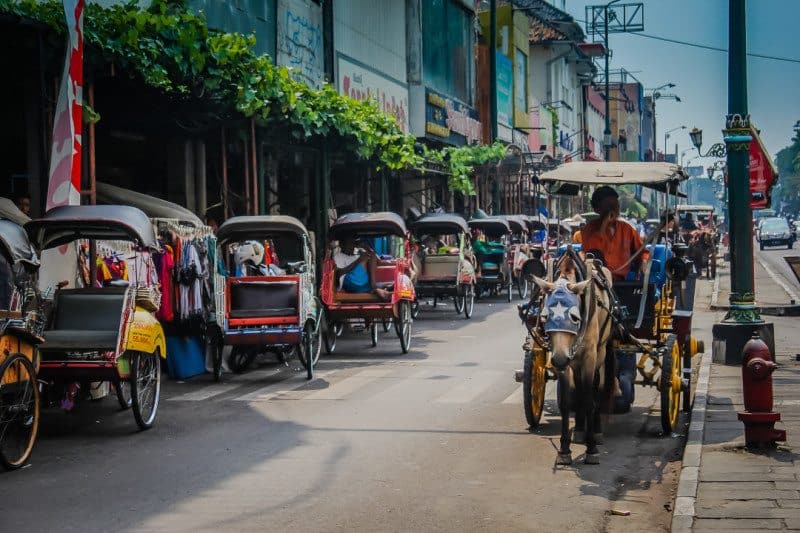 The locals expect it and love the interaction that comes with it. It's a custom of theirs, so don't be afraid to haggle over that bracelet or pair of pants you are eyeing up in the market. Although, be reasonable about your offer price.
Eat Street Food
Don't be afraid of the street food scene in Yogyakarta. It will look busy, chaotic and maybe even dirty. No worries, trust us, it is amazing.
Just ask them to hold the chili because it is really hot, even for those of us that love hot stuff. They will put it on the side if you are brave enough to try it, just don't put it on everything as it could ruin your meal.
---
How Will You Spend 2 Days in Yogyakarta?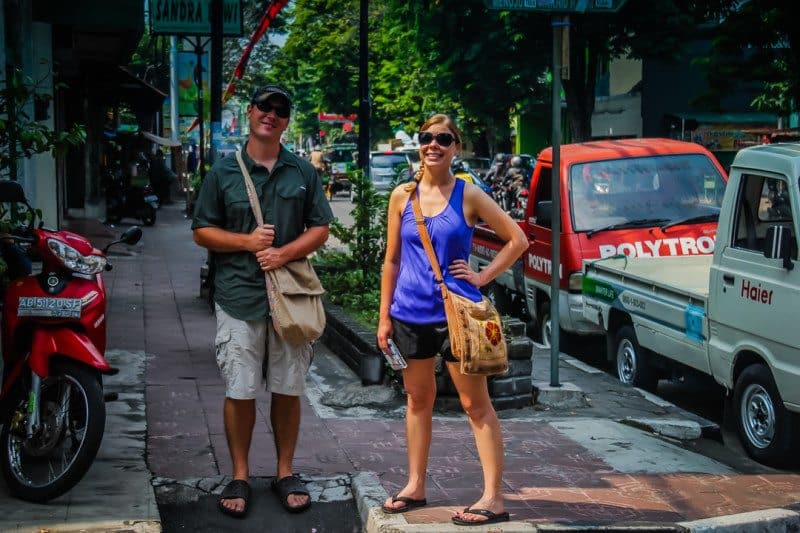 There is really enough to do in this city to spend 4 days seeing the city and the wonders outside of it. You could even make an overnight trip to Bromo from Yogyakarta with an overnight.
The possibilities are endless really and no matter how you choose to spend your days, I guarantee you'll have a great time.
More on Indonesia:
Did you like this story? Share it!