There's nothing compared to the freedom you have while riding your own set of wheels down the road. Add that sensation down a new highway or back road you have never visited let's triple that and put you smack dab in the third world.
The screaming of the engine and the wind wiping in your face, which feels good when it's hotter than the dickens out. The whole experience will enlighten your senses.
Driving by the local shops that have their items stacked right on the road. Avoiding the person carrying their basket on their head while little children play in the streets. As you drive, the streets are filled with directions that span above the road. Adventure is out there, so jump on that bike and see what awaits you down the road.
No matter where you go in Bali the streets are filled with scooters. They are flying down the street honking, whizzing in and out of traffic, some even ride on the sidewalk because the street is marked a one way.
You need to be careful, but what's nice about a scooter is you can go at your own speed and if you ever feel unsafe just stand up. Traffic does not go that fast, so just go as fast as you feel comfortable.

Renting a scooter
You should rent a bike from a reliable company or guesthouse. Yes, as you walk down the street locals will ask you one hundred times if you would like to rent a bike. I would not go with that option, many if not all of the guesthouses have bikes you can rent.
It's good to rent the bike from someone you know instead of a stranger. A lot of the times you can get a better price from your guesthouse because you are staying there and they will bend over backward to make you happy.
One of our fellow travelers rented from someone on the street and had an amazing time but when they went to bring the bike back the locals tried to get even more money out of them because of some small scratches that were on the bike.
After an hour or so of yelling in different languages, they gave in. They did not make the scratches but they had to pay the local more money because of the issue.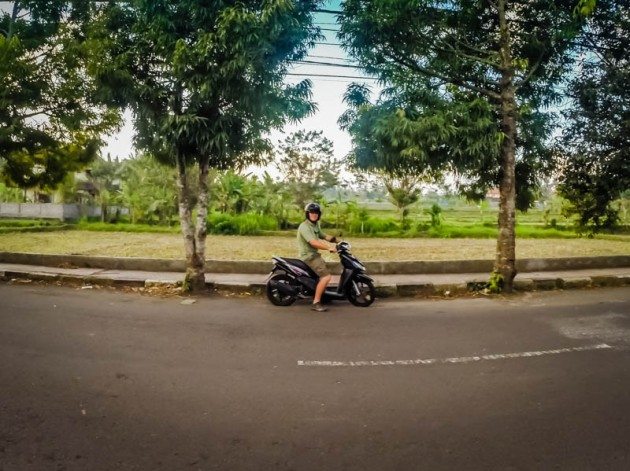 With this said, be sure the bike you rent includes insurance, registration and a helmet. Make sure you have a copy of the insurance and the registration on the bike before you leave.
Always wear a helmet, this should be no exception. Sometimes it isn't your skills in question, but that of everyone else on the road. It's better to be smart and safe than to end up a vegetable.
You should plan out your trip first. You can pick up a local map at any travel office in the town you are staying in. This will save you time while you're scooting around looking at things.
Make sure you review the local laws, check to see if there's any one-way streets, bike-only streets or even if the roads end or maybe turn to dirt.
We always pick out landmarks that help us plan our route. Turn left at the huge statue, ride for 45 minutes and then the rice field should be on your right side. Picking out landmarks helps you from having an O-shit moment mid-trip.
Never a good thing when you need to turn but have ten other scooters right behind you.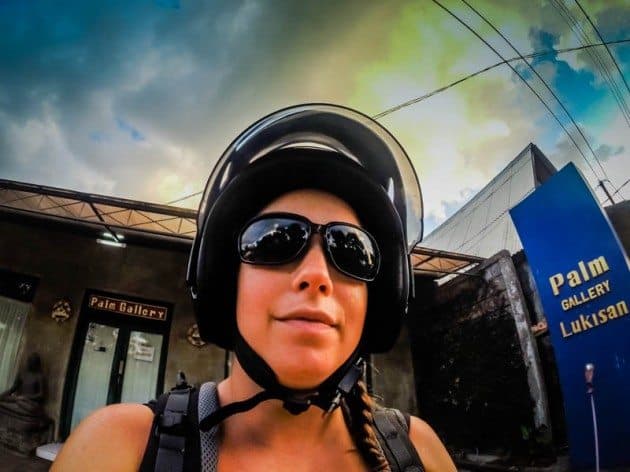 Make sure you pack a different wallet with some extra money in it just in case you need to pay off the police. They have been known to pull over people looking for bribes.
It's just easier to have that money set aside just in case, instead of fumbling through your wallet with lots of money in it. We were never pulled over, but have read many stories of people that have been.
In these situations, it is best to remain calm, try to speak clearly and not start a fight. The last thing you want is to end up in some foreign jail or to be pissing off the locals.
These situations are usually handled by you paying off the official, even if you did nothing wrong. 50,000IDR seems to be the going rate around Bali at the moment.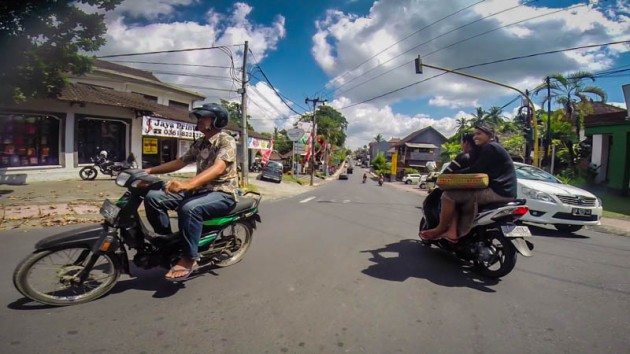 Before heading out on the road make sure you know the bike. How does it start? How do you fill it up with gas? How much gas does it take? How does it shift, is it automatic or manual? How do the blinkers work?
Do the lights work? Does the horn work? And are the tires in good shape? Those are just a few things I always check out before I get on a bike. Most accidents happen within the first few seconds of getting on a bike.
If you plan on renting your bike for more than one day, make sure you park it overnight with very little gas. Locals have been known to siphon out the gas at night. Can't find your bike after parking on the street?
Many times they will move it on you. Lina and I went to lunch down some back street (where the food is cheap) and our bike had been moved two shops down.
They are always trying to fit more bikes in the parking spots so don't be surprised if your bike moves without you. Just make sure you know the license plate number, or mark your bike somehow so you know which is yours.
Just going off of color is not a good idea, they only make a 1,000 of the two different colors.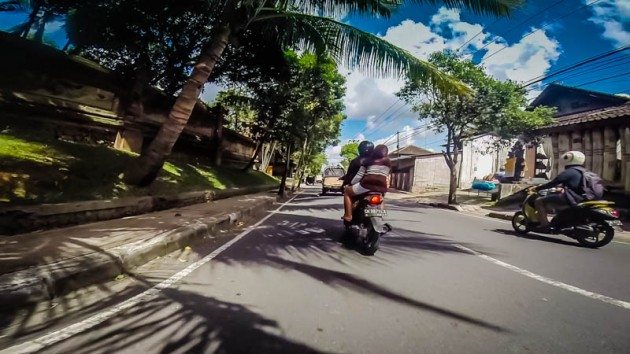 Driving was not difficult at all, yes it can get a little hectic at times and people will honk at you but honking is not bad it's how they are saying they are going to pass you. Over all difficulty is a 6 out of 10, it more about the stress of going with traffic flow then actually driving the scooter.
I would not hesitate to rent a scooter in Bali. Our price was only 50,000IDR for the whole day with a tank of gas and insurance. That works out to about $4.00USD! Not much at all for a lifetime of memories and day's worth of fun.
If you like reading about out scooter adventures, check out the other time we rented a scooter in Phuket, Thaliand.
Have you ever rented a scooter while traveling?
More on Indonesia:
Did you like this story? Share it!