Who doesn't want total freedom to travel around a beautiful island? Should you rent a scooter in Phuket? YES! You should absolutely rent a scooter in Phuket and prepare for a unique adventure on a busy island.
There are always a few key things from each adventure that sticks out in my mind when I'm on the road and in Phuket, Thailand one not to forget was our own scooter adventures. It certainly was not my Harley but it worked!
Renting a scooter was easy, we rented one right from our hostel. All they needed was our passports and some cash. We thought ahead and went to AAA before we left to get our International Drivers License.
They didn't ask us for them but did take down the information from them when we volunteered them. For us a helmet was a must, I'm funny enough without hitting my head on the streets of Thailand.
Renting a Scooter in Phuket
Our scooter was an Automatic so it was easy to work, just give it gas and go! We will call it the little red Honda. Have you ever driven in 5-6 wide lines of bikes but the real lines are only a car wide? Well, that is what it is like.
Going down streets, hills and curves were fun. You just kind of flow with traffic, so if there's a car stopped in the street you go around it, you may go around it on the sidewalk or shoulder but you just follow all of the other bikes whizzing in and out of traffic.
Yes, it's kind of crazy, but everyone is nice and watches out for each other. But don't expect Thai drivers to be driving with the same respect for the driving rules as most drivers in your country do- they have their own set of rules!
That includes going through red lights if no one is coming and driving on the wrong side of the road! As far as the road conditions, they were well paved and smooth so even an inexperienced biker will be able to rent one and have fun.
Read reviews and check prices with our Hotel Search Engine, that gives you the best hotel deals found on the web. Our search engine pulls results from all of the major booking places, including Expedia, Hotels, Booking and more. All the options, all the deals, all in one place and just for you.
Horns
People will be honking horns like crazy. Some just to say hey I'm turning or watch out don't you see me or hey pretty lady or you're going to slow! No matter what, just don't let it get to you, honk back if you want! It's all part of the culture.
The day we rented our little red Honda we took it beach hopping along the West and South sides of Phuket. From Patong to Kata & Karon was about a 20-minute drive.
Most of the drive is outside of the city and you can enjoy a beautiful jungle landscape and some pretty awesome views of the coast from the higher overlook spots. You just kind of go at your own pace and take it however it comes at you.
Keep your eye out for people running across the street. We saw one bike that had almost flipped over because someone ran right out in front of them!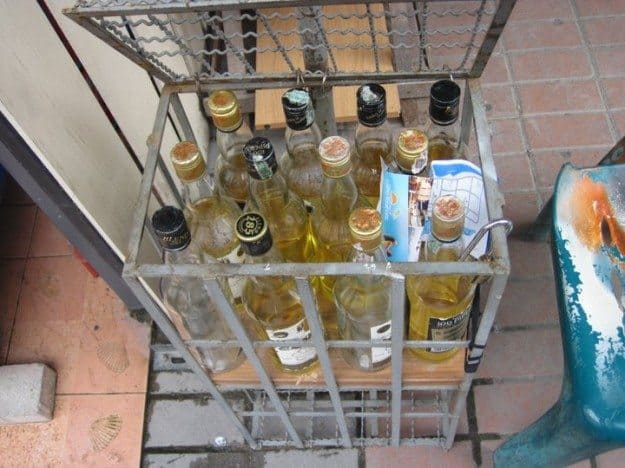 ~ Tequila or Gas? You decide. ~
We filled up at one of the street stations near the hostel and never had to stop for gas again. They don't have traditional gas stations so you will see people on the streets with liquor bottles in baskets. This is your gas station!
The rates are fair and they are happy to fill you up. At first, we thought maybe they were tequila or something like that. One day will only use a tank of gas and there are tons you can see.
We did do our fair share of walking, but we enjoy that. We either walked or rented a scooter. Don't hesitate to rent one, get out there and have your scooter adventure today.
Top Tours to Take in Phuket
Hanuman World Zipline Adventure
Soar through Phuket's lush forest on a 3-hour zipline adventure at the Hanuman World zipline park, where you'll find state-of-the-art safety and equipment in a stunning tropical setting. Swoop between 30 platforms set high in the trees and connected by rappel lines, sky bridges, spiral staircases, and ziplines. Travel through the course alongside a trained guide and recover from your adventure with an authentic Thai lunch.
2-Hour ATV Tour
Explore the inland terrain of Phuket on a 2-hour ATV tour in Thailand's lush jungle. Includes transfer from your Phuket hotel to the ATV camp, full instruction, equipment, and an exhilarating ride led by an expert guide.
Sightseeing Tour
There's more to Phuket than white sands and turquoise waters: it also has vintage streets, colonial mansions, Buddhist shrines, and more. This 4-hour tour takes you into Phuket Old Town, to discover bustling lanes, 19th-century architecture, and quaint shop-houses as you hear about the town's history.
Full-Day Similan Island by Speedboat
Experience Thailand at its most pristine on a full-day trip by speedboat from Phuket to the Similan Islands that includes lunch by the beach and round-trip hotel transfer. Spend the day exploring the picture-perfect islands, with time to swim, hike, and enjoy the Similan Islands' white-sand beaches.
More on Thailand:
Did you like this story? Share it!