Thailand is loaded with dreamy places to relax and experience an exotic cultures. One of the most popular places is a pair of small islands in the southwest of Thailand called the Phi Phi Islands. In this complete guide to the Phi Phi islands, you can expect all the necessary information needed to plan your holiday to this beautiful part of the World.
A word of warning though, the Phi Phi islands are very popular, thus leaving a quiet island retreat as your end goal a distant reality. There will be loads of people there but paradise still exists in the quieter corners if you can manage to find them.
Regardless, pack your bags, favorite bikini and prepare yourself for a beautiful island, clear water, and dramatic limestone cliffs.
---
Phi Phi Islands in Thailand: Complete Guide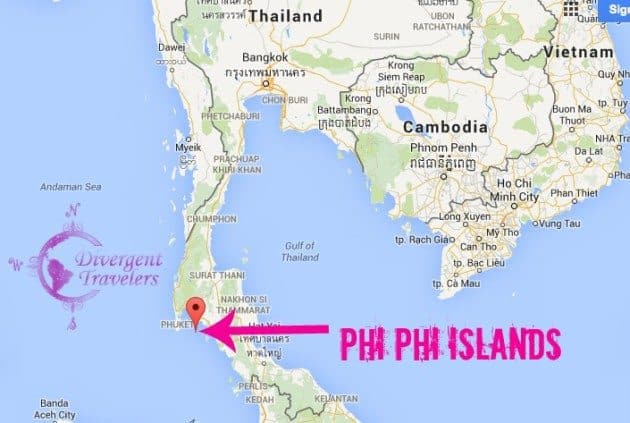 Location of the Phi Phi Islands
The Phi Phi islands are a set of islands off the coast of mainland Thailand between Krabi and Phuket. The island set includes Koh Phi Phi Don and Koh Phi Phi Lee.
It is possible to stay in the Phi Phi islands, but only on Phi Phi Don. Most of Phi Phi Lee is a national park and while many visitors go there daily to visit Maya Bay, there is no accommodation on the island.
Getting to the Phi Phi Islands
There are two main options for getting to the Phi Phi Islands.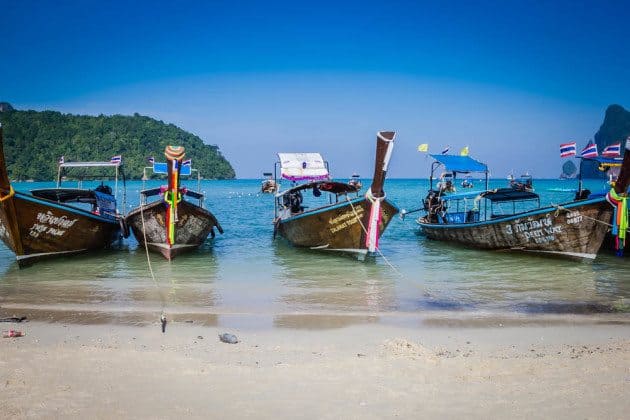 Via Phuket or Via Krabi: You can arrive in Phuket or Krabi by taking a flight or bus from just about anywhere in Thailand. Once you arrive, you will take a ferry or speed boat to Phi Phi Don.
The most economical and popular way is by the local ferry. These boats are large and slow, but comfortable and cheap. You can arrange your ferry tickets at your hotel prior to arrival in Phuket or from your hotel in Phuket. You may also use a travel agency for booking ferry tickets.
All ferry travel should be booked at least 1 day in advance to guarantee a ticket. Prices vary, depending on the company but are usually in the $15-$20 range for a bus to the port and ferry to Phi Phi Don.
Speed boats are much faster, taking half the time to cross the water but come at around double the price. You can usually book speed boat tickets online or by going through your hotel or a travel agency. You may need to book several days in advance to ensure a seat as these are smaller and fill up faster.
Prices may vary depending on your origination, Phuket or Krabi. Phuket is slightly closer, so the fares maybe a little more expensive coming from Krabi.
Coming from Bangkok? There are a number of Bangkok layover tours available to give you a taste of the city before you make your way south to the islands.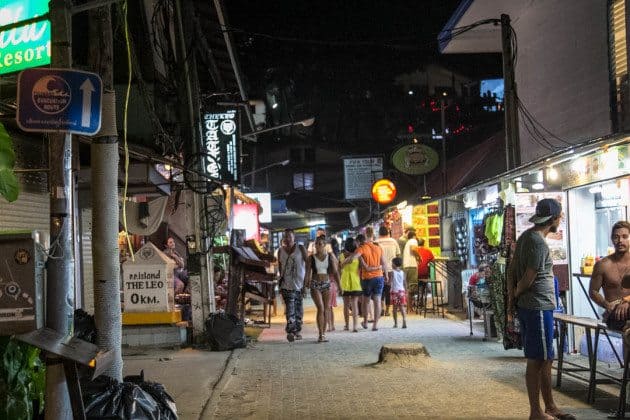 ~ Streets of Phi Phi Don ~
Accommodation in the Phi Phi Islands
Phi Phi Don has a wide array of accommodation ranging from bare-bones budget to lavish luxury resorts. Most places advise that you book well in advance as Phi Phi Don is quite small and sees a lot of travelers, especially in high season.
So if you are picky about where you stay, I would heed this advice. If not, then it is possible to show up and look for a bed. We did this and had no trouble finding private accommodation for 4 nights, even during the full moon and high season.
Read reviews and check prices with our Hotel Search Engine, which gives you the best hotel deals found on the web. Our search engine pulls results from all of the major booking places, including Expedia, Hotels, Booking and more. All the options, all the deals, all in one place and just for you.
Money
Don't worry about bringing large amounts of cash to the Phi Phi islands. There are ATM machines on every corner and several of the accommodations will exchange money for you.
Credit cards are also widely accepted at many eating establishments, hotels, resorts, guesthouses and travel agencies. If you want to eat street food, visit the lookout, buy from street vendors or shop in the markets though, be sure to have cash.
Beaches on the Phi Phi Islands
The main beach on Phi Phi Don is Loh Dalum Bay. This stretch of white sand beach stretches the length of the bay and provides a nice stretch to sunbathe, play sports or swim from while you relax the day away in the sunshine.
Snorkeling is also an option from this beach. Feel free to play at will but be aware that there is a lot of glass in the waters just offshore. Be advised to wear sandals or water shoes if you plan to walk in the water.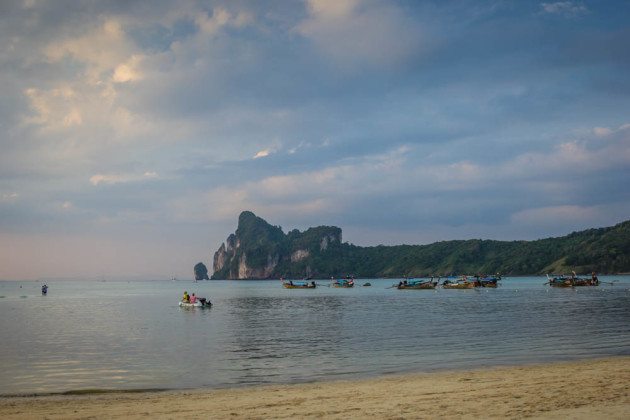 ~ Loh Dalum Bay at sunset ~
The opposite side of the island at Ton Sai Bay has no beach and is the main port for arriving and departing boats, so I wouldn't recommend trying to swim or snorkel here.
Both sides are tidal and you will experience both low tide and high tide daily during your stay. During high tide, the beaches become quite thin, pushing everything back all the way to the bars, while low tide finds many beached boats and locals playing soccer far from the beach.
Alternatively, hit the pool for the day. There are a couple of really nice pools that are accessible to the public just off Loh Dalum Beach. You pay a small daily admission, that usually includes a beer, and you can spend the day lounging on a sunbed, using the swim-up bar and enjoying the pool.
Day Trips from Phi Phi Islands
The location of the Phi Phi islands gives you many options for day trips. The most popular ones include cruising around in a long tail boat to neighboring islands while enjoying a day of snorkeling, swimming and sunbathing.
Most trips include a stop at Monkey Beach for a chance to observe Long-tail Macaque monkeys playing on the beach.
If you are into scuba diving, you're in luck. Phi Phi Don is littered with dive shops that will take you out on diving trips around Phi Phi Don and Phi Phi Lee. All shops are price fixed, so don't expect to haggle from shop to shop.
You will quickly find the prices are all the same with discounts given only on a high number of multiple dives. (think 5 or more)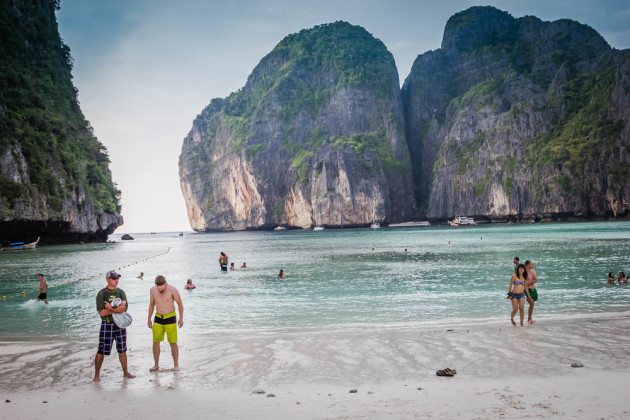 ~ Beautiful Maya Bay ~
A trip to the Phi Phi islands would be incomplete without a visit to the world-famous Maya Bay. This cove was made famous by the Leonardo DiCaprio movie, The Beach. Today it retains its beauty despite the flocks of tourists and boats to this beach on a daily basis. It's touristy but worth a visit.
Rent a kayak on the beach and make your own adventure. Many touts rent kayaks at Loh Dalum Bay on Phi Phi Don which enables you to paddle around the island snorkeling and exploring at your leisure. This is a great way to get away from the crowds and get up to a little adventure in the Phi Phi islands.
Lastly, not technically a full day trip but can be made into a half-day trip, is the hike up to the Phi Phi Viewpoint. It offers two spectacular views of both Loh Dalum and Ton Sai bays.
The hike includes several flights of stairs and some flat surface hiking to make it to the second viewpoint, which is the best. There is a small entrance fee into the second viewpoint but it includes entrance into a beautiful garden as well. We consider this a do not miss on a visit to the Phi Phi islands.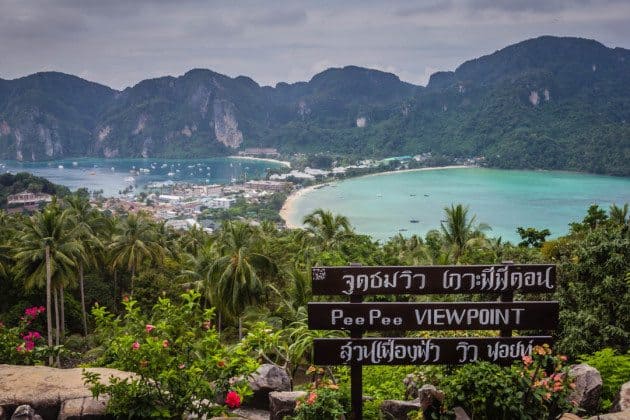 ~ Well worth the climbing ~
Food
One of the only bonuses to the boom of tourism in the Phi Phi islands is the variety of food available. You can get pretty much anything you want on Phi Phi Don including seafood, Mexican, Italian, pizza, burgers, BBQ, Thai, Chinese, street food and the list goes on.
The only thing you won't find here is fast-food chains. Sorry, no McDonald's, yet.
Prices of food vary too but it is possible to eat very cheaply if you stick to local food stalls and street food. Freshly made fruit shakes will run you 45 baht or so to give you an idea.
High-end restaurant will serve you steak, lobster and any delicacy you can dream of, of course at a price but they are happy to serve you.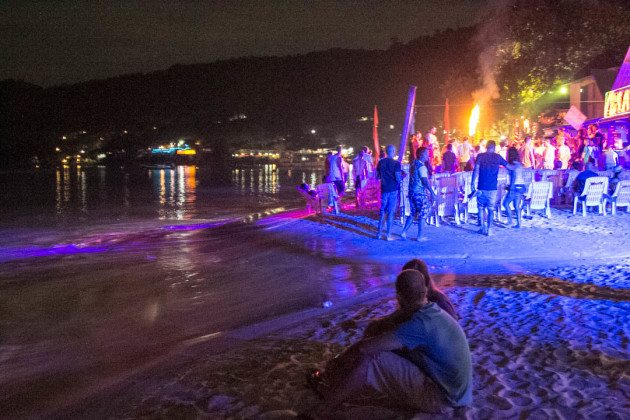 ~ Full moon party on Phi Phi Don ~
Party Scene
The Phi Phi islands are known for their party scene, which makes them extremely popular amongst the young backpacker crowds. This crown comes to Phi Phi Don with one intention, to get blitzed and party on the beach into the wee hours of the morning.
Loh Dalum Bay becomes a booming beach nightclub when the sun goes down and can be heard all around the island.
While you can get just about any drink concoction you can imagine, the most popular is the consumption of large booze buckets. These are made from conventional drinks or crazy made up recipes while you name off ingredients.
Spiked drinks are a concern here, so be diligent about your drink. Watch it being made and then don't let it out of your sight.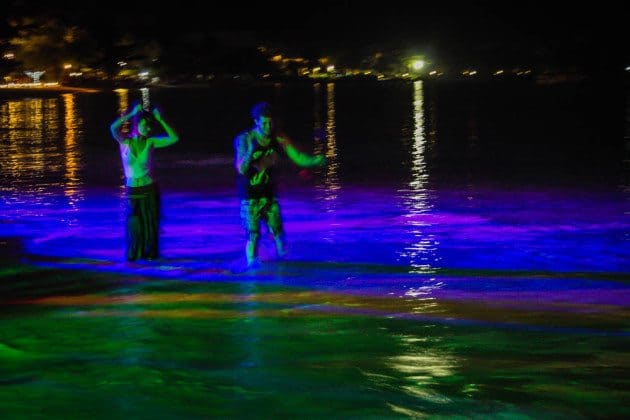 ~ Be mindful but still have fun! ~
Don't party alone on the beach or anywhere on the island for that matter. Make sure you have a buddy or groups that can help each other get home safely. Do not go swimming when you've had too much to drink, drowning is a real risk here with the tides. Don't accept drinks from people you do not know.
Drugs are prevalent but I would strongly advise against it. Laughing gas is sold openly from stalls near the beach during party hours and we watched several people partake.
We were approached a few times discreetly about buying hard drugs and marijuana. I would steer clear, no matter how good it sounds at the time. Drug laws are strict in Thailand and people have been known to be set up on many party islands in Thailand, so don't assume the person trying to sell you drugs isn't part of the police force.
Best practice, stay away from the drugs.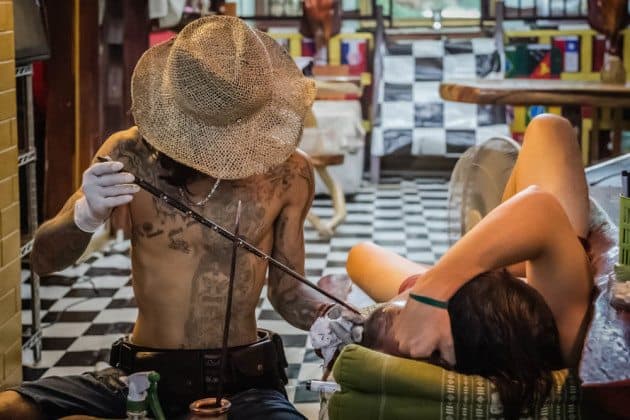 Tattoo Shops
One of the first things you will notice when you step off the boat is the presence of tattoo shops. Getting a bamboo tattoo in Thailand and on Phi Phi for that matter is a very popular thing.
Honestly, we saw more tatted people on Phi Phi then we have ever seen in our travels. It is wildly popular and you will see loads of people partaking. The good thing about its popularity is there are a number of really nice tattoo shops to choose from with talented artists and high standard hygiene.
The prices seemed fair when we asked around and the artists are welcoming and nice. Most are willing to sit down with you and design the perfect tattoo for you.
If bamboo tattoos are not your thing, most shops can give a tattoo with a pump gun too. Although, getting a bamboo tattoo requires great skill from the artists and there are many benefits that come with getting a bamboo tattoo as opposed to the gun.
Some include faster healing time and the ability to go swimming and play in the sun in just 24 hours after getting one.
Want to get a Bamboo Tattoo in Thailand? Read about my Bamboo Tattoo Experience.
Practice Sustainable Tourism
Common sense practices apply here, don't leave trash lying around, don't deface the beach or cliffs, don't touch or climb in places you shouldn't, etc. You know, the basic rules of respecting and maintaining places.
However, there a couple of things I want to bring your attention to that may not seem as obvious.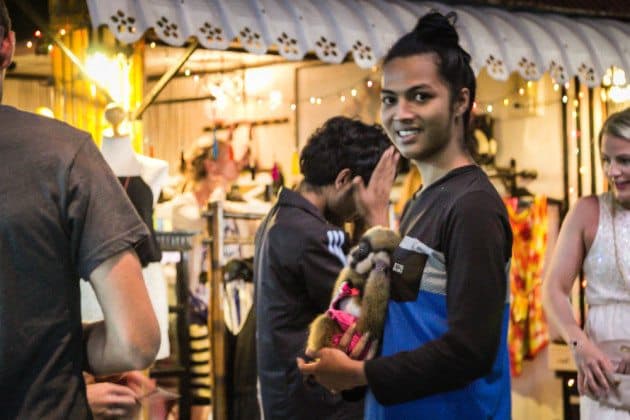 ~ Notice the tourist paying in the background… DO NOT BE THIS PERSON! ~
DO NOT PAY TO HOLD A GIBBON. Or to photograph one. I cannot stress this enough! You will see local people standing in the streets of the busy areas most nights on Phi Phi Don that are holding juvenile Gibbons (monkeys).
They will have the Gibbons dressed up in clothing and will be soliciting people to hold them for photos and then charging you for it. There are a number of things wrong with this. Firstly, it is illegal for them to have Gibbons in their possession.
Secondly, by contributing to this practice, no matter how cute and cuddly they are, you are literally contributing to the extinction of the Gibbon species. The Gibbons you see have been taken from their mothers, who are usually shot, at a young age to be exploited for tourism.
Gibbons keep their young with them for up to 6 years in order to teach them the necessary skills to survive in the wild. When they are taken from their mothers at a young age, they never learn these critical skills and when they become too big to make money from tourists, they are thrown into the wild and rarely survive.
The Gibbon is a critically endangered animal that could easily become extinct in our lifetimes so do your part to protect this species and do not support this illegal activity during your travels.
For more information on the illegal pet-trade in Thailand, have a look at this in-depth article on White Gibbon Conservation and Thailand.
Phi Phi Island Resources
Phi Phi Islands Guide: Conclusion
Our hope is we have provided you with enough of the right information for you to plan your trip to the beautiful Phi Phi Islands in southern Thailand.
There's plenty of fun, relaxation, and activities to get up to during your time here, so grab your bags and book your tickets. Island parties and white sand beaches are waiting for you…
Read reviews and check prices with our Hotel Search Engine, which gives you the best hotel deals found on the web. Our search engine pulls results from all of the major booking places, including Expedia, Hotels, Booking and more. All the options, all the deals, all in one place and just for you.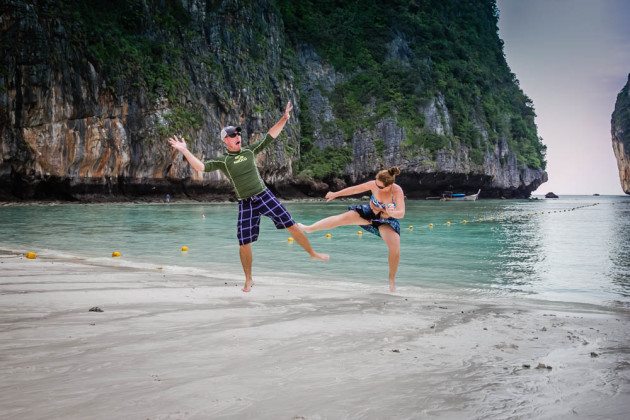 More on Thailand:
Did you like this story? Share it!