No matter if it's your first visit or your fifth visit, Bangkok is one of those cities that the minute you have landed, you get that feeling that you want to explore. Planning a 3 tidays in Bangkok itinerary will allow all types of activities from historic temples, larger than life Buddha's, endless markets and quirky streets where you can eat, sleep and party the day away.
There's no wonder why Bangkok is voted the best city in the world every year.
Did you know Bangkok is the English name for the city but in Thai, the full name is:
"Krung Thep Mahanakhon Amon Rattanakosin Mahinthara Ayuthaya Mahadilok Phop Noppharat Ratchathani Burirom Udomratchaniwet Mahasathan Amon Piman Awatan Sathit Sakkathattiya Witsanukam Prasit."
What a mouth full! In case you were wondering what that means, it loosely translates to 'The City of Angels.' In 2013, the Guinness Book of World Records even gave this city the world record for the longest name of a place.
---
The Ultimate 3 Days in Bangkok Itinerary
Enough about that, let's talk about your trip to Bangkok. Three days is a sufficient amount of time to get a good grasp of the main sites in the city, try some street food and adjust to being in Thailand before you head off further afield.
This post will give you an overview of the sites we feel you shouldn't miss and some tips on how to negotiate the city.
Don't leave home without Lonely Planet Thailand
---
Day One in Bangkok Itinerary
The Grand Palace & Royal Temple of the Emerald Buddha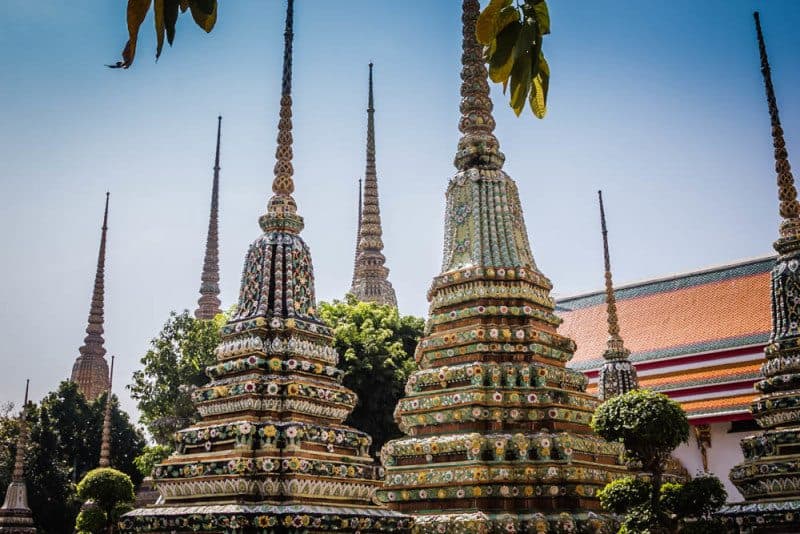 Every visitor must see the Grand Palace. It will be an eye-opening experience. You will be amazed by the various architectural construction and the colors as you roamed around the property.
This property is split off into four large sections of buildings; one of the most sacred is the Royal Temple of the Emerald Buddha. Placed inside this Royal Temple is the most sacred Buddha image in all of Thailand.
There are daily tours throughout the palace. I would plan to visit the Grand Palace in the early morning to avoid crowds.
Openings hours: 8:30 am – 14:30
Ticket cost: 500 Baht
Dress Code: Visitors are required to dress appropriately. The following cloth items are not allowed as outer garments for both men and women. They turn away people daily so don't think you can show up and be admitted if you are wearing any of these items. This is a sacred site.
Shorts, mini-skirts, short skirts, tight-fitting trousers, and tights
See-through shirts and blouses, as well as culottes or quarter length trousers
Sleeveless shirts or vests
Sandals (without ankle or heel straps)
Rolled-up-sleeved shirts
Sweatshirts and sweatpants, wind-cheaters, pajamas and fisherman trousers
Don't you want to tour The Grand Palace & Royal Temple by yourself? Why not get a guide and join a great tour. We use Viator all of the time for day trips and tours.
They only use the best local tour operators to give you a truly local experience. Below are some of the best tours that include The Grand Palace & Royal Temple of the Emerald Buddha.
Walk Bangkok's Grand Palace and main temples on a guided tour of the city's history and heritage. You'll explore Thailand's unique architectural styles and traditions on this 4-hour tour while taking in the elegant proportions of the royal ceremonial palace, and the rich heritage of Bangkok's most important temples.
Walk beside monks as you light a candle beside the huge Golden Buddha at Wat Trai Mit, and listen to prayer bells as you circle the stupas at the magnificent Wat Pho.
Read reviews and check prices with our Hotel Search Engine, that gives you the best hotel deals found on the web. Our search engine pulls results from all of the major booking places, including Expedia, Hotels, Booking and more. All the options, all the deals, all in one place and just for you.
Reclining Buddha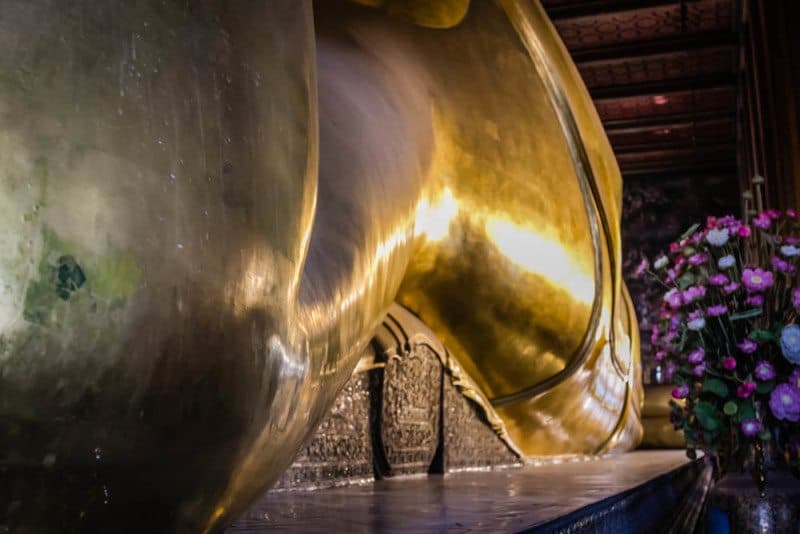 Situated right next to the Grand Palace is Wat Pho. This property is among Bangkok's biggest sights and is a must-visit in Bangkok. Housing the cities larges Reclining Buddha and the largest collection of Buddha images in Thailand. The large gold Reclining Buddha is almost too large for it's building.
You enter at its towering head and work your way around counterclockwise. The right arm acts like the large Buddha is laying on its side.
I always stand at its feet in amazement of the detail this statue has. The sole of the statue's feet is detailed with 108 sacred scenes of Buddhist enlightenment in Chinese and Indian styles with mother-of-pearl inlay.
As you make your way around the reclining Buddha, you will hear a pinging noise echoing throughout the temple. This is the visitors dropping coins into the golden buckets around the perimeter of the temple for good luck. Be sure you toss in a couple, just for good measure.
As you head out from the Reclining Buddha you may want to grab a Thai massage from the famous massage school Th Chetuphon that is hidden on the property.
Ticket cost: 100 Baht
Opening Hours: 8:30 – 6:30 and gets busy later in the day.
Thailand is driven by the Buddhist faith and some 26,000 wats dot the landscapes of this southeast Asian nation. Take a private tour of Bangkok temples, including the reclining Buddha at Wat Pho and marvel at the religion that permeates the culture and traditions of this city.
Wat Arun – Temple of the Dawn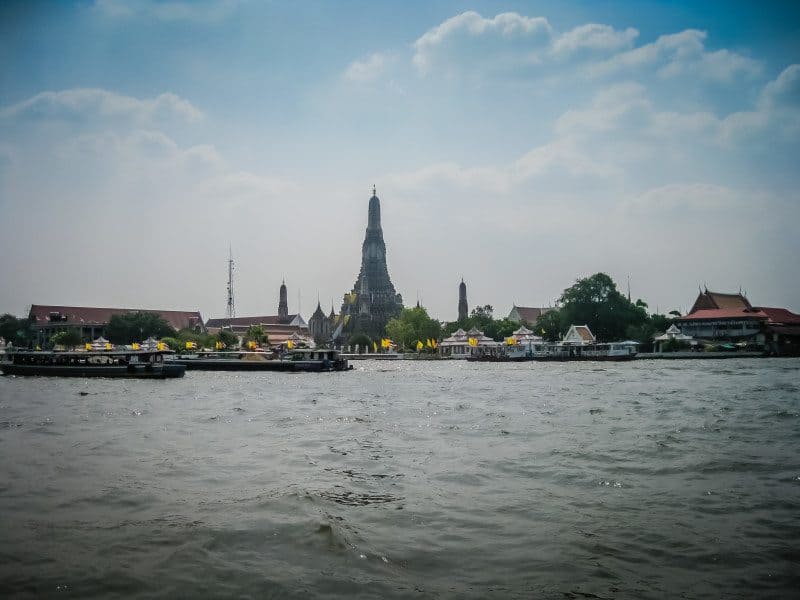 Across the river from the Grand Palace and Wat Phra Kaew is the Wat Arun Temple. It's worth the short boat trip to explore the large garden grounds.
This large temple has intricate patterns made out of colorful glass. The temple is modeled the same as the Angkor temples you can visit in Cambodia.
If you're up for some exercise you can climb the stairs to reach the top level of the temple. This will give you a great view of Bangkok and the Chao Praya river.
This is one of the best temples to see at night at it is lit up. It is best viewed from the opposite bank as it's closed to the public at night. Do not forget to feed the large catfish that swim on the riverbanks.
Ticket price: 100 Baht
Opening hours: Every day 8:30 – 17:30
Board a brightly colored longtail boat for a half-day private tour of Bangkok. Steer across the Chao Phraya River to the iconic Wat Arun, and walk in the footsteps of Siamese royalty as you explore the elegant Grand Palace, whose elaborate stepped roofs are the pinnacle of Thai architecture.
Discover the dazzling Coronation Hall, get a glimpse of ancient court life at the Reception Palace, and enter the remarkable Emerald Buddha Temple, home to a solid jade Buddha that only a reigning king may touch.
Wat Traimit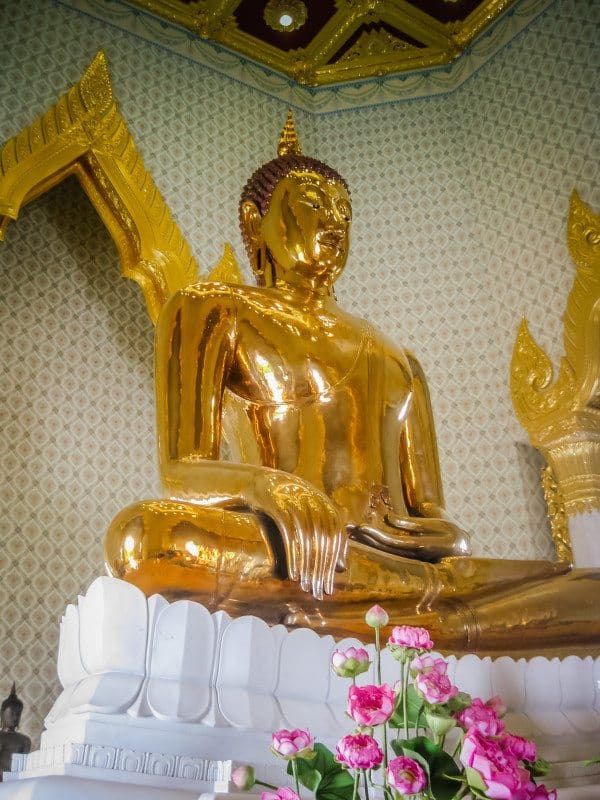 This is the Temple of the Golden Buddha and is located in Chinatown. Wat Traimit the largest, solid gold seated Buddha in the World measuring nearly five meters high and weighing five and a half tons.
It was caste sometime in the 13th century and is in excellent golden condition. At some point, this statue was covered in plaster and lacquer to hide it from thieves and looters.
This Buddha statue even fell from a crane when it was getting moved to its new location. Check out the third-floor museum that covers the history of the Golden Buddha.
Cost: 40 Baht
Opening Hours: 9:00 -17:00
Location: Traimit Road at the very beginning of Chinatown.
Hop aboard a traditional tuk-tuk and travel around Bangkok like a local on this 3.5-hour tour. Grab your camera and set off to explore Ratanakosin Island, the historic heart of Bangkok.
Along the way, admire three of Bangkok's most beautiful temples, Wat Traimit, Wat Pho, and Wat Arun. Get a taste of local life in Sam Preang and sample a delicious array of street food (included).
Condoms & Cabbages Restaurant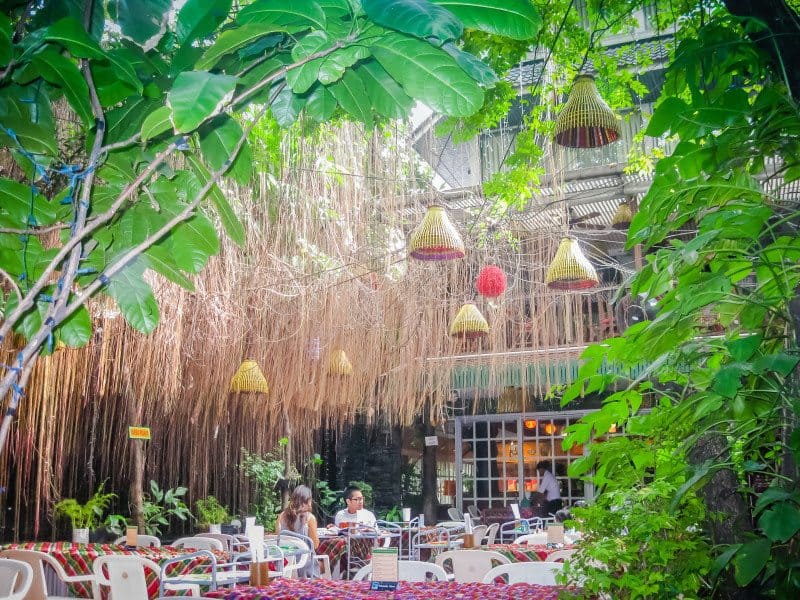 For a unique dining experience, head over to the restaurant Condom & Cabbages where the theme of the restaurant is to promote safe sex. They even give you condoms as a takeaway instead of mints.
The food is decent and the atmosphere hilarious. It is a great way to finish off your first day in Bangkok. Read about our experience at Cabbages & Condoms during our honeymoon.
Bangkok is filled with great restaurants and to die for food stalls along the street. Do you like trying local food while traveling? Do you love food? Why not get a guide and join a food great tour in Bangkok?
Savor the flavors and aromas of authentic Thai cuisine on a half-day culinary walking tour of Bangkok's Bang Rak neighborhood. Eat your way through the historic district, which is a renowned destination for Bangkok's culinary connoisseurs.
Meet chefs and artisans and explore the diversity of Thailand's regional, ethnic and "royal" cuisines as you sample roast duck, handmade curries and distinctive Isan salads, along with fresh fruit, holistic herbal infusions and the best of traditional Thai desserts.
Day Two in Bangkok
Jim Thompson House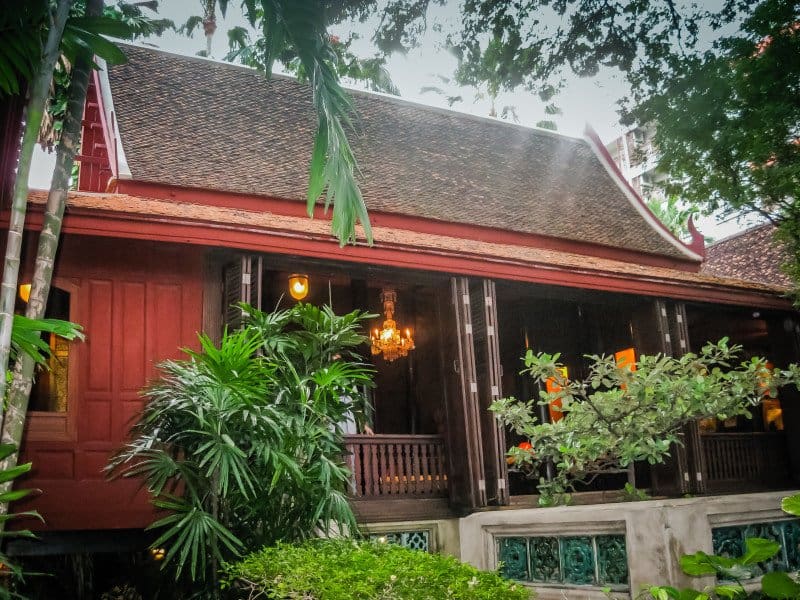 The Jim Thompson House was home to a self-made, American entrepreneur named James H.W. Thompson. Thompson developed the Thai Silk industry from the ground up and one day magically disappeared while on a walk near his guesthouse in the Cameron Highlands of Malaysia.
At the time of his disappearance, he was one of the most famous Americans living in Asia. This house is the same as it was when Jim lived there. Each room has antiquities, porcelain, and fabrics. This is the place to buy high-quality silk, but you will be paying for it.
Opening hours: Every day 9:00 – 17:00
Ticket price: Adult 150 Baht; Students (under 22 years old) 100 baht
Location: It can be hard to find. The Jim Thompson House is located on Soi Kasemsan (2) Song, opposite the National Stadium on Rama I Rd.
Discover Thailand's elegant architecture and artwork on a half-day private tour that explores the Jim Thompson House and Suan Pakkad Palace.
With the flexibility of a private guide, you'll have the morning to browse rich silks and sculptures, paintings, antiques, and more, learning about Thai history and culture along the way.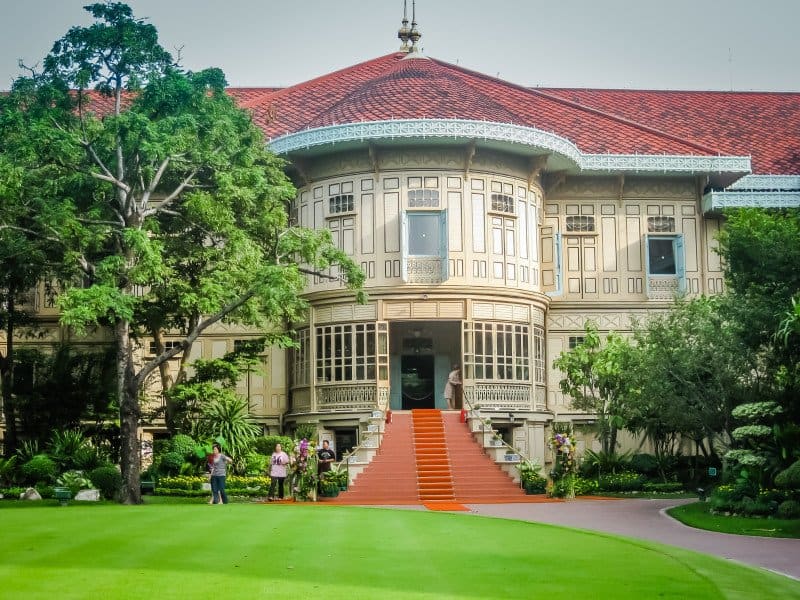 Vimanmek Mansion in Bangkok
The Vimanmek Royal Mansion is the world's largest building made entirely of golden teak. Take a stroll through this fully furnished mansion that has antique furniture, glass where, porcelain, old photographs, and memorabilia dating back to mid-1800s.
Many rooms will give you the feeling of stepping back in time and be prepared to see animal skins from around the world hanging on the walls and on the floor. Walking down the halls of the mansion includes a serenade of squeaky floors that you can imagine the king walking down on a summer day.
Price Range: 100 Baht entitles you to enter every building and gallery. Note that you will need to show your ticket to the attendant at the entrance of every building. Also, note that there is a dress code enforcing no shorts or sleeveless shirts and skirts must be at least knee-length or you won't be allowed in.
Opening Hours: 08:30 until 16:30 (Tuesday – Saturday, last ticket at 15:30)
Location: Rajavithee Road. Close to Dusit Zoo and the Dusit Palace complex.
Khao San Road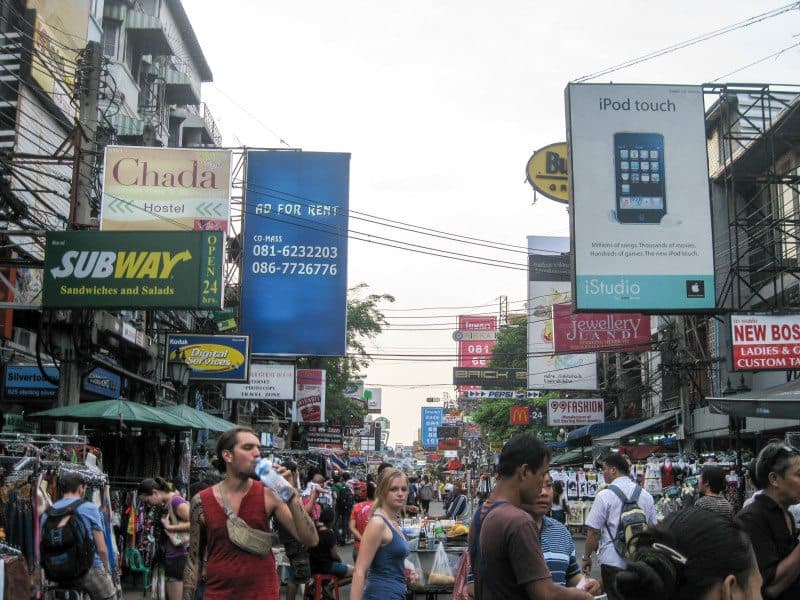 This street is a must-visit for any traveler to Bangkok. Yes, it's that backpacker road that you'll read about in all the guide books and it may even have a bit of a negative reputation.
However, it is worth checking out solely from a tourist perspective. Stroll among all the different shopping stalls that sell everything from the ever-popular elephant pants, T-shirts, crazy party hats, fake driver licenses, fake college diplomas, leather handbags and more.
If you're looking for it, it's going to be found here on Khao San Road. For food, you can have a great snack or dinner from a street stall serving pad thai, fried rice and even shawarma.
More importantly, don't forget to try the fresh-squeezed juices and fruit shakes. As it gets darker, grab a chair at one of the many street restaurants and enjoy an ice-cold Chang Beer and just people watch.
Great hotels on Khao San Road
Some travelers like to stay on Khao San Road. There are lots of great hotels and hostels in the area. Some offer great prices if you just walk up however, we have spent hours before searching for a hotel on Khao San Road. They do book up quickly and if you are looking for anything halfway decent you should book in advance.
We stayed at the Khaosan Palace Hotel and really like the location and cleanliness of the hotel.
Read reviews and check prices with our Hotel Search Engine, that gives you the best hotel deals found on the web. Our search engine pulls results from all of the major booking places, including Expedia, Hotels, Booking and more. All the options, all the deals, all in one place and just for you.
---
Day Three in Bangkok
Head out of the big city by taking a day trip to one of these amazing sites. These are the three most popular options for day trips out of Bangkok.
Ayutthaya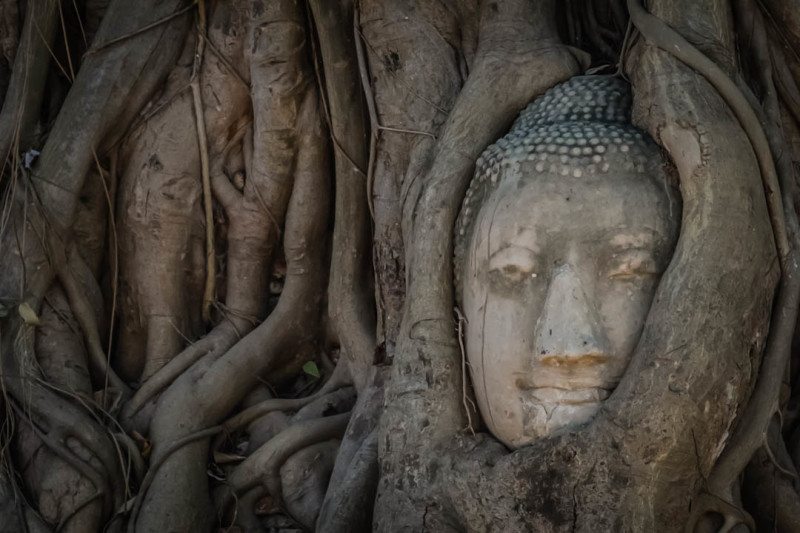 The ancient Siamese capital is a must-see for anyone who loves historic sites. In the 1700s, this city had a population of over one million. Though the city has not been the capital for over 250 years, it still maintains several functioning temples.
One of the most popular sites is Wat Phra Mahathat where a sandstone Buddha head is entwined with the roots of a Bodhi tree.
Visit enthralling temple ruins in the Historic City of Ayutthaya, a UNESCO World Heritage site, on this
private day trip from Bangkok
. Travel with your own personal guide to the ancient Thai capital.
This full-day itinerary packs in culture and cuisine, including lunch on a docked rice barge and traditional food tastings of local specialties.
Floating Markets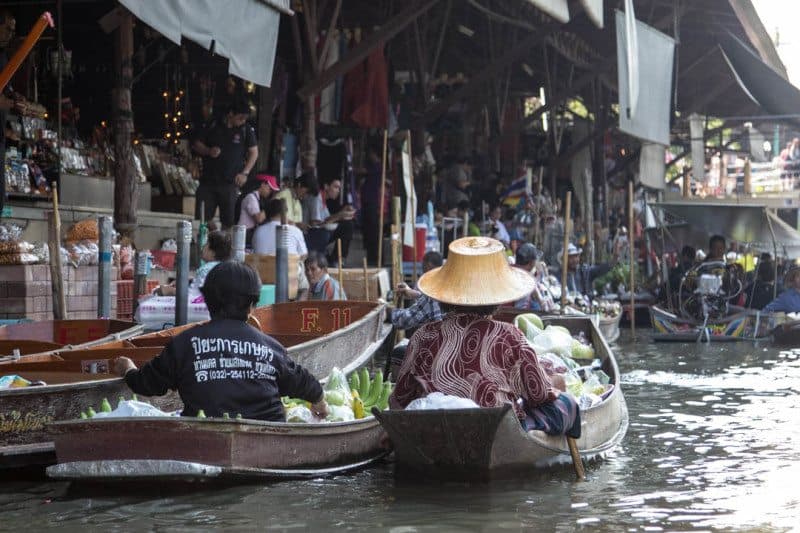 Damnoen Saduak is the most popular tourist floating market and the most accessible from Bangkok. Hop into a wooden boat and float your way from stall to stall while you sample local foods, buy local handicrafts and just take in the scene around you.
Go beyond Bangkok city limits and gain a deeper understanding of life beyond the capital as you explore the floating markets of Damnoen Saduak.
Travel by long-tailed speedboat as a guide unpacks the secrets of these 19th-century canals built by King Rama IV. Over the course of this 6-hour day trip, you'll cruise past vendors selling freshly picked produce, handmade sweets, and interesting souvenirs.
Kanchanaburi
One of the most popular day trips for visitors to Bangkok, this village is best known for its WWII memorials. This city was occupied by the Japanese and was the location for one of their POW camps.
The famous bridge over the River Kwai is also located here, a highlight feature in the story and movie that came out of this camp.
---
If you are in Bangkok on the weekend…
Chatuchak Weekend Market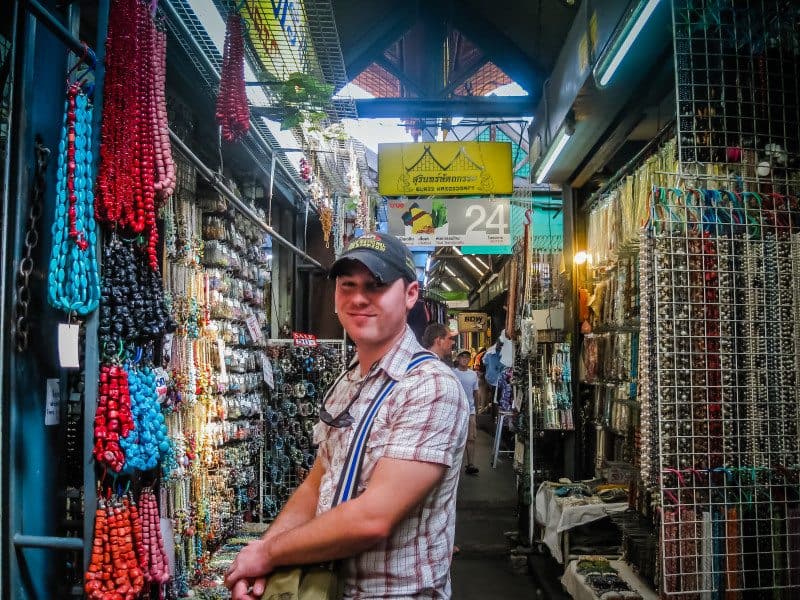 Make time to get lost in one of the largest markets in the world. Stroll up and down the small crowded aisles filled with anything you could ever hope to buy. Everything is marked well and there are maps placed throughout the market site.
Prices are good here so don't feel like you need to haggle much.
---
Tips for Visiting Bangkok
Hire a local operator to have an authentic experience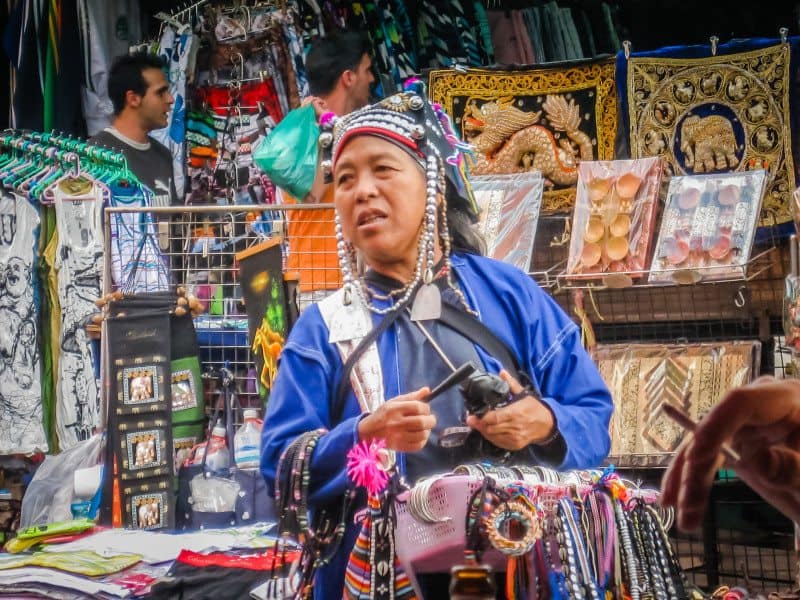 I can't stress enough the difference it will make for your visit if you decide to hire a local tour guide to show you the sites of Bangkok.
They have firsthand knowledge of the city and besides showing you all the iconic sites, they can get you off the beaten path, down the back alleys and into the real vibe of the city.
Beware of Scams
In the popular tourist areas be wary of anyone who approaches you randomly. They will speak perfect English and they will probably tell you that the sights are closed.
Do not listen to anyone, they are often people who want to steer you to a gem or tailor shop where they get a commission.
Even guards of the temples and other official-looking people may sometimes try to convince you to go to one of these shops.
Don't forget your guidebook
We recommend Lonely Planet Thailand for your trip to Bangkok.
Use public transportation
The transport options are wide and plentiful. You have your choice of cabs, tuk-tuks, buses, trains, riverboats, and ferries.
Don't leave home without travel insurance
You never know what you may encounter in your travels, so it's important that you are covered for the unexpected. We never leave home without a World Nomads Travel Insurance policy in our pockets.
Looking for some hotel suggestions?
The Ad Lib Bangkok Hotel is a beautiful place to recover from jet lag after you arrive in Bangkok. It's located in the popular Sukhumvit area and offers luxury amenities to meet your every comfort.
Additionally, check out the S Ratchada Leisure Hotel for a clean, modern stay during your time in Bangkok. The hotel offers a beautiful pool and spacious rooms.
Read reviews and check prices with our Hotel Search Engine, that gives you the best hotel deals found on the web. Our search engine pulls results from all of the major booking places, including Expedia, Hotels, Booking and more. All the options, all the deals, all in one place and just for you.
More on Thailand:
Did you like this story? Share it!