The first time we went backpacking Thailand was in 2010 on our whirlwind honeymoon tour in Southeast Asia.
We fell in love with this beautiful country and raved it to people as a great place to get an introduction to SE Asia. 4 years later, we left with a very different feeling.
Our return visit changed the way we view Thailand. While it is still a beautiful country, it is completely overrun with tourism. There are many parts of Thailand that leave you struggling to see what makes the Thai culture so beautiful.
Tourism can be a blessing for a third world country, but it can also be the devil in disguise.
That said, we still love Thailand and would recommend it as a great place for a new traveler to start in SE Asia. There are many other travelers to connect with and things are incredibly convenient.
Most people speak or understand English these days, food is easy to find and plentiful and you can find transportation to even the most remote parts of the country.
You can also come here and drink your weight, your friend's weight, and the bartender's weight in booze if you want…. And many people do!
If that is not your scene, then brace yourself for some insane people watching, especially when the sun goes down.
---
Backpacking Thailand: 3 Week Recap
---
Where Did We Go?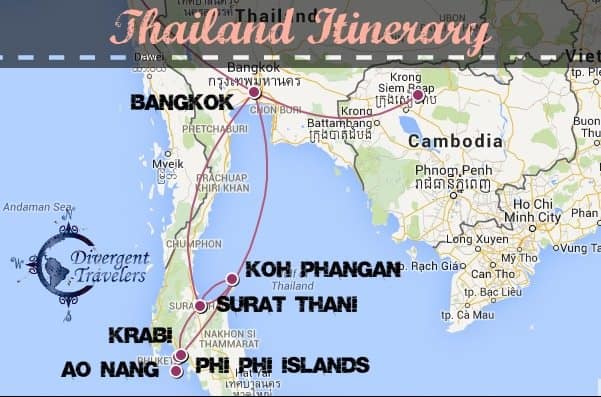 What We Loved About Backpacking Thailand
New Years on Khao San Road. Yes, I said it and I mean it. While many people may find this overwhelming, gross and obnoxious, it was just what we needed at the time.
We picked up my sister and her husband from the airport that night and headed straight to Khao San road to ring in 2015. We had an absolute blast and saw some pretty entertaining things too.
After being away from home and spending Christmas in Siem Reap (which was hard for us) the party on New Years was the healthy dose of Western culture that we needed. It was probably the most insane party I (we) have ever been to.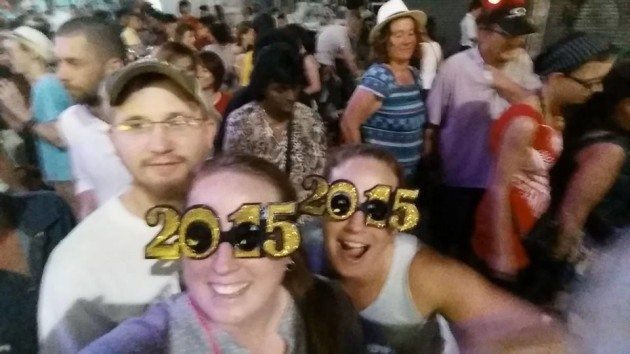 ~ Ringing in the New Year on Khao San Road, blurry photo = Self Explanatory! ~
Renting a Condo in Bangkok. We got to experience a different side of the Thai capital and take a much-needed break from the road. While it was short, way too short, we loved it.
Our condo apartment was on the 14th floor in a downtown business district of Bangkok. The views from our balcony were beautiful in the city and we relished in having a real desk, a couch, bedroom, fridge and kitchen for 10 days.
Life in the road can be difficult at times, moving around a lot and packing/unpacking all the time. It was so nice to have a 'home'.
Beautiful South Thailand. While overcrowded with tourists, South Thailand is still stunning. It is easily one of the most beautiful areas of SE Asia with clear waters, white-sand beaches, and island vibes.
Having visited Halong Bay in Vietnam earlier this year, Thailand wins, hands down on the limestone scenery. I thought this during our Halong Bay visit and our revisit to South Thailand only reaffirmed it.
What We Didn't Love About Backpacking Thailand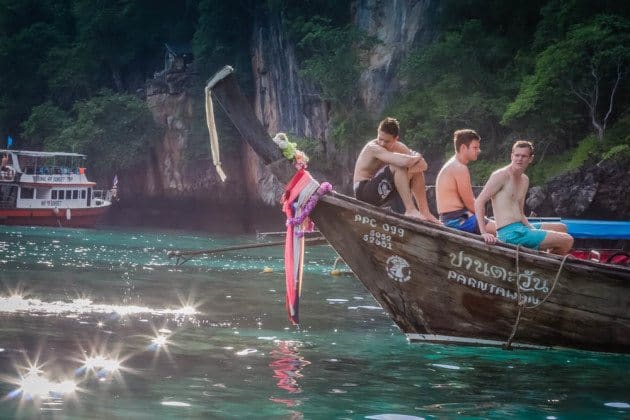 Too many tourists. I know I have mentioned this many times already, but it really is a downer here. You simply cannot get away from the crowds of people. I wouldn't let this deter you from visiting, but if you imagine a Thailand that is serene, idyll and private, think again.
Pushy touts. The touts were a lot less aggressive the last time we visited Thailand. This time we found ourselves being hounded, followed and shouted at whenever we came within close proximity to any type of tourist attraction or market frequented by tourists. After traveling through so many other countries in SE Asia, this was a huge put off for us. Not sure who those tactics actually work on as we didn't see anyone stopping for them.
Too many scams. The other thing that irritated us was the constant small scams. There were so many times we walked into places to eat, even McDonald's (don't judge us here, we've been traveling for many months and sometimes its great to just have a burger!), and were short-changed when paying. While it's a good practice I shouldn't have to ask for receipts and count my change carefully at every single place. Gets old.
Want to interact with elephants in Thailand? Do not ride them, visit a Thailand Elephant Sanctuary.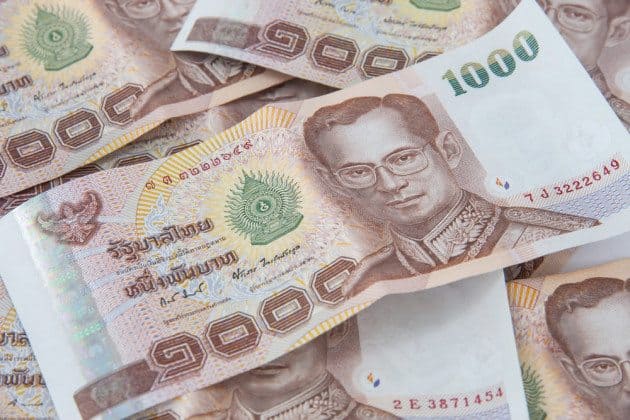 What Did We Spend?
We spent an average of $72USD per day for 2 people while backpacking Thailand. This included a private room and 3 meals per day and activities.
We actually lived pretty largely during our time in Thailand as we had family there with us for almost 3 weeks and then when they all left, we rented a condo in Bangkok for 10 days. 
Having visitors always drives the daily cost up for us. We also got tattoo's which put us out $400.
Transportation: We used a combination of flights, buses, boats, and ferries to get around Thailand. All transport is pretty good and gets you where you need to go, however, our long-distance bus from Krabi to Surat Thani was a nightmare arriving over 4 hours late and then they tried to just drop us off at some pier when we had bought tickets to be dropped off in Central Surat Thani!
Airlines Used: AirAsia
Accommodation: We did a combination of budget hotels, guesthouses, resorts, and a condo. All private rooms with just us and our visitors with a private bathroom and a great location.
Places Stayed:
Khao San Palace, Bangkok
Ao Nang Guest Home, Krabi
Sacha Guesthouse, Phi Phi Don
Papangkorn House, Surat Thani
Coral Bungalows, Koh Phangan
Private condo, downtown Bangkok
Activities: We did a lot of walking and touring in Bangkok. When we headed south we spent our time snorkeling, kayaking, scuba diving, getting tattoos and motorbiking around islands. While we did a lot, the prices were cheap and this helped keep our spending in check.
Food: Street food is the rave in Thailand and we ate so much Pad Thai I don't care to see another plate of it for months! In addition, we had some great seafood, loads of fruit shakes, kebabs and mango sticky rice. Which is still one of my favorite Thai dishes.
Our Favorite While Backpacking Thailand
Favorite Beach: Bamboo Island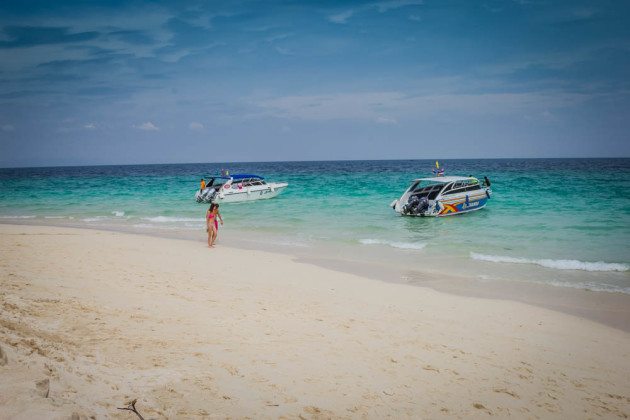 Favorite City: Bangkok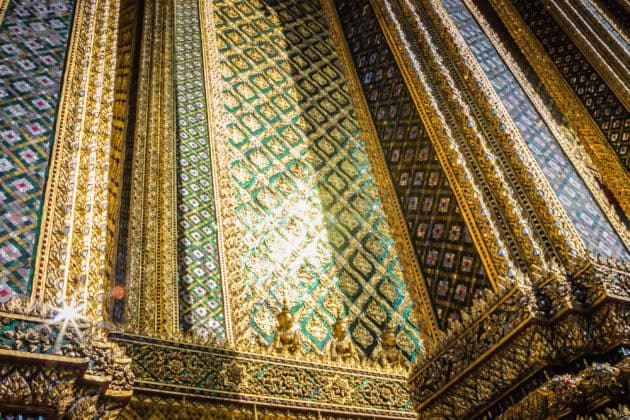 Favorite Activity: Kayaking around Koh Phi Phi Don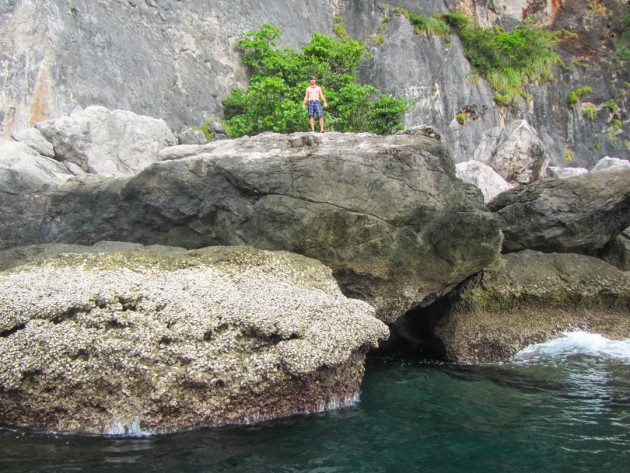 ~ Kayaking and cliff jumping ~
Favorite Meal: Do grasshoppers count?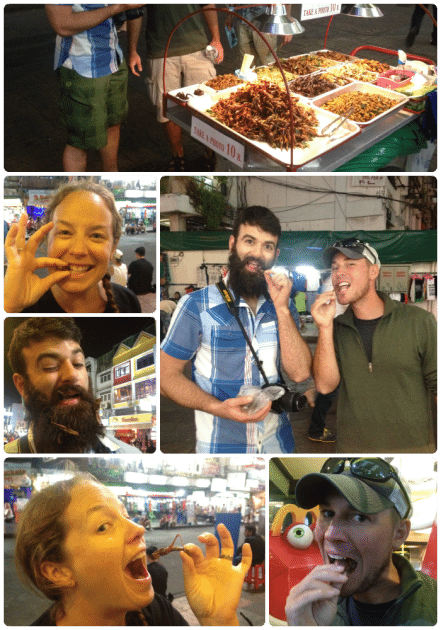 More on Thailand:
Did you like this story? Share it!