When we first left home last February I knew without a doubt in mind that I wanted to get a bamboo tattoo during our travels. I wasn't sure where or when or how or what, just that I wanted one.
I had the thought of getting a Thai bamboo tattoo while traveling in SE Asia on my mind from the start, so when the opportunity presented itself in Thailand, I didn't think twice about it.
---
Getting a Bamboo Tattoo in Thailand
---
The hardest thing for me when it comes to tattoos is deciding what to get. I am a firm believer in getting tattoos that are meaningful.
Now, I have nothing against someone getting a willy nilly bamboo tattoo because it looks cool, but that just isn't for me. It absolutely has to have a meaning, that part is not negotiable.
I already have two tattoos and both of them have significant meanings, so trying to decide what to get on the spot in Thailand was a challenge. I had some ideas, but I hadn't figured out the final details nor where I wanted them placed.
I also refuse to be that person that prints something from a Google search and gets that exact design put on me. I don't want to be sporting a tat that can be found in a basic search.
So between some thoughts of horse themed tattoos, to horseshoes and then to a compass, I had a lot of thinking to do.
The day that we inquired on getting bamboo tattoos, we had intended on just inquiring, finding out the price and then scheduling a time for the following day.
However, since there were three of us and bamboo tattoos take considerably more time, they wanted to get started at that moment. YIKES!
Looking for travel tattoo designs check out our Travel Tattoo Pinterest board of inspiration.
Choosing the Design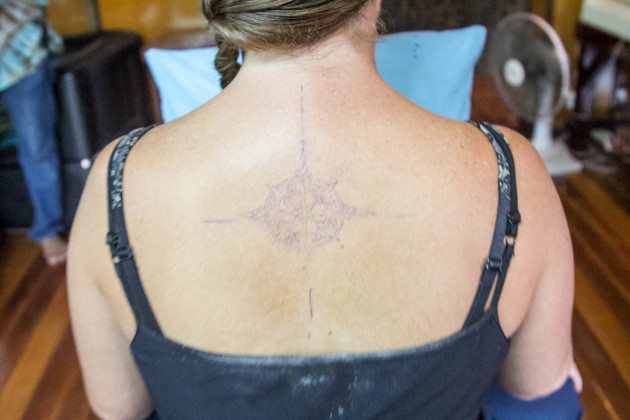 It was in that moment that I decided I wanted to finally get my compass. I have wanted a compass bamboo tattoo for several years because it symbolizes my passion for travel without being too gaudy or focusing on just one part of travel.
However, choosing a compass design is really difficult. I had some things in mind, but I could never actually put them on paper.
Rough sketches were getting me nowhere, so I decided to look online to see if I could find some inspiration. I ended up printing around 6 different designs.
Each had something I liked and many things I didn't like, but they helped me to find what I was looking for. Feeling more confident, I went to the tattoo artist and we discussed at length the design.
Hoping he understood, he told me he wanted to take the stuff home that night and work on my design which was not what I was expecting as he had wanted to do it that day.
I was the only one that didn't get tatted that day but I anxiously awaited the result of my design the following day.
Approving the Mock Up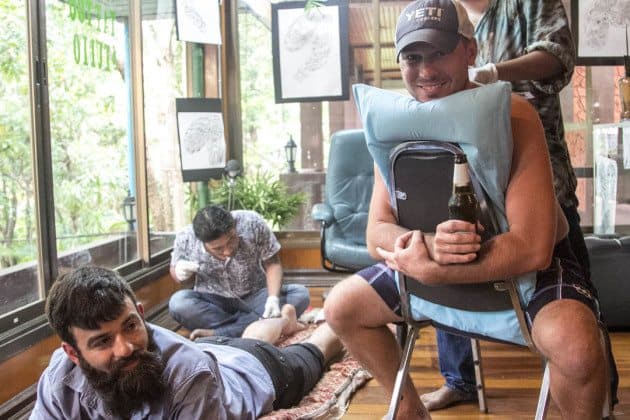 Bamboo tattoos are permanent and this fact is something that makes me anxious. It is imperative that the design be right and have a suitable meaning to convey.
One of the tattoos I originally had before getting the bamboo tattoo took me weeks of fiddling with the design to get it how I wanted it.
Sometimes I will pick something, alter it and then completely scrap it at the last minute. I know, I am a bit picky but I really know what I want.
When I met with Max the next day he showed me what he had come up with and I was in awe. He had hand-drawn a design that compiled all the designs I loved and I was over the moon.
The compass was gorgeous, ornate and incredibly unique. I was finally getting my compass.
Deciding on the Bamboo Tattoo Location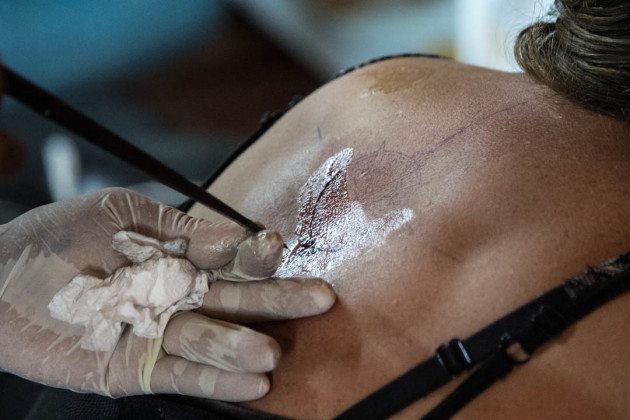 The rest of the experience would be different as I had selected to get this tattoo on my upper back, between my shoulder blades and just below my neckline. Without sparing you, it hurt like hell.
I found myself seeking a place without pain for the majority of the 3-hour process. I did not remember my previous two tattoos hurting like this, but due to the proximity of the shoulder blades and spine, I pretty much felt every needle prick.
That said, the bamboo tattoo process is entirely different than getting a tattoo with a gun. The bamboo stick is operated by the artist and requires a great deal of skill to give a good bamboo tattoo to someone.
Max was skilled and it showed. He was relaxed and had a perfected technique that made the process go smoothly. The best part is that when it was really painful, he could stop midline and then pick up again.
What is the Difference between Bamboo Tattoos and Gun Tattoos?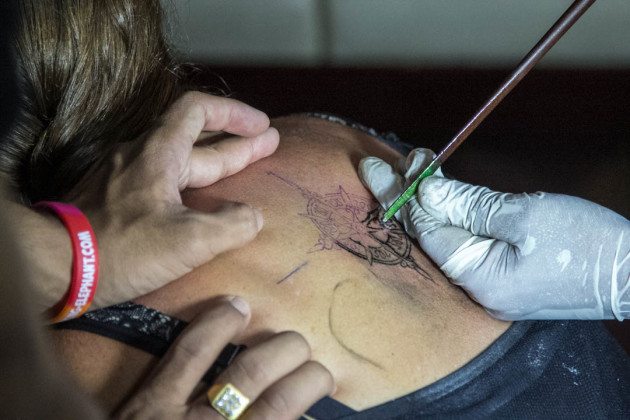 When I first mentioned on our Facebook page that I had gotten a bamboo tattoo, many people commented asking for more information on it and how it differed from getting a more conventional gun tattoo. Let me explain.
The bamboo tattoo technique is different. The bamboo tattoo is given with a perfectly balanced piece of bamboo that has been shaped with a grip.
At the skinny end, the artist attached a cluster of needles, this ranges based on the design from three to five needles. Sometimes more if there are large areas to color.
The needles are bound together on one fixed pole straight from the sterile package and then are bound to the bamboo grip with a thick, firm ribbon. When the needle is bound to the bamboo stick correctly, there should be no loose ends and it looks to be one instrument.
Unlike a gun tattoo, which is controlled with an air pedal, the bamboo tattoo process is at the control of the artist. They use a mastered technique by hand to make the ink impressions into your skin.
It is a serious skill as they must know exactly the right pressure needed to embed the ink deep enough but to not injure you.
Getting a Thai Bamboo Tattoo While Traveling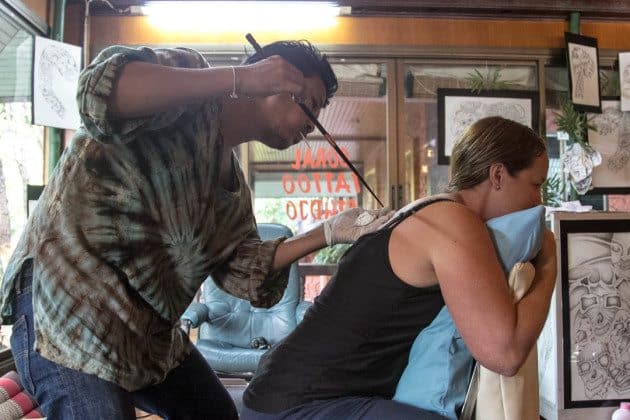 This is a hot topic, I mean even in the states people worry about the sanitary standards of tattoo shops and most people you talk to wouldn't dream of getting a Thai bamboo tattoo abroad because of these concerns.
However, I found the conditions extremely sterile. Our tattoo artist used new needles that were opened in front of us and then fixed onto the bamboo grip.
He wore medical gloves and poured ink from the bottle into a sanitary container, which was disposed of after the tattoo was completed.
The room was clean, had great lighting and was relaxed. I would recommend the experience to even the biggest skeptic.
I can tell you that I had one of my tattoos done in a tattoo shop in the states that wasn't nearly as clean or comfy.
Choosing the Right Shop Matters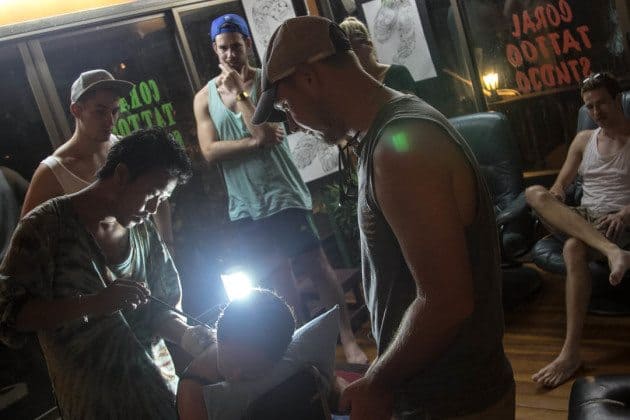 With that said, it is very important that you vet your tattoo shop ahead of time. While we had a good experience, there are several shops that are dirty with questionable health standards.
Do your homework, ask around, look online and more importantly, physically go to the shop and see with your own eyes.
Observe the artists as they work, ask about their process and pay attention to what they do with needles, ink, and other items.
Where Did I Get My Bamboo Tattoo?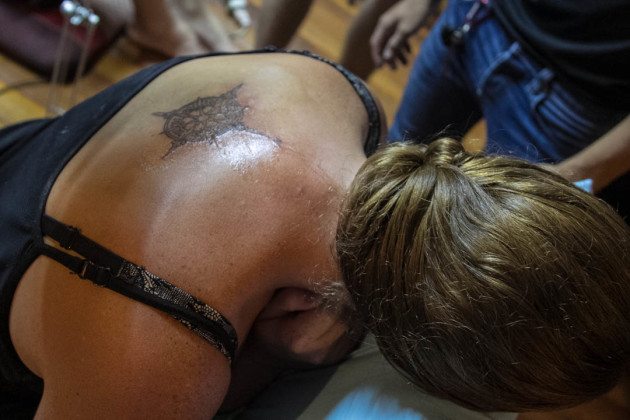 This is the most asked question about my bamboo tattoo, where did I get it. We were staying on Koh Pha Ngnan at the Coral Bungalows in Ban Tai when we decided to get bamboo tattoos.
They have a tattoo parlor right on the resort and it is clean and comfortable with patient tattoo artists. Not only is it a great place to stay during your travels, but it's a safe place to get that bamboo tattoo you have always wanted.
Check prices and book your own stay on Koh Pha Ngnan.
Getting a tattoo when traveling is increasingly popular and I plan to get a couple more while we trot the globe. The compass was one that required a lot of thought and design, it is covering about 3 or more inches of my back!
Looking for travel tattoo designs check out our Travel Tattoo Pinterest board of inspiration.
More on Thailand:
Did you like this story? Share it!