Koh Phi Phi Don can be a crowded piece of paradise with lots of long boats and endless waves of tourists snorkeling. The crystal clear waters and large limestone cliffs are a kayakers dream. Add in some sea caves and snorkeling in the non-crowded areas that surround the Phi Phi islands and you've got a great day of adventure.
After taking a full day boat trip around the island, Lina's brother-in-law and I mapped out where we wanted to kayak and snorkel without lots of people, we wanted to get off the beaten path.
The large limestone cliffs and dark sea caves that surround the coasts of the Phi Phi islands piqued our adventurist side, so we decided to rent kayaks and explore on our own. We also knew the snorkeling would be better where there's less boat traffic and less people.
We rented a kayak right off the beach in Loh Dalam Bay. Just like everything on the island, prices are fixed but that does not mean you cannot take it out for longer then you rented it for.
They are so itchy to get their money they do not take down any information, they just tell you to ditch it on the beach when you're done. We rented it for four hours but spent six hours exploring.
Heading to Koh Lanta? Check out: KOH LANTA ACTIVITIES: 20 BEST THINGS TO DO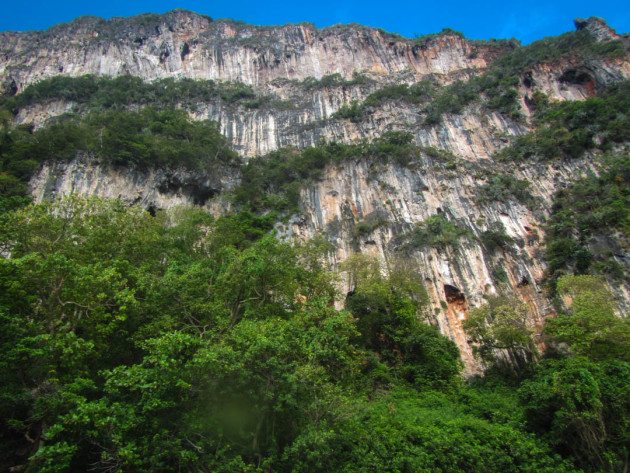 ~ Stunning cliffs ~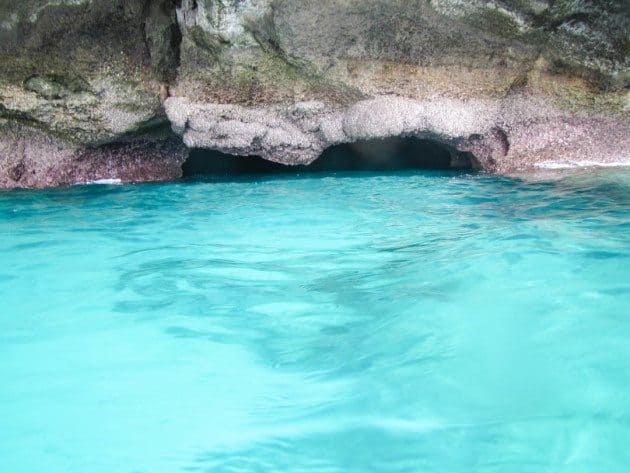 ~ Crystal clear water ~
We headed right out of Loh Dalam Bay instead of left to start our adventure. Most people go left and kayak to Monkey Beach to visit the resident macaque monkey family and take photos. Monkey beach can be trafficked heavily with boats and we did not care to see a bunch of stupid tourists messing with monkeys (again).
Kayaking out of the bay was easy in the early afternoon. The water was calm and we made good time cutting easily through the water. We cleared the bay within 10-15 minutes.
On our way out we saw two nice beaches that would be nice to suntan on with out tons of people. These beaches had maybe four people on them at the time, nice and secluded. More importantly, not crowded.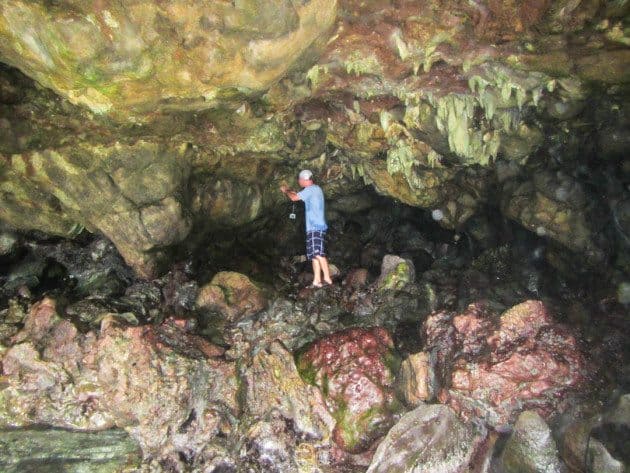 ---
Cave Exploring
Just outside the bay on the right hand side was our first sea cave. Two large sea cave openings that joined into one large sea cave making it easy to get out of the kayak and walk around. We quickly pulled up on to the limestone rocks and tied our kayak to check out the caves.
Entering the cave was surreal as waves of crabs climbed on the rocks and walls to get out of your way. Some even fell into the water trying to get away from the scary guys in a kayak. The caves reminded of me of the classic pirate movies where you would always expect to find buried treasure.
It was luck that we came across this cave because in the early morning the water covers most of the cave, making it impossible to enter the cave on foot. However, in the afternoon the water is so low you can walk around inside of them. We felt like a couple of kids exploring a pirate trail, waiting to be caught.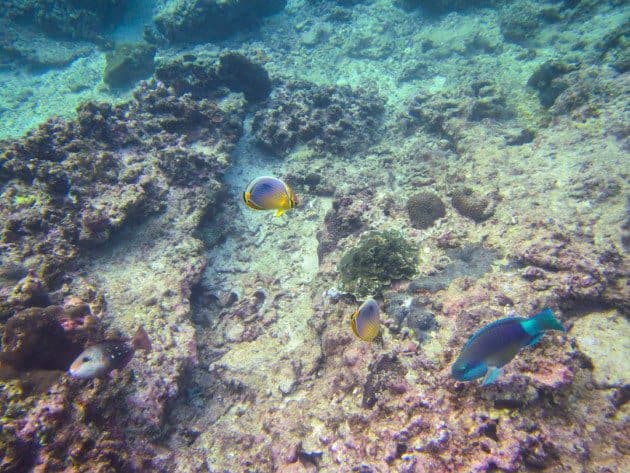 ---
Snorkeling Without Crowds
Within five minutes of getting back in the kayak, we were jumping out of the kayak again to explore a little cove and slapping on our snorkels to see what we could find under the water.
Here the coral was just below the surface with brightly colored fish that swam just inches from our masks. This was the best snorkeling we found around the island as it was a less traveled spot.
The second bay we came across was a little larger with two or three long boats. The beach looked nice but it had a few people on it from those parked long boats.
We did not make it to this beach; we just parked our kayak on the rocks and jumped in. We snorkeled all around the bay looking at large schools of fish and more or less avoiding people.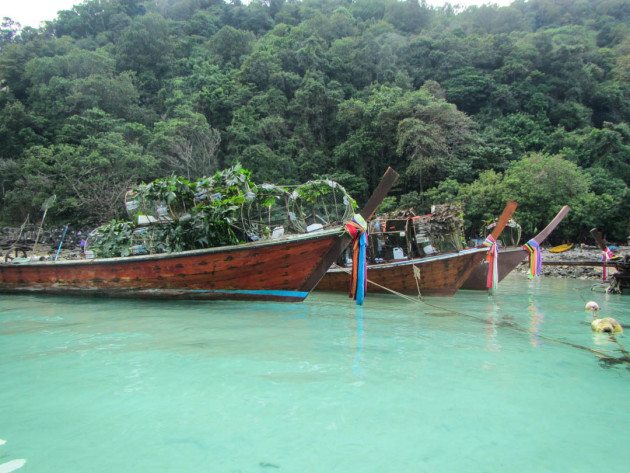 ---
Local Fishing Villages
As the tide started to go out, the water started getting lower and lower by the hour and more of the sandstone rocks were showing. We easily kayaked under large cliffs along the seashore and in and out of ledges.
Following the shore brought us into this hidden bay where a man was fishing at the outlet of the bay. Throwing his fishing line into the water and wrapping it around a can to wheel it in.
To our surprise we kayaked right into a fishing village where there were no tourists, just locals who stared at us from their shanty huts right on the bay.
There were several large long tail boats with fishing traps loaded up and ready to go. Beside each jetty were large lines of fishing traps with big green leafed plants outlining them.
The large leafed plants hid them in the water and we paddled though this area quickly and decided it was cool but not a place two white boys should be snorkeling. The locals watched us from the waterside like we should not be there so we took the hint and started back.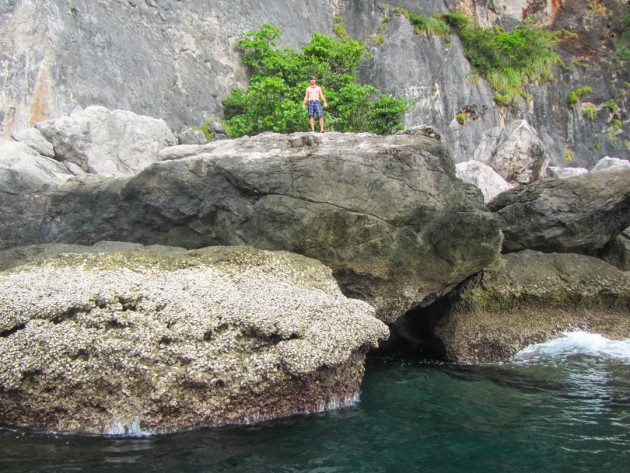 ---
Cliff Jumping
After leaving the fishing village, we decided we needed a little more adrenaline before returning for the evening. The large sandstone cliffs could be a rock climbers dream, so naturally I had to climb up on to one of the large cliff sides that overlooked the ocean.
Climbing up was easy but sharp, due to the waves hitting the rocks for years and I cut up my hands pretty good but the climb up several stories was worth it looking down at the kayak floating in the water.
What better time but to jump into the water, so i did! Plunging into the ocean from a cliff jump felt so good on the hot day and it is always a thrill jumping off a high place into the beautiful water below.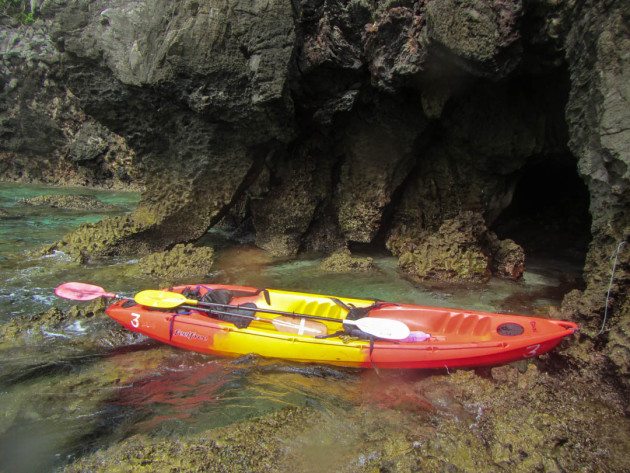 ---
Low Tide
By now the sun was starting to set so we started to make our way back towards those two secluded beaches we passed on our way out. This was yet another good snorkeling spot with an abundance of good coral and loads of tropical fish.
At this point, we were blown away by how low the water was as we brought an end to our self-guided kayak adventure around Phi Phi Don and paddled in towards Lo Dalum Beach.
When we reached the shore, we saw that half of the bay was full with large rocks and boats sitting in the sand. None of those rocks were showing when we started this adventure.
People were playing soccer on the exposed bay. At this point, we did what we were told and ditched the kayaks where other kayaks were and walked the length of the bay back to the beach to meet up with the girls at the pool.
This was an easy, low cost kayaking adventure that got us off the beaten track. Our adventure sent us exploring the limestone cliffs, snorkeling without the crowds and catching a glimpse of local life.
The beauty is that it's self-guided, so if your less adventurous, you do not have to go as far and do as much. However, adventure is yours to have so the trip will be what you make it.
More on Thailand:
Did you like this story? Share it!