Phuket has enjoyed an explosion of tourism over the past 10 years and shows little signs of slowing down. While vacationing on this tropical island can seem much cheaper than other destinations, Phuket remains the most expensive place in Thailand to visit.
And while there are many tourist traps, expensive day trips and countless ways to spend your money, there are some excellent activities on the island that won't cost you a single baht.
Here is a list of some of the best things to do in Phuket. So get yourself a motorbike, strap on the helmet and go explore this wonderful island without having to worry about your wallet!
---
8 Best Things to do in Phuket, Thailand
1. Drive to Rawai and watch the tide go out
Down at the very southern end of Phuket lays Rawai beach. Not your typical swimming beach, Rawai is a long beach whose waters stretch out shallow as far as the eyes can see. Each evening when the tide goes out, the long tail boats anchored on the beach are left stranded on the sand and make a quite beautiful scene.
Walk down along the beach, take a stroll in the sand out as far as you wish and enjoy one of the coolest settings we have come across in Phuket.
TIP: If you find yourself in Rawai around 2pm during the week, walk to the far east side of the beach and watch the fishing boats come in. Many of the restaurants in Phuket come down and buy their fresh fish right from the boats as they come in from a long night of fishing.
This is a great place to buy fresh seafood or just walk around and people watch.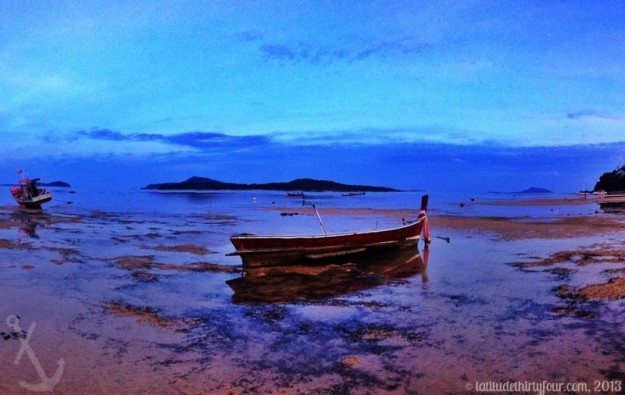 2. Walk down Bangla Road at night
No matter who you are, if you find yourself in Phuket you should make it a point to walk down Bangla Road one evening during your stay. We like to think of Bangla Road as the Vegas strip of Phuket, but way, way wilder.
From drag queens to endangered animals, helium balloons to delicious street food and every knock off item you could imagine, walking down Bangla Road is always entertaining and exciting. Just remember the later you go, the weirder it gets, who knows what you might see late at night there. We'd tell you, but you should just check it out for yourself!
TIP: For the best Kebab in Phuket, make your way down to the end of Bangla Road by Jungcylon shopping center. Right across from the Coffee Club is a Kebab stand, the best one we have tried on the island.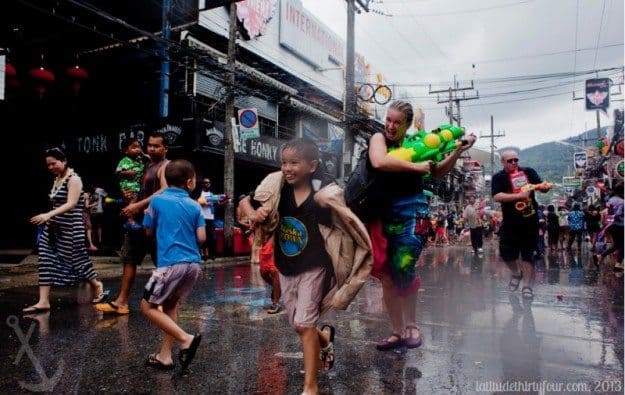 3. Visit the Big Buddha
On the more cultural side of things, make your way down to Chalong and look for the signs off of Choafa West Road up to the Big Buddha. Luckily you can see the gigantic statue from many points on the island but a drive up to the base of the statue is well worth it.
Under construction for nearly 10 years now, the statue is the biggest Buddha in Phuket and while there are construction teams working on it most days, it is finished to the point of still being impressive and worth the visit.
There is a small temple at the base which you can get blessed by monks at as well as a pretty fun little gift shop and amazing views of the entire southern part of Phuket.
TIP: Ladies, make sure to wear something covering your knees. It may be hot up at Big Buddha but ladies must cover their legs, but don't worry too much, if you don't have anything to cover up they will gladly lend you a cloth to cover up with during your visit.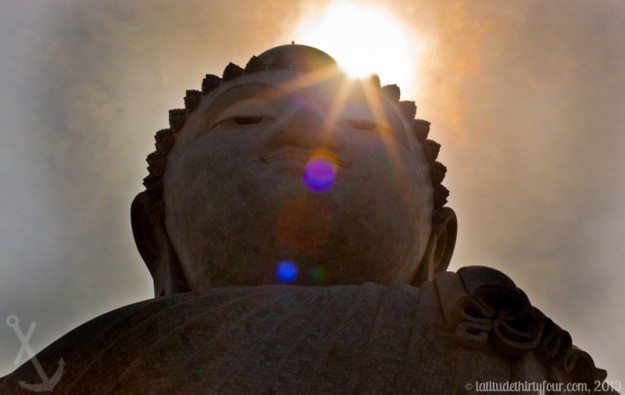 4. Visit Wat Chalong
The largest and most impressive Buddhist temple in Phuket is Wat Chalong, located between Choafa East and Choafa West roads in Chalong. If you manage to miss the temple from the road, there are signs easily pointing out where to turn. The grounds are quite extensive with many smaller temples spread across the land and a lively atmosphere of locals and few tourists.
Take the time to walk inside each of the different buildings and admire the intricacy of the designs. Take your time to speak with some of the monks living there, many are willing to stop for a chat and many are happy to practice their English conversation.
TIP: Visit early in the morning if you can. Just as the sun is rising all of the monks are heading out to collect their alms for the day, the grounds are more quiet and peaceful, the temperature cooler and the many dogs which call the temple grounds home are active and playful before the midday heat hits.
5. Visit the Weekend Market
What's a visit to Phuket without going to a local market? If you have the time and want to see a more authentic market, find your way to the weekend market in Phuket Town. Ask any Tuk-Tuk driver of local where it is and they will point you in the right direction.
Like the Chalong Temple, it too is between Choafa East and Choafa West, just further into Phuket Town.
The market boasts endless rows of vendors selling everything you could imagine, from coconut oil to fake watches, wooden masks to sunglasses, baby clothes to Northface backpacks and everything in between. The weekend market also has one of the largest selections of food stalls we have seen in Phuket.
Easily over 100 options for food, take a walk through the dining area and sample as many items as you can. From fried insects to fruit shakes, duck curry to fish ball soup, you can find it all here.
TIP: Motorbike parking is available all around the market with most located in the back of the market. Make sure to have 5 baht with you if you need to visit the public restroom, also located behind the market.
Taking the family to Phuket? Check out Things to do in Phuket with Kids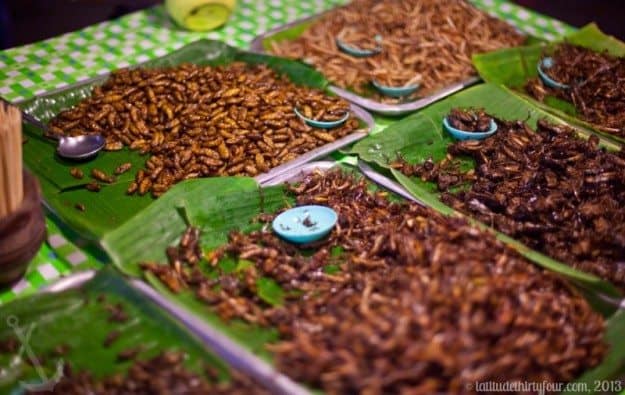 6. Feeding the monkeys on Rang Hill – 20B ($.65)
There are two main hills in Phuket and if you are driving around Phuket Town you can see them both clearly. Rang Hill has traditionally been a great place to visit and feed the monkeys which roam the park at the top of the hill but we prefer to visit the other hill.
Unsure of the name, it is easily visible with the large radio towers protruding from it which can be seen from miles around. Take the steep climb up on your motorbike or car and you will find a beautiful and quiet lookout point right at the top.
As you drive up you will start to see monkeys everywhere and by the time you park they might have even climbed on your car. An elderly man sits in a small bamboo hut and sells bags of peanuts for 20B which the monkeys are excited to take from you by hand.
Some of the bigger monkeys can act like bullies but it isn't hard to make sure the little ones get some too.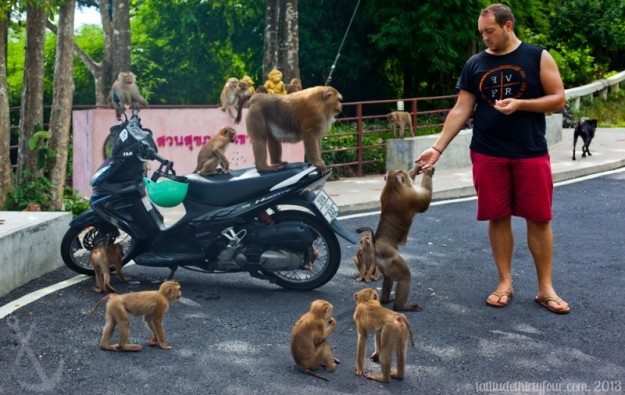 7. Releasing a lantern on the beach – 100B ($3)
Many people has seen the beautiful and serene images of dimly lit lanterns being released into the night sky from all over Thailand. While traditionally the lanterns are sent off during the Loi Krathong festival in November, there are vendors walking the beaches year-round selling the large paper lanterns to tourists.
They will ask for 200 Baht, which you should be able to easily bargain down to 100B. Make sure to wait and buy a lantern on a calm night without much wind and make sure to bring your camera!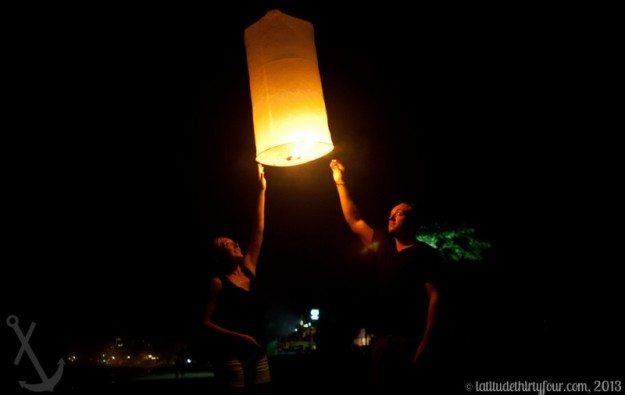 8. Getting a beach chair in the sand – 200B ($6)
A little known fact about Thailand is that the King has declared all beaches in Thailand as public beaches. This means that as long as you can find it, you can lounge and relax on it.
While some resorts will try and charge you to walk through their property to get to the beach, there are so many beaches in Phuket, both popular and hidden, that it won't be that hard to find a nice and quiet spot on a beautiful day.
Of course, simply laying down your towel on the beach is free, if you prefer to get a couple of lounge chairs, umbrella and small table, a set will only set you back 200B, or 100B per chair. If you can speak a bit of Thai, or the sun has started to go down towards the end of the day, you can easily bargain this down to 50B per chair.
More on Thailand:
Did you like this story? Share it!