Finding transportation in Indonesia can be a challenge, especially when it involves traveling to some of the most remote islands in the Eastern part of the country. We were on the hunt for a good sailing Komodo tour.
Looking for the perfect option, I spent a solid day scouring the internet and popping into the local travel agencies.
In the end, I came upon a website for Kencana Adventures. Although it was hard to find a lot of information on them, the website seemed legit enough for me to send an email inquiring about their availability for our dates.
This was the only company that I could find that traveled from Labuan Bajo in Flores to Lombok, stopping at various islands along the way and making a visit to both Rinca and Komodo to hike on the only two islands in the world where Komodo dragons live in the wild.
---
Sailing Komodo Tour: Labuan Bajo to Lombok
---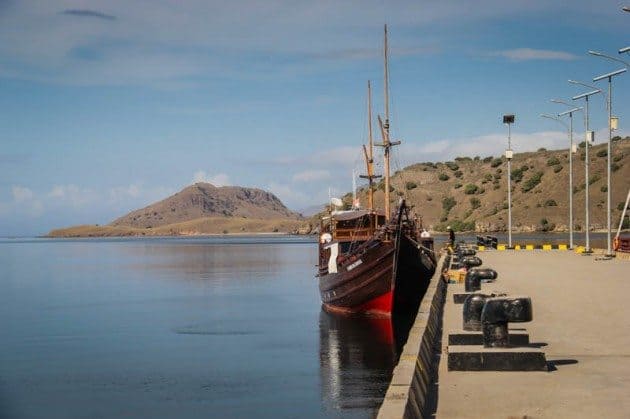 The reviews seemed to be positive, overall, although many mentioned things here and there about questionable procedures and spoken promises that weren't followed upon.
I am very much a read, file and then make your own opinion kind of girl, so after knowing there wasn't anything too drastic, went ahead and booked with them.
The decision ended up being a good one, and although we did experience some of what we had read about, we still had an amazing time and one hell of an adventure on our 4 day/3 night cruise.
Arriving in Labuan Bajo, Flores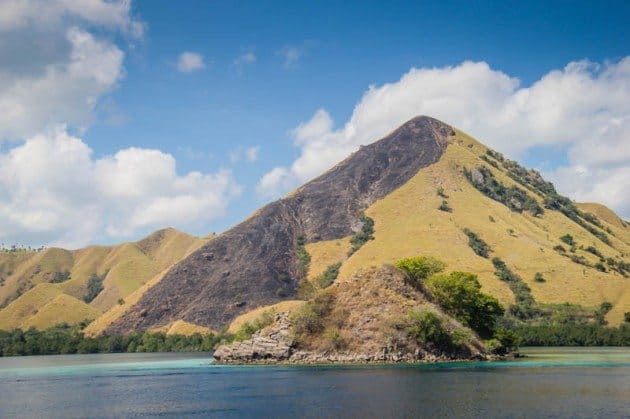 After arriving in Labuan Bajo, we searched for over an hour in the hot, humid sun before finally locating the office.
It is a small place under an older resort, which we learned we had walked by 3 times during our search.
Having exchanged several emails it only seemed obvious that they should have our booking, but it turns out they didn't.
It wasn't the end of the world, as the boat had loads of space on it, so we put down our names, were issued our tickets, paid our balance and set off to buy some snacks for the next few days.
We had read that they often do not provide enough food and would not serve snacks, so we thought it best to bring some along. This was only partially true, while they did not serve snacks, the meals were plentiful and we found that the snacks were not needed.
Be prepared to eat a lot of rice, every single day. This is the staple of the meals. Each day for lunch and dinner the crew would prepare us various chicken, fish and boiled egg dishes with vegetables and sauce to serve over rice.
We enjoyed all the meals and many times they even prepared vegetarian options.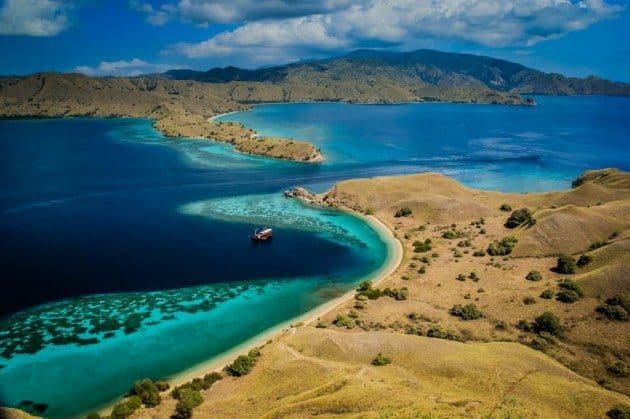 We also did not need more water, the 5 1.5L bottles per person for the duration of the cruise was adequate. The website does state that they are willing to stock beer, pop and extra water upon request, but we were never given this option.
The Whole Ship to Just A Handful of Us
For some reason, the day we left we ended up with just 3 other couples and on the biggest boat, the company owns. A large wooden pirate type boat with 3 levels and many private cabins.
Although we paid for sleeping on the deck, we were each given a cabin at no extra charge to lock up and secure our things.
Despite having the cabin, we still slept on the deck under the stars. It was much too hot to sleep in the cabins that had no windows and only a small fan. We found the deck quite comfortable with the sleeping pads and blankets that they provided.
We did bring our own Nemo travel pillows and silk sleeping liners that made things extra comfortable for us.
The Crew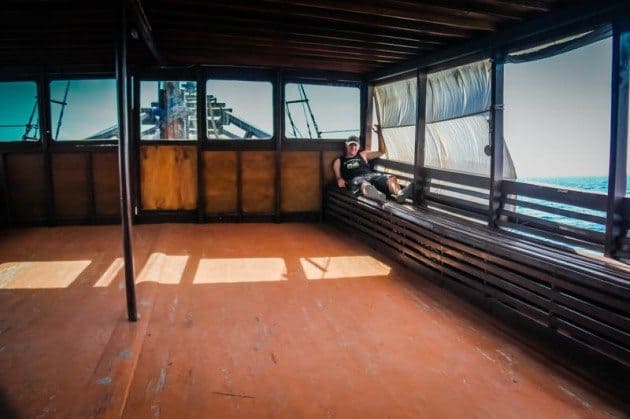 The crew didn't speak much English, but enough was said to know where we were going and to discuss some misunderstandings in the schedule. This seems to be a huge issue with this company, especially the tours leaving from Labuan Bajo.
The agent that sells Kencana tours in Labuan Bajo sold us all tours telling us our stops and costs. Getting on the boat, the crew seemed to have a different idea about the stops and we did have to converse with them twice about attempted missed stops. We even had them turn around once for missing a stop.
The agent in Labuan Bajo also told us all was included in the price except the camera fees in Komodo and once we were on the boat, we were told we had to pay extra to go to Satonda Island.
There seems to be a disconnect between the crew and the agent in Labuan Bajo. We are being sold one thing and then given another.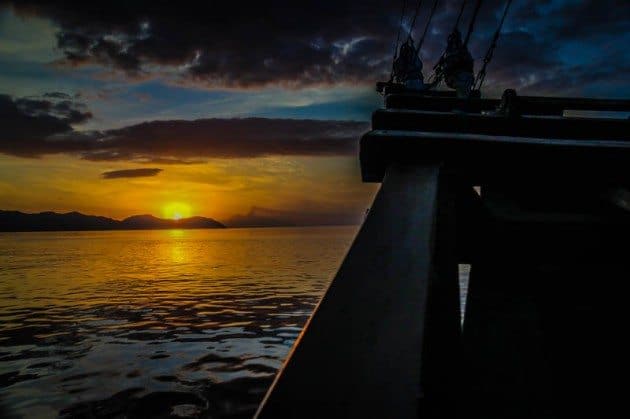 In my personal opinion, I am not entirely sure what the situation was with this. We were also told it was all included and after landing in Lombok and getting online, we were able to confirm that the fee we were being asked for was, in fact, supposed to be included.
Besides these minor hiccups, it was an excellent tour. You're in Asia and things aren't always done efficiently here, you have to have a sense of humor and realize that you travel to experience these types of situations.
This is a backpacker type cruise and it isn't luxury. If you can put this in your head before you depart, you will have an amazing time. We got a front-row seat to some amazing remote islands in eastern Indonesia and had the opportunity to get an up-close look at them. It doesn't get much better than that.
If you are interested in checking out Kencana Adventure Tours, check them out here.
More on Indonesia:
Did you like this story? Share it!