After a dramatic debacle on Lombok, which involved us paying for unwanted and not needed transportation to the boat launch, we boarded a boat to the fabled Gili Trawangan. The boat ride lasted about 30 minutes before it slowed and approached the beach of the outermost island. We had arrived in paradise and hadn't expected that.
You will hear a lot about places like the Gili's when you start conversing with other travelers about Indonesia and SE Asia. People either love it or hate it, and I get that. It is a strange little island.
There are no cars or motorbikes. People either ride a bicycle, take a horse carriage, jump in a boat or walk to where they need to go. This makes the island impressively special, in my opinion.
Everywhere you go in Asia you are assaulted by high volumes of traffic and chaos, so when we stepped out of the boat into the crystal clear water of Gili T, we were so surprised and relieved at what we discovered. The whole island posses a sort of magic about it, you are after all, in paradise.
Our only regret from our time spent here is that we didn't stay long enough. We filled most of our days diving in the crystal clear waters that surround the islands and when we weren't doing that, we were exploring her many faces.
The vibe of the island isn't something that is easy to communicate, you just have to be there to know what it is. I believe it was best captured in photos, although even this isn't a substitute for an actual visit.
Word of advice? Put Gili Trawangan on your travel list for the near future. Although some development has started to pop up around the island in the form of upscale resorts, it is still holding close to its charm.
Not knowing how long it will last, it is in your best travel interests to see this place before it loses that. Trust me, you won't regret it.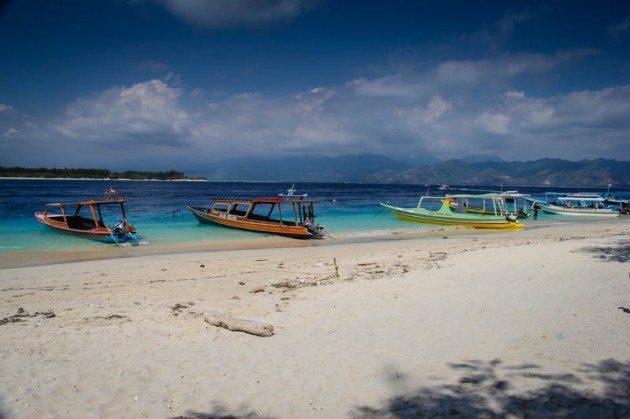 ~The first scene you see when you arrive, white sand beaches and colorful boats~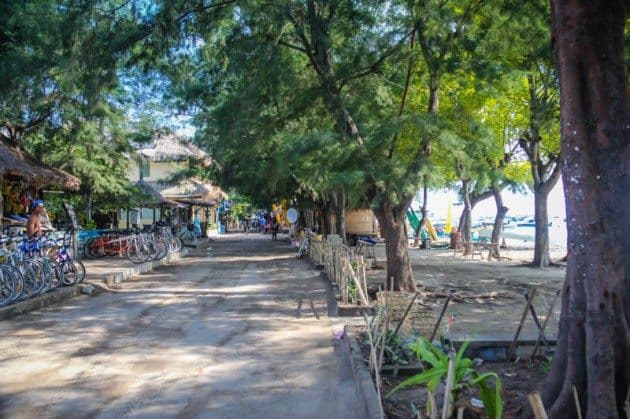 ~Gili T Main Street, right alongside the beach~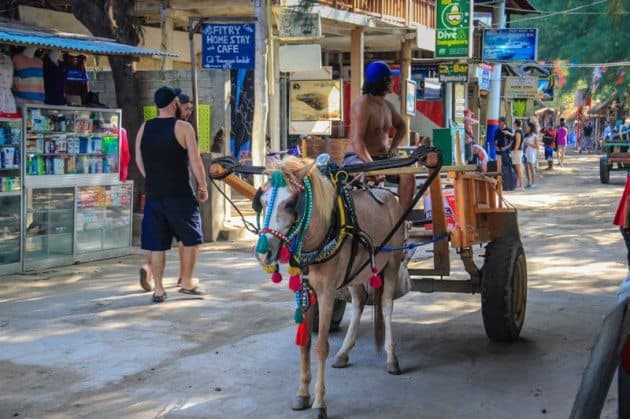 ~You won't see any cars or motorbikes here, just cute ponies and carts.~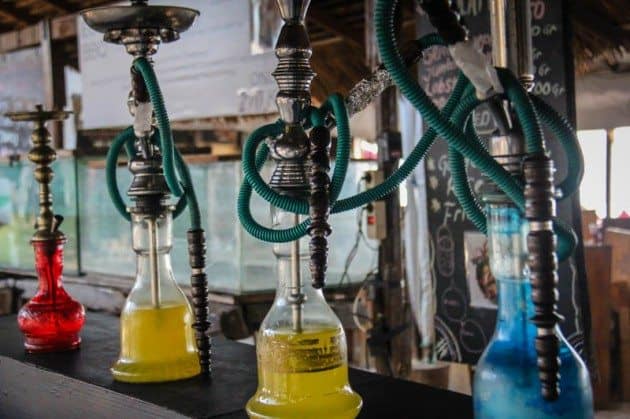 ~Hookah pipe displays on every corner~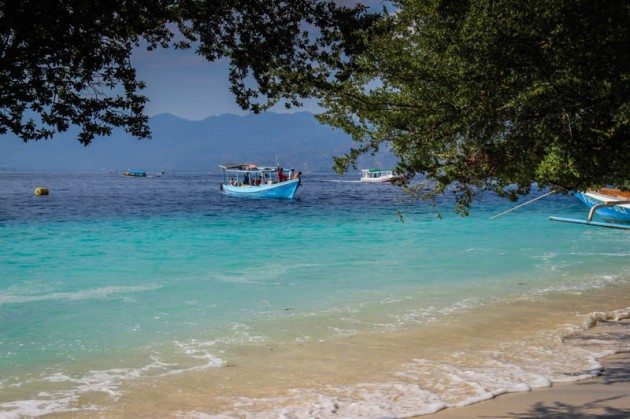 ~Just a casual view from many of the beachside cafes and shops~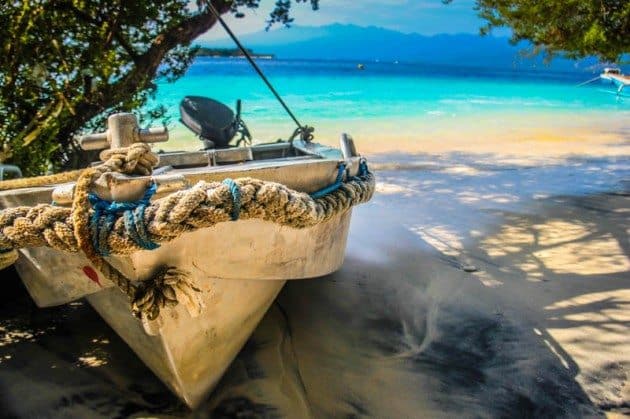 ~The water really is that blue!~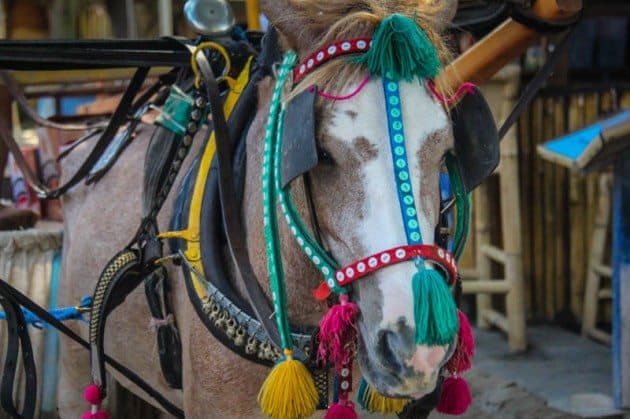 ~Up close and personal with the main mode of transportation~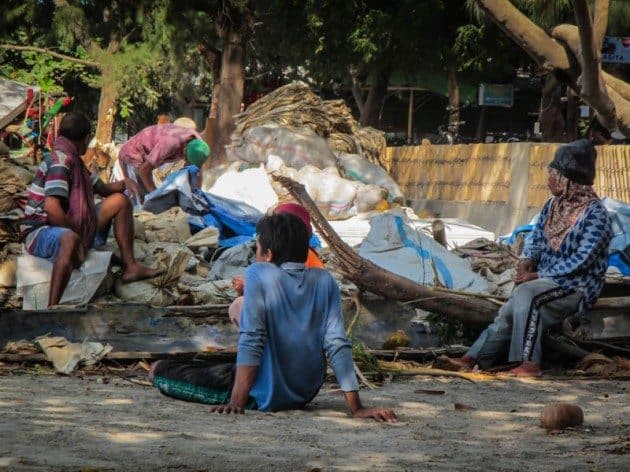 ~Construction workers waiting for the next boat of supplies from Lombok~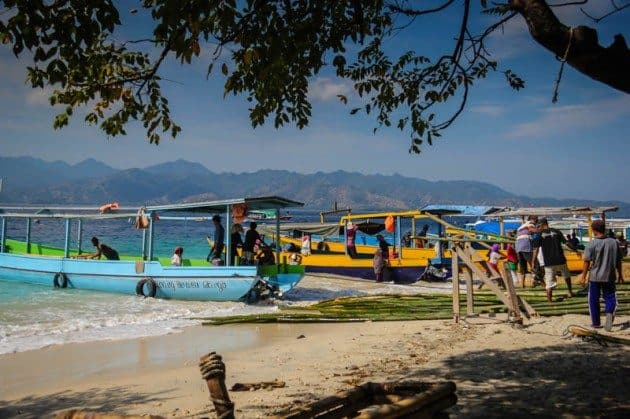 ~Construction material being unloaded at the port~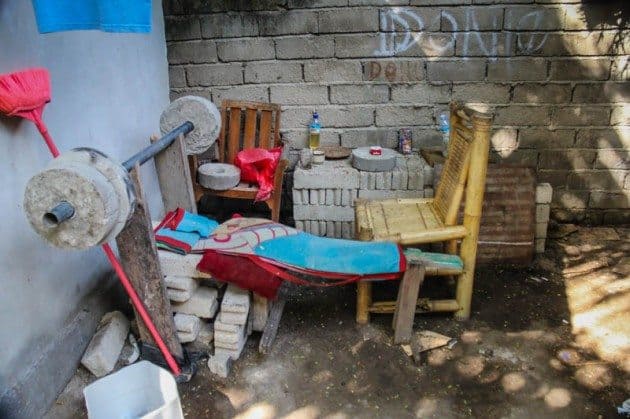 ~Private gym on Gili T~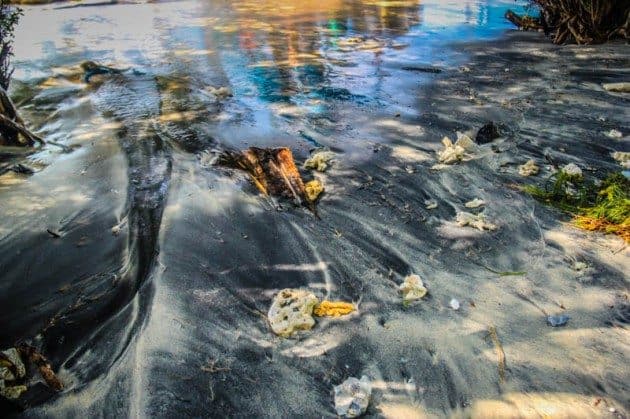 ~Many treasures to discover on the beaches during the day~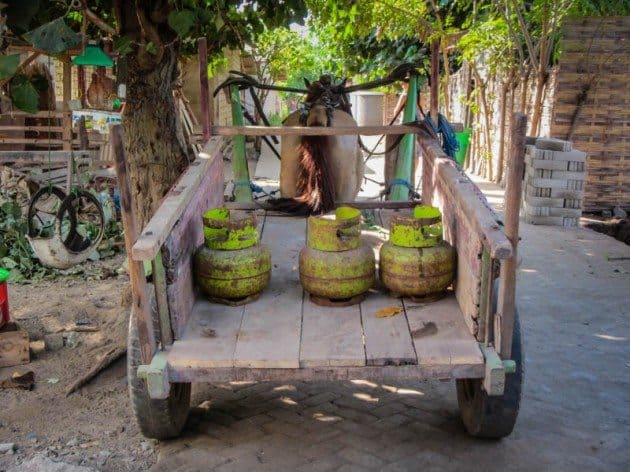 ~Propane truck, anyone?~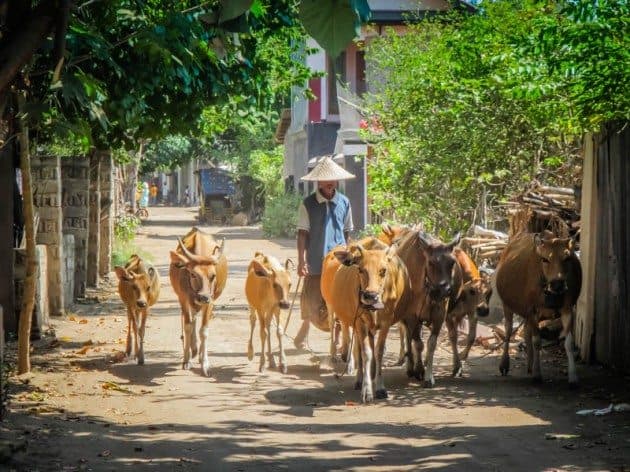 ~A true look at life on Gili Trawangan down the back lanes~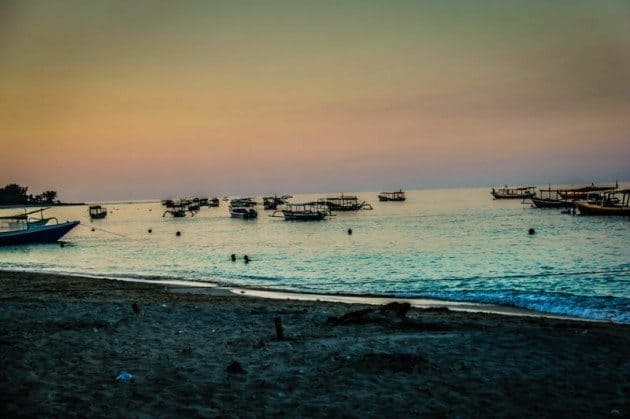 ~Sunset from the beach~
~Peace out, we do love Gili T and cannot wait for our return visit.~
Facts About Gili Trawangan
Affectionately called Gili T by many travelers and locals, is accessible from the islands of Bali and Lombok. This island is the biggest and farthest of the 3 Gili islands located off the coast of Lombok. The island as a whole is only 3km long and 2km wide. You would walk the whole island to explore it.
You can access the island by booking a ticket on either a slow or fast boat.
From Lombok, the slow boat takes approximately 30 minutes and depending on who you buy your ticket from, it will cost around 70,000IDR ($6USD).
From Bali, boats leave from Padang Bai. Fast boats take approximately 1.5 hours and ticket prices vary wildly. Be sure to negotiate your price, they tie incredibly large commissions into these boat tickets. We paid 300,000IDR ($25USD) for our ticket from Gili T to Bali, one way. The starting price was 600,000IDR…
Be sure you have local currency when you arrive as most accommodations accept only cash. Many of the shops and restaurants accept credit cards, but you will be charged a standard 2-3% charge on top of the total bill. ATM and cash exchange places are abundant along the main street.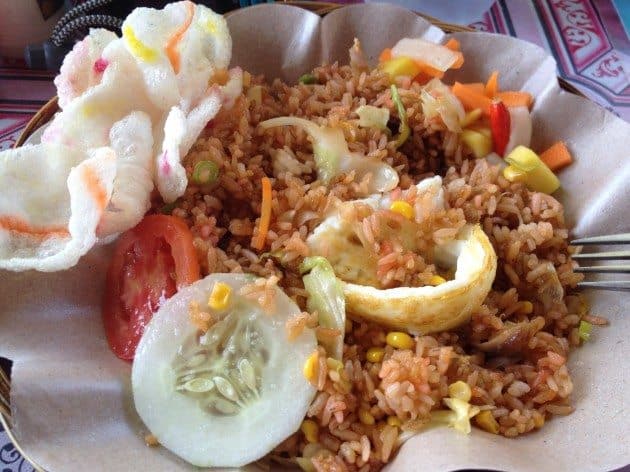 There are food venues to suit all budget types from local food stalls where you can get a heaping serving of Nasi Goreng (fried rice with chicken and egg) for 10,000IDR ($0.80USD) all the way up to resort-type restaurants with menu items starting at 200,000IDR ($18USD).
The same goes for accommodation, you will see budget backpacker home-stays and hostels, as well as nicer resort type properties. Each with their own amenities and charm.
The Internet is available pretty much everywhere on the island, but it is spotty. Some days you can achieve a fast connection, where others will struggle to connect. The closer you are to the beach, the better it works.
We would sit in the cafes on the beach to work and have no issues, only to return to our home-stay in the middle of the island and have no WIFI at all.
---
One of our most frequently asked questions is "what kind of travel photography gear do you carry with you when you travel?"
Below is a shortlist of what travel photography gear we carry to get photos as you see above. If you would like to see the full list check out our Ultimate Travel Photography Gear List. This travel photography gear list is not the be-all, end-all of travel camera gear lists. These items are the ones we prefer to use based on our styles, needs and wants when in the field.
Click to read about all of the camera gear we carry: Ultimate Travel Photography Gear List
---
More on Indonesia:
Did you like this story? Share it!