Tiny little Caye Caulker, found just off the coast of Belize is what much of the rest of the Caribbean islands must have felt like to visit many decades before tourism took off in the region. Sleepy Caye Caulker, Belize (pronounced 'key') is just a few miles long and there's not a whole lot to do.
That's the best thing about it though, the laid back, chilled out island life is what most visitors travel here to find. You won't find any high-end all-inclusive resorts but you will find a Caribbean experience like no other, with lazy days spent strolling the coast and breezy evenings spent looking out to sea as the sunsets.
For these reasons and more Caye Caulker is a real favorite amongst backpackers and travelers looking for a place to visit that's still off the beaten track. The locals are down to earth and welcoming, there's excellent snorkeling and diving off the coast and plenty of cold beers to be drunk in the ramshackle bars.
Island life is slow in Caye Caulker, but make sure you get there fast before the rest of the world discovers the delights and charms of this beautiful, tropical island. To help you to plan your trip, here's our ultimate guide to visiting Caye Caulker Belize.
Don't leave home without: Lonely Planet Belize (Travel Guide)
---
Things to do in Caye Caulker Belize
The real beauty of visiting of Caye Caulker lies in doing nothing at all. It's laid back and easy going and the perfect place to relax and unwind in beautiful surroundings.
If you are more adventurous though and want to do a few more exciting activities than lazing around with a cold beer, then the reef is just a short boat ride away and there are plenty of outdoor activities to keep you entertained. Here are the best things to do in Caye Caulker Belize.
Recommended Guide Books For Belize: Lonely Planet Belize (Travel Guide)
1. Go Slow
The greatest thing to do on Caye Caulker is very little. The island's motto is to take it slow, and the relaxed and calm island life may make you want to stay much longer than you'd planned.
It's best to simply stroll around, find a quiet spot on the coast and stare out to sea. Visit one of the bars and relax with a few cold drinks in the late afternoon. Whatever you prefer, just do it slowly on Caye Caulker.
You might want to check a couple of these places out during your visit:
Osprey Silver Jewelry & Boutique
Chef Kareem's UnBelizeable Lunch
Chef Juan's Kitchen and Pastries
Barrier Reef Sports Bar & Grill
2. Try Some Snorkeling and Diving at the Reef
Caye Caulker is very close to the nearby reef, which is incredibly bio-diverse. It's a beautiful place to snorkel and dive and there are several operators set up on the island who can take you out or even help you to acquire your Scuba certificates.
There are many dive sites around the island, however, the most popular and well-established spots include the spectacular Turneffe Atoll and the beautiful Hol Chan Marine Park.
Companies to check out for snorkeling and diving:
Caveman Snorkeling Tours
Stressless Eco-Friendly Tours
Anda De Wata Tours
Belize Diving Services
Richard's Adventures Tour Company
3. Dive into Shark Ray Alley
Found within the protected area of Hol Chan National Park, Shark Ray Alley is perhaps the most visited spot in the area, purely because here it's possible to swim with hundreds of nurse sharks and rays who congregate in the water.
These amazing marine creatures are completely harmless and it's a very unique experience to take away. This is one of the top things to do in Caye Caulker, so don't miss it!
Tours we recommend for getting a great experience at Shark Ray Alley:
4. Explore the Mangroves and Visit the Manatees
In the north of Caye Caulker, there's a dense mangrove forest and open sea that is the natural habitat of the rare manatee, a gentle, large marine animal that's found in few places around the world.
This area has become a popular place to take kayaks and canoes to explore this wild and natural place. There is a lot of wildlife and excellent views back towards the island and out to sea. Early morning trips out will be the best time to see these wonderful creatures playing on the surface.
Tours that offer the chance to see Manatees: Hol Chan Marine Reserve and Shark Ray Alley Snorkeling Tour
5. See the Split
Caye Caulker is technically two islands, with a north and south island that were separated just a few decades ago when the sand that lay between them was dredged up to create a passage for locals to travel easier, rather than having to circumnavigate the whole island.
It's a very spectacular split and looks beautifully dramatic. It's also a favorite spot to chill out, as it's the site of the islands only real beach, the rest of the coast being mostly coral.
Read reviews from real travelers on visiting the Split.
6. Visit the Great Blue Hole
The famous Great Blue Hole, a huge, collapsed, an underwater cave of outrageous proportions lies not far from Caye Caulker, and many travelers will use the laid-back island as a base from which to arrange tours out with local diving companies to see this natural wonder in all its glory.
The diving on the blue hole is spectacular, offering dramatic wall drops that are covered in thick coral forests. It is also possible to snorkel along the reef edge of the blue hole.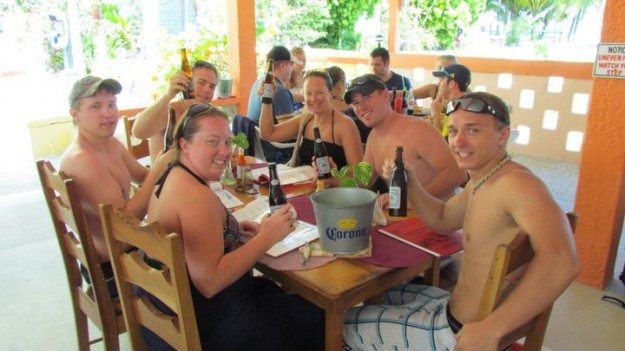 7. Grab Lunch at the Tropical Paradise
After a long morning of snorkeling the reef, we made our way to Caye Caulker to relax and enjoy a lunch break on the beach. The Tropical Paradise Restaurant fits the bill perfectly!
Located on the beach near the water taxi dock, the Tropical Paradise Restaurant is part of the island's first original beach resort. We wasted no time finding a table in the open-air seating with a fantastic view of Front Street and the Caribbean Sea. We have found one of the best restaurants.
The menu was large with a variety of dishes including traditional Belizean dishes and a variety of hamburgers. Being that I travel to experience culture, I ordered a traditional dish and some Belize beer!
I will say, the food was amazing. It was fresh and cooked to order. All meals were served with fresh salsa that was bursting with the flavor of hand diced tomatoes, onions and cilantro.
Not to mention the guacamole- perfectly spiced and generously served. The perfect accompaniment was a bucket of Belikin beer, 'The Beer of Belize'.
---
Caye Caulker, Belize Travel Tips
Location and How to Travel to Get There
Caye Caulker is just a small island, with a small population of just under 2000 locals. It's found in beautiful surroundings, only one mile away from the world's second-largest barrier reef and only 20 miles away from the Belizean capital, Belize City.
It's in the warm waters of the Caribbean Sea, and it's possible to travel here from a few of the surrounding destinations.
Caye Caulker has one, a short runway that's served infrequently by a few airlines when there are enough passengers. Light aircraft can land here, but generally, the airlines will make this a pit stop on the way over to other more popular destinations.
Tickets can be bought from Belize City, and flights will stop here on their way to the larger city of San Pedro, further north.
Belize City is well connected internationally and to places in southern Mexico by long-distance buses. From Belize City, a more regular transport option to reach Caye Caulker is via the consistent water taxis and ferries that operate from the city to the island.
From Belize City, it's a 45-minute ride, and the ferry can then be taken onward to San Pedro. Or vice versa if arriving from a northerly direction. The ferries run every day and there are several companies operating from the harbor in Belize City.
Once you are on Caye Caulker, getting around is simple. There's just one main road circling the island, and there are almost no cars. The preferred method of local transport is a golf cart, and a few tour guides even operate guided trips by taking their guests out in the buggies. There's a solitary traffic sign, which encourages residents and visitors to 'Go Slow'. It's easy enough to walk around or there are plenty of bicycles available for rent too.
Arriving by cruise ship? Fodor's Caribbean Cruise Ports of Call (Travel Guide)
Best Time to Visit Caye Caulker, Belize
The island has consistent year-round temperatures that rarely fluctuate, meaning it's always hot in Caye Caulker. There is a distinctively dry and wet season, however, with the dry season being experienced between December and April and the wet season from May to November.
The water and the reef are best experienced at the end of the dry season when visibility is at its best, but year-round it's possible to visit and still enjoy the water and island life.
The dry season is peak season and while visitor numbers are much higher and costs may increase, compared to other Caribbean islands, this is still a relatively quiet and untouched destination to visit, so don't let this affect your decision on when to visit.
If anything, Belize is a great dry season alternative to the other much more expensive and crowded countries in the Caribbean region.
We visited Caye Caulker in March and the weather was nothing short of perfect. We had clear skies with full sun and a light, warm breeze. The water was clear with good visibility for diving and snorkeling.
It was busy, with March being extreme high season due to Spring Break, but the boat trips were run well and we hardly noticed the crowds.
Where to Stay in Caye Caulker
As an emerging tourist destination, accommodation options on Caye Caulker can appear rustic and basic in comparison to other destinations in the region.
There are plenty of options, most in the budget and mid-range levels and all offering varying degrees of quality and service, as can be expected from an unknown destination used to catering more to backpackers than luxury travelers.
The accommodation is all clustered around the eastern side of the island, before the split, and being such a small place it's easy to walk from your hotel to pretty much anywhere else!
Here are a few of the best options to choose from when visiting Caye Caulker Belize:
Is Caye Caulker Safe to Visit?
Belize is very much an up and coming tourist destination, and it does not have the same infrastructure and services aimed at visitors that other more established Caribbean destinations and nearby southern Mexico may have.
For many, that's the appeal of visiting, but for those looking for more luxury or higher levels of service, it may be wise to consider somewhere more well known.
Crime wise, Belize does not have the best reputation. However, Caye Caulker is away from the mainland and big cities and is perfectly safe to travel to as long as basic travel principals are adhered to it is no more dangerous than anywhere else in the Caribbean region.
More on the Caribbean:
Did you like this story? Share it!