Despite the fact that roughly 64% of Americans do not have a passport, it is still a few places to travel without a passport requirement.
While I find that statistic astonishing, it is the hard truth. Many Americans haven't bothered to or have any desire to go through the process of obtaining a passport.
This means when it comes to taking a vacation, the assumption is that they are limited to the United States for their travel.
While this would not make sense to most people, there are actually a handful of exotic places to travel without a passport. These destinations do not require a USA passport to travel to, either because they are already a state or are considered a US territory.
This loophole leaves Americans with a chance to discover some pretty exotic locations without having to apply for a passport anytime soon. Although, I do recommend that you get one and get out there and see the World.
Travel Without A Passport Highlight Map
HOW TO USE THIS MAP: Above you'll find a map of exotic places you can visit without a US passport. Click on the top left of the map to find separate layers marking the route and points of interest. You can hide and show different layers, or click icons on the map to see the names of places we mention in this travel guide. "Star" the map to save it to your own Google Maps, or open the map in a new window for a larger version.
---
7 Places to Travel Without a Passport
---
1. Puerto Rico
You don't have to travel on a passport to experience a different culture and lounge on a beach and Puerto Rico is one of the best places to travel without a passport.
Puerto Rico has been a US territory since 1898 and does not require a passport from US citizens to visit.
However, don't expect to find American culture in Puerto Rico, it has a culture all it's own and there are plenty of unique things to do in Puerto Rico during your visit.
While most people are bi-lingual, the predominant language is Spanish with a beautiful amount of island culture to accompany it.
Be prepared to step into some history while enjoying classic Caribbean beaches and hiking through the island's rain forests. Read our Perfect Puerto Rico Itinerary to plan the perfect visit.
2. US Virgin Islands
Made up of two islands, St Thomas and St John, the US Virgin Islands is a classic Caribbean paradise escape that doesn't require a passport to visit.
They became a US territory in a financial exchange between the United States and Denmark in 1918.
Most people will visit St Thomas and the island touts lavish resorts and postcard-perfect beaches.
While St John is primarily a nature reserve with some of the clearest water in the world surrounding it.
People regularly plan a budget for luxury escapes to the US Virgin Islands and you will have no shortage of things to do.
3. American Samoa
Don't have a US passport but find yourself dreaming about an island in the South Pacific?
No worries, you can head to American Samoa without a US passport. This South Pacific US territory is made up of 5 islands and 2 atolls with scenery and waters to rival those of Tahiti and Fiji.
This US territory became known as American Samoa in 1911 and has been a place US citizens can travel to passport-free ever since. A visit to American Samoa will immerse you not only into paradise but into the vibrant culture of the Samoan people.
4. Guam
Not sold on the South Pacific? While I can't imagine why you wouldn't be, Guam offers a chance for you to visit the West Pacific without a US passport.
More than just beaches and tropical weather, Guam is all about experiencing the culture of the Chamorro people that are born as American citizens.
Immerse yourself into a unique culture during your visit and learn about the people and their way of life. Explore the interior of the island by hiking through tropical rain forests and of course; you can't miss a visit to the beach.
White sand beaches and clear turquoise waters await you.
5. Northern Mariana Islands
This group of islands has a strong Spanish influenced Chamorro culture that will be different than the culture you would experience on a visit to Guam. The Northern Mariana Islands are known for their hiking and biking opportunities.
There are many trails that will take you around and through the islands.
There is also a good amount of history to entertain anyone that is interested in war memorials and museums. You also shouldn't miss jumping in the water. The Northern Mariana Islands boast fantastic snorkeling and diving.
Of course, there are nice beaches here too with it being located in the North Pacific.
6. Hawaii
Believe it or not, one of the most common travel searches for US citizens wanting to take an exotic vacation is 'Do I need a US Passport to Visit Hawaii?' and the answer is no. You can travel to and from Hawaii from the mainland without a US passport.
Hawaii became the 50th state in 1959 and is the only state located in Oceania and not in the Americas. This means you can visit a state and be immersed in a culture that is completely different from the mainland culture you are familiar with.
Many of the islanders maintain their Polynesian heritage so a visit to Hawaii can be like a visit to French Polynesia, no passport required. Hit up a Luau and spend some time exploring the different islands for an amazing adventure.
To help you plan your trip to Hawaii, check out our vast collection of articles. From Extreme Doors Off Helicopter Tour in Maui, Hawaii to 21 Bucket List Things to do in Hawaii there is something for everyone's travel plans.
7. Florida Keys
The long stretch of islands that leave the USA mainland and from the Florida Keys is as exotic as you can get without flying from the states to an island. There are several islands to drive through in the keys but these are some of the greatest: Key Largo, Islamorada, and Key West.
These islands are officially part of the state of Florida and the vibe will leave you wondering if you haven't been transported to the Caribbean.
The most famous is the island of Key West, holding the title of the southernmost point in the continental USA. The island is only 90 miles north of Cuba and is surrounded by the insanely beautiful turquoise water of the Caribbean sea.
The best way to see the Florida Keys is to take a road trip from Miami to Key West.
---
Exotic Travel is Possible Without a Passport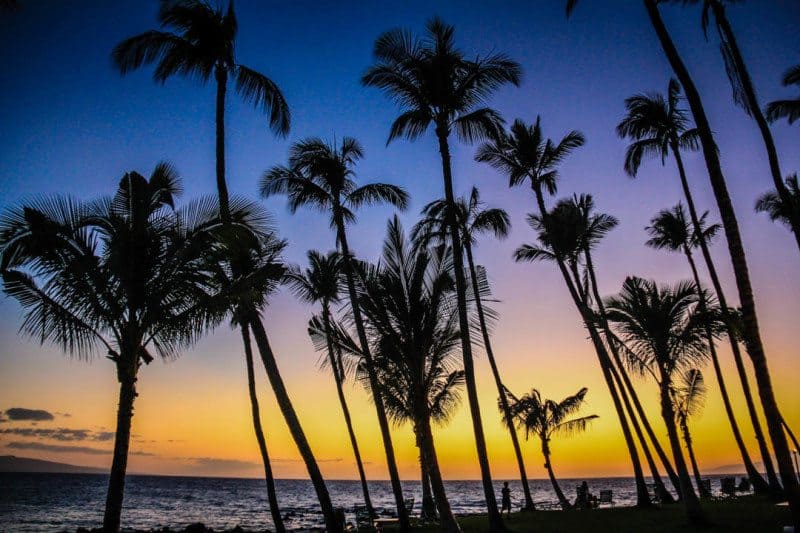 While it is plainly obvious that we are big ambassadors for World travel, we also think it is important for people to know that they have options outside of the ones that require a US passport.
Even if you have a passport, it is good to know these options. That is how we ended up in Hawaii in 2013 and not Mexico.
We had sent our passports in for renewal but wanted to plan a vacation during the time they were gone. With some Delta miles, we opted for Hawaii and had such an amazing time that we constantly think about a return visit.
So while foreign travel is great, you still have options if a US passport isn't on your immediate list of things to do.
---
You might also like:
Did you like this story? Share it!