Coron is one of the most beautiful destinations in the Philippines, a wild frontier of dramatic limestone rocks and white sandy beaches.
It's a true tropical paradise, but there are hundreds of different islands to visit in the Coron archipelago and deciding which to visit on your island hopping tours can be a challenge.
Busuanga Island is where you'll find all the hotels and restaurants in Coron, while Coron Island is the place to visit for classic sights such as Kayangan Lake and Twin Lagoons.
There's so much more though, and you can enjoy the blissful white sands of Pass Island or the supreme snorkeling of Siete Pecados.
It's a great place to visit, and to inspire your next adventure in the Philippines, here are 15 incredible islands in Coron that you MUST visit.
Don't leave home without: Lonely Planet Philippines (Country Guide)
---
15 Incredible Islands in Coron
---
1. Coron Island
Coron Island is the archipelago's most famed island, and for many, it's the most beautiful of the many islands in Coron.
Located just a short boat ride away from Busuanga, where most travelers will have their base, Coron Island is where you can find the most iconic natural attractions.
Held sacred by the indigenous Tagbanua, this is a place steeped in local lore and legend, and you'll soon see why when you see the beauty of the place.
Visit Coron Bay for the most well-known viewpoint in the islands. Then take a swim in the refreshing freshwater of Kayangan Lake, said to be home to a giant mythical octopus.
Nearby you can also swim between fresh and saltwater at Twin Lagoons, where tall limestone cliffs dominate the scenery.
Looking for a tour to help you explore Coron Island? This tour takes in all the island's highlights, including snorkeling at the Siete Pecados Marine Park and Coral Eden, a boat cruise around Kayangan Lake, and swimming at the Twin Lagoons, plus a delicious seafood lunch on Calachuchi Beach.
2. Busuanga Island
Busuanga Island is actually the largest of the islands in Coron. This is where – to confuse matters for first-time travelers to Coron! – you find Coron Town, which is the hub for travel, hotels, and restaurants in the area.
Busuanga is the island where you'll most likely stay and it's where you'll be able to join island hopping tours to see the rest of the beautiful islands in Coron.
But Busuanga is more than just a transport hub, and while Coron Town isn't exactly the most beautiful place in the region, head along the coast and you'll find small villages and secluded resorts overlooking the untouched coastline.
This is exactly how Coron Town might have looked a few years ago before the tourism boom.
3. Dibuyuyan
Dibuyuyan is located to the north of Busuanga, and it's one of the most beautiful islands in Coron.
This isn't quite as well known as an island as Coron Island itself and others to the south of Busuanga, as most island hopping tours don't tend to visit this area.
That makes it more difficult to reach, but it's becoming a popular diving spot due to the spectacular reef that surrounds the island. Join a diving tour and enjoy the secluded splendor of Dibuyuyan both above and below the waves.
4. Dibutunay
Dibutunay is another secluded island that's off the usual tourist trail in Coron and it makes for a great place to visit if you're looking for seclusion.
This Island is found off the northwest coast of Busuanga and to get here you'll need to endure a few hours in bumpy local transport, overland and then oversea.
Once you get to Dibutunay though you'll quickly realize that it was worth the effort to enjoy one of the most peaceful small islands in Coron.
5. Black Island
A well-kept secret just a few years ago, Black Island is becoming ever popular, but it's still far enough away from Coron Town that it makes for a wonderful escape from the larger crowds at places like Kayangan Lake.
Black Island is rugged and wild, but it's a good few hours away on an outrigger boat from Coron Town, over rough seas.
A long, incredibly sandy beach fronts a dramatic limestone rock that rises abruptly from the ocean.
You can relax on the beach, snorkel a shipwreck just a few meters off the coast, or venture into the cave system within the cliffs.
6. Pass Island
Pass Island could be the definition of paradise, and it's a beautiful place even in comparison to the raw beauty you'll be enjoying all over the islands in Coron.
You can walk from one end of Pass Island to the other in just ten minutes, but you can easily lose countless days just enjoying the remote beauty of the island.
Spend the night in a rustic wooden bungalow away from the rest of the world, drink from freshly cut coconuts under swaying palm trees, and snorkel amongst the coral and the fish that surround Pass Island.
It's one of the most beautiful islands that you can visit in Coron, and given the long boat ride from Coron Town, you'll want to spend a day or two here to have the place to yourself for as long as you can.
7. North Cay (Pagtenga)
North Cay (Pagtenga) is another wonderful isolated island that makes for a great destination if you're looking to escape the world.
The island is again small but is home to gorgeous stretches of pristine white sand which make up some of the best beaches in Coron.
8. Malcapuya Island
Malcapuya Island is one of Coron's best-kept secrets, although it's not going to stay that way for too long.
This is a true paradise because here you can find soft, sandy beaches fronted by calm, clear waters.
Sit back on the beach, read a book and enjoy the sunshine, or head out snorkeling into azure waters. You can even stay over in basic beachfront accommodation if one day isn't enough for you.
Experience Coron's pristine beaches and clear waters on an island-hopping cruise, complete with buffet lunch, guide, and door-to-door round-trip transfers from town hotels.
Start your day off with a boat ride to Malcapuya Island, where you'll enjoy the panoramic views of coastal cliffs as you make your way Climb to the crystal waters of Kayangan Lake, swim in Twin Lagoon, snorkel Skeleton Wreck, and explore Siete Pecados.
9. Banana Island
The quirkily named shores of Banana Island are found in the same area as Malcapuya Island and a stop here is often included on an island-hopping trip to this part of Coron.
While you won't find too many bananas here, what you will find are dreamy white sands and crystal clear ocean.
Hammocks are strung up between palm trees and after exploring the coral underwater then you can laze away your days in the shade, before watching the sunset in a fiery blaze over the Islands in Coron.
10. Bulog Dos Island
Bulog Dos Island is another small slice of heaven nestled amongst the spectacular islands in Coron.
This island is just a ten-minute outrigger boat ride away from Banana Island, and again, often forms part of the same island-hopping excursion from Coron Town.
Bulog Dos Island is famous for its long sandbar that stretches out into the sea, and that can shift and change with the tides and the seasons.
Bring along a drone, because this is an Island that's best viewed from above.
11. Bulalacao Island
If you're looking for both seclusion and luxury then spend a few nights enjoying the delightful climes of Bulalacao Island.
This is where you'll find Coron's famous Two Seasons Resort, a place of understated luxury that combines rustic island living with wonderful service and amenities.
You'll have the whole place to yourself and the other guests at the resort, but make sure to book in advance as accommodation here is always in high demand, despite the high prices.
12. Siete Pecados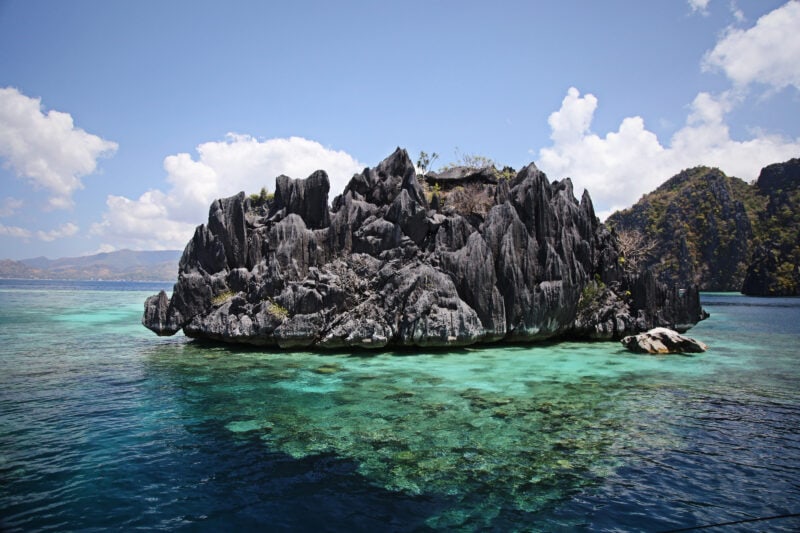 Siete Pecados is one of Coron's more famous spots, as it's usually included on the popular island hopping tours that take in the major sights around Coron Island.
This is one of the best snorkeling spots in Coron because the small rocky outcrop is surrounded by colorful coral reefs and an abundance of marine life.
The island itself isn't much to write home about, but the underwater world around it is second to none amongst the islands in Coron.
13. Pamalican Island
This small island off the coast of Busuanga isn't often included on standard island hopping packages, which could be all the incentive that you need to visit.
There's zero development here, and arrive early enough and you'll literally be able to enjoy Pamilican to yourself, as your own private island in Coron. At least for a while.
14. Culion
Culion is the second largest in the Coron archipelago, but despite being a beautiful place, it's always carried with it the unfavorable stigma of having once been a leper colony.
For that reason perhaps, Culion hasn't yet developed on the same lines as Busuanga and Coron Island when it comes to tourism.
You'll find plenty of secluded beaches, shipwrecks and beautiful vistas awaiting you here. And of course, don't worry about your health, because Culion has been leprosy free for years now!
15. Ditaytayan Island
Sitting in the channel that separates Culion from Bulalacao Island, Ditaytayan is one of the most dramatic places to visit in Coron.
The small island is green and verdant, covered in lush trees and rocky limestone cliffs, but the most awe-inspiring sight is the sandbar that weaves its way out to sea from the coast.
This is a classic Instagram territory, although, in a place like Coron where everywhere is Instagram worthy, you might still find that you're the only person at the sandbar taking photographs if you visit Ditaytayan Island.
More on the Philippines:
Did you like this story? Share it!