The Philippines is undoubtedly one of the most spectacular destinations in Southeast Asia, but with well over 7,000 islands to choose from, deciding which are the most beautiful places in the Philippines to visit, can be a welcome challenge.
Each island is different, and you can relax on classic, tropical beaches such as the ones that Boracay is so famous for, or you can head into the unexplored Coron archipelago, where you can find uninhabited islands and raw beauty.
But it's not just beaches, because some of the most beautiful places in the Philippines are the unrivaled Rice Terraces of Banaue or explosive volcanoes such as Taal or Mount Mayon.
To inspire your next adventure, here are the most beautiful places in the Philippines!
Don't leave home without: Lonely Planet Philippines (Country Guide)
---
20 Beautiful Places in the Philippines
---
Island of Luzon
Everyone that visits the Philippines will find themselves on the island of Luzon. This is where you can find Manila, the capital and main hub of travelers in and out of the country.
That said, far fewer travelers will spend time exploring Luzon than, say, heading for Palawan or Boracay.
This means that not only will you find some of the most beautiful places in the Philippines in Luzon, you will also visit without the crowds.
1. Taal Volcano
The Taal Volcano is one of the most beautiful places in the Philippines because there are few other places in the world where you can find a volcanic crater that's formed within a lake, which is itself found inside a larger volcanic crater.
It's an epic place, and it's found just a few hours away from the busy capital, Manila. You can day trip to the edge of the lake, for spectacular views, or join more intense hiking and boating Expeditions across the water.
Be careful though, because this is very much an active volcano. Taal made headlines when it erupted as recently as 2019.
Discover the natural beauty of Taal Volcano on this 8-hour tour. You'll take a boat ride to the volcano island and admire the setting of the crater and surrounding Taal Lake on a horseback ride with a guide.
2. Rice Terraces of Banaue
The Philippines might be best known for its beaches, but one of the most beautiful places in the Philippines can actually be found in the high mountains of the Cordilleras, in Luzon.
The Rice Terraces of Banaue are a UNESCO World Heritage-listed destination, where for centuries the locals have carved the hillsides and mountain slopes into terraces for growing rice.
Trek through mountains, forests, native communities, and past waterfalls on this four-day trek. Stay overnight in a village, where you can chat with locals and learn about their life and culture.
3. Sagada
Head into the mountains of Luzon, and you'll be amazed not only by the sheer beauty of the Cordilleras but by the fascinating culture too.
In Sagada, you can find indigenous customs that have been practiced for hundreds of years, whereby the locals will hang their deceased relatives from the sides of cliffs.
The Hanging Coffins of Sagada are a cultural sight like no other in the Philippines.
4. Mount Mayon
Mount Mayon is the most active volcano in the country, but its sheer perfect symmetry, as an almost perfectly conical tower, makes this one of the most beautiful places to visit in the Philippines.
The volcano is steeped in local legend and lore, and it never fails to dramatically erupt every few years.
When it's not exploding though, it's an adventure playground, with ATV tours and zip lines found on the slopes.
---
Mindoro Island
Mindoro is the 7th largest island in the Philippines and is located just south of Luzon and Manila.
While tourism has found it, you won't find the big crowds or party scene like a few of the other places around the Philippines.
Instead, you'll find a more laid back, off the beaten path vibe.
It is also a very popular island for scuba diving and offers a great environment for people looking to get certified or work on their scuba skills.
6. Puerto Galera
Puerto Galera is located on the northern coastline of Mindoro, the next island to the north of Boracay. The seaside town is just a few hours by land and ferry from Manila, making it a popular getaway for locals.
It's very far removed from the big city though, and you'll find an ever-growing number of hotels, resorts and tour companies welcoming tourists to the beautiful coastline and impressive dive sites of Puerto Galera.
Puerto Galera is an island paradise and a great place to spend a couple of hours resetting your mind and body. This brunch yoga tour is a great unique option you will not find anywhere else on the island.
---
Visayas Islands
This region of the Philippines comprises most of the central part of the country and is made up of three distinct regions. This includes Western, Eastern and Central.
Aside from Palawan, the Visayas Islands are one of the most famous places to visit in the Philippines. You'll find amazing beauty on the beaches and landscapes.
Of course, plenty of tourists to go with this too. That aside, it's a region that is worth visiting on any trip to the Philippines.
5. Boracay
Boracay is the most famous island in the Philippines, and that's because it's one of the most beautiful places in the Philippines.
Famed for its glorious white sand beaches, and crystal clear waters, Boracay has changed a lot in the last year after it was closed due to over-tourism.
It's a new island now, and responsible tourism has become key here, to preserve nature for future generations.
You'll find plenty of beach resorts and island-hopping opportunities, and for first-time travelers to the Philippines, Boracay is always a great option.
Quickly and easily learn the basics of scuba diving in Boracay at one of the world's most beautiful beaches. Enjoy two dives with a PADI instructor: one in shallow waters plus an open water dive that can be reached by boat, both off of White Beach.
7. Chocolate Hills
Chocolate Hills is one of the most iconic and beautiful places in the Philippines.
Located in the center of Bohol, in the Eastern Visayas, the Chocolate Hills are so-called because of their resemblance in the dry season to chocolate-covered hilltops.
From a viewing platform, you can stare out for miles at the Chocolate Hills as they spread across the landscape in front of you. It's unusual, yet a wonderfully beautiful sight to see, with hundreds of conical hilltops arrayed before you. 
Looking for a comprehensive tour to visit the Chocolate hills? Book this 6-hour tour into the Bohol countryside featuring plenty of attractions.
You'll visit the Chocolate Hills, see mahogany trees in the Bohol Forest, and get a close-up encounter with a tarsier. Enjoy a buffet lunch at a floating restaurant and hear commentary from your informative guide.
But it's not just about the Chocolate Hills, there are plenty of other things to do and places to explore around Bohol. Including some fantastic, world-class scuba diving in Panglao.
8. Kawasan Falls
The island of Cebu is an adventurer's dream, and many of the most beautiful places in the Philippines can be found here. The crowning jewel though isn't a beach or a stretch of coastline, but a waterfall.
At the spectacular Kawasan Falls, you can find multiple levels of crashing waterfalls, hurtling over dramatic cliffs into startlingly blue plunge pools.
You can go swimming in the cold, refreshing water holes, or you can join exhilarating canyoning tours that have you floating through rapids and jumping off cliffs.
Interested in a group tour? Visit Kawasan Falls and Mantayupan Falls on a full-day trip from Cebu.
In a small group, you'll embark on two short hikes to each waterfall, where you'll have the chance to swim in freshwater pools and enjoy your natural surroundings.
---
Palawan
Part of the Mimaropa Region, Palawan is the largest province in the Philippines. It stretches from the island of Mindoro in the north to Borneo in the south.
The province is made up of the large island of Palawan in the south, the island of Busuanga in the north, with the famous Coron and stunning Calamianes Islands in between the two.
This part of the Philippines has been voted, time and time again, as one of the most beautiful places in the world.
It offers stunning beaches, islands and coral reefs. It's a place that people go to see and end up returning to many times after.
You can find yourself both on or off the beaten path and it's quite easy to find a place away from it all to relax.
9. El Nido
Until only a few years ago, El Nido was but a sleepy fishing village in the far reaches of Palawan. Times have changed quickly though, and it's now one of the most popular backpacking destinations in the Philippines.
That's because word of the incredible natural beauty of El Nido spread quickly, as travelers are drawn here for the dramatic Lagoons, white sand beaches, and island-hopping opportunities.
El Nido is the perfect picture of the Philippines. It's tropical, it's adventurous and it's outrageously beautiful.
10. Miniloc
Miniloc is one of the most spectacular islands that you can visit from El Nido. The small island can only be reached by boat, and its isolation and remoteness are part of its great appeal.
You can find sandy beaches and the limestone rocks that the El Nido area is so famous for.
You can day trip here or you can spend a few nights in the eco-friendly resort, soaking up the island vibes.
11. Lagen
Another great island that you can visit from El Nido, is Lagen Island. This is one of the most beautiful places in the Philippines, and it's an adventure playground too.
You can explore coral reefs and colorful Lagoons, you can Island hop, snorkel and paddle your way through dense mangroves.
12. Nacpan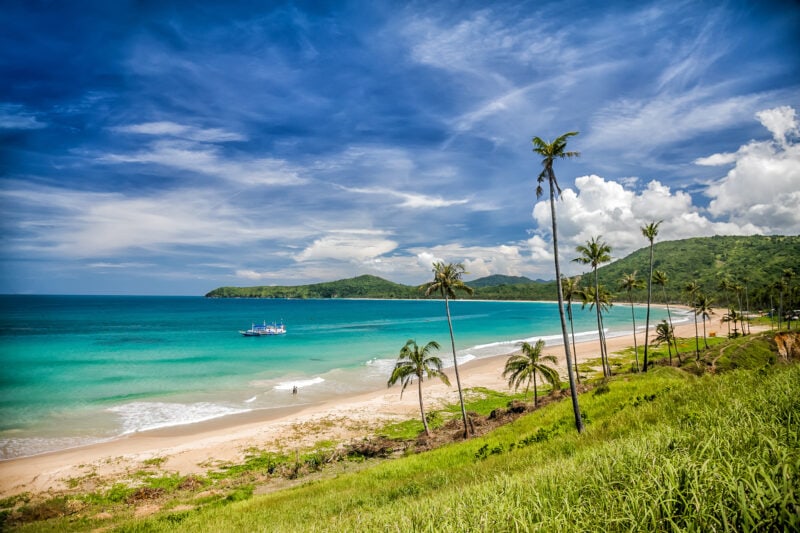 Located in the north of Palawan island, not far from El Nido, is one of the most beautiful places in the Philippines.
Nacpan is home to an outstanding beach and exceptional karst rock scenery that stretches all along the coast.
It's beautiful, but just like El Nido, it can get busy too, despite the fact that not too long ago, few travelers would ever have heard of Nacpan.
13. Puerto Princesa Underground River
Palawan has some of the most dramatic scenery in the Philippines, so it's really no surprise that tourism has really begun to take off here in the last few years.
One destination that has to be top of any traveler's bucket list, is the fabled Underground River, which is found just a short journey away from Palawan's largest city, Puerto Princesa.
This glorious UNESCO World Heritage Site is where you'll find a subterranean paradise.
Underground rivers have carved their way through the limestone rocks along the shore, and the cavernous depths have yet to even be fully explored.
Book a full-day nature tour from Puerto Princesa City for the ultimate experience. Spot coastal wildlife, ride a paddleboat along an underground river and explore a flooded cave system.
This tour also includes hotel pickup and drop-off, buffet lunch in Sabang, and all activities in Puerto Princesa Subterranean River National Park.
14. Coron Island
Coron is one of the most beautiful places in the Philippines because nowhere else can match this remote area when it comes to natural attractions and marine diversity.
The island itself is located near the larger Busuanga, and it made up of towering limestone cliffs and turquoise lagoons.
The island itself is sacred to local indigenous people and you will find no hotels or commercialism here. You are, however, able to enjoy some of its natural attractions.
These include Kayangan lake (below), Baracudda Lake and the Twin Lagoon. It is also one of the best places in the world to kayak.
15. Kayangan Lake
On Coron Island, the most famous of those natural attractions is Kayangan Lake.
This freshwater lagoon is steeped in local legend, and can only be reached by a sharp ascent over wooden ladders that lead over the jagged limestone rocks.
Take a photograph at the iconic lookout that offers sweeping views of Coron Bay, and then take a refreshing swim in the cold, clear waters of Kayangan Lake.
16. Culion Island
Located opposite Coron Island, Culion Island is one of the largest, yet most under-visited islands in the Calamianes archipelago.
Culion Island has a darker history than most in the region because for many years this was a leper colony. Those times have long since past, and the isolation and remoteness of Culion are now its biggest tourist draw.
In addition to some interesting history, you'll find unexplored beaches and atolls, plenty of great snorkeling spots and an array of shipwrecks to dive, as well as an island that's relatively untouched by mass tourism.
17. Malcapuya Island
The first time we laid eyes on Malcapuya, our first thoughts were to compare it to something you'd see in French Polynesia.
The beaches are white sand and surrounded by some of the most beautiful teal waters we've ever seen.
This is a place that is visited on day trips from Coron Town, and unlike the first time we visited in 2016, you will find it packed with tourists.
Don't let this deter you, though, as there is some fantastic snorkeling off the beach and plenty of room for everyone to relax and enjoy this slice of paradise.
18. Pass Island
If you're looking for the quintessential Philippines, then look no further than Pass Island. Part of the wider Calamianes Islands, Pass Island is located further north of the major tourist spots around Coron Island.
It's a long journey along the coast of Busuanga before you can catch an equally long fishing boat across to Pass Island.
It's well worth the journey though because you'll be greeted by the marvelous sight of a perfect, white sand beach, shallow waters that are ideal for snorkeling, and relaxed island vibes like nowhere else in Coron.
19. Black Island
On the same journey to Pass Island, you can also travel to one of the most beautiful places in the Philippines, Black Island.
Not far from Pass Island, Black Island is known for its high, limestone rocks that rise abruptly from the ocean.
You'll find a shipwreck right off the long, sandy beach, and plenty of caves to explore too.
It's possible to visit this island on a day trip from Coron Town but it's even better to camp here while on a multi-day kayaking expedition in the area.
20. Busuanga
Busuanga is one of our true loves when it comes to the Philippines. Most people haven't heard of it, which makes me laugh, because the very famous Coron Town is actually located on this island.
That said, virtually nobody actually sticks around to visit this amazing place. Instead, they stay in the town and head out to explore the nearby islands that are more famous.
I mean, we get it but Busuanga is pretty much the last frontier and is begging to be explored.
The topography of the island makes it a fantastic place for adventure and you can find some great hiking and mountain biking opportunities. Thick forests give way to beautiful pools in the interior of the island and friendly people wave from the villages as you pass through.
We love to put in kayaks and paddle along the coastline, across turquoise waters and explore nearby sandbars. You can even harken a bit to Africa, by heading over to the nearby Calauit Island for a safari.
Busuanga is untouched, stunning and a place that has stolen our hearts each and every time we visit the Philippines.
More on the Philippines:
Did you like this story? Share it!