Culion Island is one of the most under-visited destinations in Coron because few tourists ever make the journey here during their stay in the region.
Despite being one of the largest islands in the Calamianes chain, Culion has none of the fame of nearby Coron Island, and none of the tourists of Busuanga Island.
The scenery though can easily match and even outdo the more popular spots in Coron, while the local history and culture are absolutely fascinating.
The local history could be one reason why few tourists know about Culion Island, and that's because, for much of the 20th century, this was a leper colony.
Don't worry though, because times have changed and today, Culion is a great off the beaten track place to explore.
To inspire your journey, here's our guide to visiting Culion Island.
Don't leave home without: Lonely Planet Philippines (Country Guide)
---
Culion Island: Untouched Paradise
---
Where is Culion Island?
Culion is the second-largest island in the Calamianes Archipelago, a group of several hundred islands of varying size that are found roughly halfway between Palawan and Manila.
Culion is located to the south of the larger Busuanga Island, the transport hub for the region, and it's found to the west of Coron Island, the most famous island in the Calamianes.
Culion is its own municipality, within the much wider Palawan Province – although the province's namesake, Palawan Island, is a long way to the south.
How to Get to Culion Island?
The island's main town is also called Culion, and if you're traveling to the island, then this is generally where you'll be aiming for.
It's in Culion that you'll find a few hotels and a few restaurants, as well as the local ferry pier.
Culion is nowhere near as developed as Coron Town, on Busuanga Island, where you'll need to catch the boat from. There are no airports on Culion, so the only way in or out is by sea.
The nearest airport is found on Busuanga, where you have multiple departures a day to Manila, Cebu and Puerto Princesa, although there are no international flights.
If you are connecting internationally then you'll want to spend at least one night in the big city, as domestic flights can be canceled or delayed at short notice.
When you arrive in Busuanga, you'll need to take a shuttle bus to Coron Town. Here you can catch the public boat across to Culion Island, from the harbor.
The public boat only leaves once or twice a day though, usually around 1 PM. Depending on your arrival time in Busuanga you might need to factor in staying the night in a hotel in Coron Town before heading over to Culion.
You can also hire a private boat though this is much more expensive.
Because of its relative isolation, many travelers will choose to visit Culion Island on an organized day tour or multi-day island hopping trip rather than visiting independently.
Many companies include the island in their island-hopping Itineraries. If you have the time though, then spend a few nights on Culion to escape the rest of the Coron crowds.
A Brief History of Culion Island
Culion Island has been inhabited for thousands of years by the local indigenous groups, the Tagbanua.
They are descended from the Tabon culture, which is thought to be the oldest modern human culture in the Philippines.
Many Archeological sites across Palawan Province have been proven to be linked to the Tagbanua.
You can still find many Tagbanua communities across Culion and the wider Calamianes Islands, and the group has an ancestral domain over many islands and important tourist attractions.
They see themselves as the guardians of the region and look out for it through their environmental work and through legends handed down through the generations
Culion was always on the frontier of the Philippines, and the Spanish presence was minimal, during the colonial area.
In World War II, the Japanese occupied the islands and had a naval base in the area.
Many Japanese ships were sunk by the Americans however during the conflict, and are today used as dive sites.
In Culion Town, you will find a mixed culture and history, as at the start of the 20th century the Americans, then occupying the Philippines, turned Culion into a leper colony.
The disease was then seen as uncurable and lepers were transported here from all across the Philippines.
The island became known as the island of no return and was off-limits for many decades. Things changed when a leprosy cure was discovered and since the 1990s, Culion has no longer been a leper colony.
Perhaps the stigma still remains, because few tourists make the journey here from Coron Town to find out more about this fascinating island.
---
6 Top Things to do in Culion Island
---
1. Take a Historical Tour
If you're visiting Culion Island, then you're probably intrigued by the local history. Compared to Coron, the island's history is much darker, due to the use of Culion as a leper colony.
You can join a historical walking tour when you are in the town, to learn more about that darker side of history.
See the buildings where lepers were kept and the old facilities that were used to care for these unfortunate castaways.
It's not all gloom though as you'll learn how the island has since become leprosy free and is now rising as an emerging tourist destination.
2. Learn about Leprosy in the Culion Museum
At the small Culion Museum, you can delve ever deeper into the unique history too. You can learn a few local stories and see firsthand why Culion was chosen to be a leper colony.
The museum is one reason why Culion makes a great alternative to Coron Town.
There are no real museums or even any history on display there, it's all about the scenery and island hopping.
Here in Culion though, there's much more to be discovered in the way of heritage.
3. Visit the Culion Church
Culion Church is one of the most fascinating buildings in the Calamianes Islands and one of the oldest too.
The island was first visited by Spanish priests in the 1600s and they laid the groundwork for a later church that was built in the 1700s.
That church is the one you see today, and it was built strong and sturdy to also provide a fortification against pirate raids that would attack the islands from Palawan.
4. Snorkel at the Bogor Marine Park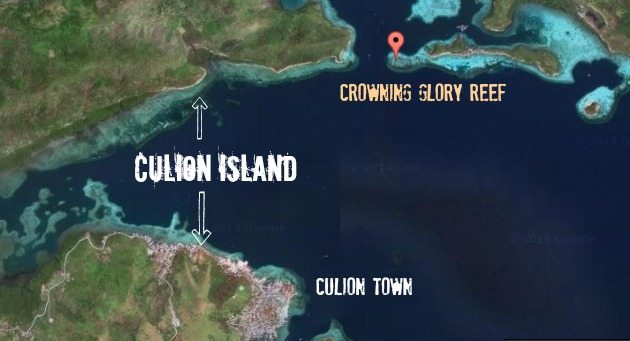 One of the best places to visit in Culion Island is Bogor Marine Park. This is a beautiful place but one which doesn't often make it onto island-hopping itineraries, at least if you're not staying in Culion itself.
The Crowning Glory Reef is part of a marine protected area off the coast of Culion Island in the Calamian area of the Philippines.
The area is protected from net and bomb fishing, leaving the reef in great condition and full of marine life.
On our first visit, we had a big Banca boat and anchored at the edge of the reef in deeper water to avoid damaging the reef. From there, we were able to use the viewing platform as a focal point while exploring.
The water is quite shallow here, most of it in water about 1.5 meters deep, but in some spots, the water was only waist-deep.
The marine life is abundant, as is the coral. You can see several species of tropical fish here, including Nemo ( I was over the moon!) and you have plenty of time to hover above them and take photos.
This underwater paradise is wonderful for snorkeling, as you'll find a whole array of colorful coral reefs and plenty of tropical fish.
It's a great place to immerse yourself in the incredible marine biodiversity of the Calamianes Islands, and who knows, you might even see a few turtles!
When you finally make it there, you won't see another soul around. It is not commercial and it is not crowded. We snorkeled it twice, once off the Banca boat and another time from sea kayaks and we were the only people there both times.
You can access this area by flying to the island of Busuanga, then taking a taxi or van to the Coron Town jetty. From there you can hire a boat to take you to Culion.
Alternatively, you can book a tour that includes a stop off at Culion, there are only a couple of them and they will stop at Crowning Glory Reef for a snorkel. We visited both times with Tribal Adventures as part of a multi-day sea safari.
In addition, when you do poke your head out of the water you will find yourself surrounded by crystal clear water, stunning island coastlines and surreal nature at its finest. The best part is there is nobody else around.
It's a great place to immerse yourself in the incredible marine biodiversity of the Calamianes Islands, and who knows, you might even see a few turtles!
5. Do Some Island Hopping
While there are some great things to do in Culion itself, the island also makes a wonderful alternative base to Coron Town if you're looking to explore the wider area.
From here you can easily reach other destinations such as Coron Island, Kayangan Lake, and Twin Lagoons, and there are a lot more island-hopping opportunities beyond that.
Tourism isn't as developed here as it is in Coron Town though, so arranging tours will be more expensive, but you'll be able to get to places before the other tourists arrive from Coron Town.
6. Visit Shipwreck Sites
The area around Culion Island is littered with Shipwrecks too, many of which have become excellent dive and snorkeling sites.
The Japanese fleet here was sunk in WWII and many of the remains have become artificial reefs and excellent if challenging dive spots.
From Culion you are in easy reach of the best sites, although you need to be an advanced diver for most.
---
The People of Culion Island
---
Once a quiet island, quite literally in the middle of nowhere, it was transformed into a Leper Colony and became a place where advances were made against the treatments and cures of the heartbreaking disease.
Although many Leper islands existed in the World, Culion would become the largest one in the World.
The island was set up as a retreat for people with Leprosy and a chance for them to undergo treatments and be secluded from the population without having a chance to spread the disease.
They were given the means to have a decent life and most of the patients that came to the island never left again.
Today the island bears the scars of those days, with many medical wards, buildings, and churches that still stand where they were originally built.
Many of the people on the island are direct descendants of the people that were brought to the island to be cured or to care for the sick.
You won't find any leprosy patients today, instead, you are met with an open community and beautiful smiles as they welcome you onto their streets and show you around.
This is a collection of black and white photos that I captured on my first visit to Culion Island. It gives you a pretty intimate look into what you can find here.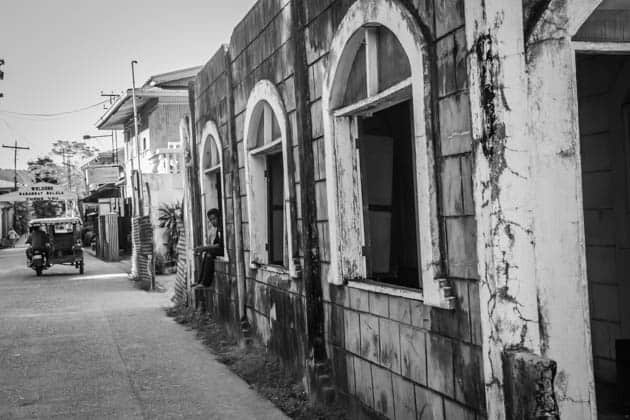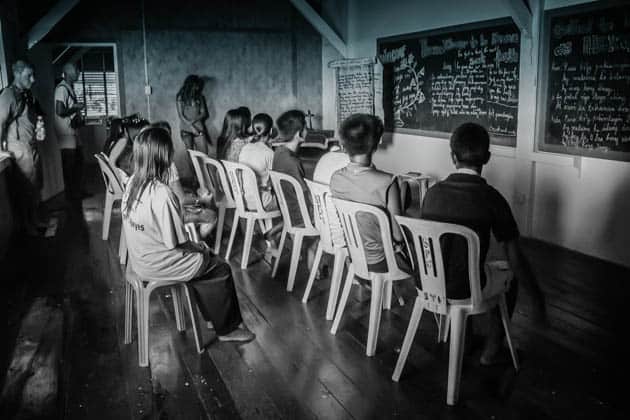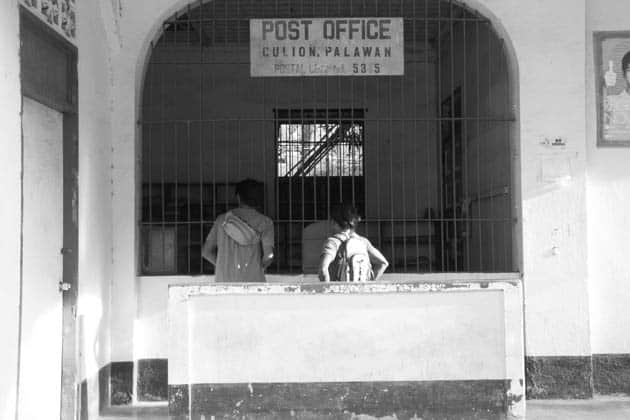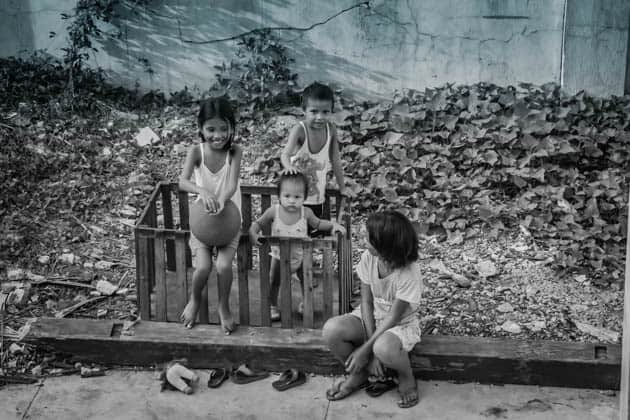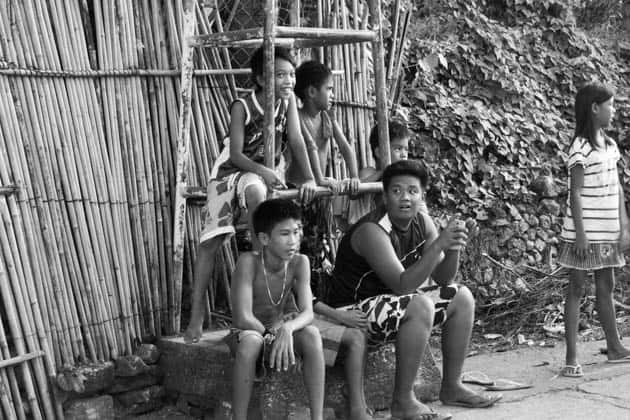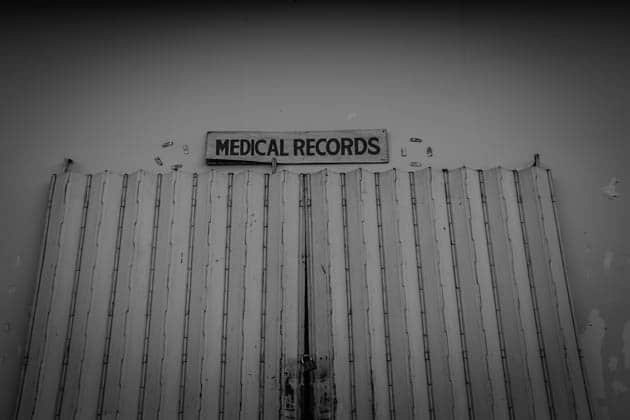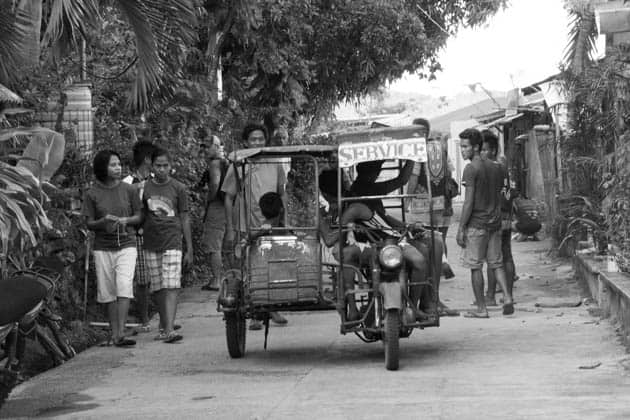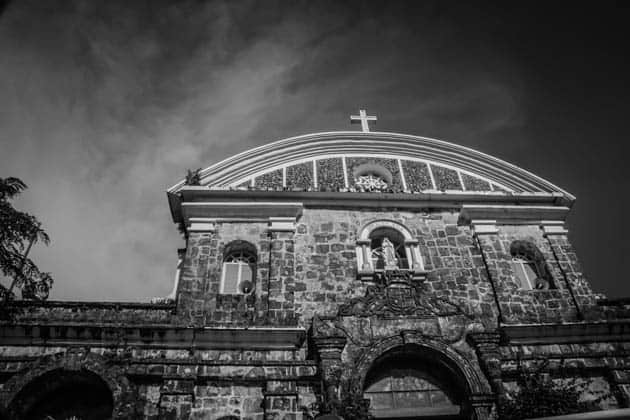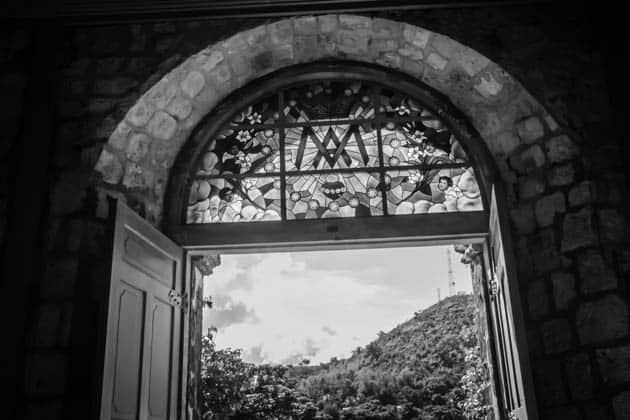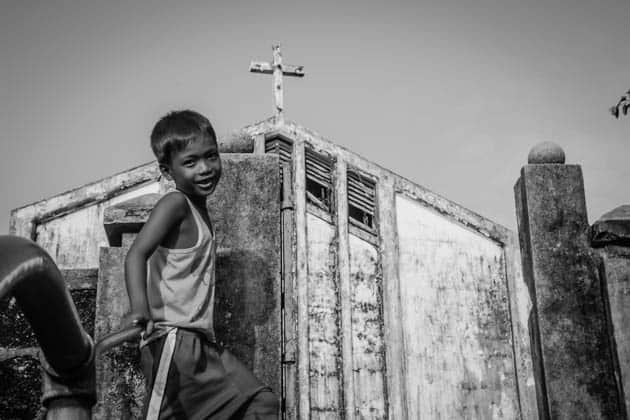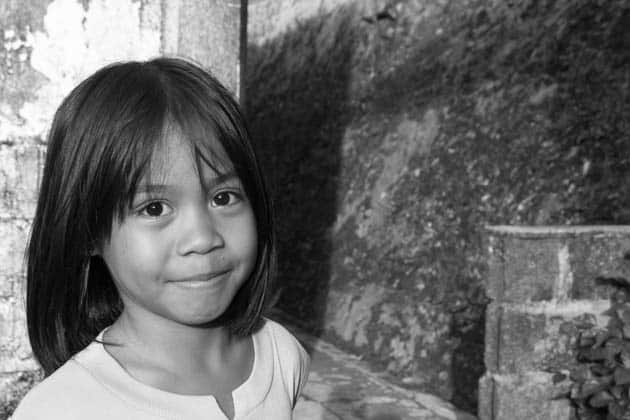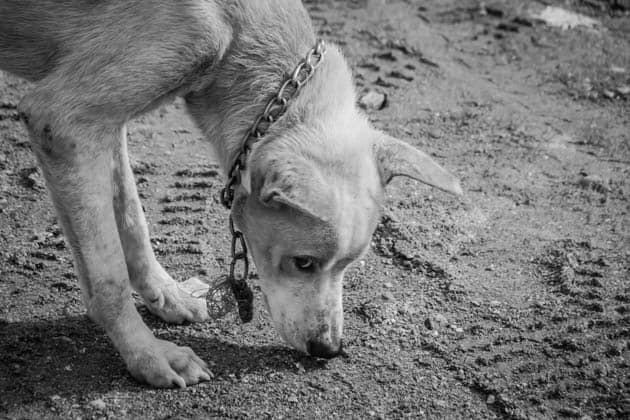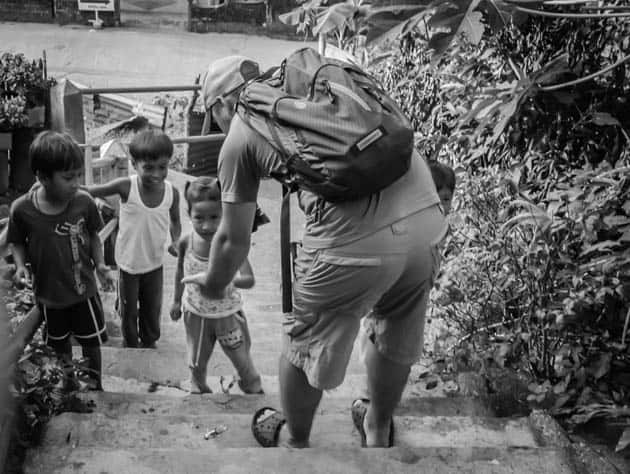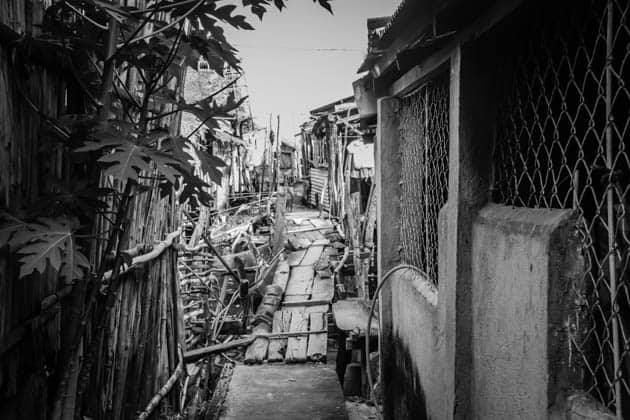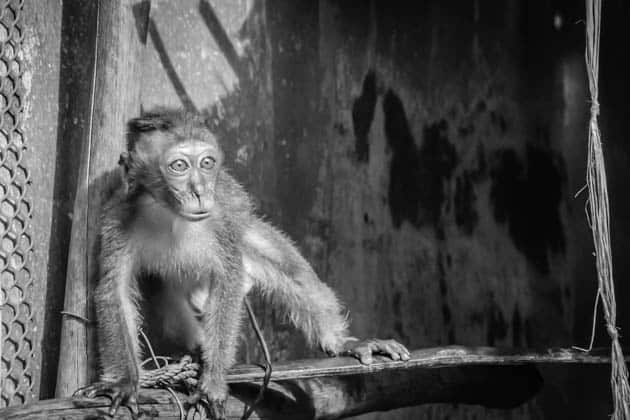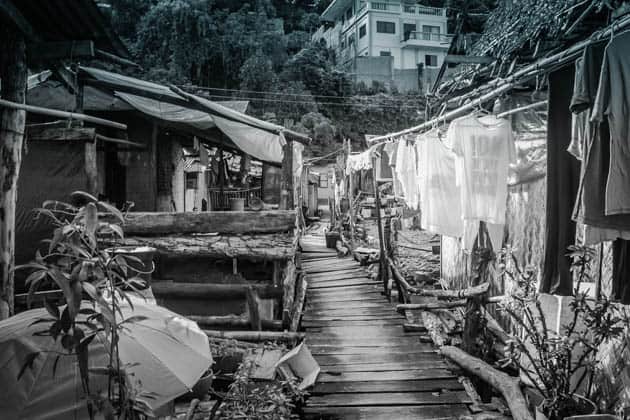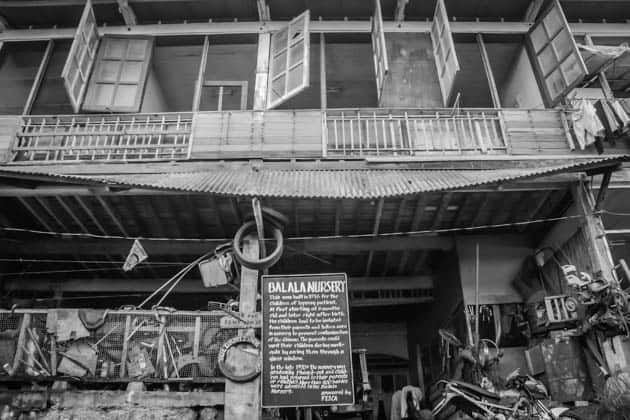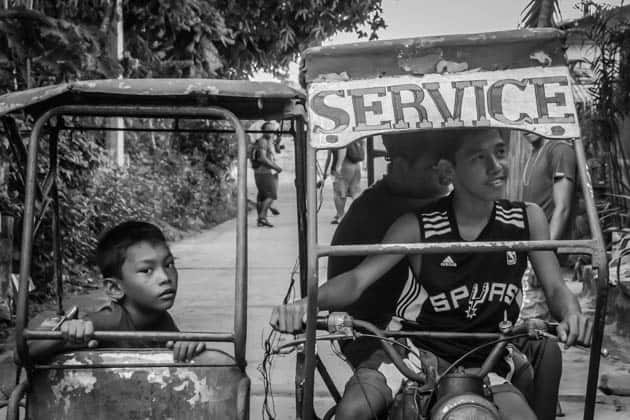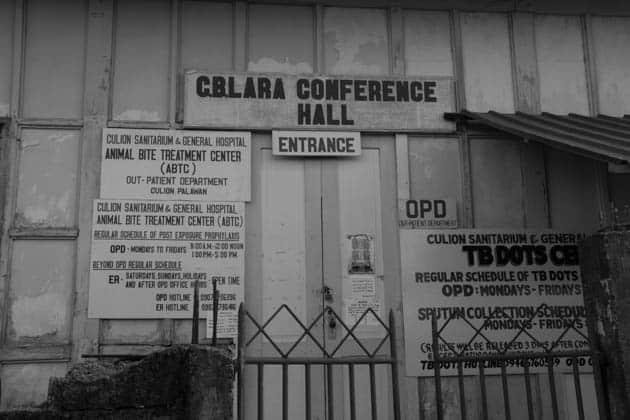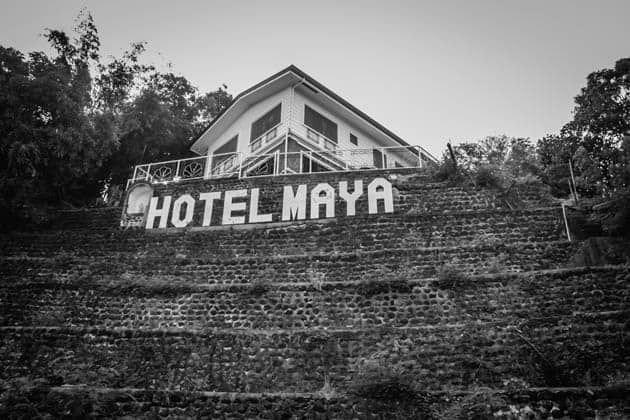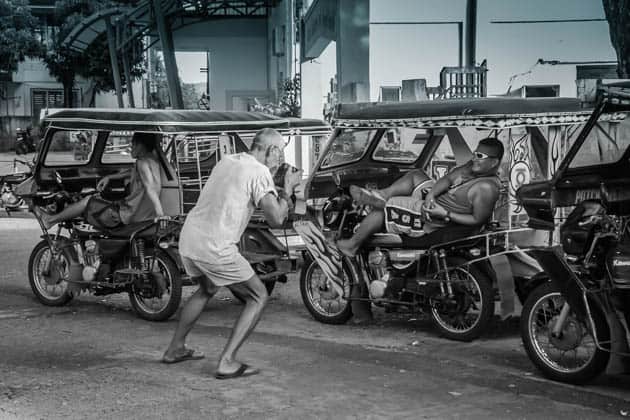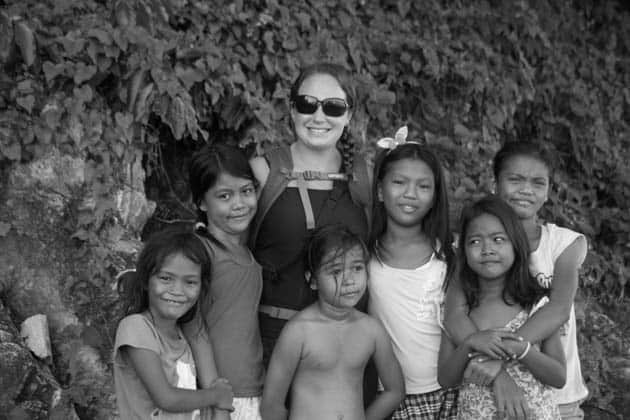 Culion Island is a beautiful and mysterious place that is still somewhat left in time.
Today, the island community near the port survives as one whole village, as opposed to the two segregated villages that existed when it was established as a Leper colony.
One side existed for the infected, while the other housed those that cared for the infected.
Everyone lives together now, although the rusty gate and track that marks the road between the old boundaries still exist to this day.
Wanting more information on Culion and it's Leper Colony? Have a look here: Culion Leper Colony.
---
Culion Island Travel Tips
---
Safety in Culion
This is an incredibly safe destination, safer even than Coron Town, given the small community and relative lack of tourism here.
As with anywhere in the Philippines though, be careful of petty theft and keep an eye on your valuables.
Leprosy is a thing of the past so there's no need to be worried about that anymore!
Tours
If you are short on time then getting to Culion can be a pain so you might want to consider joining a tour instead.
There are private tour options and group tour options from Coron Town and you'll generally get to see Culion Town and a few of the nature spots nearby on a day trip.
Culion Accommodation Options
Most of the accommodation on Culion Island is grouped around the town of the same name, making it a convenient place to stay.
That said, you won't find any big resorts here. Instead, you'll find a small number of bed and breakfast type places.
The main hotel on the island in the Hotel Maya and it provides comfortable and clean accommodation.
Of our two visits to Culion, we've stayed at the Hotel Maya both times. Something to note, this hotel cannot be booked online.
When you arrive in Coron Town, have the hotel reception call and make arrangements for you before arriving.
ATMs in Culion
Stock up on cash using the ATMs in Coron Town before you depart for Culion and don't expect anywhere to take cards on the island.
Cash is king on this off the beaten track island. Small bills are also appreciated.
Wifi Availability
Culion isn't the place to visit if you need to stay connected. WiFi is limited and poor quality when it does work.
Bring a local Sim card along but don't expect many signals outside of the town.
That said, the Philippine cell network has improved greatly over the years and you'll find that you have fast data service when you're in Culion.
More on the Philippines:
Did you like this story? Share it!