Backpacking the Philippines, sigh, gorgeous and frustrating at the same time. The concept of island time seems to have been invented in this beautiful country. There is so much to see and do here but you will be strapped by a lack of efficiency and laid back smiles that won't fix your problem.
That said, this makes the rewards of this beautiful country so much sweeter and admittedly, worth the hassle.
When we planned our time in the Philippines, I think we were a touch ambitious. Even though we did a lot of research and scheduled things with plenty of time in between, we were still burnt a couple times by delayed/canceled flights and bad weather.
Our trip started out shaky in Manila, then we headed to Puerto Galera for some diving and everything turned around. We knew we loved the country then. The next 10 days exploring Northern Palawan will remain top memories for the rest of our lives.
Unfortunately, after that our trip took a dramatic turn for the worst with delayed flights, missed connections, hotel cancellations, extra charges, extra hotel stays, bad service and additional booked flights.
When we finally made it to Bohol, it rained so hard our dive trips were canceled for days. Nothing to do but sit in our room and edit photos, no power, no internet.
We lucked out with sun on our last day in Bohol so we spent a whole day visiting Tarsier Sanctuaries, the Chocolate Hills and motorbiking around the island.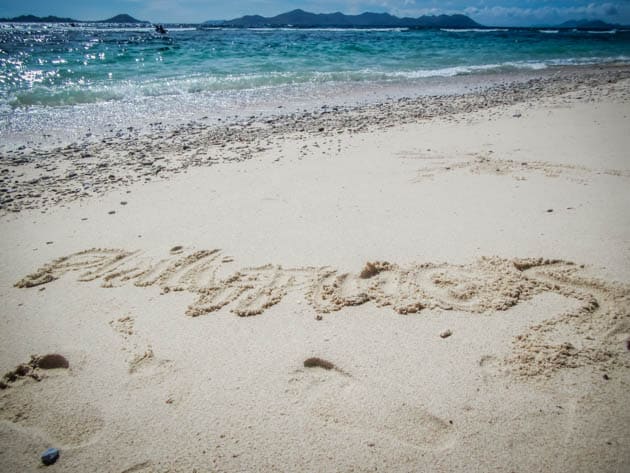 Leaving Bohol was met with more flight delays, cancelations and missed flights putting us into Boracay 8 hours later than planned. To boot, we arrived in a rainstorm, which soaked us, our bags and everything else in minutes.
Finding our guesthouse was made interesting with WAIST DEEP WATER in the streets.
The rain lasted 2 days and then the clouds cleared and we had some of the most gorgeous beach days of our lives on White Beach. Then Typhoon Ruby began bearing down on us and we made a quick dash for Manila and out of the country just one day before she made landfall. That was a close one!
Our time in the Philippines was exhaustive yet memorable and even though we ran into a lot of issues, had bad weather and at times we were frustrated, we wouldn't hesitate to go back and do some more exploring and scuba diving.
Not to mention we've ran up an extensive list of islands that we missed on this visit and are dying to visit including Cebu, Siargao, Malapascua, Sumilon and Siquijor, to name a few.
The best advice I can give you is yes, plan a trip to the Philippines, it is gorgeous, diverse and unique BUT keep your plans conservative with 1-2 islands and long connection times to avoid some frustrations. Take a sense of humor; you'll need one, and a giant bottle of sunscreen.
---
Backpacking the Philippines: 4 Week Recap
---
Where Did We Go?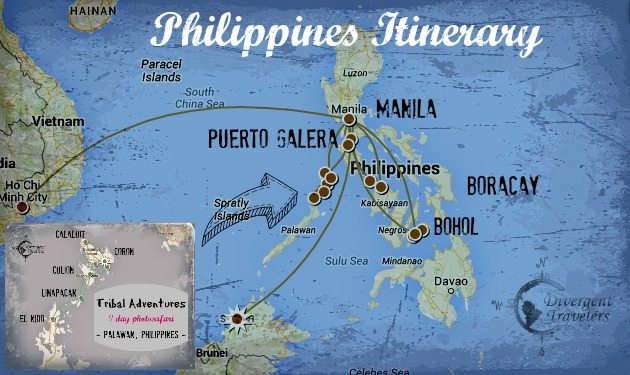 Luzon: Manila, Batangas
Puerto Galera: Sabang Beach
Busuanga: Palawan Sandcastles, Cheey, Calauit
Coron: Coron Town
Northern Palawan Sea Safari: Culion, Linapacan
Bohol: Tagbilaran, Chocolate Hills
Panglao: Alona Beach
Boracay: Station 1-3, White Beach
Here are some more ideas for a one month itinerary in the Philippines.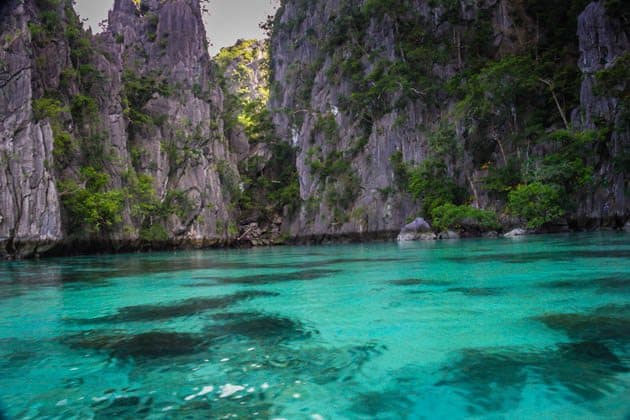 What We Loved About Backpacking the Philippines
No matter which direction you chose to go for your visit, you will be able to find something stunning. This is something that can't always be said about places, but for the Philippines it is true.
The islands in this country really deliver with crystal clear water and heavenly sand beaches. The country is beautiful, hands down.
Adventure. Most people don't equate adventure to the Philippines. I think there is a preconceived notion that you go to the Philippines to sit on beaches, relax and swim.
Ok, yes people go there to scuba dive, but I am talking about those raw adventures in off the beaten track places. We went looking for them and found some of the most remote places left to a traveler.
Scuba Diving. We couldn't visit without going underwater as the Philippines boasts some of Asia's best dive spots. We got out of hectic Manila and headed for Puerto Galera where we both completed our PADI Advanced Open Water course and dove some fantastic dive sites.
The diversity. This county is incredibly diverse in that it offers beaches, mountains, plains, rainforests, hills, reefs, rice fields and volcanoes. You may not be able to find all this on one island, but if you plan your trip just right, you can experience all of this and more on a trip to the Philippines.
The people. We met so many different people and each one was so caring and genuine. Our time spent on some of the less explored islands gave us an opportunity to mingle with local people that wanted to interact with us out of curiosity, not money motivation and these experiences were priceless for us.
As the world gets smaller, it is increasingly harder to have these types of experiences in areas that are frequented by Western travelers.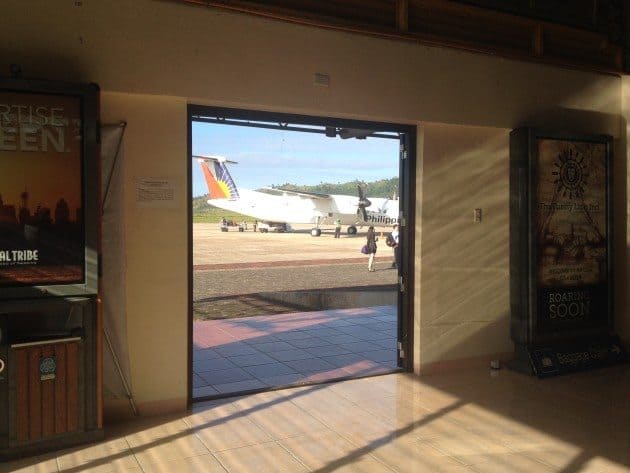 What We Didn't Love About Backpacking the Philippines
Philippines Air. Hands down the WORST airline we have ever traveled within our 13+ years of travel. They have no customer service, no professionalism and just plain screw their customers over.
We had several issues flying with them, the worst being an 8-hour delay that caused us to miss connecting flights, with no explanation. The employees thought it was funny that we were missing our flights and would do nothing to help the hundreds of people that were stranded.
We still have not received any reimbursement for the missed flight, hotel fees and extra flights that had to be purchased. We will be writing a detailed post about this experience for those of you who want to know more.
The food. After being in Vietnam and falling in love with the amazing variety of delicious food, we were shocked at the lack of good cuisine in the Philippines.
They have some local dishes, usually consisting of either noodles or a combination of runny egg, spam and rice. Yuck. We were able to get fresh fruit on some occasions, but we found that most of time we were offered packaged crap to eat at stores, shops and markets.
When we did find something decent, a lot of times it wasn't prepared right. I cannot even count the number of times we ordered something and had an incomplete order delivered to us.
An example- we would order a cheese omelet and it would be served to us with no cheese. When we would point this out, they would tell us sorry, we are out. Seriously? Then tell us so we can choose something else. This happened many times.
The vibe in Manila. It takes a lot to shake us, we've been in some of the World's biggest and raunchiest third world cities, but Manila gave us an uneasy vibe when we first arrived.
Although our relationship with the city would change during our month in the country, as we ended up having to route through it every time we changed islands and because of flight screw ups, spent loads of extra time there, our first impressions were uneasy.
The city is big, crowded, dirty and there are lots of people living on the streets. The city is notorious for bag snatching, pick pocketing and outright theft, so we found ourselves on guard for most of our time there which can be exhausting when you are trying to explore a new place.
In the end though, we became quite comfortable frequenting the Ermita, Malate and Intramuros Districts, just takes some time to get used to.
2020 Update: We've been back to Manila 3 times since our first visit and have actually learned to love the city! Be sure to check out: 15 Awesome Things to do in Manila (Itinerary for First Time Visitors)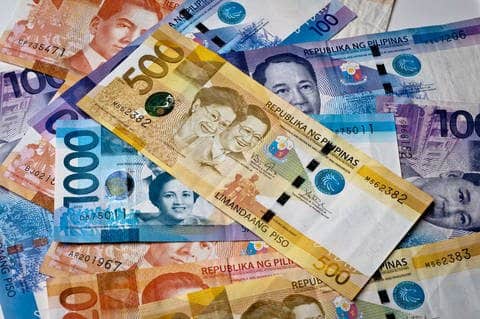 What Did We Spend?
We spent an average of $99USD per day for 2 people. This included a private room and 3 meals per day. I won't lie, this is way more then we had expected to spend here for our daily average.
We have heard from so many sources that the Philippines can be cheap, but once you add in all the flights to explore a couple of islands, the average just climbs.
Transportation: We spent A LOT of time transporting in the Philippines, this is one major downside of a visit here. The country is all islands so you have to spend time moving to see more than one.
We used a combination of flights, buses, taxis, boats, ferries, cars and tricycles to get between and around the islands we visited. While most forms of transport once you are in location, are pretty cheap, getting between the islands and to/from airports is where it adds up.
Airlines Used: Philippine Air, Air Asia
Accommodation: We stayed in a variety of hostels and cheap guesthouses. All private rooms, some with shared bath and some with private bath. We also spent some time camping on beaches during our sea safari.
The accommodation varies widely here, you can pay 800php for a really shitty sweatbox in Manila with a dirty shared bathroom and in other places the same price for a comfortable, clean room with a private bath.
Places Stayed:
Wanderer's Guesthouse, Manila
Palawan Sandcastles, Busuanga
Palm Plaza Malate, Manila
Hope Homes, Panglao
Trafalgar Cottages, Boracay
Where2Next Hostel, Manila
Activities: We spent money scuba diving, motorbiking and adventuring. The activities here are very reasonably priced, scuba diving costing around $25USD for a dive and motorbike rentals for $5USD per day.
One thing we did was complete our PADI Advanced Open Water course in Puerto Galera, this was also very cheap, costing us $250USD each with 6 dives. (This figure is NOT included in the daily average, so we actually spent more)
Food: Reasonably priced food was often hard to find. You could find anything you wanted if you were willing to pay for it. Since we are trying to stretch our money to last longer, food is one place we skimp and that was difficult here, as their local dishes didn't really line up with my palette.
I hate runny eggs and had a hard time getting anyone to cook the egg well done. So spent more on food then we would have liked and ate a lot of western food while here.
Our Favorite Moments in the Philippines
Favorite Beach: This is a tough one, where to start. Geesh, I am going to pick this beach. I have no idea what it is called and couldn't find it on a map for you, but it was dreamy. A close second is White Beach on Boracay.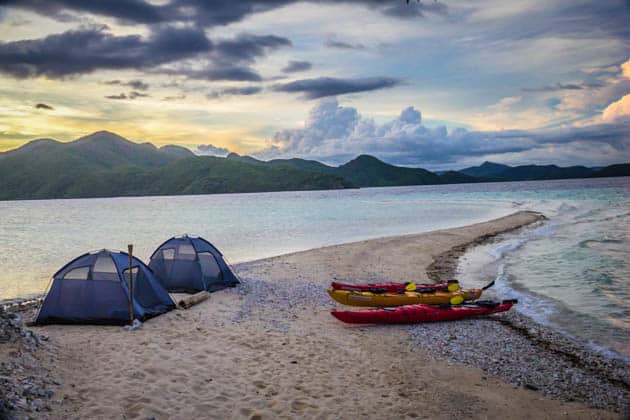 Favorite City: Culion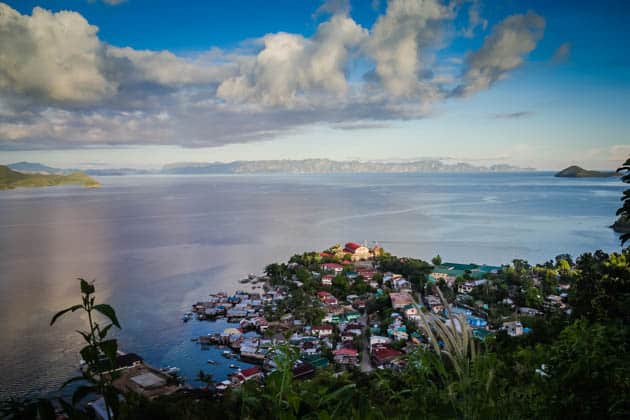 Favorite Activity: Coron to El Nido Expedition with Tribal Adventures
More on the Philippines:
Did you like this story? Share it!