Busuanga Island is the largest island in the Calamianes archipelago, a place that is perhaps best known to travelers for being home to Coron, and beautiful natural attractions such as Kayangan Lake.
Busuanga Island though never gets too much of a look in, but for most travelers, this will be the base for their adventures across the region.
And Busuanga has a lot to offer too. It doesn't just have to be a base, because there's plenty of great things to see and even more things to do across the island.
Don't leave home without: Lonely Planet Philippines (Country Guide)
---
Busuanga Island Palawan: The Last Frontier
---
Personal Thoughts From Our First Visit
The plane touched down on a narrow concrete pad in the middle of a field where there were no markers and no lights. There wasn't even a fence surrounding the airport.
Looking out the window I noticed a small building that indicated it was the airport with old faded letters on the face of it. We had arrived in Busuanga.
The island of Busuanga, part of Northern Palawan in the Philippines, is known as the last frontier. The last undeveloped part of paradise and after spending 10 days in this area, I would have to agree.
While there may be many deserted tropical islands dotted about in the area, this island offers much more than a picture-perfect beach and white sand beaches.
Where is Busuanga Island Exactly?
Busuanga Island is the largest of the Calamianes Islands, a collection of several hundred islands and atolls that are part of the wider Palawan Province.
Don't confuse this with Palawan island itself though, because that's found quite far to the south of Busuanga.
In fact, Busuanga is found roughly halfway between Palawan to the south and Manila to the north.
Busuanga is where you will find Coron Town, which is the hub and base for travelers looking to explore the famed natural attractions of Coron Island, which is a short boat ride away.
History of Busuanga Island
Busuanga's most recent history revolves around tourism because as the gateway to Coron, this is one of the fastest-growing and most popular tourist destinations in the Philippines.
But while travelers are only just discovering this beautiful part of the country, its history goes back millennia.
The Calamianes Islands are home to the indigenous Tagbanua, a tribe that is thought to be descended from the Tabon Man.
The Tabon Man was discovered on Palawan, and these are believed to be the oldest modern human remains to be found in the Philippines.
For thousands of years, the Tagbanua culture thrived across the region, and the area remained on the fringes of the Spanish colonial empire that came to dominate the Philippines.
In World War II, the area was captured by the Japanese, who turned the many bays into harbors and shelters for their navy.
The American forces still managed to bomb and sink many Japanese ships though, leading to a huge number of wrecks that are now used as dive sites.
After the war, Busuanga experienced mass immigration from other islands such as Cebu and Luzon, pushing the indigenous Tagbanua to the outer islands. Tourism has since seen the island's economy and infrastructure grow even more.
How to Get to Busuanga Island
As the largest island in the Calamianes, Busuanga is the region's transport hub and has good connections to the rest of the Philippines.
Busuanga has only really just begun to be developed as a tourist destination though, so the infrastructure is still limited. There are no international flights to Busuanga, only domestic.
Several airlines operate flights to Manila, Cebu and Puerto Princesa, with more destinations being added each year.
From Manila and Cebu, you can connect to international flights, but make sure you leave plenty of time.
It's best to have at least one night in the big city before flying long haul, as flights can frequently be canceled on domestic routes due to bad weather or simply bad scheduling and logistics.
Remember though, that in peak season flights are still limited, so you will need to book in advance. Flights regularly sell out, so plan your itinerary ahead of time.
If you have plenty of time, you can also take the overnight ferry from Busuanga to Manila. The ferry has erratic departure times however and can be canceled at short notice.
More regular are the ferries and fast boats that ply the waters from Busuanga to El Nido, a journey time of anywhere between 4 to 8 hours depending on the boat.
A much more adventurous and fun way to travel between Busuanga and El Nido is to join a multi-day expedition.
You'll sleep on boats and beaches, and take the slow, but beautiful route to Palawan.
---
Best Things to Do in Busuanga Island
---
1. Visit Coron Island
Okay, so if you're traveling to Busuanga Island and it's your first time in the Calamianes, then the chances are high that you're going to be wanting to visit Coron. Don't confuse Coron Town, the hub on Busuanga, with Coron Island.
Coron Island is where you find all the glorious natural attractions that the area is famed for. It's a short boat ride away, and you'll want to join island hopping tours to see the highlights.
Most trips will bring you to Kayangan Lake, Twin Lagoons, a few beaches, and snorkeling sites and perhaps a shipwreck too.
Remember though, that these are the busiest tourist destinations in the area, and that Busuanga has much more waiting to be explored, further afield.
Experience Coron's pristine beaches and clear waters on an island-hopping cruise, complete with buffet lunch, guide, and door-to-door round-trip transfers from town hotels.
2. Climb Mount Tapyas
Mount Tapyas is the best place in Busuanga to catch a sunset over the islands.
The small mountain top rises just 200 meters above sea level, but that's enough to give you sweeping views over Coron Town below, as well as the harbor, and hundreds of more islands out to sea.
Several hundred concrete steps lead to the summit, where you'll find a huge concrete viewing area that's packed with onlookers just before the sun begins to settle down over the horizon.
3. Hike Up Mount Darala
The highest point on Busuanga Island is Mount Darala, which rises to 600 meters above sea level.
Few people make the effort to hike this small mountain, but it's well worth it for the epic views and the epic scenery.
The hike is long and tough and you'll need most of the day to get here from Coron Town, but there will be few other tourists around.
4. Soak in the Maquinit Hot Springs
The Maquinit Hot Springs are of the best places to visit on Busuanga Island. Just a short tricycle ride away from Coron Town, you can enjoy a fierce and fiery sunset from the natural hot springs after a long day of island hopping.
You can buy cold beers and drinks while you sit back in the hot and relaxing waters, and enjoy the rustic scenery and mangroves all around you.
5. Go on Safari at Calauit Safari Park
The Calauit Safari Park is found on Calauit Island and is a strange reminder of a bygone dictator's love for extravagance.
The park is home to a wide variety of African animals, including their famed giraffe.
Animals were first brought here by Ferdinand Marcos in the 1970s, and today the safari park is one of the most popular places to visit on Busuanga Island.
6. Find Concepcion Falls
Busuanga isn't all about the beaches, because inland there's much natural beauty waiting to be discovered too.
A great place to visit is Concepcion Falls, where you'll find a picturesque waterfall surrounded by verdant green jungle.
Concepcion Falls makes for a great outing, especially if you need a change from the sea and the sand.
7. Do Some Scuba Diving
One of the best things to do in Busuanga is diving because the surrounding water teems with marine life and is full of shipwrecks.
The coral is colorful and you'll be able to spot all manner of species of fish and plenty of turtles.
If you're an advanced diver then you'll want to explore the Shipwrecks, many of which are the remnants of the Japanese Fleet that was sunk here in World War II.
8. Take a Day Trip to Pass Island
Pass Island is the tropical paradise you've always been looking for, and it makes for the best day trip from Busuanga Island.
You'll need to head along the coast to Concepcion, where you can hire a boat out to Pass Island.
On this small island, you'll find a white sand beach, surrounded by palm trees.
9. Take a Day Trip to Black Island
Black Island is another beautiful island that's just a day trip away from Busuanga, and that makes for a great alternative to the traditional tourist spots on Coron Island.
It's further away from Coron Town, but the boat journey is worth the time because you'll be met by Towering limestone cliffs and some of the softest sands to be found anywhere in the Calamianes Islands.
10. Get Off the Beaten Track in Busuanga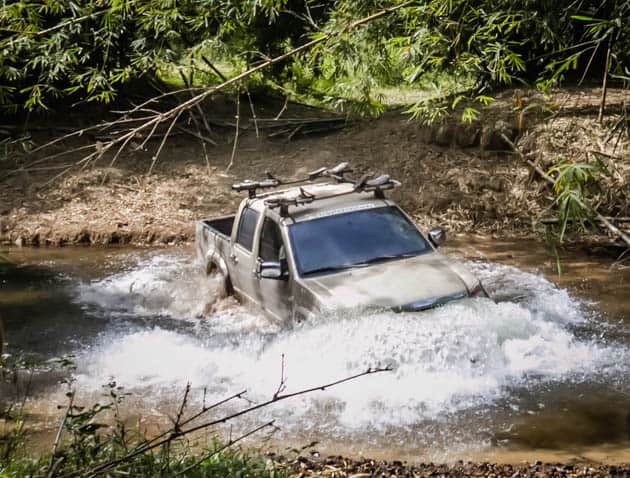 Part of a photo safari during our first trip to Busuanga, in collaboration with Tribal Adventures, involved numerous adventures to get us into the heart of Busuanga and the surrounding areas.
To experience what it is like to travel without the commercial backdrops and it delivered.
Besides a couple of miles between the airport and Coron town, in the southernmost part of the island, the roads are dirt track. They are not grated and they do not have gravel.
They move with the land, have huge holes, log bridges and in some cases no bridges. They move through fields, jungles, grass plains and coastlines and attempting to get around in anything but a 4X4 or water buffalo is quite laughable.
We loaded up into Land Rover and Isuzu 4×4 trucks and headed into the frontier for a raw adventure expedition.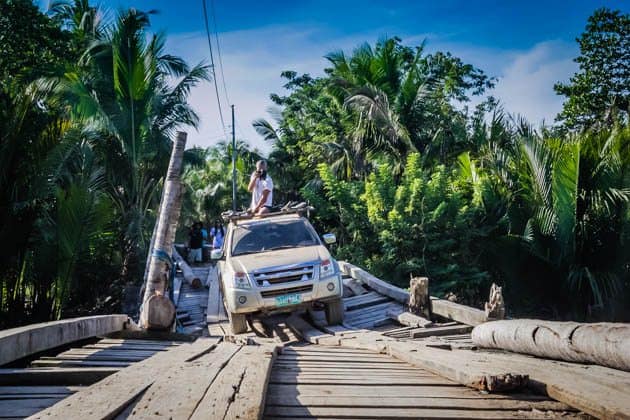 The bumping and swaying of the vehicles was enough cause us all to brace and push against the sides of the vehicles as we made our way across the island. Before we flew here, I really wasn't sure what to expect.
I knew we would be on a photo safari, exploring the islands, kayaking and getting into all sorts of adventures, but I was quite surprised and just how untouched Busuanga really is.
This realization ignited something in me that I realized had been dormant, I crave adventure, I crave rawness and I crave places where I won't see another westerner unless I seek them out.
These types of situations put me in an element that reminds me of why I love to explore and why I love to travel. While it's nice to see the places that have been made popular over the years are now bursting with travelers, this is the type of travel I really enjoy.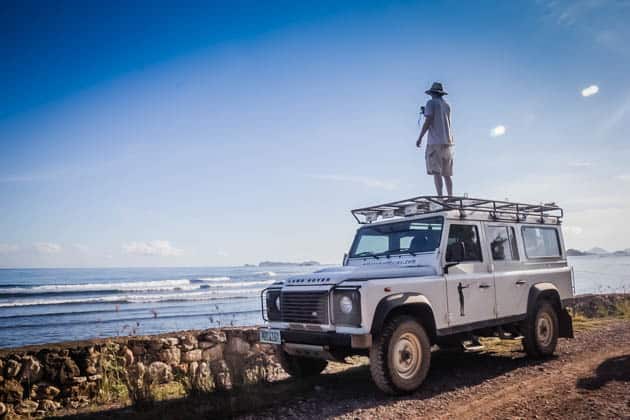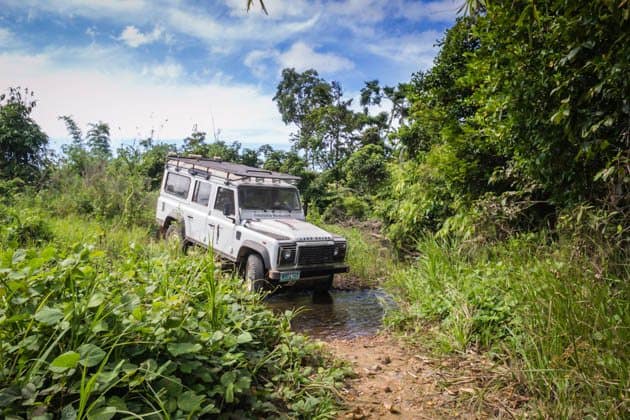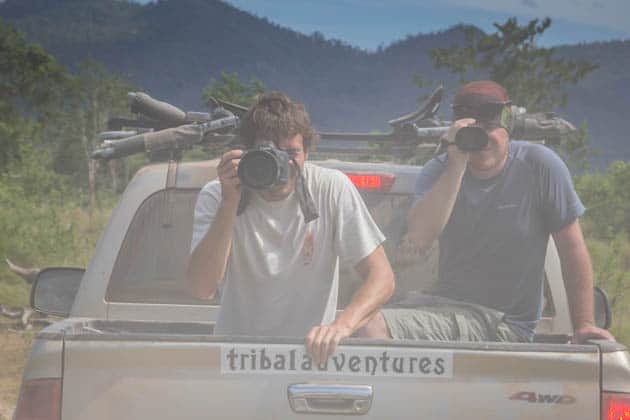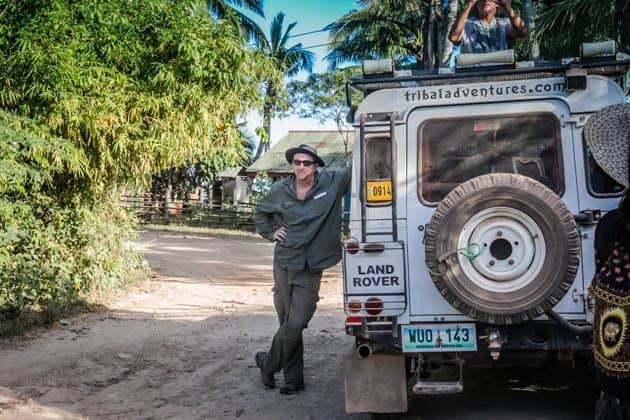 11. Go Jungle Hiking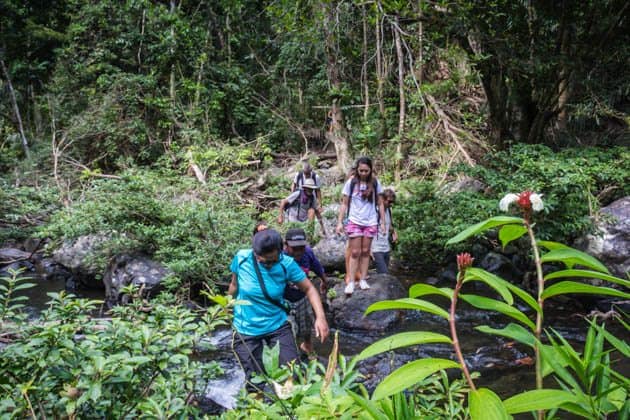 The remote reaches of Busuanga Island offers some fantastic jungle hiking opportunities. I wouldn't recommend tromping off on your own, but there are some good swimming holes and waterfalls to find with a guide.
One of our favorites started off in the middle of a field filled with cattle and proceeded into the jungle where would search for a waterfall.
The hike lasted around 45 minutes through heavy woods until it gave way to a beautiful river with numerous swimming holes.
Some of the staff had been dropped here on our way through and they had hiked into the jungle to prepare a riverside local lunch.
We dined on seafood fried rice, fresh salad and fresh fruit before taking to the water for swimming, rock climbing and playing in the waterfall.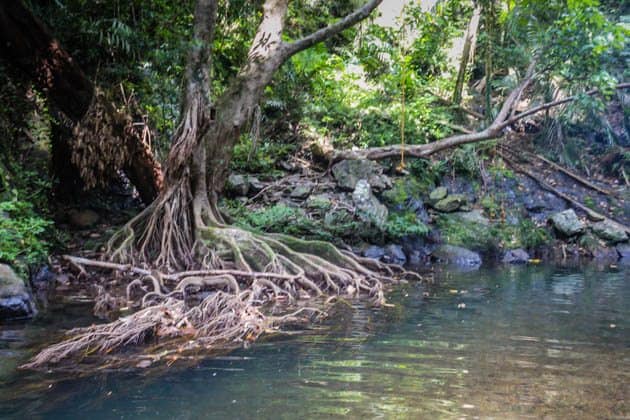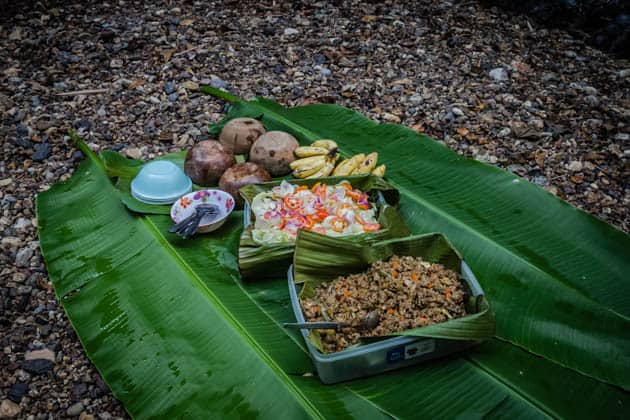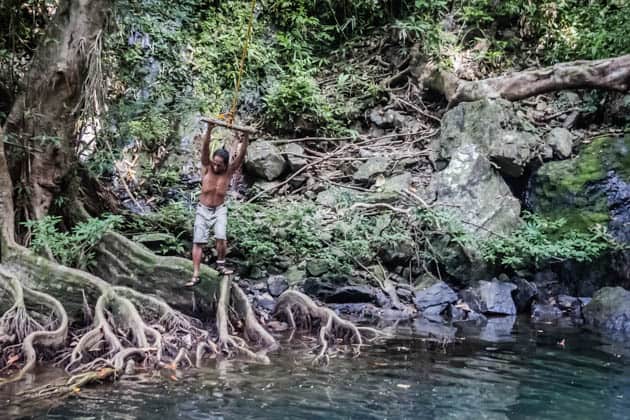 12. Stop Into the Village of Cheey
If you find yourself out exploring the far reaches of Busuanga, you'll likely pass through the village of Cheey. Here you will find friendly locals, a small convenience store shack and a school.
The school in Cheey has been built largely with the support of Greg Hutchinson and Tribal Adventures. As a way to give back to the community, he has provided funding for the school project.
Our stop offered us a chance to tour the new school that is being built. It was also a chance to meet the locals and have a look at local life in the Philippines.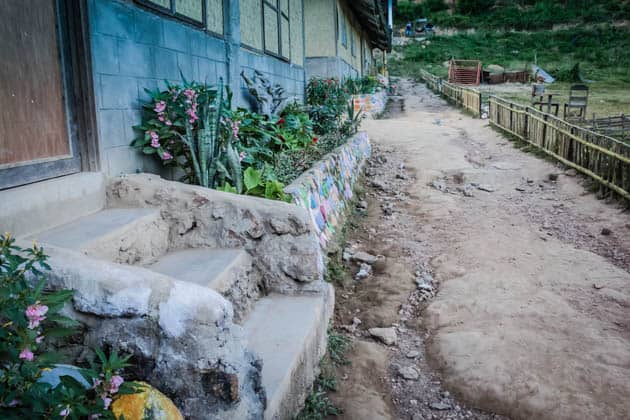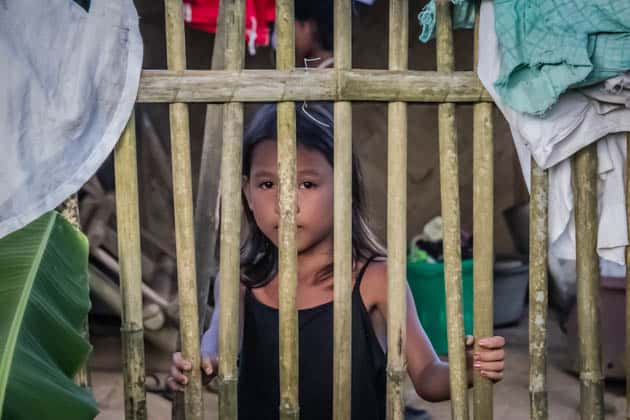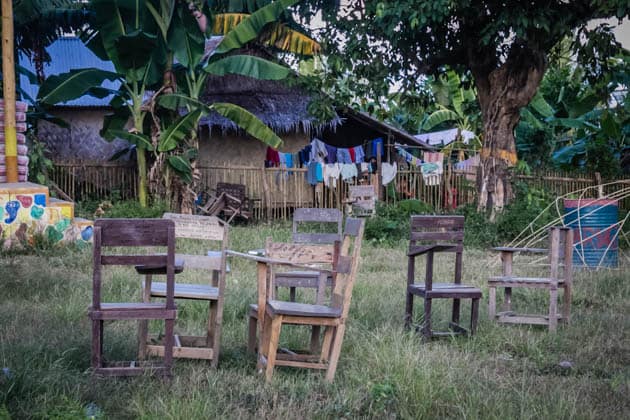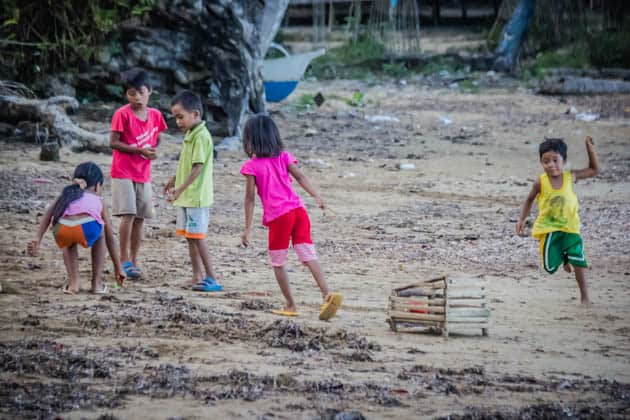 13. Take A Mountain Biking Adventure
The last time I rode a bike for this long, my ass hurt for at least a week afterward. This what all I could think of like our group made its way off the main road onto the single lane footpath surrounded by the jungle.
The main goal was to keep pace and balance while avoiding the high ridges on either side of the 8-inch wide path because if you hit that with your peddle, you were going down.
Bumping along the road, the sun beaming down on me, I was in an almost meditative state. There was a lot to take in visually, with lush green hills opening to tan colored bush fields, the scenery changed rapidly as we made our way through the trails.
We had already completed a significant portion of the trip and I was right on my pedal game. Coasting and moving through the land without any issue.
So when it came time to cruise down an extreme hill, with a bigger grade and many rock 'mines' to be missed into the rushing creek below, I didn't even hesitate.
The hill navigation was flawless and before I could blink I was cruising into the water with the sound and feel of the splash consuming me. In a matter of seconds I had reached the other bank, which ended up being mostly small pebbles, but very loose.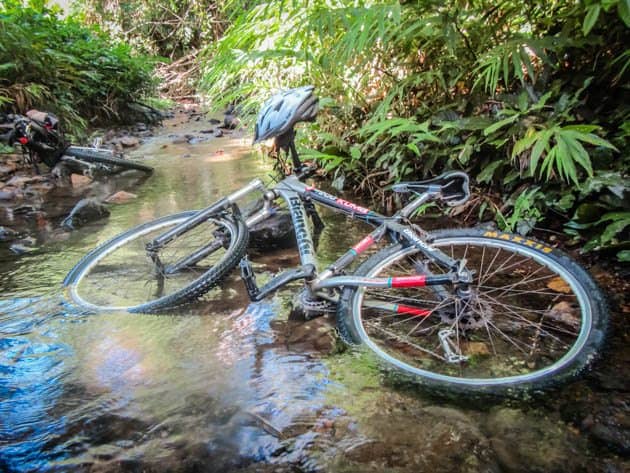 This required some skill to pass through without getting off and I stood up on the bike to get the power I needed to push through it and up the next hill back onto the track.
At that moment, my bike came to a complete standstill as I stood up to push the pedal down and propel me forward. At the time, it happened really too quick to process or react, but as my bike stalled I had two options, bail or not bail.
I attempted to bail, hoping to catch myself with my feet but it was too late and I came crashing to the ground with my bike. As I looked up, it occurred to me that it wasn't my tire that had gotten hung up, it was my pedal.
There was a giant rock sitting at the exact height of my pedal, I didn't see it when I stood up to power up the hill and it collided perfectly with the pedal, disallowing me the opportunity of continued pedaling or movement.
The crash was a good one, I broke a toenail, yes a toenail and it was my big toe (the WORST) and was assaulted by the bike handlebars on my upper thigh. At the time I really just shook it off, got up, walked my bike up the hill and continued on.
Later that night though, the toe was throbbing and the handlebar assault resulted in a bruise pretty much the size of my iPhone. Sorry, no photos but it had been a good day.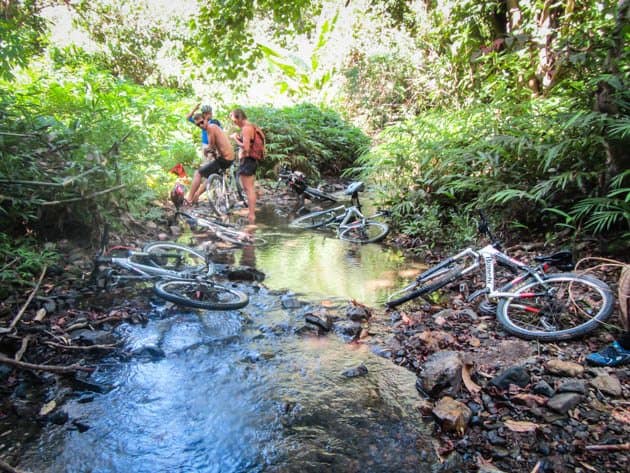 We spent a whole day mountain biking and hiking in an attempt to cross the entire length of the island of Busuanga in Northern Palawan.
The Hike+Bike=Build A School project was put together as an adventure tour that not only gets you off the beaten track but raises awareness of the challenges the children face in this part of the world if they want an education.
Every peso paid for this tour was donated to the new school being built in Cheey so the kids can make this weekly trek a thing of the past.
The trail that we would travel on is the actual trail the children use when they leave their homes every Sunday and make their way across the island. They stay at school until Saturday, when they return home for just one night and then begin the trek back again the very next day.
The trail is no small feat as it ebbs and flows with the land both uphill and downhill through some pretty intense terrain.
With the completion of the school, the path that was previously used by the children has become overgrown and unusable. Mountain biking trips in this area are now conducted in a slightly different area, but it is no less adventurous.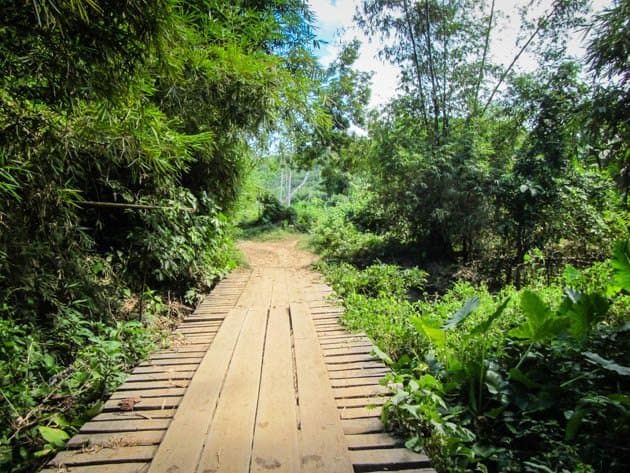 Even riding mountain bikes posed a challenge in some places with the high ridged trails, steep rocky inclines and flowing creek beds. There were many moments when we would bomb down a hill into the water to continue on the path.
Our 8 hour day didn't take us to the far side of the island, there was too much of the path that was too difficult for bikes, so we opted for some hiking and then to return.
This was the first time we have participated in a mountain biking trip that spent most of its time off-roading and we loved every second of it. Of course, it didn't come without some challenges and I would be lying if I said I didn't take a couple of diggers.
Overall, we covered a long stretch of dirt track road from Palawan Sandcastles to the off-road track, several kilometers of off-road track through fields, jungle, hills, and creeks.
When we got hot, we stopped in the creek beds for a swim, which was also convenient for washing off the bikes. Prior to our arrival, the island had experienced a lot of rain, so there was much mud to plow through along the path.
It was shocking to me the amount of terrain these children cross for their chance at an education. Sure some of them have parental support, but they are not accompanied by them.
They travel with their siblings, friends, and peers, all alone for several kilometers from one coast of Busuanga to the other.
This is extremely admirable as there are many places in the world where this type of trek would be scoffed at and as a result, the school would not be a priority. It brought to the surface a desire by the locals to better themselves and to educate their children.
We are happy to have been part of this awareness-building project, not only did we have one heck of a backcountry adventure, but we are given a chance to share what an incredible feat these children endure with the World.
---
Busuanga Island Travel Tips
---
Where To Stay on Busuanga
We've done our legwork when it comes to recommending places to stay on Busuanga Island. There are several places we love and you really can't go wrong with any of them when planning your stay.
The biggest thing to note is that almost all of the accommodation is located in Coron Town, the main hub of Busuanga.
Staying here is convenient and you'll be near modern amenities, but it is not the most ideal for getting off the beaten track on Busuanga. Which, in my opinion, is the best way to experience the island.
So I'll start first with our go-to place and in our opinion, the best place to be if you want a real experience with the island.
Sandcastles Palawan: This place is an absolute oasis. We have stayed here on every visit to Coron and truth be told, would never miss the chance to visit again. This eco-resort is located way outside of Coron Town up the coast on Busuanga Island. They have a private beach, natural bungalows and luxury bungalows. They also operate adventure tours out of this location and the kayaking along the coast here is out of this world. If you don't mind the seclusion, it's paradise.
Another property outside of Coron Town is the Cashew Grove Beach Resort. If you are looking for a base that is more about relaxing, versus adventure, than this is a good alternative.
Places We Recommend in Coron Town:
Corto del Mar: one of the fancier hotels on the island, this hotel is centrally located with western amenities. It has a fantastic restaurant that serves both traditional Filipino dishes and western food, including their famous thin crust pizza. They also operate a dive shop, Corto Divers. We stayed here on our first visit to Coron and enjoyed it.
The Funny Lion: we stayed here on our second visit to Coron and found the place to be incredibly relaxed. The rooms are very large and comfortable with all the amenities you can think of to make your stay perfect. Their pool is gorgeous and set back away from the road, overlooking the forest. When you're in it, you feel completely secluded. They also have a very nice restaurant. The location is just outside of the downtown, so it is a much quieter place but you do need to use tuk-tuks to get around.
In addition to these places, there are several budget type guesthouses and hostels available in Coron Town. We have stayed at a few but recommend booking with one of the above unless you are really on a tight budget.
Safety
Busuanga is an incredibly safe island to visit, and you'll find that Filipinos are friendly and welcoming.
Petty theft is rare, but as with anywhere in the world, you should always keep your valuables safe.
ATM Access
Infrastructure is improving on Busuanga, but ATMs are still limited, so bring cash with you just to be safe.
ATMs are located in Coron Town. Larger hotels take card payments, but sometimes the systems can crash without warning.
Transport On Busuanga
Getting around Busuanga will involve a mixture of boats and land transport. On the main island itself, you can hire tricycles to drive you around Coron Town and to major sights such as the Hot Springs.
You can also join organized excursions using minivans or hire a motorcycle for the day.
Wifi Situation
One area that needs drastic improvement, is Wifi. While most hotels and restaurants will have Wifi, the download speed in Busuanga is terribly slow.
Often, it will simply not be working at all, so if you need to be connected then make sure you invest in a local sim card, as the mobile networks are more reliable.
More on the Philippines:
Did you like this story? Share it!