Puerto Galera is one of the most popular beach destinations in the Philippines, but for many foreign tourists, it's virtually unknown.
That's because Puerto Galera, located on the northern tip of Mindoro Island, is just a few hours away from Metro Manila by bus and boat, and it's a firm favorite amongst the locals looking to escape the chaos of the Filipino capital.
Puerto Galera is a beach paradise and the perfect getaway destination. The beaches here can rival Boracay or Palawan, while diving in the surrounding areas is some of the best and most diverse in the Philippines.
There are great hotels and resorts and plenty of excellent things to do. To inspire your next Filipino adventure, here's our guide to visiting Puerto Galera.
Don't leave home without: Lonely Planet Philippines (Country Guide)
---
Puerto Galera Travel Guide
---
Where is Puerto Galera?
Puerto Galera is part of the Province of Oriental Mindoro, on the island of Mindoro. This bustling port town is found on the far northern edge of Mindoro Island, which is just one reason why it's become so popular as a getaway from Manila.
Puerto Galera is separated from Luzon, the largest Filipino island, by a narrow strait, and it's only 100 miles or so from here to Manila.
The area around the port itself is home to beautiful beaches and diving opportunities, and there are places to stay all along the northern coast.
Getting to Puerto Galera
There's no airport that's particularly close to Puerto Galera, other than Manila Airport, which distance-wise, is less than 100 miles as the crow flies.
Unfortunately, 100 miles over land and sea in the Philippines won't be as quick a journey as you might hope for. If you're flying internationally or domestically then there are endless flight options to Manila, but you'll need to leave plenty of time to get to and from Puerto Galera.
Traffic in Manila is notoriously bad, and it's worse on weekends and public holidays, while holiday seasons such as Christmas or Easter, are a nightmare any day of the week.
If you're traveling from Puerto Galera to Manila to catch an international flight, then definitely leave a day and spend a night in Manila to be extra safe, you never know what might go wrong.
From Manila, you need to catch a bus and boat to reach Puerto Galera. Buses leave regularly from the Cubao Bus Station in Manila, headed south to Batangas Pier.
Read our detailed step by step guide on How to Get from Manila to Puerto Galera
To get to the bus station from the airport or the city, it's highly recommended to use the Grab App. Buses leave incredibly regularly from Cubao to Batangas.
Batangas Pier is at least 3 hours away, and that's if the traffic is light. Once you're in Batangas and you're at the Pier then you just need to jump on a ferry across to Puerto Galera.
The ferry time depends on the weather conditions but you can expect it to take around 1 to 2 hours. There are two ferry terminals at Puerto Galera, these are Balatero and Muelle Port.
The terminal you need will depend on where exactly your accommodation is along the coast, as Puerto Galera is spread out.
History of Puerto Galera
Puerto Galera means Port of the Galleons in Spanish because when the Spanish first arrived to colonize the Philippines they found that the northern edge of Mindoro was a particularly safe harbor.
Even before the Spanish arrival the area was used as a harbor and was a busy trading hub between local Mindorans and Chinese and Southeast Asian traders, making this a melting pot of cultures.
The Spanish would leave the biggest mark on the area though, building watchtowers and forts and bringing the Catholic religion and churches to Puerto Galera, many of which can still be seen today.
It was Spanish sailors that would be the first tourists and realizing the beauty of the island, many would never even leave.
After occupations by the Americans and then the Japanese, with independence, Puerto Galera began to grow into the place you see today, as tourism would begin to kick off properly.
---
Diving in Puerto Galera
---
Puerto Galera is home to a huge number of diving shops because the Mindoro channel is teeming with marine life.
In fact, this area is one of the most biodiverse in the Philippines, something that's been recognized as such by UNESCO as well. It's a protected area and the diving, you'll soon see, is supreme.
That said, Puerto Galera is one of the most popular places to scuba dive in the Philippines and the reason most people visit. Hell, if I am being honest, this is why we made the visit from Manila.
Ever since our first dive on the Great Barrier Reef, we have been hooked on scuba diving. What a true adventure it is to gear up and jump into the dark blue depths of the ocean, not knowing what lurks or awaits you below.
We had been told that the Philippines have some of the best dive sites in the world and after getting our PADI Open Water certification in Indonesia, we decided to complete our PADI Advanced Open Water dive certification in Puerto Galera, Philippines.
The 40+ dive sites in Puerto Galera offer a variety of dives for whatever you are seeking. If you're looking for fish, this is your place to see them.
If you're looking to wreck dive, there are all types of wrecks from fishing boats to warships sunken just off the bay. It's colorful corals and clear waters will keep you from ever wanting to return to the surface.
Getting PADI Advanced Open Water Certified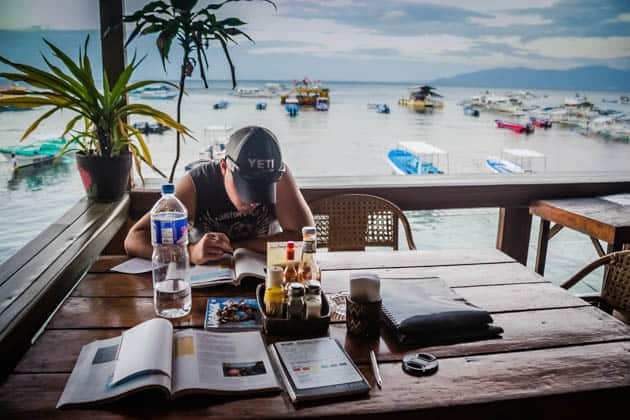 We completed our PADI Advanced Open Water Scuba Diving in Puerto Galera, Philippines!
We chose to work on our AOW with Dive Vip and our diving base camp was out of a dive resort called Capt'n Greggs, where we stayed and dove out of every day. Capt'n Greggs was located on and overlooked Sabang Beach.
Here we could easily go over our plans with our divemaster instructor over breakfast and head out at 9:00 for our first dive. Once completing our first dive and back at dive camp, we had downtime until our second dive at 11:00 AM.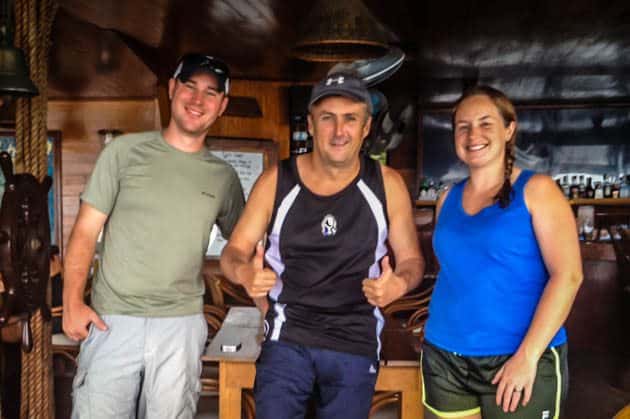 After our second dive, we had lunch where we would review our last dive of the day and head out at 2 or 3 PM. For us, this location was nice because everything was in one spot and it was not on the party side of town.
We were only there to enjoy the dive sites, not the local bars or nightclubs, which we found there were tons of on our last day of being on the island.
Wreck Dives in Puerto Galera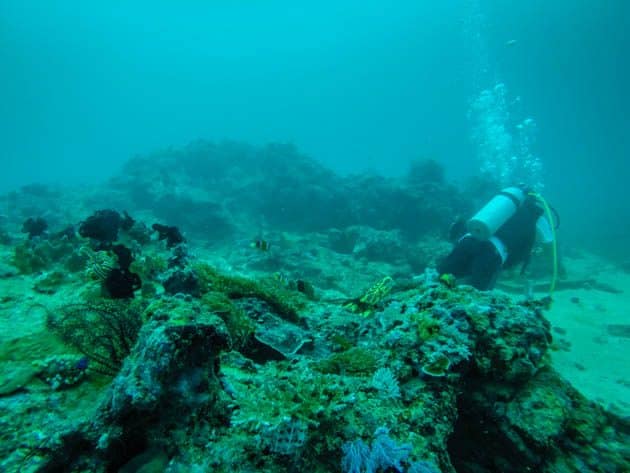 One of our dives involved a wreck dive that took us up close with three sunken boats. This dive was a beach dive where we walked in from Sabang Beach and floated out just to the outside of where the boats parked for the night.
Once we reached our dive spot that was marked by a large floating buoy, we let the air out of our BCDs and started to submerge.
Following the rope from the buoy down to the bottom, we found ourselves already at one of the wrecks. The first wreck was just bones of what looked to be a 25ft fishing boat.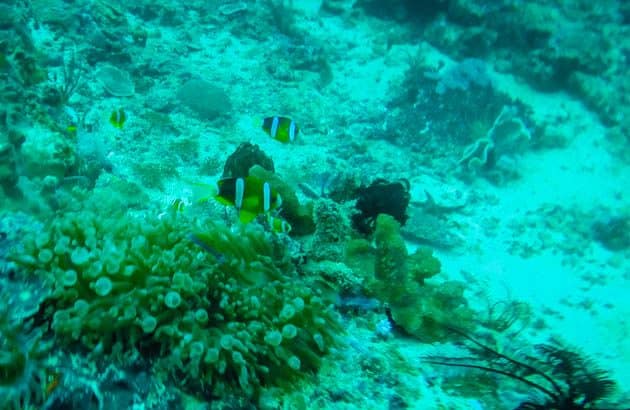 We took a few laps around this wreck seeing what we could of the fish life. The second wreck was another fishing boat about the same size as the first wreck. This boat was solid with a top on it and was turned on the left side. You could see thousands of little fish hiding out inside the boat.
Our last wreck dive was another boat that was basically bones, just like the first dive it was a rusted frame of a wrecked boat colored in rust. This wreck still had the large engine blocks showing.
On our first pass, we quickly spotted a large lamprey that was hidden under the side of the engine block where the exhaust manifold would mount to it. This large guy just gazed at us as we observed him. He looked to be a well-aged fish.
We made two more rounds of the wreck, watching fish zoom in and out of the rusted bones. It's always crazy how much little fish stick to the wrecks. Overall, this was a good dive for the first time wreck diver.
It was good to practice basic maneuvers around the wrecks and also to see what to expect with other wrecks.
Our Dive Locations in Puerto Galera
Puerto Galera has some of the most relaxing dive sites we've been to and the corals and aquatic life are worth exploring.
The easy conditions and a beautiful environment make Puerto Galera popular for scuba divers and with many dive sites, it never becomes overcrowded. Many of the dive sites are right off of the beach or close to shore, which means you are not spending time riding around in a boat.
Here's an up-close look at the sites we visited while earning our Advanced Open Water PADI certification with Dive VIP in Puerto Galera.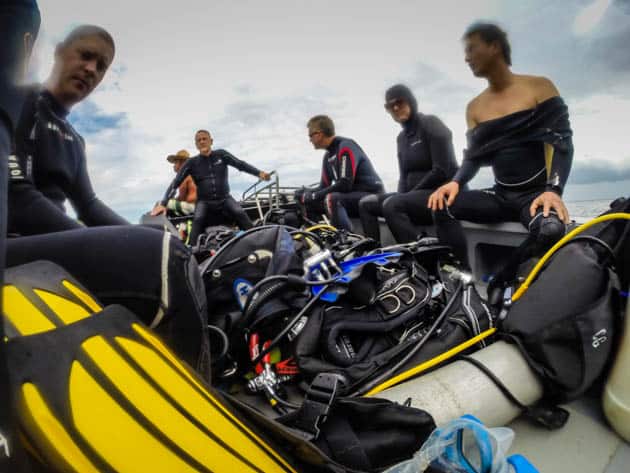 Wreck Point: Maximum Depth of 27m/ Skill Level: Advanced
2-5 min. sailing time in a speedboat from Sabang Beach. Water temperature in February 20°C at the bottom, 24°C at the surface. Air temperature 28°C. 3 wrecks on a row, lots of dragonfish, shoals of fish, flatfish and a sea snake. Good site for night dives
La Laguna Point: Maximum Depth of 20m/ Skill Level: Novice
6-8 minutes sailing time in a speedboat from Sabang Beach. Some current in the morning and afternoon. Lots of corals, fish, clownfish and a frogfish, dragonfish and sea urchin.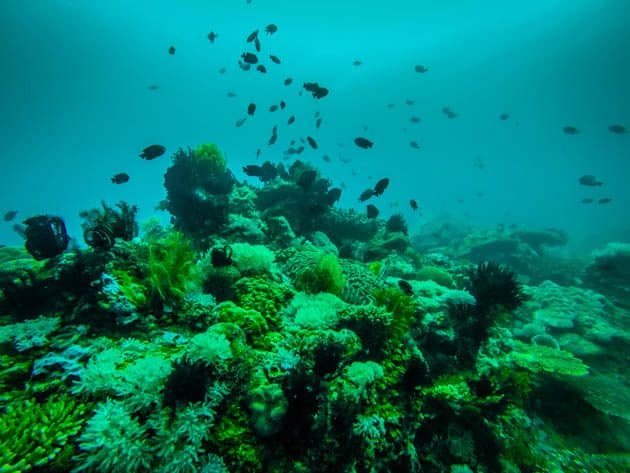 Sinandigan Wall: Maximum Depth of 35m/ Skill Level: Advanced
10-12 minutes sailing time in a speedboat from Sabang Beach. Some current in the morning and afternoon. Many corals, fish, nudibranchs and frogfish.
Sabang Point/Bay: Maximum Depth of 18m/ Skill Level: Novice
Dive just off the Sabang Beach. It offers a large wall starting at Sabang Point nurtures a riot of soft and hard corals bursting with Colors. Sea snakes, octopus and eels, sea turtles and electric cuttlefish and blue-spotted stingrays that sit on the sandy bottom.
Monkey Beach: Maximum Depth of 22m/ Skill Level Novice
6-10 minutes sailing time in a speedboat from Sabang Beach. Monkey Beach has a gentle slope with many different kinds of corals, there is also a small wreck of a sailboat in this area.
Apo Reef: While there are many outstanding dive sites nearby, the real crown jewel of Filipino diving is Apo Reef which is further afield and often needs overnight stays to really visit. Trips can be arranged from Puerto Galera though, to what is one of the largest yet most unknown reefs in the world.
---
Other Popular Things to do in Puerto Galera
---
The coast of Puerto Galera stretches out from the town of the same name, and the best things to do are not concentrated in one place.
You'll need to get around using boats or tricycles, to see all the best spots!
Relax on White Beach
The best beach in Puerto Galera is White Beach. Often compared to the famous Boracay beach which also happens to be called White Beach as well, this is probably one of the best stretches of sand in the Philippines.
It's also one of the busiest and while it's undeniably beautiful it's not the place to visit if you're looking to have some time to yourself. On weekends the beach is packed, but it's a lot of fun.
There are bars and restaurants serving up cold beers and seafood and there are watersports and events during the day, and parties at night.
Visit Talipanan Beach
If you're looking for more solitude though, then you'll be wise to head over to the other beaches in Puerto Galera most of which are quiet in comparison to White Beach.
One of the best is Talipanan Beach, which is not too far away from the main town and which has yet to be fully commercialized. It's gorgeous, with great sand and turquoise waters and during the week it can be positively empty.
Take an Island Hopping Tour
With so many different beaches strung along the coast and with plenty of offshore snorkeling spots to visit, the best way to get around Puerto Galera is by island hopping.
You can join tours from most hotels and tourist agencies on the beaches and in town, or you can simply hire a man with a boat to show you around for the day. It's the best way to experience the natural beauty that's waiting for you in Puerto Galera.
Chase Water Falls
It's not just about marine life and the beaches though, because the interior of Mindoro is lush and green and teeming with natural attractions too.
You can take tricycles out from the coast to the many waterfalls found inland, although most will require at least a short trek from the entrances, through the jungles.
One of the best to visit is Talipanan Waterfall, where you can find a beautiful spot hidden by the forest. You might need a local guide to get here as it's part of local indigenous lands, but it's well worth the effort.
Once you reach the waterfall you can cool off by taking a dip in the cold and refreshing plunge pool.
Enjoy the Nightlife
Due to its proximity to Manila, Puerto Galera attracts crowds of party goers from the city, particularly on weekends and during the holidays.
It's a great place if you're looking to enjoy beachside beers and cocktails during the day, before partying the night away.
White Beach is the best place for nightlife, and it's a lot like how Boracay used to be before the closure.
---
Puerto Galera Travel Tips
---
Safety: This is a very safe destination to visit, although as with anywhere in the Philippines, look out for your valuables and belongings, especially when you're on the beaches. At night be careful if you're out drinking late, as there can be some rather untoward areas in Puerto Galera, although they are still generally trouble-free.
Transport: To get around Puerto Galera you can take the local Jeepneys along the coast, or you can hire a local tricycle driver if you want to get around quicker. Motorcycle rentals are also a good way to get around, and on your own terms and time, while if you want to go island hopping you can hire a local boat driver for the day or join a tour group.
ATM Machines: There are a limited number of ATMs available in the main town of Puerto Galera, however, outside of this, there aren't many options in more remote areas and on the far-flung beaches. Cards are increasingly accepted, especially in larger resorts, but cash is still king so keep topped up with plenty of Pesos during your stay.
WIFI Access: It can be a struggle to find good WiFi in the Philippines and Puerto Galera is no exception to this rule. The larger resorts will have the best WiFi, but to be guaranteed a connection, make sure you have a local Sim card for your stay.
Where to Stay in Puerto Galera
Sabang Beach is the most popular area of Puerto Galera and accommodation ranges from budget hostels to beachfront resorts. Where to stay is really up to your tastes and budget.
Here are a couple of our recommendations:
Seashore Beach Resort: Features an in-house restaurant, pool, massage services and newly renovated rooms.
Lalaguna Villas: Upscale and stunning property with butler service, pool and an all-inclusive meal plan.
More on the Philippines:
Did you like this story? Share it!