Scuba diving on the Great Barrier Reef is one of the Top 100 Travel Adventures in the world. View the list and follow our mission to complete them.
Standing on the back of the boat, I had just finished getting suited up. The divemaster was inspecting my kit and checking my gauges to ensure everything was in working order.
" Thank god one of us knows what they're doing", I thought.  I had just finished my intro course on scuba diving and was getting ready to do my first real dive.
A mixture of nerves, anxiety, and excitement quelled in my stomach while we boarded the dingy and were taxied out to our dive location for the afternoon. 
"What have I gotten myself into", raced through my head as the boat slowed and we were briefed on our exit from the boat into the water.
Our exit would involve a Navy seal move of holding the mask and regulator, crossing our fin-clad feet and rolling back into the water in a somersault fashion. 
"Hmmm, this could be interesting."  I found myself stalling as I looked around. We were bobbing in the water with not much around us, in my eyes, no safety net.
---
Scuba Diving on the Great Barrier Reef
---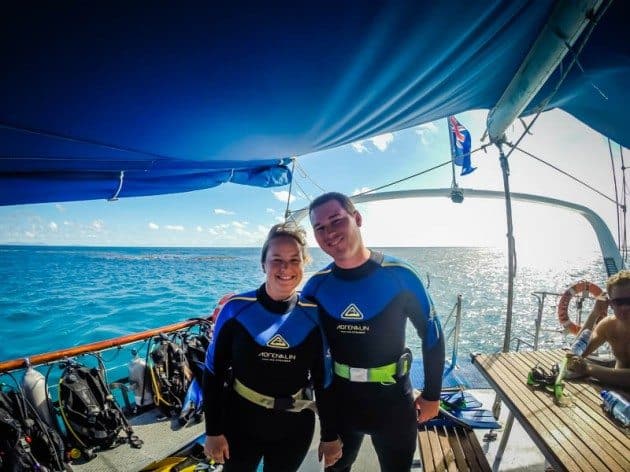 Fighting through the thoughts that were beginning to swell in my head I counted down with the group and promptly flipped backward off the boat into the clear blue water.
"Wow, that was actually pretty cool." We were all bobbing along while the divemaster ran a check with us and made sure we were all comfortable and ready to start our descent into the depths.
Feeling pretty confident after my Navy-like maneuver into the water, which I am sure, looked much different to the driver of the dingy than in my head, I was ready to make my first dive in the Ocean. Or so I thought.
The sensation of letting air from your kit and sinking below the surface isn't something that is easily explained in writing. 
It isn't natural for a person to sink into the water, let alone sink willingly and then realize that you can breathe underwater. 
There is something in your brain that fires immediately after you slip beneath the surface telling your body that you should be drowning and trying to surface.
Related Article: The Best GoPro Accessories for Adventure Travel
Breathing Under Water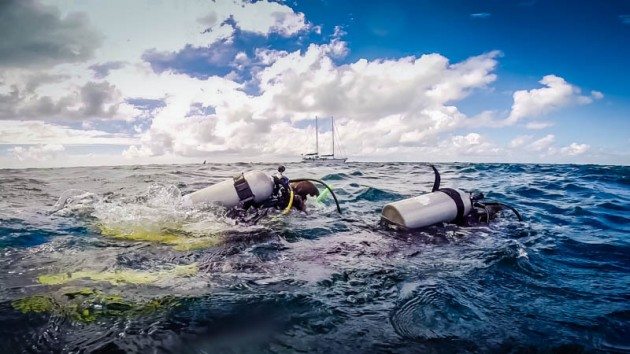 Yet, there you are, breathing through a regulator and perfectly fine under the water. 
Fighting off that instinct is extremely hard the first time you experience it and it isn't made any easier by glancing around and seeing nothing but water. 
We worked on making a very slow descent into the water, as we were all Intro divers and working through the same mental feelings.
Our divemaster made his rounds to check if we were okay. When he came around to me, I don't know what came over me, but I felt myself starting to panic.
"Was I really ok?" I felt my heart start to race and my breathing starts to quicken. He could see the process happening and took my hand while giving me an ok signal.
At that moment, I was overcome by a rush of being, for lack of a better word, freaked. I signaled immediately that, despite the fact that he was holding my hand, I was not okay.
From a physical standpoint, I was just fine, but from a mental standpoint, I was breathing underwater and it was wigging me out. I let go of his hand and made my way to the surface.
Reasoning With My Fear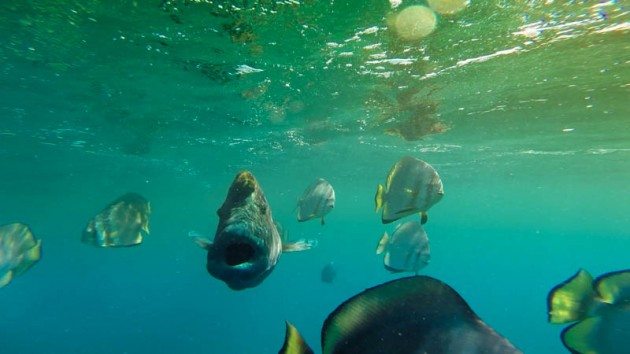 I've never had a traumatic water experience but I often find myself fearing the water. More appropriately, fearing things in the water.
This, over the years, has led to a small anxiety when it comes to snorkeling and participating in water activities.
Although I have never been a fan of snorkeling, I did still participate in it as I refuse to miss out on the many wonders under the water.
As you can imagine, I was a little unsure about scuba diving and whether I would enjoy it. It seems it is either a love or hate type of deal and I was worried the hate part of the equation might sink in too much to enjoy it.
I had spent the days before we boarded our boat contemplating how I actually felt about the water and whether diving was something I actually wanted to try.
It is easy to get wrapped up in the amazing things there are to do while traveling, so I needed the conversation with myself to work out whether it was just to cross it off the list or something I was actually interested in doing.
I realized that even though I am a touch scared of the water and the things in the water, diving was something I couldn't live without trying.
No Regrets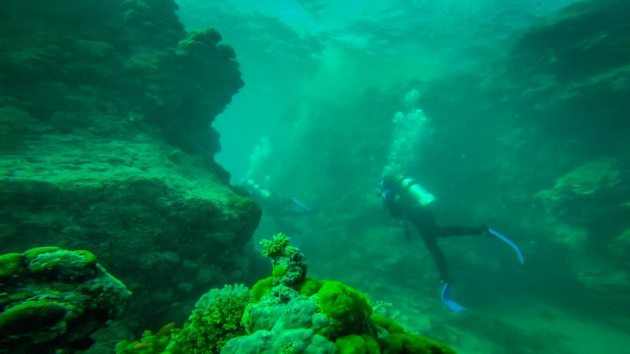 It literally came down to that question, "Will I regret it if I don't do it?" the answer, after much deliberation, ended with a yes. So here I was, freaking out in the ocean and surfacing.
All I could think to myself was, "Good God, get it together, Lina!" Thankfully, I had a very understanding and patient divemaster with me at the time. 
He surfaced with me and we talked it out, which was really great for me. He asked me what was making me panic, once I explained to him, he promised to stick with me and help me make my way under the water to the coral.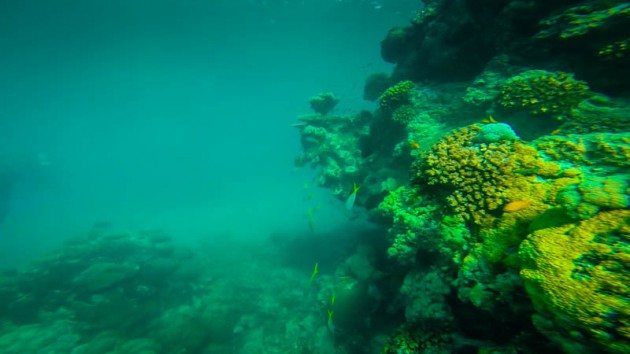 The second attempt to sink was much better. I did have another moment of panic, but it was short-lived and before I knew it we were on the bottom. The duration of the dive was incredible and scary at the same time.
The Dive Master opted to stay with me the whole time, which was perfect for me. We swam around the coral and brightly colored fish for the good part of 20 minutes before resurfacing.
I Dove on the Great Barrier Reef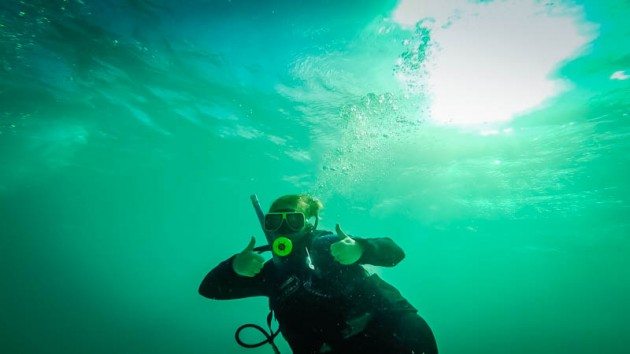 After finishing my first dive I was overcome with emotions. I had conquered a small fear of mine and although I know it won't be the end of it, it was a giant step in the right direction for me.
Without hesitation, I signed up for another dive the next day and found my confidence growing.  So much so, I actually did 2 dives on the Outer Great Barrier Reef that day.
By the third dive, I was helping the new divers with their anxieties about going underwater.
Although my first diving experience had its shaky moments, I am glad I didn't pass up the opportunity to see the amazing World that is under the water.
I consider myself lucky to have had such patient dive instructors that helped me face my fears and give me the confidence to pursue my dive certification in the near future. 
Finding Nemo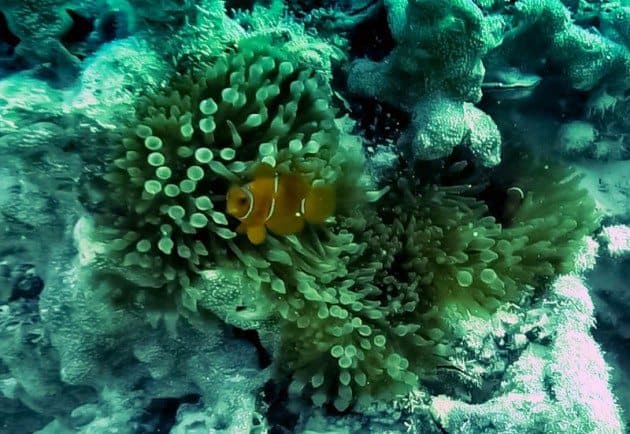 As if that wasn't a big enough achievement for me that day, I was also able to cross another item off the bucket list. After some intense searching, I finally found Nemo.
Hiding in the anemones he came straight out to greet me and the camera on my last dive. I couldn't ask for much more of my first time diving. The best part, I can say I have dived on the Great Barrier Reef in Australia.
More on Australia:
Did you like this story? Share it!