Next time you're looking for adventure, why not give Australia a try? This country is absolutely packed with enough activities to give you an adrenaline rush that will last a lifetime.
One of the few places in the world where you can experience such geographical diversity, Australia offers various activities that would otherwise merit you trekking across the globe to participate in.
For instance, there is the outback with all of its rugged wilderness and off-road wonder; rain forests that are lush and home to many exotic species of birds and plant life; and beaches that mesmerize with their constant call of the ocean lapping against the sandy shore.
There is truly no place in the world for adventure quite like Australia. Let's take a look at a few items for you to enjoy the next time you feel the need to "set out for the territories".
---
25 Top Things to Do in Australia
---
1. Visit Canberra, the Australian Capital
Okay, so most travelers to Australia will visit at least one major city, be it Perth, Sydney, Brisbane, or even Adelaide, but very few people ever actually make it to Canberra, the Australian capital.
Canberra is completely underrated, but it is home to the country's best museums, galleries, and of course, the Australian Parliament, which you can take a tour around.
It's a unique, purpose-built city full of great art and architecture, and you'll find few backpackers or tourists.
When visiting Canberra you simply can not miss these tours:
2. Brave the Sydney Bridge Climb
If you're exploring Sydney, then one of the best things to do in Australia is the Sydney Bridge Climb.
This iconic adventure activity takes place on the steel rungs and support beams of the Sydney Harbor Bridge, one of the most recognizable landmarks in the country.
Harness up, and you'll be guided out across the bridge, high above the river below. You'll have epic views across the city, including famous sights such as the Sydney Opera House.
When visiting Sydney you simply can not miss these tours:
3. Surfing at Bondi Beach
One of the best things to do in Australia will always be surfing, and one of the most famous places to go surfing will always be Bondi Beach.
Located just outside of Sydney, Bondi Beach is a classic Aussie surf territory. There's a sandy beach, consistent waves, and an awesome surfing culture. And don't forget the sunshine!
When visiting Sydney you simply can not miss these tours:
4. Chill out at Byron Bay
Travel to the top of New South Wales, and you can chill out at one of Australia's top coastal destinations, the renowned Byron Bay.
Popular with backpackers and surfers, Byron Bay is home to beautiful beaches, windswept coastal walks, and plenty of cafes and bars.
You can learn how to surf, watch the sunrise over the famed Byron Lighthouse, and enjoy the alternative lifestyle of this popular town. There is no shortage of things to do in Byron Bay during your visit.
5. Gaze in awe at the Whitsundays
Keep traveling north along the eastern coastline, and you'll come to the Whitsundays, one of the most beautiful places in Queensland.
In fact, the Whitsundays is easily one of the best things to do in Australia, because few places in the world can match these islands for their sheer natural beauty.
Join a boat cruise to head out and explore, visiting the marvelous white sand beaches, hiking through stretches of rainforest, and swimming and snorkeling in the ocean (yes, you can see the Great Barrier Reef here at the Whitsundays).
We spent 3 days sailing the Whitsundays from Airlie Beach and it was simply amazing below are a few of our favorite sailing trips that include the Whitsundays.
6. Visit the World's Oldest Rainforest
One of the best things to do in Queensland is to visit the world's oldest rainforest. The Daintree Rainforest has stood for millions of years (180 million years, to be exact), and is full of unique wildlife and flora.
You can tour along the Daintree River in search of crocodiles, delve into the rainforests with local guides, and explore mangroves and beaches.
The Daintree Rainforest is just a day trip away from Cairns, where you can see the best of the Great Barrier Reef.
7. Go Remote in Cape York
If you're looking for untouched, wild nature, then one of the best things to do in Australia is to go off-roading in the remote Cape York Peninsula.
Cape York is further north even than the Daintree Rainforest, and much of this is indigenous land.
You'll need a four by four convoy, but it's a real adventure off-roading into the rainforest and along the coast in this far northern stretch of Queensland.
Heading up to Cape York is in epic adventure, below we will highlight one of the best tours offered in Australia.
8. Explore Indigenous Culture at Uluru
If you're looking for an authentic experience, then one of the best things to do in Australia is to visit the Red Center. Uluru is the most iconic natural sight in Australia.
Here, you can learn more about the indigenous cultures that flourished for thousands of years before Europeans ever arrived in the country.
Uluru is sacred, and you can no longer climb the rock, but you can learn about the tales and history of the local people, a much more valuable experience, in our opinion.
Experience the best of Uluru on this 6-Day Rock Patrol Trip Adelaide to Alice Springs or Uluru
9. Crocodiles & Waterfalls in Kakadu National Park
The Northern Territory is a fantastic place to explore a lesser-known side of Australia. From the Red Centre of Uluru, you can head further north to the tropical climes of Kakadu National Park.
Kakadu is known for its crashing waterfalls and lush rainforest, but be careful; this part of the NT is also teeming with crocodiles!
10. Get Cultural and Enjoy Coffee in Melbourne
If crocodiles and rainforest aren't your things, then you might be better off sticking to the milder southern climes of Melbourne.
Known for its quirky cafes, coffee shop culture, and street art, Melbourne is often ranked as the most livable city in the world!
It's a great place to visit, to hang out, and for many, it's a place they never want to leave. Visit museums and galleries and head out of the city to explore the fantastic coastline.
11. Watch the Penguin Parade on Philip Island
Just off the coast of Melbourne, you can find one of the best things to do in Australia. Philip Island is a beautiful place to visit, but what makes it particularly special is the resident population of penguins.
The penguins put on quite the show for visitors, too, parading across the island every evening!
Watch the Penguin Parade on Philip Island on these top recommended tours.
12. Take the Ferry to Tasmania
The Spirit of Tasmania takes visitors from the mainland across the strait to Tasmania, the most southerly part of Australia.
The small island and state is home to some bracing weather conditions (this isn't the Australia of the guidebooks!) but some beautiful natural scenery.
Road trip the island, or head out hiking on one of the long-distance walking trails to really enjoy Tasmania at its best before catching the ferry back again (if you can bear to leave, that is).
Discover Tasmania from Australia today on these top recommended tours.
13. Drive the Great Ocean Road
One of the best road trips in the world is the Great Ocean Road. This epic journey takes you from Melbourne along the southern coast of Australia (take it as far as Adelaide if you want!).
Along the way, you have incredible beaches, sweeping vistas, and iconic natural attractions like the 12 Apostles to enjoy!
14. Visit Adelaide's Botanic Gardens
Adelaide is one of Australia's underrated city destinations, but this is easily the most pleasant and relaxed state capital in the country. See the quiet side of Aussie life, but be close to great beaches and some excellent museums, too.
The highlight of a trip to Adelaide – and one of the best things to do in Australia – is to visit the fantastically landscaped and well-kept Botanic Gardens.
Looking for more things to do in Adelaide? Below are the top three adventures we recommend you doing when visiting Adelaide.
15. Go Underground in Coober Pedy
There's plenty to see in South Australia, including the curious cave-dwellings of Coober Pedy.
This is proper Outback, and it's so hot in Coober Pedy that the locals began building their homes underground. Spend the night in a cave hotel and learn about the unusual history of this old mining town.
16. Road Trip the West Coast
Take a drive along Australia's off the beaten track west coast to discover hidden beaches and beautiful national parks.
Watch the climate and scenery change dramatically as you head from the colder south, to the dusty, arid climes of the north.
17. Camp Out at Esperance
Found on WA's southern coastline, Esperance is home to some of Australia's most impressive beaches.
The small seaside town can boast some of the whitest sand in the world, and the best place to enjoy it is at Cape Le Grand National Park.
Camp out by the beach and watch out for the friendly kangaroos that live on the beaches.
If you're feeling adventurous and have a four by four, then you can head to the remote beaches of Cape Arid National Park, where few travelers venture.
18. Take a Selfie With a Quokka on Rottnest Island
Just off the coast of Perth, you can find the fascinating island of Rottnest. The island is one big holiday resort, with superb snorkeling and quiet cycling trails. It's just one hour from the state capital by fast ferry.
The best thing about Rottnest, though, is the abundance of Quokkas – a cute, furry marsupial that you can't find elsewhere in Australia. They have no predators on Rottnest, and they love posing for a cheeky selfie!
Rottnest island has many great adventures for travelers to experience, below are a few of the top adventures we recommend.
19. Swim with Whale Sharks at Ningaloo Reef
Wildlife lovers won't want to miss out on the chance to swim with whale sharks, one of the best things to do in Australia.
Head to Exmouth, in the far north of Western Australia, where the whale sharks migrate along the Ningaloo Reef between March and September.
This adventure is not on a normal trip to Australia, if you want to do this adventure you must check out: 7-Day Exmouth Explorer via Pinnacles Monkey Mia Ningaloo Reef returning to Perth
20. Hike the Gorges of Karijini National Park
If you're in the north of WA, head to one of Australia's most underrated national parks at Karijini.
Karijini is an oasis in the red dust of the Pilbara, a place of beautiful canyons and deep gorges.
The gorges are teeming with wildlife, waterfalls, and natural swimming holes (don't worry, there are no crocodiles here!). Karijini is remote and beautiful and is definitely one of the best things to do in Australia!.
Want to visit Karijini National Park? If so you need to check out this tour that includes one of Australia's most underrated national parks.
21. Hiking in the Blue Mountains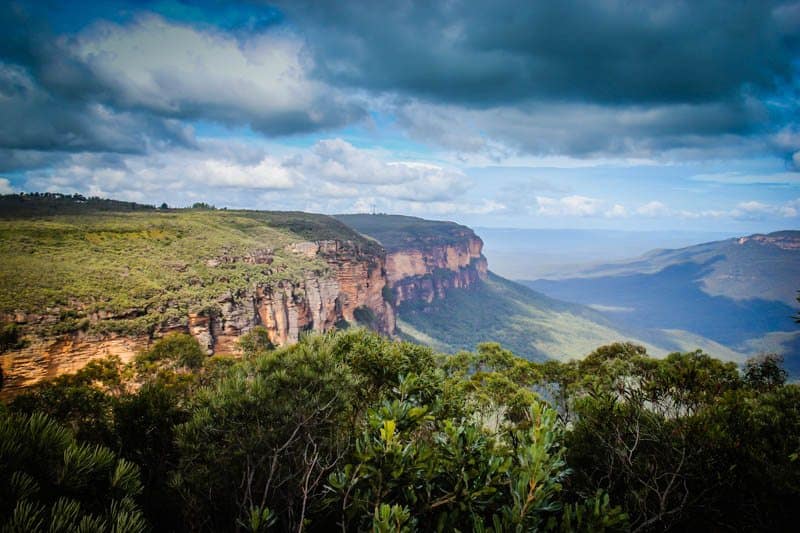 Just outside of Sydney is the stunning Blue Mountains. From the big city, head towards Katoomba where you will be enamored with scenery and wildlife around every corner.
The best part of the Blue Mountains is the abundance of hiking trails to check out. Starting out with flat, easy level walks to multi-day treks, there is something for everyone.
One of the best things about the Blue Mountains is that you can visit on a day trip if you are short on time.
Spend your day hiking the trails, playing in waterfalls and enjoying the scenery before returning to your comfortable hotel accommodation in Sydney in time for dinner.
Your visit doesn't stop at the hikes and scenery, be prepared to encounter some of Australia's exotic species, including the Galah-Rose Breasted Cockatoo., Australian parrot, white Cockatoo, and many more colorful birds.
Below are the best tours offered for exploring the Blue Mountains outside of Sydney.
22. Visit Fraser Island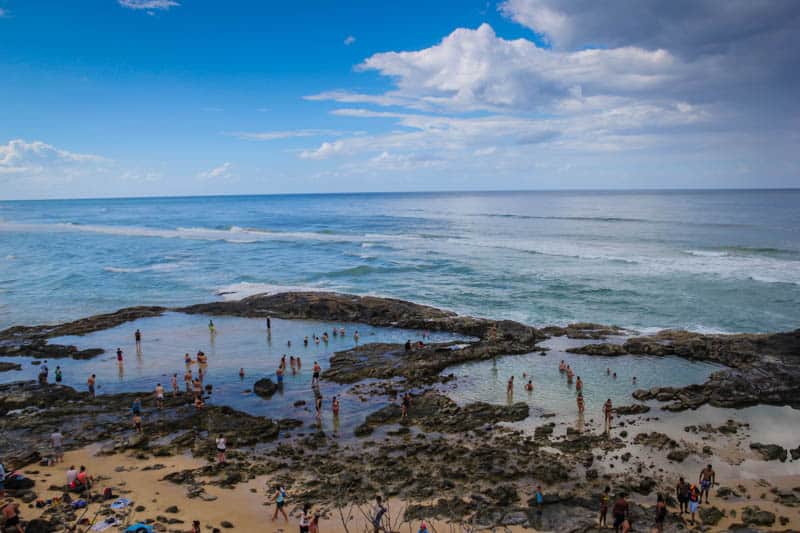 Fraser Island is unique in that it was home to the aborigine people more than 500 years ago pretty. That is quite a hallmark, and as such, it is rich with cultural and natural history.
It holds the distinction of being the only place on the planet where rain forests grow among the sand dunes.
They lend themselves to incredible wildflower displays when temperatures begin to warm up in the spring and summer months.
One of the most popular things to do on Fraser Island is four-wheel driving across this 75 mile-long stretch of beach. It is actually a highway of sorts that winds its way up the sandy side of the island.
A great activity to enjoy if you're feeling spry. Make sure to grab a permit before you begin your adventure.
They are accessible at various landings and resort locations along the coastline and give you permission to operate the vehicles during your adventure.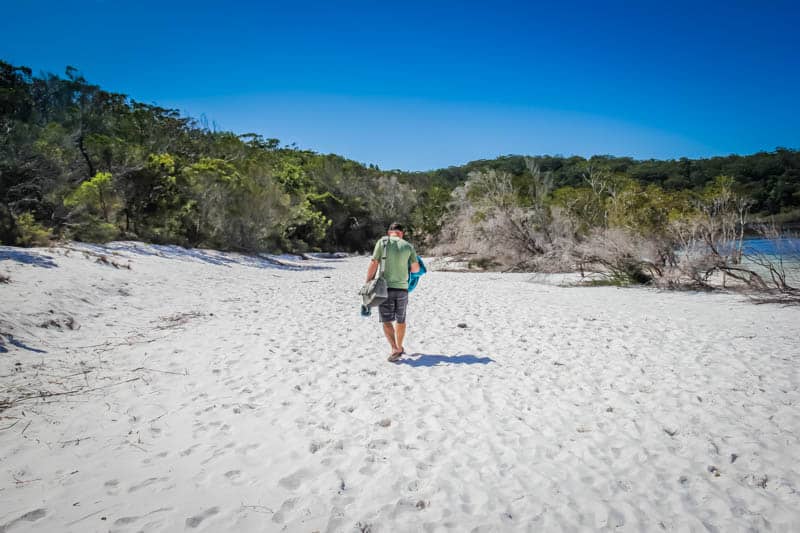 Fishing is plentiful and one of the main reasons people flock to the island. Fish such as Bream and Whiting are often caught during the summer months, while swallowtail is caught year-round depending on the weather conditions.
Even in winter, the fishing population is strong and seasoned anglers come from abroad to try their hand at catching a meal or two.
If fishing from the shore is not your thing how about try your hand at one of the more than 100 freshwater lakes that are found across the island.
Of course, you must explore the rain forest and see all the wildlife and different types of plants that it has to offer.
It can also give you a break from the sun on a hot summer day. In addition, there are many dining options on the island and all of them serve absolutely fantastic food.
Below are our top recommended trips for visiting Fraser Island:
23. Campervan Road Trip Up The East Coast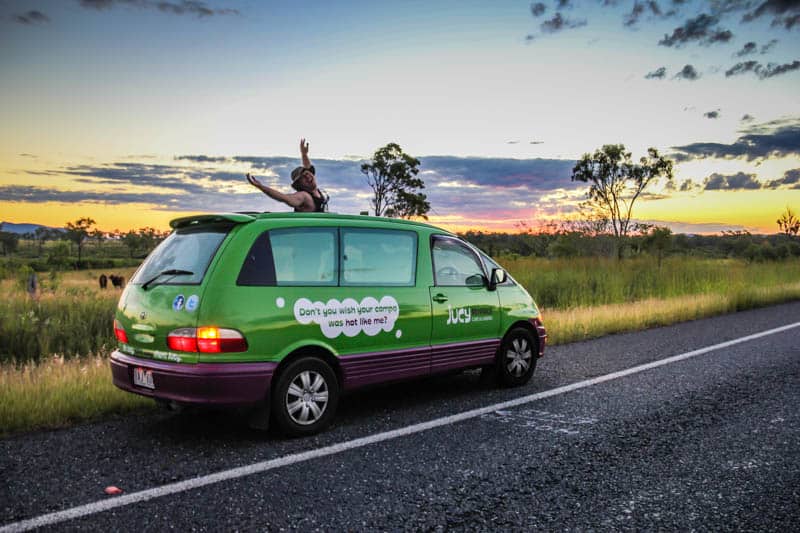 If you feel like loading up the family and saving a few bucks on a hotel room, then a campervan is your travel style.
Many sites offer travel itineraries specifically for camper vans in cities such as Brisbane, Cairns, Perth, and Sydney.
You can choose from a five or seven-day itinerary that is broken down into different things to see and do as you roll across Australia.
You could also take 6 weeks, as we did, and extend your adventures in Eastern Australia all the way up the coast from Melbourne to Cairns, or with even less time you could consider a road trip from Melbourne to Sydney.
The vantage of this type of travel that you get to see Australia on your terms. There is no rushing to the airport or trying to get to a bus stop or tourist shuttle by a particular time.
You get the luxury of traveling at your own pace, visiting the attractions on your own time schedule.
Many people use this form of travel particularly if they're going to be in a certain city for days or weeks on end as it allows them the freedom to move about and even explore further beyond the boundaries of their holiday destination.
Overall, this is a great way to split travel costs with a group of friends or family and enjoy all of the natural and man-made attractions that Australia has to offer.
Related Article: Should I Rent a Jucy Campervan in Australia?
24. Dive on the Great Barrier Reef
One of the best things to do in Australia is, of course, the Great Barrier Reef. It is one of the seven natural wonders of the world after all, and for good reason.
Hundreds of species of fish and thousands of other types of aquatic wildlife beckon and call around every turn of the coral and under every rock that lies at the bottom of the ocean floor.
Swim with sea turtles and even glimpse a shark or two as you kick your way around one of the most spectacular underwater destinations in the world.
There are many charter companies and excursion outfits that make daily trips, so finding a good one will definitely not be a problem. One visit and your appetite for adventure will remain wet for a very long time afterward.
Related Article: Facing my Fears on the Great Barrier Reef
You can not visit Australia without visiting the Great Barrier Reef, its hands down one of the top things to do in Australia. Below are simply the best tours for visiting the Great Barrier Reef.
25. Visit Jervis Bay & Boodooree National Park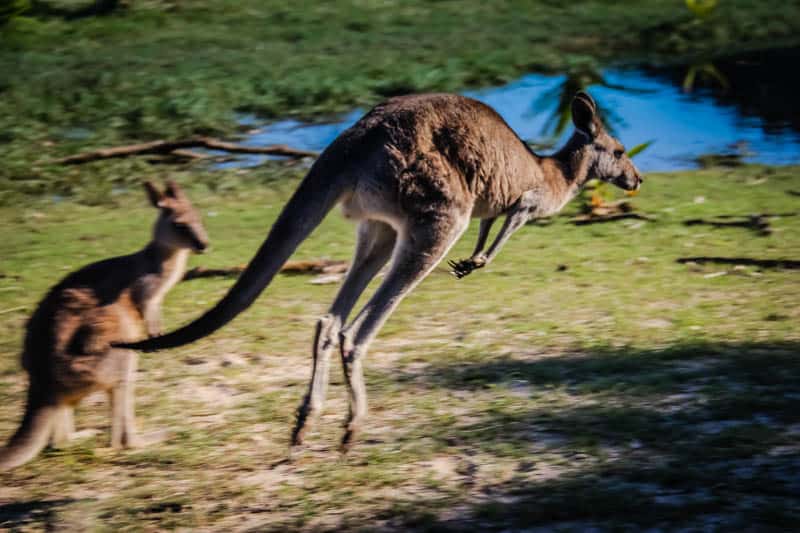 Our favorite camping was the 5 days we spent at the Boodooree National Park near Jervis Bay. The campgrounds were quiet and the scenery spectacular.
We spent our days here hiking and walking the beaches. It's a great place for bird watching, we were able to spot more than 20 species during our stay!
Jervis Bay is also a popular area for recreating in the ocean. There are plenty of small shops in town too.
---
Of course, this list is not exhaustive and really only scratches the surface when it comes to all the great things there are to do in Australia.
More on Australia:
Did you like this story? Share it!