Located 600 miles north of Brisbane and 385 miles south of Cairns, Airlie Beach might be remote and isolated, but it's also one of the top tourist destinations in Queensland.
If you find yourself driving from Brisbane to Cairns, or vice versa, this is a must-visit stop along the way.
The small coastal community might be in the middle of nowhere, but this is where you can find the beautiful Whitsundays, a spectacular archipelago of sand isles, and coral atolls that form part of the much wider Great Barrier Reef.
From sailing trips to epic scuba diving sites, here are the best things to do in Airlie Beach, Australia!
Don't leave home without: Lonely Planet Australia (Travel Guide)
---
15 Epic Things to do in Airlie Beach
---
1. Sail the Whitsundays
Airlie Beach is a great little coastal town, but the real reason to travel here is to visit the incredible Whitsunday Islands found just offshore.
In fact, we'd easily go as far as to say that the best things to do in Airlie Beach will always involve the Whitsundays.
This complex archipelago is home to countless small islands, atolls, inlets, beaches, and reefs, and the best way to experience the area is to join a sailing trip.
This is exactly what we did, sailing on the Anaconda III (pictured above) for 5 days. We visited secluded beaches and went scuba diving on the Great Barrier Reef. It was paradise.
There are plenty of options on offer: you can take day trips in small yachts or join larger, multiday expeditions with other travelers to get far afield and off the beaten track.
The best Whitsundays sailing trips from Airlie Beach:
2. Join a Catamaran Trip
Another fantastic way to explore the Whitsundays is to join a catamaran tour. Faster than a sailing yacht, and usually much larger, catamaran trips are a great way to see the Whitsunday' highlights if you're short on time.
You'll visit the most popular beaches, such as Whitehaven Beach, and you'll have the chance to snorkel the Great Barrier Reef before enjoying cold drinks and a classic Aussie barbecue on your way back to the mainland.
These are the best catamaran trips from Airlie Beach that include Whitehaven Beach or the Whitsundays:
3. Take a Scenic Flight Over the Whitsundays
If budget isn't a problem, one of the best things to do in Airlie Beach is to take a scenic flight over the Whitsundays.
While the islands look fantastic from sea level, to really view the Whitsundays in all their glory, the best vistas are going to be from the air.
Take a light aircraft or even a helicopter flight above the islands for beautiful views!
These are the best scenic flight tours over the Whitsundays:
4. Snorkel the Great Barrier Reef
The reef system here is all part of the Great Barrier Reef, so of course, one of the best things to do in Airlie Beach is snorkeling.
Many of the sailing trips and boat trips will give you the chance to go snorkeling. There are so many great spots out there amongst the Whitsundays that you'll be guaranteed to see some amazing marine life.
These are the best Great Barrier Reef tours from Airlie Beach:
5. Dive the Great Barrier Reef
But snorkeling might not cut it for everyone, in which case, there are so many excellent scuba diving opportunities, too. One of the best things to do in Airlie Beach is to dive the Great Barrier Reef.
This is one of the best places in the world for diving! Join diving trips in Airlie Beach, but if you haven't got your qualifications yet, you can learn to dive with the local diving outlets.
Read about our experience of scuba diving on the Great Barrier Reef during our sailing trip from Airlie Beach.
6. Relax at Airlie Beach Lagoon
You might have noticed that it's hot in Queensland – it's scorching and super humid for most of the year. The great thing is that there's a public swimming pool right by the beach that anyone can use to cool off!
Airlie Beach Lagoon is the perfect place to relax, with views out over the marina and the ocean, and ice-cold water to swim in. It's cold, refreshing, and best of all, there are no jellyfish to worry about!
Feeling a-little adventurous? Check out these tours:
7. Skydive Over Airlie Beach
One of the best things to do in Airlie Beach is skydiving; the views are out of this world!
You can sign up for skydiving flights, jump tandem with instructors, or even progress your way through the whole course to jump solo if you've got the time and money (it's not a bad place to learn, after all!).
A skydiving flight will see you taken up high above the Whitsunday Islands. You'll have incredible views over the islands and the Great Barrier Reef as you descend back to Airlie Beach.
Book your own skydive experience over Airlie Beach today!
8. Marvel at Colorful Whitehaven Beach
The most famous place to visit in the Whitsundays is Whitehaven Beach. This iconic beach is located on Whitsunday Island.
If you've ever seen a picture of the area, chances are it's going to be a picture of Whitehaven Beach. There are almost five miles of soft, blisteringly white sand stretching along the ocean.
From the shore, you have views over the tidal sandbars, startlingly colorful in the bright sunlight.
Almost all sailing trips and catamaran tours from Airlie Beach will call in at Whitehaven Beach, as this is a must-visit destination when you're exploring the Whitsundays!
These are the best tours of Whitehaven Beach from Airlie Beach:
9. Spend the Night at Hamilton Island
One of the best things to do in Airlie Beach is to explore Hamilton Island. This is one of the most famous destinations in Queensland; this large island is simply spectacular.
Part of the wider Whitsundays, this is one of the few places where you can spend the night within the archipelago itself, and not on a boat.
Hamilton Island has a dedicated resort surrounded by coral reef and jungle. The island is packed with wildlife, and it's totally car-free, despite the resort.
You can snorkel or dive off the coast and enjoy the colorful Great Barrier Reef before hiking through the bush in search of kangaroos and wallabies!
Best places to stay on Hamilton Island:
10. Be Amazed by Heart Reef
There are thousands of atolls and islands in the area, but one of the most unique spots to visit is Heart Reef.
This small coral reef is so-called because it looks exactly like a heart! For that reason, the reef has become a popular palace for couples.
It has seen everything from marriage proposals to wedding pictures taking place.
The only problem is that all this romance has to happen from the air because the heart-shaped reef is part of a protected area where you aren't even allowed to snorkel!
Book your adventure today to Heart Reef from Airlie Beach.
11. Walk the Bicentennial Walkway
One of the best things to do in Airlie Beach is to walk the Bicentennial Walkway to see more of the town itself.
This lovely two-mile-long pathway follows the coast, passing through the marina and alongside Airlie Beach's best local beaches.
The whole pathway takes around one hour to walk, but you can stop off on the way at bars, cafes, restaurants, the Airlie Beach lagoon, and all the local shops and pubs en route!
One of the best tours offered in Airlie Beach is the Whitsundays Segway Sunset and Boardwalk Tour with Dinner.
12. Swim at Cedar Creek Falls
Next to Airlie Beach, you can explore the beautiful protected landscapes of Conway National Park. This exceptional area is home to one of the best things to do in Airlie Beach, Cedar Cree Falls.
Hidden by the rainforest, you can enjoy the refreshing waters of Cedar Creek without worrying about jellyfish or crocodiles.
It's a safe, stunning place to cool off after hiking through Conway National Park. It's a quiet spot to enjoy, surrounded by jungle and enclosed by tall rocks, over which the waterfall crashes down.
Head here during the day when everyone else is out exploring the Whitsundays; you'll have the place to yourself and a few locals!
Want to visit Cedar Creek Falls from Airlie Beach? Check out this must-do tour: Tropical Rainforest & Waterfalls | Eco Experience | Airlie Beach, Whitsundays
13. Venture on a Crocodile Safari
There are crocodiles in this part of Queensland! If you head on a crocodile safari, you'll see these enormous reptiles in their natural habitat.
Crocodile safaris head along the local waterways, guided by local boat captains who know the best places to spot them.
It's a real experience, as you'll learn more about the fascinating habits of these dangerous creatures and see parts of the nearby wilderness you wouldn't otherwise make it out to.
Book your Crocodile Safari today.
14. Visit the Town of Proserpine
Head inland, and things are very different from the coastal climes of Airlie Beach. Just a short journey away from Airlie Beach, you can call into the small town of Proserpine.
Visit the Proserpine Museum to learn more about local history before heading to the Whitsunday Gold Coffee Farm to learn about local agriculture and try some of Queensland's best coffee!
Nearby, you have the Proserpine Lake, a favorite spot for fishing. You can also spend the day at the local waterpark if you're looking to cool off.
Looking to explore Airlie Beach, we suggest renting a bike.
15. Explore Horseshoe Bay
The next town north of Airlie Beach is Bowen, where you'll be greeted on the highway by a giant mango. Bowen is, of course, famous for its mangoes, and you'll find there are plenty of opportunities to try fresh mangoes in the town.
Once you've sampled the local mangoes, head to Horseshoe Bay. Here you'll find a beautiful stretch of sand to rival anywhere in Airlie Beach, but there will be none of the tourist crowds that you have further south.
You can relax on the beach, enjoy the local cafes, and marvel at the spectacular views over the Pacific Ocean!
Book your adventure to Horseshoe Bay (Bowen).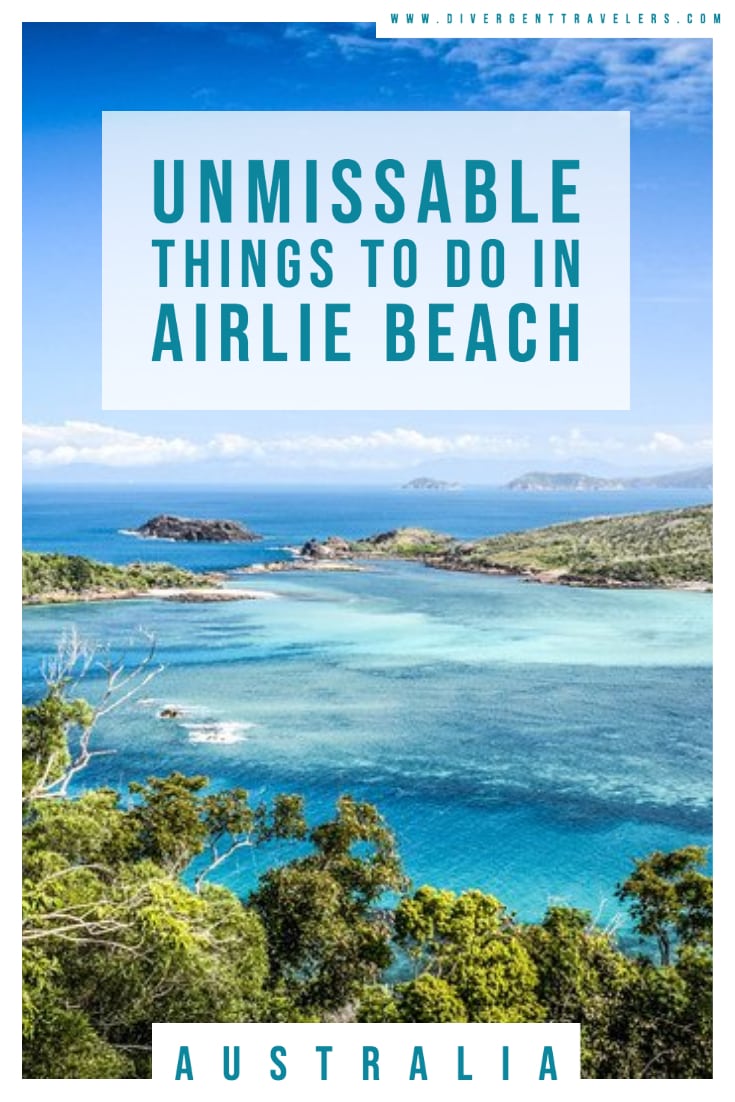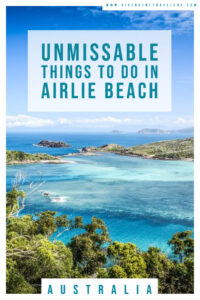 More on Australia:
Did you like this story? Share it!