Protected by the Daintree National Park, the Daintree Rainforest is one of Australia's most impressive natural attractions. It's also a UNESCO World Heritage listed site.
This vast area of ancient rainforest is the oldest continually growing rainforest in the world, dating back millions of years, and unchanged in centuries.
Part of the wider wet tropics region of northern Queensland, the Daintree Rainforest is home to a complex array of flora and fauna.
You can cruise along the Daintree River in search of crocodiles, hike through mangroves, or enjoy the pristine, white-sand beaches of Cape Tribulation, where the rainforest meets the Great Barrier Reef.
There's nowhere else quite like it in the world, so to inspire your journey, here's our guide to exploring Daintree National Park.
Don't leave home without your Lonely Planet Australia travel guide.
---
Daintree National Park Planning Tips
---
Where is the Daintree National Park?
The Daintree National Park is located in Far North Queensland. Covering around 500 square miles, the Daintree Rainforest is part of a much wider ecosystem of rainforest and tropical wetlands.
The Daintree grows right up to the sandy beaches of the coast and inland.
How to Visit the Daintree National Park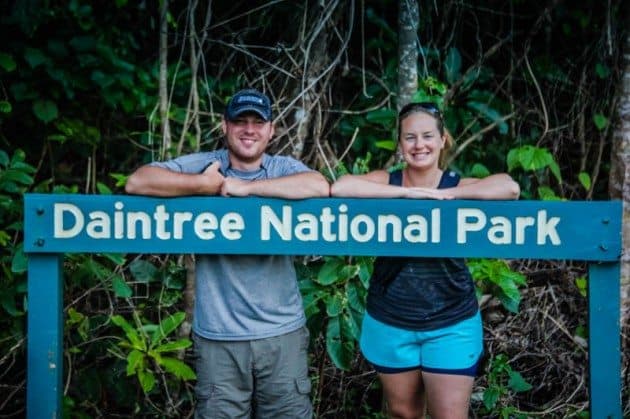 The Daintree Rainforest is just about as far north as most travelers get when driving up the east coast of Australia.
This is literally where the roads end; beyond this, there are only four by four tracks and rainforest leading towards the remote Cape York Peninsula.
There's only limited accommodation options within Daintree National Park and the surrounding area, so most travelers will visit on a day trip from either Cairns or Port Douglas, both of which are found to the south.
Cairns is 2.5 hours to the south, while Port Douglas is slightly closer, at 1.5 hours away. You don't need a four by four to see the major sights, as there's a paved road into the Daintree National Park.
You do have to cross the Daintree River on a small ferry, as there are no bridges. If you head further north towards Cooktown, you have to have a four by four.
If you don't have your own vehicle, there are plenty of day tours in buses or four by four buses that depart regularly from Cairns and Port Douglas.
Looking to explore the Daintree Rainforest & the Cape Tribulation on a guided tour? Check out these top recommended tours.
Best Time to Visit the Daintree National Park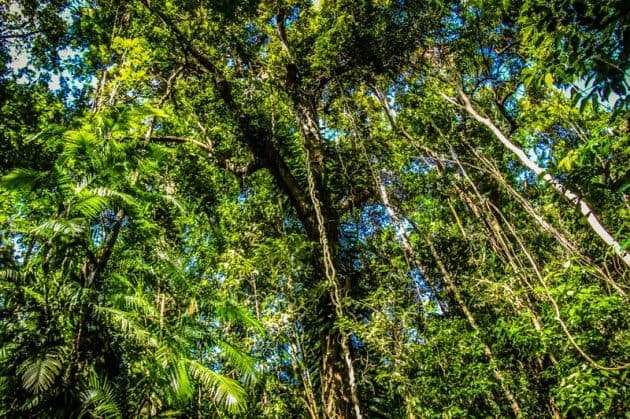 Far North Queensland is tropical country, which means there's a wet and a dry season. The seasonal differences can be fierce, and it's not advised to visit this part of Australia when the rains are here!
The rainy season can be unpredictable but officially runs from November through to April. This is Australia's summer, so as well as tropical storms and rain, it's unbearably hot and humid.
Roads are often closed, while flash flooding can be dangerous, even in Cairns. There are crocodiles everywhere, too.
If you're here to see the Great Barrier Reef too, then you probably won't get out on a boat in the wet season!
The dry season is a much more pleasant time to visit, with fewer dangers and no rain. May to October is the peak tourist season of course, but there's no avoiding that.
Explore the magnificent nature of Northern Queensland on this eco-friendly safari: Full Day Rainforest 4WD Tour from Cairns
---
14 Best Things to do in Daintree National Park
---
1. Mossman Gorge
One of the best things to do in Queensland is hike along the Mossman Gorge. The Daintree is split into two major sections, either side of the Daintree River.
Mossman Gorge is located on the side closest to Cairns and can be visited on a separate trip to the main national park areas.
Start at the Mossman Gorge Visitors Centre, where you'll walk over a beautiful suspension bridge over the gorge. On the other side, you join a walking loop through the rainforest.
A great way to learn more about the indigenous culture is to join a Dreamtime walk through Mossman Gorge with local guides.
The gorge has a special place in Aboriginal culture and history, so it's good to learn about this!
Want to explore Mossman Gorge? Check out these top tours.
2. Daintree River Cruise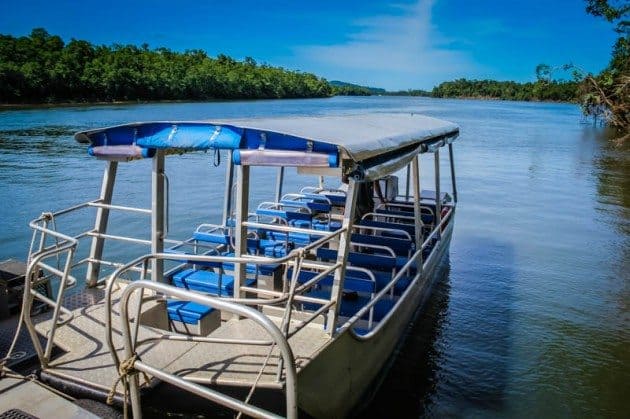 To cross into the Daintree National Park, you need to take a ferry over the Daintree River. But before you get over the water, you should take a boat ride along the river itself.
This area is notorious for the number of crocodiles that call it home. If you want to see a saltwater croc in its natural habitat, you're going to see it here.
You can join a cruise with a local boat captain who knows the river well – and where to find the biggest crocodiles! We went with Bruce Belcher's Daintree River Cruises.
The cruises don't take more than an hour and are a good start to your rainforest adventure.
When visiting the Daintree National Park you have to take a river cruise in search of crocodiles, below are two of the best tours we recommend.
3. Walu Wugirriga Lookout
As soon as you cross the Daintree River, you'll be able to stop off at the Walu Wugirriga Lookout for outstanding views over the rainforest.
The road rises sharply, and from the lookout, you can see both the rainforest and the ocean ahead of you. It's a beautiful entrance to the Daintree National Park!
If you are someone who loves amazing views you have to join this tour, Cairns Rainforest Hiking Experience Incredible Mountains Remote Waterfall
4. Daintree Discovery Centre
The Daintree Rainforest is the oldest rainforest in the world. If you want to learn more about this epic history stretching back millions of years, call into the Daintree Discovery Centre when you make it over the river.
Learn about the geology, the ecosystems, and the ancient history of this vast rainforest, which was here millennia ago – long before humans ever arrived.
For those who'ed love to learn more about the rich culture, you need to join this tour: Aboriginal Cultural Daintree Rainforest Tour from Cairns or Port Douglas.
5. Thornton Beach
The first beach you reach as you drive over the Daintree River is Thornton Beach. This beautiful stretch of sand is a great place to see the beauty of the Daintree.
You can admire how the rainforest grows right up until the sands start to stretch down to the ocean.
Be vigilant if you decide to swim here; it's not recommended. Jellyfish and crocodiles are the primary reasons!
In search of waterfalls in the Daintree or the Tablelands below are two of the top tours that will take you to the area's best waterfalls.
6. Mason's Cafe Swimming Hole
If you do want a swim (it's hot, so you're going to want to cool down!), head to the swimming holes instead. The best one is found by Mason's Cafe. Grab a drink or lunch at the café, then head to their private swimming area.
It's a natural freshwater hole that's ice-cold with crystal clear water. Crocodile and jellyfish free, it's totally safe to swim in.
7. Rainforest Walks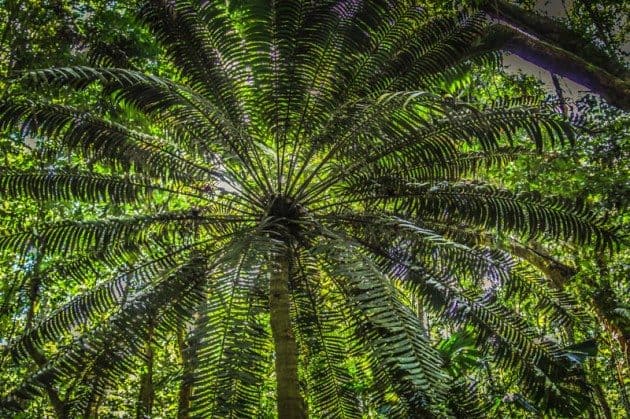 One of the best tours you can join is a rainforest walk with aboriginal elders to learn more about the Daintree Rainforest.
Learn about the history of the rainforest and the local people that have called the Daintree home for thousands of years.
Intrepid travelers can even join a nighttime walking tour through the rainforest. This is when the rainforest really starts to come alive.
Don't have a full day to explore the Daintree Rainforest? No worries the tours below are only half-day tours.
8. Daintree Eco Lodge
If you're looking for a bit of luxury, head to the Daintree Eco Lodge, where you'll enjoy a unique spa experience within a rainforest setting.
Daintree Eco Lodge is famed for its mud treatments – local aboriginal spa treatments used for thousands of years. Learn more about the local culture while also getting a bit of pampering.
Just imagine what you would experience by staying at the Daintree Eco Lodge for a night or even a few days.
9. Daintree Ice Cream Company
Amongst the rainforest, there's also an ice cream company to visit. It's a bit of a strange setting, but the ice cream is absolutely delicious.
They use all the exotic fruits you would expect from the Daintree Rainforest to mix some truly wonderful taste and flavor combinations.
After a hot day of exploring the Daintree Rainforest, you can't beat some locally-made ice cream!
Are you a foodie or is someone your traveling with is? Check out the tours below.
10. Daintree Entomological Museum
The Daintree Rainforest is home to a vast number of different species. While you might not want to come face to face with the spiders and insects, at the Entomological Museum, you can see them in a less intrusive environment!
The Daintree Entomological Museum is dedicated to collecting and displaying as many different species of bugs as they can collect from the surrounding rainforest.
It's a great place to learn more about Australia's feared spiders and insects!
Most travelers only see the Daintree Rainforest from the ground but just imagine what the views are like from a Hot Air Ballooning Tour from Cairns.
11. Dubuji Boardwalk
Take a walk along the boardwalks and get right into the rainforest by Cape Tribulation. This excellent boardwalk will take you through the mangroves and trees, raised safely above the floor below.
It's a pleasant if humid walk that will bring you closer to the nature of the Daintree Rainforest.
12. Cape Trib Exotic Fruit Farm
The tropical climate makes the Daintree the perfect place to grow all sorts of glorious fruits.
Visit the Cape Trib Exotic Fruit Farm if you want to try some truly exotic varieties of fruit while you're in the national park!
13. Cape Tribulation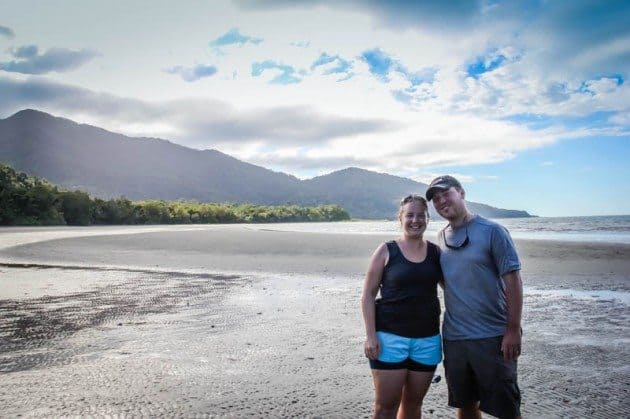 Located further north, you can reach Cape Tribulation by paved road. After this, the roads turn into dirt tracks. This wonderful, sandy beach is where the reef meets the rainforest.
It's where Captain Cook began floundering in the water as his ships sailed along the east coast of Australia for the first time.
Captain Cook named the area Cape Tribulation for the challenges he faced trying to escape the reef.
It's a beautiful place, but even today it can be dangerous. Don't go swimming here; if the jellyfish don't get you, the crocodiles will!
Recommended Tour: Atherton Tablelands Rain Forest by Night from Cairns
14. Search for Cassowary Birds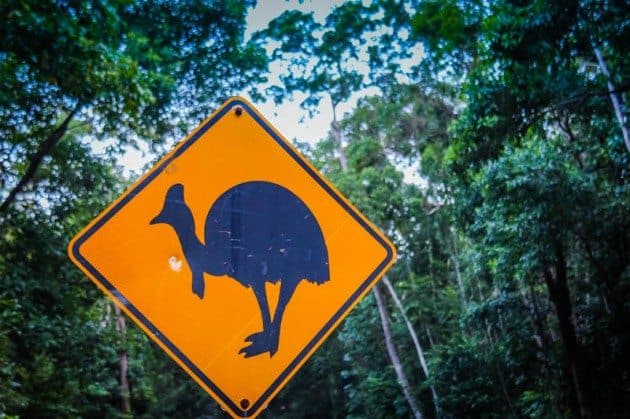 Caution: Cassowary Crossing. I know what you are thinking, what in the hell is a Cassowary? I thought the same thing the first time I read about them in the Lonely Planet book for Australia.
Apparently, they are a huge, prehistoric-looking bird that resembles an ostrich and has a long toe that is sharp enough to sever off your limbs or disembowel you in one stroke.
So, naturally, I was fascinated by this animal and made it my mission to search for one.
This would involve spending a day hiking through the various walking trails in the Daintree Rainforest about 2 hours North of Cairns.
We knew that going on a tour would limit our chances of seeing this elusive creature so we made up our minds to rent a car and make our own adventure for the day.
I'll preface this by saying we all knew the reality of finding a Cassowary was slim, but we scouted the best areas to see them and asked the locals each time we stopped if there had been any sightings recently.
Occasionally they cross the roads and they are easy to spot in the surrounding woods for the next few days. The information wasn't looking promising but we had fun looking anyways. Spoiler: we never found one.
You are going to see a lot on a day trip but just think what you could see on a two, three, or even on a five-day trip.
---
Getting Lost in the Daintree Rainforest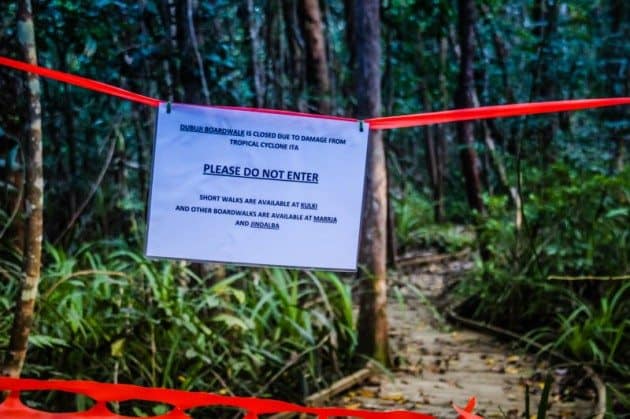 Cyclone Ita had hit the area a few weeks before we arrived leaving most of the Daintree Rainforest underwater. This made for some interesting hikes that day as we would start down the trails only to come to roadblocks.
Instead of turning around, the boys decided to make detours that sent us off into the rainforest. I tend to be quite nervous about stuff like this, I don't like snakes and I really don't want to end up lost.
So wandering off the path, in the middle of a rainforest, wasn't my idea of a good time. On the second hiking path we stopped at, there was an option to take a longer hike so we followed the boardwalk towards that path.
Part of the way on the trail, the boardwalk just ended. We knew we had read the map correctly, but the boardwalk literally just disappeared leaving nothing but thick rainforest to walk through.
I may have felt differently had there been a path, but it was pretty questionable. The only thing to mark the 'trail' was fluorescent ribbons tied to trees every 20m.
I stood there, questioning my sanity, as the boys walked forward following the ribbons. I could turn back and go sit in the car, praying they didn't get lost, or join them and pray we all didn't get lost.
After an internal struggle, I pushed on after the boys.
Crossing Creeks in Crocodile Country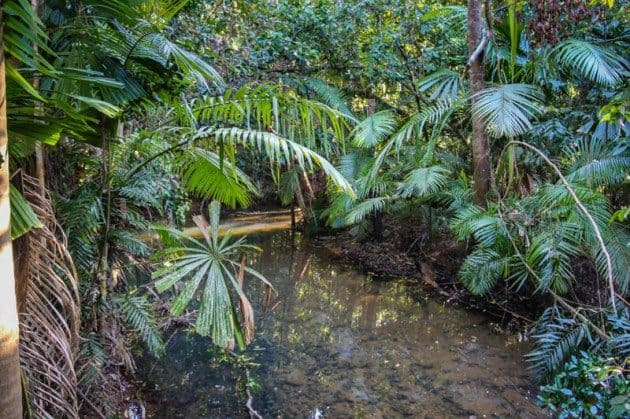 Our decision turned into quite an adventure for us. We were pretty successful in following the markers but at one point they ceased to exist.
If I had feathers, they'd be ruffled AND inside out at this discovery. This sent us on a bit of a goose chase to find the path again.
We found ourselves attempting to cross a creek, which involved climbing over a log and leaping if you didn't want to get wet.
Well, as graceful as I am sometimes, I cleared the log but missed the jump and sunk straight up to my knee in muddy creek water before falling backward.
The only thing going through my mind at that moment was… CROCODILE.
I realize now that this thought was beyond ridiculous as the creek was maybe 3 feet wide and maybe a foot deep, but in the heat of the moment, man, I thought I was a goner.
Picking myself back up and brushing my momentary freak out aside we pushed on, still in search of the markers.
Paranoia in the Rainforest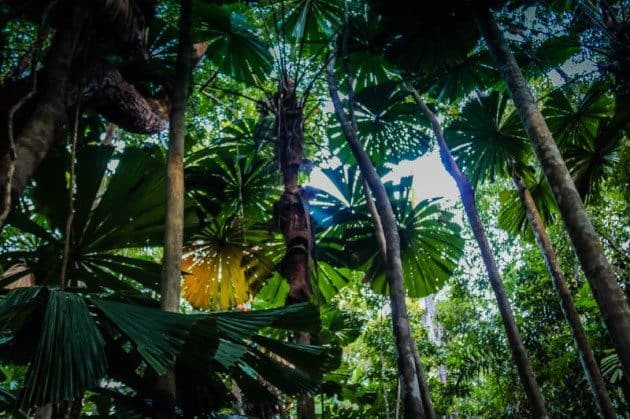 Walking through a rainforest, slightly lost, makes you start thinking in weird ways. I started thinking about what would happen, exactly, if we were to come across a Cassowary at that very moment.
We wouldn't be able to defend ourselves. We would just have to hope we didn't piss it off and back away slowly as not to provoke it. I couldn't imagine bearing witness to it slicing off people's arms.
Shortly after those thoughts, we spotted another tree marker. By this point I was getting ready to turn back, we had been walking for a while and hadn't come back to any real path.
But before I could open my mouth to express my thoughts on the matter, we entered a clearing that was the end of a vehicle road that cut clear through the rainforest.
This was a relief for me, at least we could follow the road back to civilization. As we walked through the open land towards the road, I caught something out of the corner of my eye.
I turned my head and was quite surprised to see a large cage sitting there. Yes, a cage, big enough for people.
Did we find the Dharma Initiative?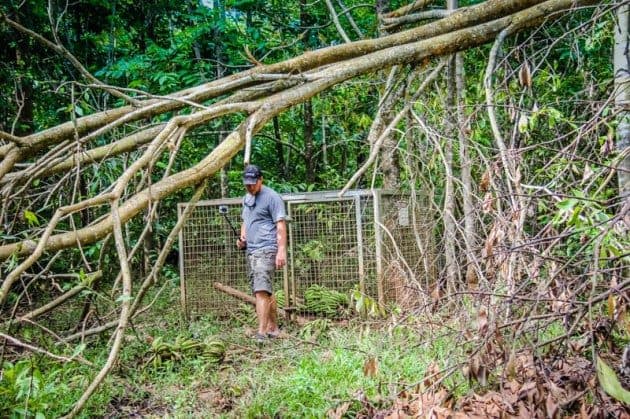 This instantly reminded me of the TV show, Lost, and the huge cages used by the Dharma Initiative people. One word, creepy.
Boys will be boys, and they trotted over to have a closer look. The case was fairly new and filled with large bunches of green bananas.
The park service, or maybe some Bogans (slang Aussie term for hillbillies) were obviously trying to catch something and I don't think it was the Cassowaries.
After mulling it over and trying not to trigger the trap, we came to the conclusion that it was wild boars they were targeting.
Our theory was proven stronger by the discovery of boar tracks on the road while we walked, hoping it would lead us back to the car park.
10 minutes later, we met a paved road and noticed we had exited the forest well beyond where the car park was.
This was strange, we had covered a huge amount of ground and very clearly, went the wrong way.
The path surely wasn't the extended hike but good thing for us, the park service had it marked for their use and we were able to navigate our way out of the Daintree Rainforest that day.
Where to Stay in the Daintree National Park
Staying within the Daintree Rainforest is truly a magical experience and also a once in a lifetime experience. There's no other place in the world like the Daintree Rainforest and to tell you the truth you can't truly feel it until you spend the night surrounded by nature, so stay a night or two nights among nature at one of our best places to stay in the Daintree Rainforest.
Daintree Eco Lodge – Situated in the heart of the Daintree Rainforest is the Daintree Eco Lodge. This amazing lodge offers a tropical rainforest retreat in a breathtaking location. Wake up among the sounds of tropical birds that call the rainforest home, take in the majesty of this ancient tropical wilderness.
Daintree Cascades – Located in the tranquil Daintree Rainforest along a private crystal clear creek is the Daintree Cascades. These two private cabins are perfect for anyone who is looking for a true rainforest experience but with a touch of luxury among nature. This is the perfect place for Daintree getaway. Explore nearby Cow Bay, Thornton Beach, The Daintree Rainforest, and the Daintree Discovery Centre.
Ferntree Rainforest Lodge – If you are looking for a great budget option for staying right in the Daintree Rainforest we suggest staying at the Ferntree Rainforest Lodge. This eco-friendly resort is located in the heart of the lush coastal rainforest and is a short walk from Cape Tribulation's beach and its famous mangrove boardwalks.
Not finding what you are looking for? No worries we have a custom hotel aggregator that searches for the best deals at eco-friendly lodges, hotels, cabins, and lodges all located within the Daintree Rainforest.
More on Australia:
Did you like this story? Share it!