Cape Tribulation is the furthest north you can venture into the Daintree Rainforest without a four by four. This remote part of Far North Queensland makes for a unique, eco-friendly destination.
Surrounded by ancient rainforest and steeped in both Aboriginal and European history, Cape Tribulation is a beautiful place to explore.
Visit the long, sandy beaches and bays, watch for crocodiles along the rivers, or hike along boardwalks and immerse yourself in the nature of the Daintree.
To inspire your next adventure, here's our guide to visiting Cape Tribulation.
Don't leave home without: Lonely Planet Australia (Travel Guide)
---
Visiting Cape Tribulation in Australia
---
Where is Cape Tribulation?
Cape Tribulation is a coastal promontory located in the wet tropics of Far North Queensland. The cape is home to a small community that numbers no more than 200 residents and a few hundred tourists at any one time.
This remote destination is part of the Daintree National Park, a protected area that preserves the millennia-old Daintree Rainforest.
How to Get to Cape Tribulation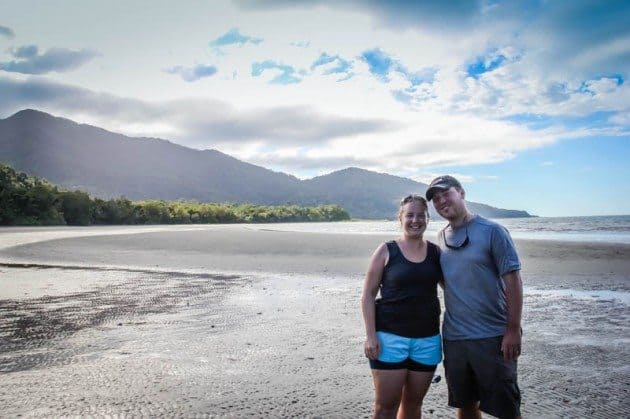 Cape Tribulation is a remote destination, even by Queensland's standards. The cape lies 80 miles directly north along the coast from Cairns, the main hub for tourism in Far North Queensland.
The tourist town of Port Douglas is slightly closer, with the cape found 50 miles to the north.
A sealed road leads all the way from Cairns to Cape Tribulation. The road passes through Port Douglas before you take a ferry over the Daintree River.
The sealed road ends just after Cape Trib. A four by four-track, known as the Bloomfield Track, then leads through the rainforest to Cooktown.
The easiest way to see the cape is to self-drive from Cairns or Port Douglas. You can visit on a day trip from either.
Most travelers will stop at Mossman Gorge and other locations within the Daintree National Park on their way north.
Unless you have a four by four and plenty of spare time on your hands, Cape Tribulation is the end of the road anyway!
If you don't have your own vehicle, plenty of day tours from Cairns or Port Douglas will stop at Cape Tribulation, so you can see the main sights.
You can spend the night at the eco-lodges or backpacker hostel in Cape Tribulation, but you'll need to organize your own transport there and back.
Looking to explore the Daintree Rainforest & the Cape Tribulation on a guided tour? Check out these top recommended tours.
Best Time to Visit Cape Tribulation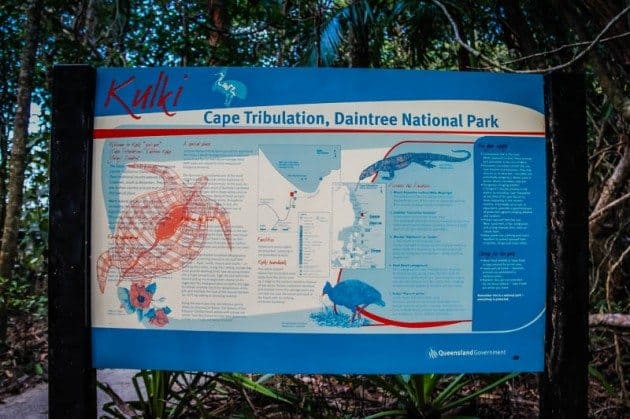 Cape Tribulation should only really be visited in the dry season, especially if you're driving a two-wheel drive and have no prior experience with the fierce, tropical wet season that hits Far North Queensland hard.
The dry season usually runs from April through October. While this is also peak tourist season, it's the safest time to visit.
During the wet season, roads can flood, crocodiles are incredibly active, and jellyfish crowd the water.
Huge cyclones can ravage Far North Queensland, and the roads are often closed for weeks at a time during the wet season – from November through to March.
Explore the magnificent nature of Northern Queensland on this eco-friendly safari: Full Day Rainforest 4WD Tour from Cairns
A Brief History of Cape Tribulation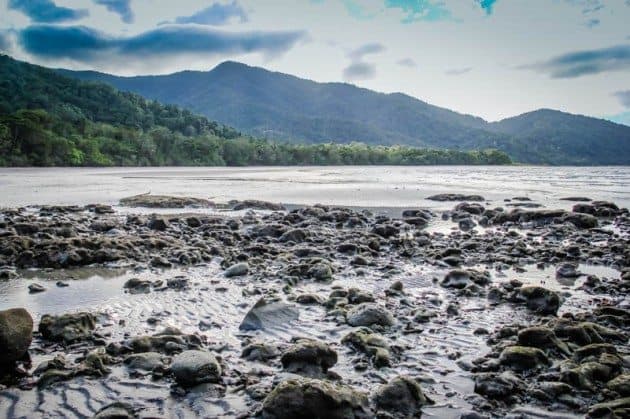 Cape Tribulation has been home to different Aboriginal groups for thousands of years.
The locals still form a major part of the community here in the Daintree Rainforest. There are several local languages, including Yalanji.
The indigenous groups suffered due to European exploration and expansion, but in recent years, they have helped protect their local environment and had the Daintree Rainforest declared as a UNESCO World Heritage Site.
European encounters began in 1770 when Captain Cook arrived on the Endeavour.
In fact, Captain Cook named the area Cape Tribulation because his ship struck the reef off the coast and was forced to make landfall for several weeks in the area to make repairs.
That reef would later become known as Endeavour Reef, a part of the much larger Great Barrier Reef.
Permanent European settlers wouldn't arrive until the late 19th century. Even today, there is only a small community of permanent residents that live and work in Cape Tribulation, such is its remoteness from the rest of Australia.
Top Recommended Tours:
---
Best Things to do in Cape Tribulation
---
There are some great things to do in Cape Tribulation itself, but don't forget to call into other popular destinations on your way north from Cairns, including Mossman Gorge and the Daintree River!
1. Myall Beach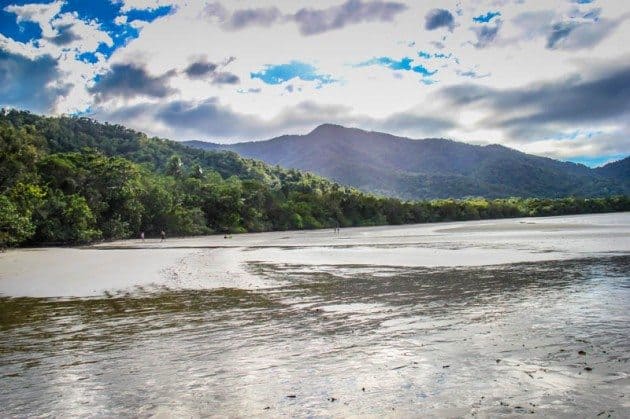 Myall Beach is the first beach you reach as you draw near to Cape Tribulation. This spectacular stretch of coastline is where the Daintree Rainforest meets the Great Barrier Reef.
Standing on the white sands of Myall Beach will put you in the middle of these two astounding natural areas, and the vistas will absolutely astound you!
Take a stroll along the beach and admire the reef on one side and the rainforest on the other. The nearby rainforest walk is amazing too. Kulki Boardwalk will take you through the trees and out onto the beach.
You can also join more in-depth, guided horseback tours that take you to the more remote stretches of Myall Beach and into the rainforest.
In search of waterfalls in the Daintree or the Tablelands below are two of the top tours that will take you to the area's best waterfalls.
2. Cape Tribulation Beach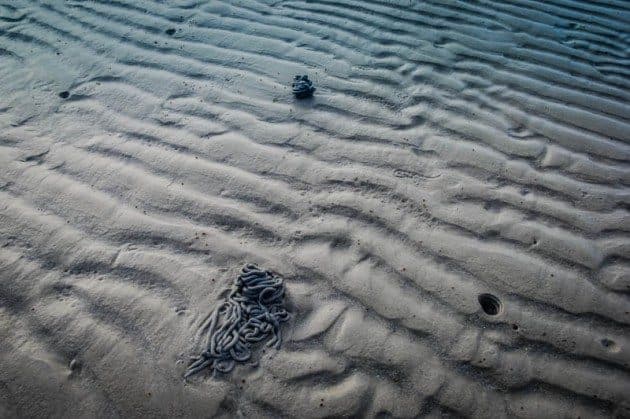 Across the ridge from Myall Beach, you'll find the equally spectacular white sands of Cape Tribulation Beach.
Again, you can look out over the Pacific Ocean to where the Great Barrier Reef begins. This is the same area of reef where Captain Cook almost lost his ship in 1770.
If the ship had gone down and never made it back to Britain, history could have been very different for Australia.
While the water might look inviting, be super careful of local warnings. This part of the ocean is a well-known haunt for local saltwater crocodiles and box jellyfish – both of which are deadly to humans!
Most travelers only see Cape Tribbulation from the ground but just imagine what the views are like from a Hot Air Ballooning Tour from Cairns.
3. Crocodile Cruises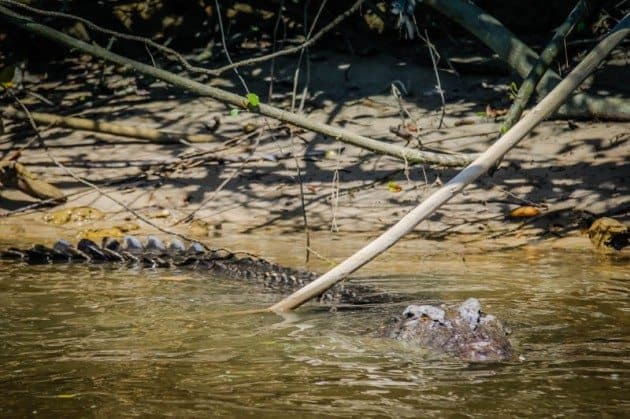 If you'd like to see crocodiles in a safer, but still wild environment, take a crocodile river cruise while visiting Cape Tribulation.
The best cruises take place on the Daintree River, which you'll have crossed over to enter the Daintree National Park.
On your way into or out of the park, take an hour to cruise along the river on a local tour with a local boat captain who knows the waters well.
You'll see huge saltwater crocodiles in the murky waters or sunning themselves on the banks.
The captains have great respect for these often misunderstood yet understandably dangerous creatures. You'll learn a lot from them about these fascinating reptiles as you cruise down the Daintree River.
When visiting the Daintree National Park & the Cape Tribulation you have to take a river cruise in search of crocodiles, below are two of the best tours we recommend.
4. Daintree Rainforest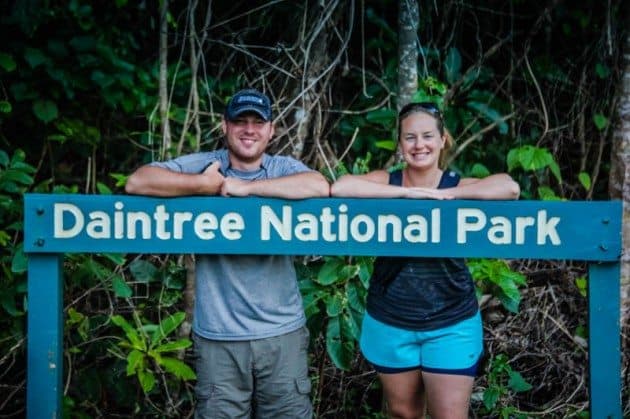 Of course, you can't visit Cape Tribulation without exploring the Daintree Rainforest. You'll see the rainforest on either side of you as you drive towards Cape Trib.
But you really need to join a rainforest tour to understand this unique ecosystem.
At Cape Tribulation, you can join locally guided tours that take you deep into the rainforest.
You'll learn about local history and culture and the different animals and plants that have been part of the Daintree for thousands, if not millions of years.
If you spend the night at Cape Tribulation, you could even join a night walk through the rainforest. It's spooky but enlightening because this is when much of the wildlife is at its most active!
Recommended Tour: Atherton Tablelands Rain Forest by Night from Cairns
5. Daintree Ice Cream
Cool down after exploring Cape Tribulation with some delicious local ice cream from the Daintree Ice Cream company.
The delicious, locally-produced ice cream comes in some unique, tropical flavors. It really won't disappoint in the humid heat!
Are you a foodie or is someone your traveling with is? Check out the tours below.
6. Mason's Swimming Hole
If you're looking for a refreshing (and safe!) place for a swim, take a dip at Mason's Swimming Hole. This clear, cold creek is a natural swimming area part of Mason's Cafe.
Have a few cold drinks or a bite to eat, then head down to the creek for a swim. There are no crocodiles or jellyfish to worry about!
7. Mt Sorrow
Mt Sorrow is the tall peak that looms over Cape Tribulation. If you're fit and prepared to get sweaty, you can make the hike to the summit and back in a day.
It's only seven kilometers there and back along the same trail, but it's a tough uphill slog through thick vegetation.
There are no supplies or water holes on the route, so take plenty of food and water with you. Start early to avoid the worst of the heat.
When you reach the final summit and lookout along the ridge, you'll be able to enjoy beautiful vistas encompassing Cape Tribulation and much of the Daintree Rainforest.
If you are someone who loves amazing views you have to join this tour, Cairns Rainforest Hiking Experience Incredible Mountains Remote Waterfall
8. Bloomfield Track to Cooktown
From Cape Tribulation, take the 19-mile long Bloomfield Track, which leads through the rainforest to Cooktown.
The track is only accessible by four-wheel drives, and you'll find the state of repair or disrepair can vary dramatically, especially if it's been raining.
Be prepared for an off-road adventure if you decide to travel further north from Cape Tribulation.
You are going to see a lot on a day trip but just think what you could see on a two, three, or even on a five-day trip.
---
Our Experience at Cape Tribulation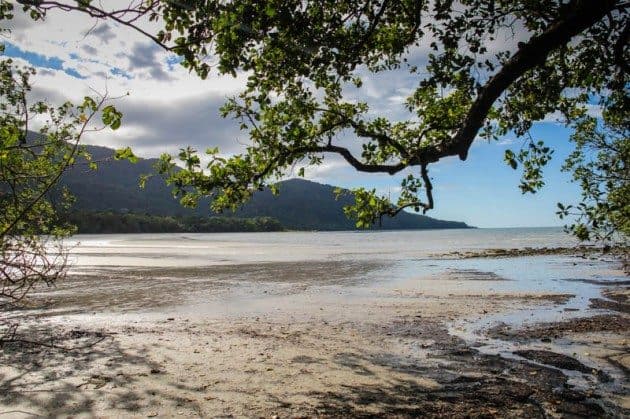 When we first arrived in Cairns we weren't sure we would make the trip up to Cape Tribulation.
Mainly because we no longer had the luxury of our own wheels. We had turned in the campervan and were down to our own two feet for the rest of our time in Australia.
After looking at many tour options and contemplating whether we wanted to put the money out for an official tour we were left undecided.
The tours were expensive with two of us and the budget was starting to protest after being in Australia for nearly 5 weeks. We ultimately ended up renting a car with two fellow travelers we had met on Fraser Island and planning our own tour of the Daintree Rainforest and Cape Tribulation.
As far as remoteness goes, Cape Tribulation takes the cake. It is as far North as you can travel in North Queensland before hitting unpaved paths.
After spending the day working our way North on the windy roads, crossing a crocodile-infested river on a car ferry and driving through one of the most remote rainforests in the World, we finally arrived at the notorious Cape Tribulation. And it didn't disappoint.
The sheer beauty of this part of the World is hard to put on paper. I have never seen anywhere else that is quite like it.
The oldest Rainforest in the World consumes the land and mountains all the way to the beach where it becomes sand and then turns into the vast expanse of the ocean.
Where to Stay in Cape Tribulation
Staying within the Cape Tribulation wilderness area or the Daintree Rainforest is truly a magical experience that many visitors miss out on by just taking a day trip. Its a once in a lifetime experience spending a night or two surrounded by nature, below are our three favorite places to stay within Cape Tribulation.
Daintree Eco Lodge – Located in a breathtaking location the Daintree Eco Lodge offers visitors a tropical rainforest retreat situated in the heart of the Daintree Rainforest. It is unlike anywhere else, enjoy the sounds of tropical birds that call this amazing rainforest home and take in the majesty of this ancient tropical wilderness that so many other visitors are missing out on.
Daintree Cascades – If you are looking for the ultimate rainforest experience you should look at staying at the Daintree Cascades. Their small property offers visitors a true rainforest experience with a splash of luxury. The Daintree Cascades is located along its own private crystal clear creek and you can easily explore nearby Cow Bay, Thornton Beach, The Daintree Rainforest, and the Daintree Discovery Centre.
Ferntree Rainforest Lodge – Nestled among the Daintree Rainforest the Ferntree Rainforest Lodge is one of the area's most popular budget options for staying within the Cape Tribulation area. This eco-friendly resort is situated right in the heart of the lush coastal rainforest and is just a short stroll from the popular Cape Tribulation beach and its famous mangrove boardwalk.
If you not in love with any of the places we suggest you should check out our custom hotel aggregator where you can search for hot deals on all of Cape Tribulations areas hotels.
More on Australia:
Did you like this story? Share it!