So, we flew to Australia with the intention of spending 4 weeks backpacking in Australia from Melbourne to Cairns in our Jucy campervan. 8 weeks later we boarded a flight to Indonesia.
Yes, we spent 8 weeks in Australia. Before traveling to Australia, I couldn't quite figure out why the place was always touted as a great backpacker destination. It's insanely expensive and a huge country to cover, in terms of sightseeing.
I'd poured through every online resource I could about traveling through Australia and kept coming back to the fact of how expensive it is there.
Not sure what to really think, but knowing I didn't want us to blow our budget, we settled on 4 weeks and hoped for the best.
It wasn't till we arrived and had been there for 2 weeks that we realized why people come here, extend their trip and stay longer.
There is just something about it that sucks you in. It isn't that you necessarily want to be there longer, you just can't stop planning things and making changes to your itinerary.
It wasn't that anything, in particular, blew us away, and maybe it was the familiarity of home, but we felt that pull that people talk about.
We had a set schedule for traveling up the coast, but after we got there, we knew we needed more time. So we flew back to Melbourne and worked on a horse farm.
We finally understood what everyone had been talking about when they said the place sucks you in.
We can't explain it either, but it is a country so chock-full of things to do, see and people to chat with that it just holds a spot in your heart when the time comes to consider leaving.
Traveling Solo? Check this out: Is Australia Safe for Female Travelers?
---
Backpacking in Australia: 8 Week Recap
---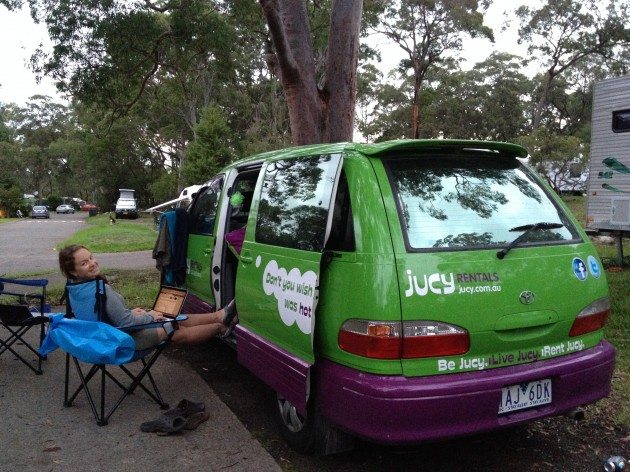 What We Loved About Backpacking in Australia
The extreme diversity of Australia, this continent is one of a kind. Driving up the east coast from Melbourne to Cairns afforded us an opportunity to experience so many unique climates and environments while backpacking in Australia.
Along with the variety of landscapes came to a variety of wildlife. I have said it before, but I simply wasn't prepared for the tropical birds that we would see while traveling through Australia.
The cockatoos are especially abundant, squawking and flying through the air. I am also happy to report that we found kangaroos, koalas, wallabies, possums and dingoes during our trip, all unique to this amazing country.
The Great Barrier Reef, need I say more? We both tried scuba diving for the first time, I faced my fears, fell in love with the sport and now plan on getting certified.
The Great Barrier Reef is one of the most beautiful places I have ever been to in the World. The day we visited the outer reef when I wasn't in the water, I stood at the front of the boat for hours just staring at how beautiful the reef looked from that view.
Having the freedom to explore our route at our own pace. The campervan gave us the option to stop whenever we wanted or put more miles behind us if we wanted on any given day.
We loved having our bed on wheels and not having to pack up our bags every day or so to move on. We moved right into the van and it stayed that way until we turned it in.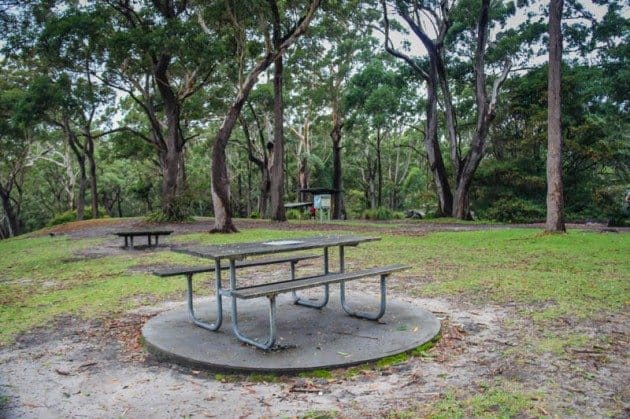 What We Didn't Love About Backpacking in Australia
Much the same as New Zealand, we found ourselves paying for $4.00 cokes and expensive meals. Already being in the mindset from New Zealand, this wasn't too shocking for us.
We had figured out how to cut corners before arriving, but it is still exhausting to be stressed over the costs of things every day.
Road signs! We drove by more things then we can count on our hands. While the roads are marked pretty well, places of interest are not. We would take the time to pull off at the I-sites, which are located in every town along the way, to find out the best places to stop and must-see sights.
The problem, a lot of them were hard to find. When we did find them, they were marked so poorly that we often went flying on by not even seeing the road signs.
There is nothing worse than driving down the road, knowing you are in the general area of the place you are looking for, knowing there should be a sign any minute, only to see the sign and realize it was posted right on the road, not before the road.
Much like New Zealand, I am going to rant about the internet. While readily available, it was exorbitantly priced and never worked very well.
Knowing we were going to be on the road more than in places where there was an internet connection, we invested in a data package with Telstra and used our phone as a hotspot to stay connected while we traveled.
This worked great, as Telstra provides great coverage along the East coast, but it was very expensive. We used in excess of 9GB in our 8 weeks in Australia and spent well over $300 on staying connected.
Two words, overpriced campsites. Camping was once a cheap way to see Australia and travel with like-minded travelers. These days, the roads are littered with huge tourist parks that charge you in excess of $30-$35AUD per night to camp your van or camper.
Top this onto the price you pay to rent the van and the fuel it costs to travel and it makes it the same, and in some cases, more expensive than if you bought a bus ticket and stayed at hostels.
What Did We Spend?
We spent an average of $126USD per day for 2 people while backpacking in Australia. This number includes transportation, accommodation, activities, food, internet, and any other miscellaneous purchases during our 8 weeks.
Our target budget remains an average of $100USD per day and like New Zealand, we knew we would spend more than that in Australia.
It is a surprisingly expensive country and we were embarrassingly over-budget until we decided to participate in the HelpX program.
Transportation: We chose to see Australia from behind the wheel of a Jucy Campervan. So this was our primary mode of transportation. With this came the cost of rental and gas for all the driving that we did.
In addition to the campervan, we did utilize public transportation while in the bigger cities of Melbourne and Sydney. We also took a couple of domestic flights from Cairns to Melbourne and Melbourne to Darwin.
Accommodation: The majority of our time was spent sleeping in our campervan. Which does help to save money, but in some locations, we had to pay for camping. We tried to free camp as much as possible at overnight rest stops and local camping spots.
Other times, especially in the popular areas and big cities, we paid to stay in National Parks or at camp parks behind hostels.
Activities: Australia is chock full of activities for all tastes and because we love our adventure activities, we tried to stick to the low cost or free options in many places so we could splurge on some of the good ones, like bush camping on Fraser Island, cruising the Whitsundays and scuba diving on the Great Barrier Reef.
Food: Like New Zealand, food is really pricey in Australia and you again find yourself celebrating if you can manage to find a $10 per person meal. Our camper van was outfitted with a cooler fridge and burner, so we minimized our food costs by shopping at grocery stores and making all of our own meals while traveling.
There were a few times we splurged, but when we did it was burgers at McDonald's or pizza at Domino's since camping in the van we were eating extremely lean and healthy.
HelpX: Taking the opportunity to work on a horse farm in Victoria for 2.5 weeks was extremely helpful for the budget. We were able to do volunteer work at a place where board and food were provided.
We didn't spend one penny while we were there and this really helped to drop the per-day budget down. We worked hard, but it was worth the break from traveling and the relief on the budget.
Our Favorites
Favorite Beach: Emerald Beach, New South Wales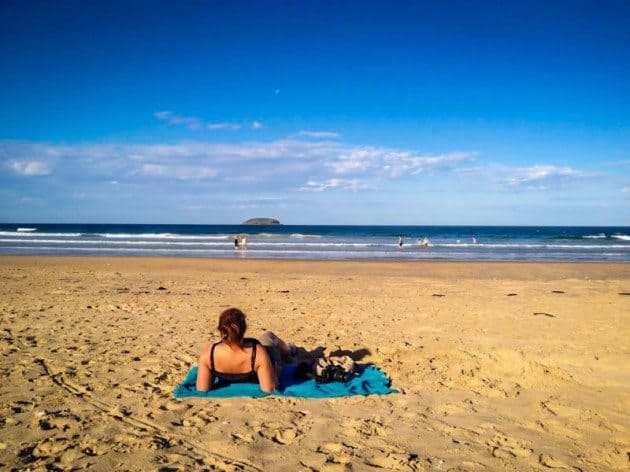 Favorite City: Cairns, Queensland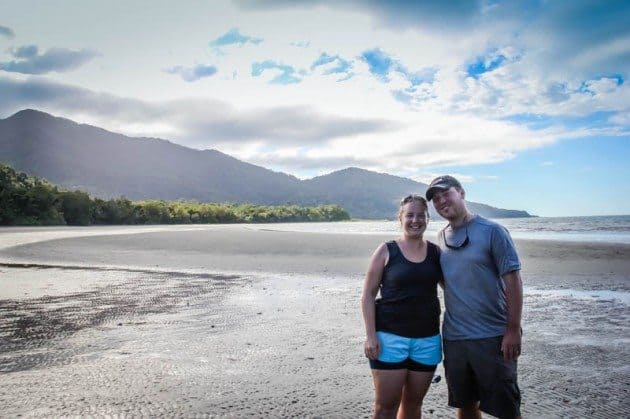 Favorite Activity: Scuba Diving the Great Barrier Reef, Fraser Island, and the Great Ocean Road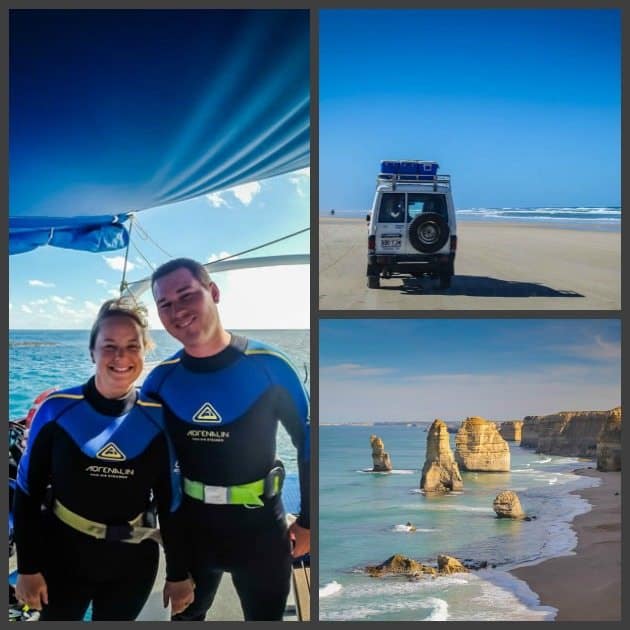 Favorite Meal: Mad Mex Burritos in Melbourne & Sydney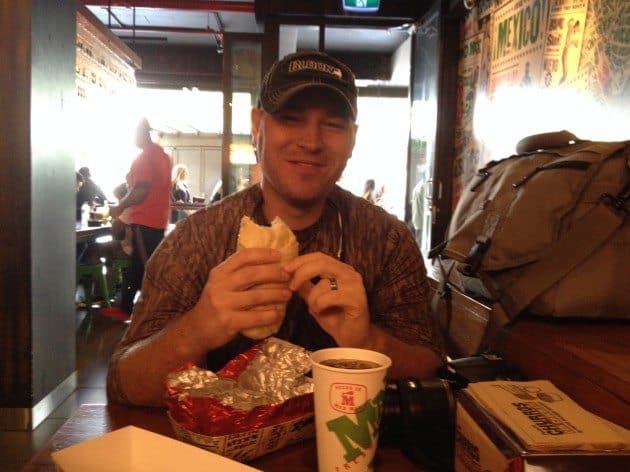 More on Australia:
Did you like this story? Share it!