Time to see the real Australia with endless roads, unique wildlife and sun-kissed beaches up and down the East coast. Grab your beach towel and your hiking shoes as a great Australian adventure starts and ends with camping.
There are many options for camping but the best way is to have everything you need in your own set of wheels. We decided to rent a campervan to travel up the coast and explore Australia. We opted for a Jucy campervan and we weren't disappointed by our new ride.
Jucy campers come loaded with Cd/Radio, DVD player, fridge, sink, water tank, gas cooker, and kitchenware. If that doesn't impress you, it as also fitted with 2 bench seats and a table that converted to a comfortable double bed at night. These campers are everything you need to explore on your own.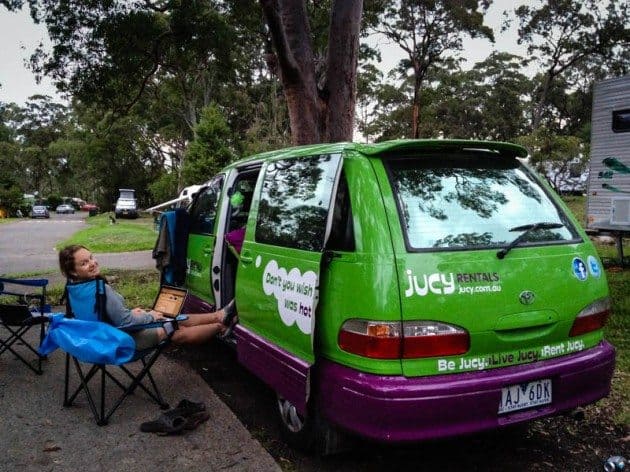 Of course, it doesn't stop there, finding a place to park your mobile home is half the adventure of being on the road. There are many different options for campsites throughout Australia, many of the best ones are hidden but will put you right on the beach.
Roadside stops are also good options some are like truck stops and others have grass camper sites where you can stay to sleep. A huge benefit to the roadside stops is they are free but bathrooms are not the best and most do not offer showers.
A great paid option is any of the National parks you will be driving through. They have been nice to stay at, averaging around $30 per night, but there you have your own tucked away spot where you're hidden in the park with bathrooms and showers. This usually allows you some great wildlife spotting opportunities as well.
Most parks and rest stops have BBQs for cooking. It costs a little more to stay in the parks and you can try to play the get there late and pull out the early game to avoid the fees but the park rangers are pretty diligent about keeping track of everyone.
Caravan Parks are also a good option if you're looking for a pool, powered sites, hookups for water and kitchens. To me they are nice but you're renting a campervan to get away from civilization not to be in a campervan town.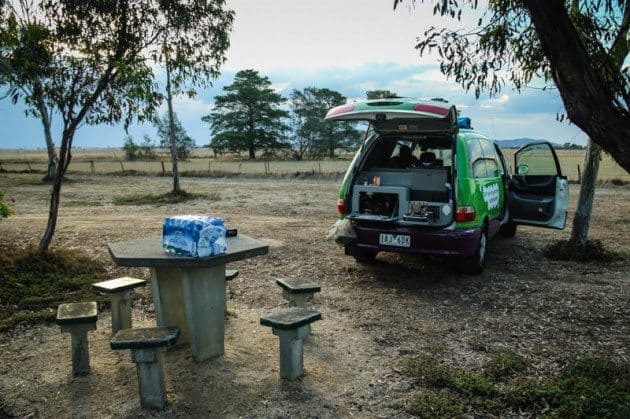 Our best campsite we found was right on the ocean, with rustic bathrooms and a 3-minute walk to swim, surf, and suntan. We have stayed at a variety of paid and free sites throughout our journey and all the campsites have been safe and friendly. Australia has a revive and stay alive campaign going on where they have free coffee. So you can find a free overnight stay and free coffee, that's a win!
Campsite wildlife is everywhere from two-legged to four-legged animals. Working our way up the East coast from Melbourne to Cairns we saw kolas, kangaroos, wallabies, possums and all kinds of birds in their natural habit. We weren't prepared for the abundance of wildlife we would see and it was a pleasant surprise while traveling and camping up the East coast.
One of our best wildlife stories happened one night while we were working in our Jucy campervan. We were sitting in the van with the side door open, as it was a hot, humid night and Lina looked over at me saying there's something out there. I grabbed my headlamp to shine out the doors. Sitting there, right next to the van were four possums about to climb into the van with us while we were working. You don't get much closer to wildlife than that. If I were to do it again I would bring a large flashlight for night walks. Most of Australia's animals come out in the evening when the sun has gone down.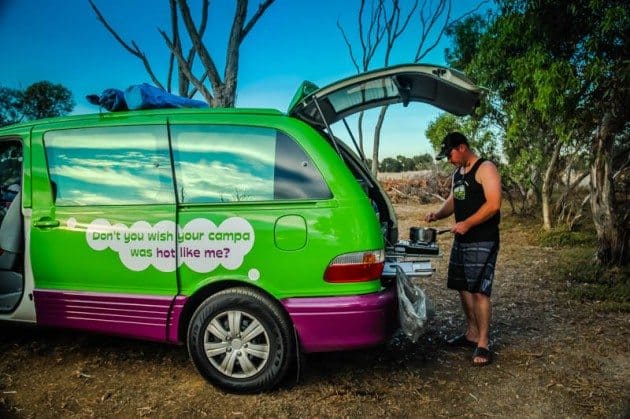 Cooking in the Jucy campervan is made easy with the gas grill in the back of the van. Having your own chill box enabled us to stop off at markets and stock up on fresh food, so we were able to camp for many days at a time and not worry about finding restaurants. We could cook a large variety of meals during our time on the road.
Breakfast ranged from egg dishes to cereal, it was nice to have the option of cooking a big breakfast when we wanted to. In the afternoon we would do a soup and sandwich deal or salads. Dinner you really can cook anything; it comes down to just how inventive you want to be. We did beans with sausages, steaks, fried rice, pasta and tacos on most occasions. Cleanup is easy when you have your own sink to clean up your dishes.
The freedom of having a Jucy campervan is unmatched while you are traveling through Australia. We were able to take as long as we wanted to drive of a stop along the way. We had the freedom to make stops at unique places and camp in different towns while we made our way up the East coast. There was no need to rush and this made our travel through Australia very relaxing and enjoyable.
Did you like this story? Share it!