East Coast Australia is a classic road trip destination, but making the drive all the way from Melbourne in the south to Cairns in the far north is an epic overland journey!
There are vast distances to cover, and hundreds of potential stops on the way. Stop off in Canberra, Sydney, Brisbane, and many more destinations before seeing the best sites in Queensland.
Here's our guide to planning the ultimate East Coast Australia road trip. Strap in, watch out for kangaroos, and enjoy the ride!
Don't leave home without: Lonely Planet Australia (Travel Guide)
---
Ultimate East Coast Australia Guide
---
How Long is the Melbourne to Cairns Road Trip?
Before you start planning an epic Australia road trip along the East Coast, it's important to know how far you could be driving. Australia is vast, and the distance along East Coast Australia is enormous.
If you're sticking to the coastal roads, you'll be driving a minimum of 2200 miles through East Coast Australia to reach Cairns from Melbourne. There will be long days of driving because the cities are incredibly far apart.
As a minimum, you're going to want at least 3 weeks to make the drive enjoyable, with leisurely stops en route. Even that will mean just a few days, or less in most places.
The more time you do have, the more fun your Australia road trip is going to be! We spent 6 weeks driving this route and truth be told, still didn't see everything on offer.
Quick Info:
Renting a car? We use Discover Cars to compare car prices, find deals and book rentals.
Road Trip Vs Bus Vs Tour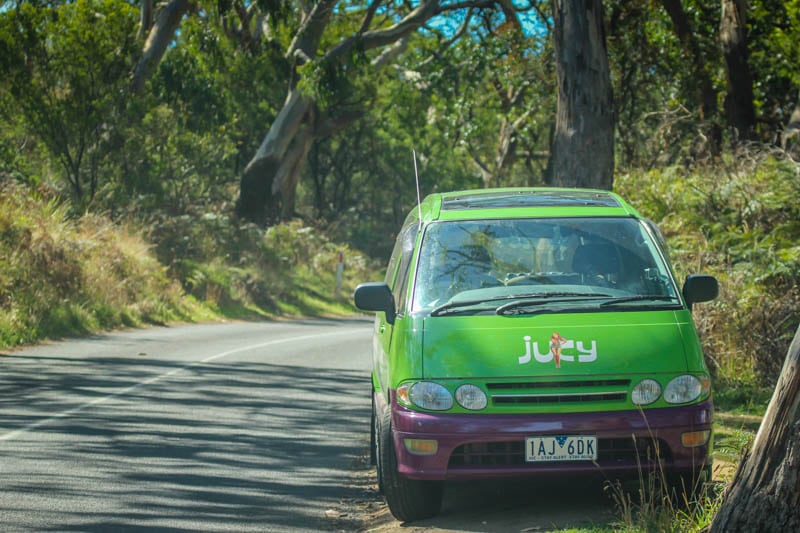 Making your way up and down the East Coast of Australia can be done in one of three ways. By independent vehicle, coach bus or tour.
Doing this route by road trip, as we did, offers the most flexibility and allows you to stop off in places that both the bus and tours miss.
The best way is by campervan, allowing you to camp and save on accommodation costs. It is also possible to use a plain rental car too. This way of seeing Australia is wildly popular and a fantastic adventure.
You'll see a lot of advice in this guide that is catering to doing this route by road trip.
The most popular way of navigating this route is by using the coach bus system that operates the entire East Coast.
Acting like a hop on hop off bus, you can purchase a ticket with the start and end destination and then get off anywhere the bus stops along the way. We met so many people doing this and they saw plenty of the highlights.
Lastly, you could just as easily book a tour that will hop you up along the coast to hit the highlights. This will be your most expensive option but you will be able to see more in a shorter time period.
---
Best Stops Along the East Coast of Australia
---
Our East Coast Australia road trip itinerary will take you to all the major cities and tourist destinations, but remember that there are so many more places to visit.
You can take the ferry across to Tasmania if you have an extra week to spare, or you can go off-grid and drive through Outback Queensland if you need a change from the coastal scenery!
Melbourne
Start your journey in Melbourne, the capital of Victoria, and Australia's most cultural city.
Often listed as one of the best places to live in the world, you might not even want to leave Melbourne on your epic Australia road trip!
Enjoy the coffee culture in the city, visit Philip Island to see the Penguin Parade, or chill out on the beaches of St Kilda. Oh, and don't forget to visit the set of the iconic TV show Neighbours while you're in the city!
There is so much to see that figuring out what to do in Melbourne is best done in advance to ensure you hit at least the highlights.
Top 5 things in Melbourne that you simply must do:
Top 3 places to stay in Melbourne:
Drive the Great Ocean Road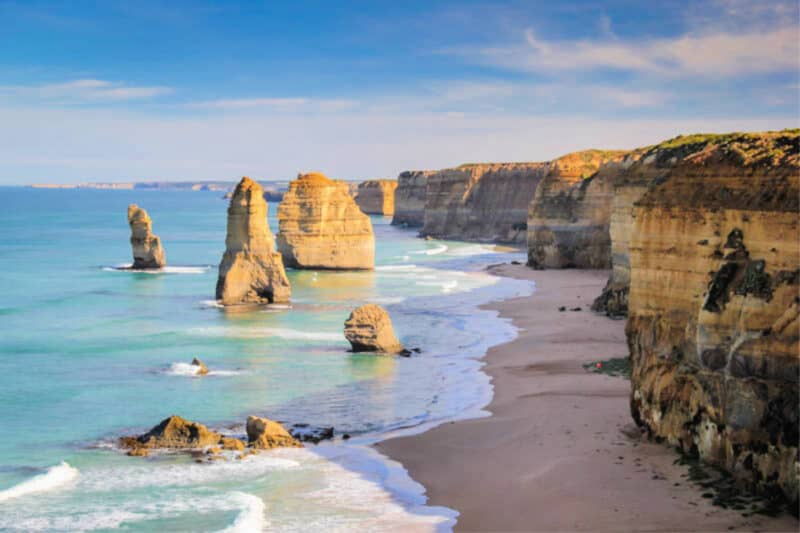 If you have the time, you could consider starting your itinerary by driving west along the Great Ocean Road before heading east.
This starts just outside of Melbourne in Torquay, and it's often named one of the best road trips in the world!
This is one of the most iconic and scenic drives in all of Oceania, so if you have the time you do not want to miss it.
Wilson's Promontory
Your first stop out of Melbourne isn't too far away; we recommend calling into Wilson's Promontory as you head out on your Australia road trip.
This beautiful area of wilderness is home to some lovely hiking trails and plenty of wildlife, as well as spectacular views out over the ocean.
Top tours that includes Wilson's Promontory:
Top 3 places to stay in or near Wilson's Promontory:
Eden
From Wilsons Promontory, you now need to drive north, because your next stop is the aptly named town of Eden. This is the most southerly town in New South Wales, so after this, you'll be driving into the state of Victoria.
Visit the local museum, where you can learn about the town's whaling history, before heading to the beach to admire the spectacular coastline.
In the right season, you can join a whale-watching trip to see how the locals transitioned from whaling to whale watching!
Stay awhile and truly feel the Eden area:
Canberra
Next up, it's a long drive to the nation's under-visited capital city, Canberra. This purpose-built city is often overlooked by travelers, but it's well worth a stop, especially as it's halfway between Melbourne and Sydney.
Visit Australia's national museums and take a Parliament building tour before getting on the road again.
Top 5 things to do in Canberra that you simply must do!
Top 3 places to stay in Canberra:
Jervis Bay
Take the highway south from Sydney, and your first stop on the road trip will be Jervis Bay. This beautiful seaside community is home to what the locals claim is one of Australia's best beaches.
That's a huge claim, but when you see the beach for the first time, you might just agree. Spend your day relaxing on the soft sands or get active and enjoy the snorkeling because the water here is crystal clear.
Stay awhile and truly feel the Jervis Bay area:
Top 5 things to do in Jervis Bay:
Sydney
One of the best stops on any Australia road trip is Sydney, the East Coast's most iconic destination.
Sydney is well worth spending a few days exploring because there are great museums, iconic sights such as the Opera House and Harbor Bridge, and legendary beaches at Bondi and Manly.
Top 5 things to do in Sydney that you simply must do!
Top 3 places to stay in Sydney:
Blue Mountains
On your way out of Sydney, detour inland to visit the Blue Mountains National Park. This epic area is where you'll find the Three Sisters, a unique rock formation hanging over a deep gorge.
You can take the scenic cable car across the gorge, or venture along the hiking routes that stretch through this beautiful national park.
Top 5 things to do in the Blue Mountains:
Top 3 places to stay in the Blue Mountains:
Port Macquarie
Head north from the Blue Mountains and your next stop will be the popular coastal town of Port Macquarie, one of New South Wales' premier tourist destinations.
As well as great beaches and lookouts over the Pacific Ocean, Port Macquarie is famous for the local koala hospital, which has been rehabilitating injured koalas for years.
You can join a tour of the koala hospital to see these furry little animals as they are being cared for and learn more about the dangers they face in the wild (many of which are directly related to human activity in Australia).
It's a fascinating place where you can learn about the fragile yet unique ecosystem of Australia.
Stay awhile and truly feel the Port Macquarie area:
Coffs Harbor
Now, your drive north really begins, as you head from Sydney up towards Coffs Harbor.
This small coastal town is a great place to break up the journey. You can explore the Muttonbird Nature Reserve, visit the unusually themed Big Banana Amusement Park, and enjoy the great ocean walks.
Don't forget to stop off at The Big Banana for a photo op and signature banana split ice cream!
Top 5 things to do in Coffs Harbor:
Top 3 places to stay in Coffs Harbor:
Byron Bay
Keep driving north, and you'll reach Byron Bay, a coastal town that's pretty legendary among backpackers and travelers.
Byron Bay has a fantastic beach. While the rough waves aren't great for swimming, they are excellent for surfing. In fact, the number one thing to do here is surf.
You can also visit the iconic Bryon Bay Lighthouse, enjoy beautiful sunrises over the Pacific Ocean, and make the most of the quirky cafes and bars in town.
Top 5 things to do in Bryon Bay:
Top 3 places to stay in Bryon Bay:
Gold Coast
Cross the state border from New South Wales to Queensland, and one of the first stops will be the Gold Coast.
This is an excellent addition to any East Coast Australia road trip. The Gold Coast is where you'll find some of the best beaches in the country.
This is where the city meets the sand, as tall skyscrapers rise alongside the Gold Coast's broad, golden beaches. Enjoy the long promenades and boardwalks, surf the epic waves, and enjoy the sunshine!
Stay awhile and truly feel the Gold Coast area:
Top things to do in the Gold Coast:
Brisbane
From the Gold Coast, it's not a long drive to Brisbane, the capital of Queensland. This is another must-visit destination on East Coast Australia, and you'll quickly fall for Brisbane's laid back lifestyle.
Visit the Museum of Queensland to learn more about local history, see the Koalas at the Lone Pine Koala Sanctuary, and enjoy meandering walks in the sunshine along the Southbank.
Top 5 things to do in Brisbane:
Top 3 places to stay in Brisbane:
Noosa and the Sunshine Coast
Drive north from Brisbane, and you'll soon reach Noosa and the Sunshine Coast. This is one of the most laid back areas along the East Coast of Australia.
This sunny part of Queensland is best known for its beaches and its surfing, and the town of Noosa is often the location for surf competitions throughout the year.
We loved the atmosphere of Noosa, with many shops, cafes and cute streets. There is also some great hiking trails accessible from right in town. It's also a great place to camp out and enjoy nature on the edge of town.
Hit the waves or lounge on the beach and enjoy a relaxed stop on your long journey north to Cairns!
Stay awhile and truly feel the Noosa area:
Top 5 things to do in Noosa & Sunshine Coast:
Fraser Island
One of the best places to visit on your Australia road trip is Fraser Island, the largest sand island in the world. The entire island is formed from sand, and you'll need to join a 4 by 4 tour to get around.
There are beautiful lagoons, wild dingoes, and a famous shipwreck on the beach itself. You can camp out overnight or multiple nights like we did to really experience the best of this sandy wilderness.
Top Fraser Island tours:
Agnes Water and 1770
Keep driving north until you reach Agnes Water and 1770, two small towns that make a wonderful stop on your east coast journey from Melbourne to Cairns.
By now, you'll realize how vast the distances are, so take a break here and enjoy the fantastic coastline.
From here, you can visit several islands in the Great Barrier Reef if you can't wait to start exploring the underwater marine world that Queensland is famous for!
Stay awhile and truly feel the Agnes Water area:
Airlie Beach and the Whitsundays
The next epic spot can be just as sandy because the Whitsunday Islands are known for their incredible beaches.
Base yourself in Airlie Beach, where you can join multi-day sailing trips on yachts or speedy day trips on catamarans to explore the islands.
You can snorkel or scuba dive on the Great Barrier Reef, enjoy the spectacular lagoon at Hamilton Island, and experience one of Australia's truly magnificent areas of natural scenery.
Top Airline Beach and the Whitsundays tours:
Top 3 places to stay in Airline Beach:
Townsville and Magnetic Island
Townsville is the largest city along the northern stretches of East Coast Australia, and it makes for a great stop on your way up to Cairns.
Townsville itself is very residential, but take a ferry over to Magnetic Island to find unspoiled nature and beautiful beaches.
Book your Aquascene Magnetic Island Discovery Tour today!
Top 3 places to stay in Townsville:
Mission Beach
Mission Beach is a small coastal town on the way up to Cairns. It makes for a great place to relax and enjoy the tropical surroundings without the tourist crowds that you'll soon be encountering.
Mission Beach is known for its beach, but the surrounding areas are also home to the fabled Cassowary, a large, flightless bird that has been around since prehistoric times.
Drive carefully, and you might spot one if you're lucky.
Top 5 things to do in Mission Beach:
Top 3 places to stay in Mission Beach:
Cairns
After over 2000 miles of driving, you'll have made it to Cairns, the tourist hub of Far North Queensland. The weather here is very different to Melbourne. You're in the tropics now.
Using Cairns as a base, you can scuba dive and snorkel on the Great Barrier Reef, take the scenic train to Kuranda, visit the ancient Daintree Rainforest, and head up to Cape Tribulation.
If you're looking to escape the heat, take a road trip up into the Atherton Tablelands from Cairns.
This high plateau has a very different climate to the tropical coastline below and is known for its farm shops and volcanic crater lakes!
Top 5 things to do in Cairns:
Top 3 places to stay in Cairns:
---
Short on Time? Alternate Itineraries
We get it, not everyone has the luxury of being able to spend multiple weeks or months exploring the East Coast of Australia. But that doesn't mean you should scrap the idea all together.
We've broken this massive trip down into three popular routes. These itineraries offer more manageable distances for shorter trips and plenty of Australia's highlights.
Each one of these itineraries can be done in two to three weeks. If it's your first time to Australia, we'd recommend the Brisbane to Cairns route, if you can only pick one.
---
Road Safety in Australia
Remember to keep on the left-hand side of the road in Australia, but more importantly, watch out for kangaroos and other wildlife.
In rural areas, kangaroos are a real problem on the roads, and they can cause serious damage. Kangaroos are most active at dawn and dusk, so avoid driving at these times.
You won't need a four by four for an East Coast Australia trip, as you'll be on paved roads the whole time. It's good practice to make sure you have breakdown cover, though, as you don't want to get stuck in the middle of nowhere!
Don't forget your travel insurance! Protect your investment and yourself. Read Is Travel Insurance Worth It?
Supplies and Accommodation on the Road
If you're sticking to the coastal roads and main highways, you won't need to worry too much about supplies or filling up on gas.
East Coast Australia is well populated, and there are lots of supermarkets and gas stations within easy reach.
The further north you get, however, the longer the driving days will be. Try to keep your gas tank filled up when you have the chance.
Always keep some spare water and a bit of food in the car in case you get stuck somewhere.
One of the best ways to road trip Australia is in a campervan, or failing this, by camping out along the way. There are many great campsites or caravan parks where you can spend the night or even a few days.
More on Australia:
Did you like this story? Share it!