One of Australia's most acclaimed attractions, the Great Ocean Road Drive will not disappoint. Take in the crystal blue waters surrounded by jagged cliffs and wind through the coastline packed with native gum trees.
With over 300 kilometers to cover, get ready for a road trip. But, don't rush it! Take the time to enjoy your hike, visit the waterfalls and go for a dip in the refreshing waters.
While some people spend as little as a day on this stretch, you could easily stay here forever. Here's an itinerary that will take you around 5 days to cover. Trust me, you deserve to take the time for yourself, and the Great Ocean Road is eagerly awaiting your arrival.
LIVE, TRAVEL, ADVENTURE, BLESS, AND DON'T BE SORRY. – JACK KEROUAC
Many people will start their journey to visit the Great Ocean Road from Melbourne. Starting 100 km southwest of the city, you'll need a car. If you don't have your own, make sure to rent one. Companies like Budget and Hertz have great car rental plans available.
Alternatively, if you're looking for a camper van to cruise along in, check out Wicked Campers and Jucy. You'll definitely want the flexibility to go at your own pace, stop when you want to and take in the sites along the way.
There are signs to serve as a reminder too, but always remember to drive on the left in Australia. Welcome to a journey that will stay with you for years to come.
Related Article: Should I Rent a Jucy Campervan in Australia?
Before You Get Started
Spring or Summer (September – February) are typically the best times to visit
Avoid weekends and holidays to steer clear of the large crowds and traffic
If visiting during peak season (December – February), it's wise to book accommodation in advance in order to avoid disappointment
There are too many lookouts along the route to name; be sure to stop and have a look at any that strike your fancy
Aussies (Australians) love their slang, so here are a couple of handy terms to get you started

Pot & Pint: small & large beer sizes
Cuppa: a cup of tea or coffee
Tea: dinner
Sunnies: sunglasses
Thongs: flip flops
---
8 Best Stops on the Great Ocean Road Drive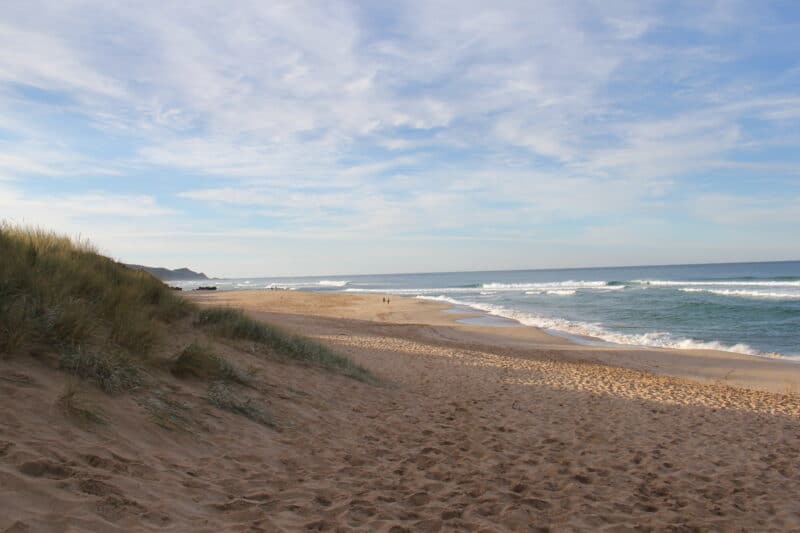 Torquay – Official Start of the Great Ocean Road Drive
From Melbourne. 104 km. 90 min.
Welcome to the official start of the Great Ocean Road drive!
Home to surfing, you can not visit Torquay without getting involved in the local surfing scene. What that looks like depends on how active you want to be in the process. To learn the history of the sport, be sure to stop into the Surf World Museum. If you want to get decked out in the latest gear, go shopping.
Quiksilver, Rip Curl & Billabong outlets all ensure you'll find yourself a great bargain on the latest surf wear. If you'd rather enjoy surfing as a spectator sport, head to the legendary Bells Beach (made famous by the movie "Point Break") to watch the locals catch some fierce waves.
And if you're feeling ambitious, why not give it a go yourself. Visit the guys at Go Ride A Wave. They'll set you up with a surf lesson and show you how to hang ten (albeit at a more suitable beach).
Whilst in Torquay, be sure to take a stroll along the Surf Coast Walk. Understandably, the 35 km walk from Torquay to Aireys Inlet may not be feasible with your car in tow, but be sure to check out the path for as long as you so desire before continuing your drive down the coast.
With so much to see, be sure to book in at Bells Beach Backpackers to rest your head for the night. If you'd rather be ocean side and have a few extra bucks to spare, check out the Wyndham Resort instead.
There are a number of good eateries in town. Try Spudy to get your fresh salad or loaded potato fix. Blackman's Brewery is a great place to drop in for a locally brewed beer or two. And Growlers is the perfect spot to stop by anytime, day or night, to enjoy a bite to eat while taking in the scenic ocean views.
If you're just passing through, stop in at the local supermarket to load up on goodies for a picnic in the next town.
Anglesea

From Torquay. 18 km. 20 min.
Anglesea has always had a quaint village feel to it, though these days it has developed into a buzzing town. If you didn't grab a bite before you left Torquay, Anglesea is a great place to stop by the river and enjoy a picnic with family and friends.
Afterward, be sure to stop in at the Anglesea Golf Club. Don't worry, you don't need your clubs for this one. The Golf Club is a great spot to stop and get a close-up view of Australia's native kangaroos.
While you will notice their ears are tagged, they are not caged. They run freely on the golf course and are such an incredible species to watch for a few minutes or a few hours if your schedule permits.
Although there are signs posted advising not to stop and look at the kangaroos, there are always plenty of onlookers, so I'd suggest ignoring the signs and stopping to take a gander (shhh, don't let anyone know I told you that 😉
Aireys Inlet

From Anglesea. 9 km. 12 min.
A short distance down the road from Anglesea, you'll find yourself at Aireys Inlet. Here, you'll find the Split Point Lighthouse. Guided tours are regularly offered, or you can just view it from the ground while taking a few happy snaps.
On the way out of town, at Eastern View, you will see the Great Ocean Road Memorial Arch. Stop for a picture and take in the history of this magnificent road. Stories of its amazing construction and the local area are displayed on bronze-plated signs all along the Great Ocean Road.
Lorne

From Aireys Inlet. 19 km. 25 min.
A popular destination for both international and domestic tourists alike. Lorne is a great spot to have lunch or a cuppa (remember, it's tea or coffee) whilst taking in the sweeping views of the ocean.
If you are heading to Lorne on the weekend you will see large groups of motorcycles parked along the roadside, as the winding roads always make it a popular stretch.
Be sure to stop and put your toes in the sand at Front Beach. Always packed, this part of the beach is representative of Lorne as a whole. By arriving in Lorne, you're officially entering the Great Otway National Park.
With plenty of outdoor activities to choose from, it's definitely worth your while to check out Erskine Falls. With heaps of steps leading to the falls, this short hike is not for the faint-hearted. But, if you do make the effort, I promise you'll be handsomely rewarded.
Why not spend a night in Lorne, to relax and refresh before continuing on your journey? For those on a budget, Great Ocean Road Backpackers and Erskine River Backpackers will be able to assist. If you are looking for something a bit fancier, be sure to check out either Mantra or Cumberland hotels.
Fuel your energy with a delicious hamburger at Bottle of Milk. For some food with a view and a few cheeky beverages (for the passengers), you can't go wrong with the Lorne Hotel Bistro.
An extensive menu with rooftop seating has got you covered. To support local efforts, pick up some fresh seafood at the Fisheries Co-op. And, Lorne Beach Pavilion is a great pit-stop for a coffee with uninterrupted views of the water.
Wye River & Kennet River
From Lorne. 27km & 33km respectively.
If you blink, you'll miss it, but Wye River is a great place to stop in for a stretch break. This quiet and laid-back town recently suffered from some major bush fires.
Still, yet, it's a great town to check out on your way to Apollo Bay. Check out the infamous Wye General Store for some of the best-baked goods around. And if you're still hungry, visit the guys at the Wye Beach Hotel Bistro.
Play a game of pool while you wait for your food, or alternatively just kick back and enjoy the atmosphere.
Not too far from Wye river, you will arrive at Kennett River. This slower-paced town has a great family feel and is perfect for camping. Be sure to keep an eye out for koalas, that often can be found eating gum leaves on the roadside or throughout the campground.
Apollo Bay
From Wye River. 30 km. 40 min.
Apollo Bay is the halfway point on your Great Ocean Road drive journey. It's often referred to as the place where the "hill meets the sea" and it's easy to understand why. It's a captivating town full of beautiful surprises.
For one of the best panoramic views on the Great Ocean Road, take the steep climb up to Mariner's Lookout. The scenery is unbelievable! Also, make sure you check out one of the Great Ocean Roads best kept "secrets."
Marengo Marine Sanctuary is a rocky beach that serves as a habitat for a local seal colony. Local boats provide tours to the Sanctuary, and if you've never been up close and personal with seals, it's well worth a visit.
Stop at the Apollo Bay Bakery to treat yourself to some custard tarts for on the road. These are said by many to be the best on the Great Ocean Road.
If you've got the time, stay a night at Surfside Backpacker to experience the best of what Apollo Bay has to offer. Otherwise, be sure to scope out the Apollo Bay Eco YHA Hostel, for a low-key, homely stay.
Port Campbell
From Apollo Bay. 102 km. 90 min.
Ahhh, Port Campbell. Some people love the small-town feel nestled in the cove (I'm one of those people). Others think it doesn't have a lot going for it. Either way, most people can agree that it's a great place to base yourself for a day or two.
Your trip to the Great Ocean Road would not be complete without a visit to the Twelve Apostles.
Unfortunately, the name is now a bit misleading, as only eight apostles actually remain. The others have succumbed to the ocean in recent years, but a visit here will be one of your highlights nonetheless. For a different perspective, splurge on one of the Twelve Apostles Helicopter tours.
With so much to see, get up early to take in sunrise and stay out to catch an amazing sunset. Head down Gibson's Steps before visiting Loch Ard Gorge, London Arch (formerly Bridge), The Grotto and the Bay of Islands. All part of the Port Campbell National Park, the area will not disappoint.
Relax for the evening in the Port Campbell Hostel. And if you haven't already, enjoy an Australian classic – fish n' chips on the beach!
Fork in the Road on the Great Ocean Road
At this stage, you've got a decision to make. You can either:
Start heading back and discover everything the Australian countryside has to offer. Here, you'll head inland and visit places like TIMBOON (From Port Campbell. 15 km.) and the OTWAY FLY (From Timboon. 83 km.) Timboon boasts a distillery, cheese factory and delicious ice cream (which if you have a sweet tooth, you likely would have tried on your Great Ocean Road journey). The Otway Fly is home to the longest Treetop Walk of its kind. For the adventure seeker, it also has a zip line tour on offer.
Or continue onwards to Warrnambool (From Port Campbell. 60km) & PORT FAIRY (From Warrnambool. 28km). Whilst technically west of the Great Ocean Road, many combine Warrnambool with their visit to the area. Warrnambool is a great place for whale watching, especially if you're visiting between June and October. And Port Fairy is great to visit when the Folk Festival is on, which is held Labour Day long weekend, each year.
Of course, if time is on your side, take the time to explore both! Either way, by this point you should have enough pictures to fill your camera, and memories to last a lifetime!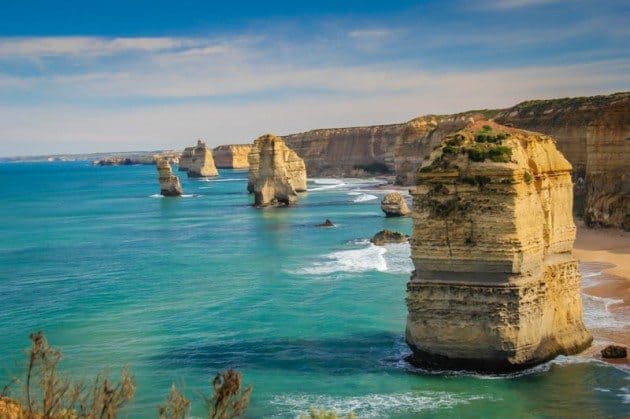 Overview of Our Time on the Great Ocean Road Drive
The first day we picked up our Jucy camper van and headed out of Melbourne. There really isn't much to see for the first 2 hours after you leave Melbourne, so grabbing the freeway and getting out of dodge straight to Torquay is the best thing.
Once we reached Torquay, the whole road just seemed to suck us in. From laid back surf towns to quaint historical towns, the road rolls on.
We stopped off at a variety of places including a couple of beaches, a lighthouse and a park or two. We didn't have a plan, we just pulled over when we saw something that looked interesting.
We knew we couldn't make the Twelve Apostles that day so went in search of an awesome campsite and ended up at Johanna Beach. It had the vibe we were looking for and the budget we needed.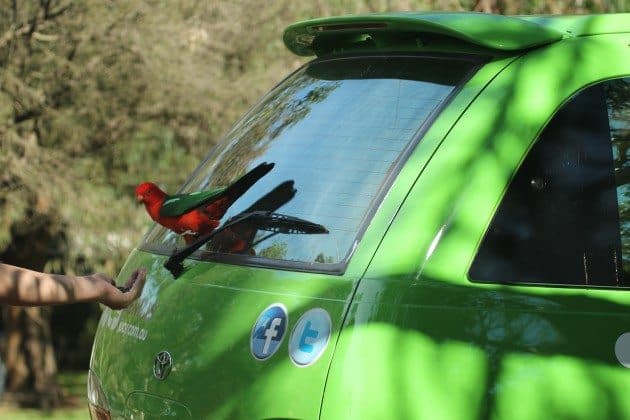 The first night in the camper van was interesting. We've been camping before and have slept in vehicles, but having a self-sustaining van is another story altogether.
We fired up the stove, cooked us some steaks and made a fancy salad with greens, tomatoes, feta, oil, and vinegar. We washed dishes in the back of the van in our sink. Yes, van sink and then made the bed and laid there with the sunroof open staring at one of the clearest night skies we had ever seen.
The next day we headed straight through to the Twelve Apostles. Yes, it is really just some rocks jutting out of the sea, but let me tell you, they are really cool. Photos can capture the sight, but they really don't do it any justice.
We were so impressed we took the time to Skype with our parents and show them. It was a nice travel moment to have them with us during that stop. Technology really is something these days.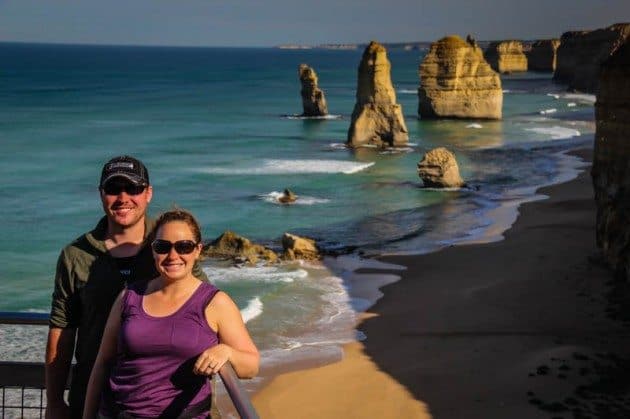 Wanting to continue on but knowing we had limited time to do so, we headed back the way we came instead of further up the road. We took our time stopping off to explore the wildlife and I am excited to say included koala bears and a variety of tropical birds.
I don't know why I hadn't expected it, but I wasn't prepared for the number of beautiful birds that we'd see in Australia.
Our first koala sighting was on the road to the Cape Otway lighthouse. They are littered in the trees here and we never did make it to the end of the road. We just kept pulling over and photographing the sleepy koalas in the trees before deciding to press on.
I was really on the hunt for kangaroos, but for some reason, they eluded us on our Great Ocean Road drive.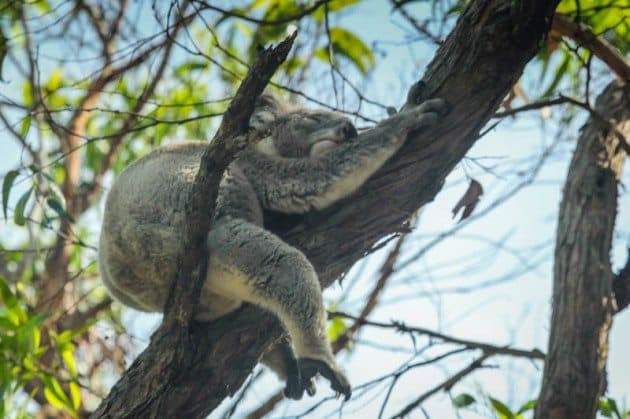 Kennett River was our next stop and again, koalas everywhere. These ones were in lower hanging trees so we were able to get a much better view of them. Much to my surprise, this area was also full of birds.
Colorful, beautiful parrots graced us with their presence during our stop. Rosellas, Australian parrots both red males and green females filled the trees above us. Not too long after came the big white cockatoos. I was just floored to see these just out in the open.
I'm a bird lover. There I said it. However, I would never own one. They are pigs in confinement because they aren't meant to be in confinement, but I love observing birds in the wild.
They tend to all be quirky with crazy little personalities and for whatever reason, they crack me up. So you can imagine this stop turned into a real treat.
After spending the good part of an hour at this stop we pushed on to Lorne where we were again greeted with trees full of cockatoos. I sat on the bench outside the i-site and listened to them calling and singing in the trees above me.
They were such a pleasant surprise for me and I was just basking in the sounds of the birds and the sunshine. Taking the time to drive even part of the Great Ocean Road was time well spent.
In all seriousness, we understand everyone has time constraints. And however long you are able to spend enjoying this beautiful area of Australia, we are positive you will enjoy yourself.
More on Australia:
Did you like this story? Share it!