Of all the places I've been to in the World, I have never come across a place that is as unique as Fraser Island. This island will blow your mind and it certainly did ours. That is why we want to share our favorite things to do on Fraser Island.
The island itself is World Heritage-listed and boasts the title of the World's largest sand island. Let me tell you, there is no shortage of sand on this island.
What makes it incredibly unique is the natural rainforest that grows straight out of the sand. You have amazing coasts of sand beach that clears straight into the ocean and in the middle lush, dense rainforest with deep sand tracks.
Throw in some fresh rainwater lakes with white sand beaches and inland deserts and you are in for a real treat of adventure.
We signed up for a guided 4wd Self Drive adventure with Palace Adventures for our time on Fraser Island and it was spectacular. Quite easily the best thing we have done in Australia to date.
I want to share with you the things about the island that we loved and that makes this place so unique and special.
Book your 2-Day Fraser Island 4WD Tour from Brisbane or the Gold Coast just like we did today!
---
10 Things to do on Fraser Island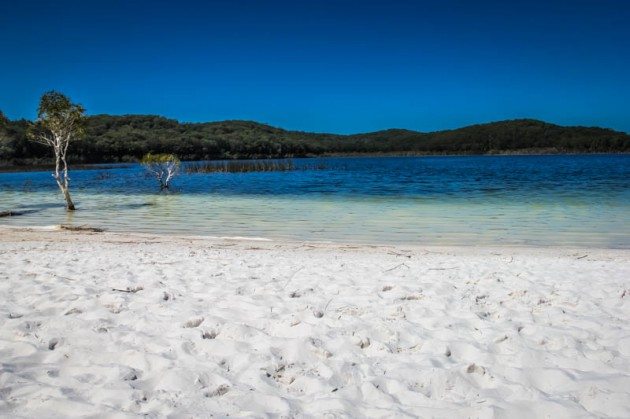 1. Lake Birabeen
This was our first stop once we arrived on Fraser Island and we were just blown away. We had seen photos of beaches like the one we were staring at, but just assumed they were ocean beaches. Boy were we wrong.
These beautiful white sand beaches are set right up against fresh rainwater lakes that are bright blue against tannin colored shore water.
If you asked me to compare this place to somewhere else, I would say the Caribbean. It is that pretty. Plus the water has a unique environment and ph that makes your hair super soft, just like a conditioner.
Add that hair treatment to an exfoliation with the fine white sand and you find yourself sitting a beautiful and perfectly natural spa.
Book your 2-Day Fraser Island 4WD Tour from Brisbane or the Gold Coast just like we did today!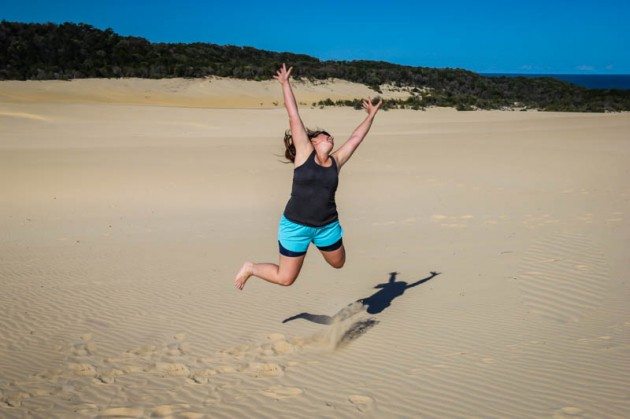 2. Lake Wabby
We've never been a desert before, so when we walked through the woods and up over the hill en route to Lake Wabby, we were in shock to see one. Hills upon hills of beautiful sand dunes.
Fraser Island has it's very own desert that sits up against a shrinking freshwater Lake Wabby. In due time, it will be completely filled in by sand, so we are pretty lucky to have hiked through the desert for a refreshing swim in that lake.
There really is nothing like sweating and struggling through deep sand only to be rewarded by a refreshing swim. The sun is hot on a clear day, so the water is welcomed.
You also can't help but wander out into the sand dunes and take photos, it really is an amazing place to visit.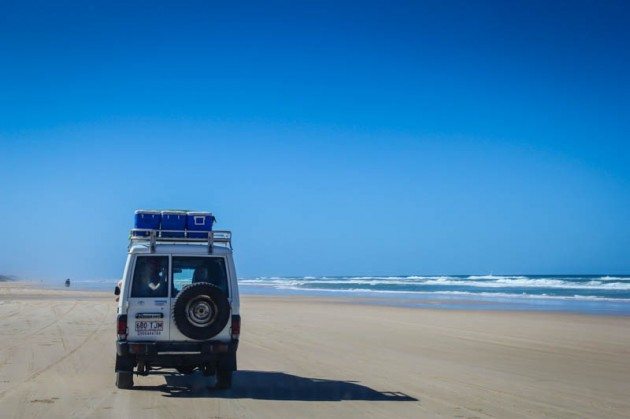 3. Drive the Beach Highway
To date, this is the only place in the World I have visited where the beach is actually classified as a highway. Fraser Island has a 75-mile beach highway system that is used by vehicles on the island.
You will also see small planes using it as a landing strip. It is quite easily one of the most beautiful highways in the World with the waves crashing into the sand on one side of you and the green forest coming out of the sand dunes on the other side.
The highway is also marked like a standard road with signs and speed limits and is even patrolled by its very own island cops. They will not hesitate to pull you over for a random breathalyzer test, speeding or if they catch you littering or feeding dingoes.
Book your 2-Day Fraser Island 4WD Tour from Brisbane or the Gold Coast just like we did today!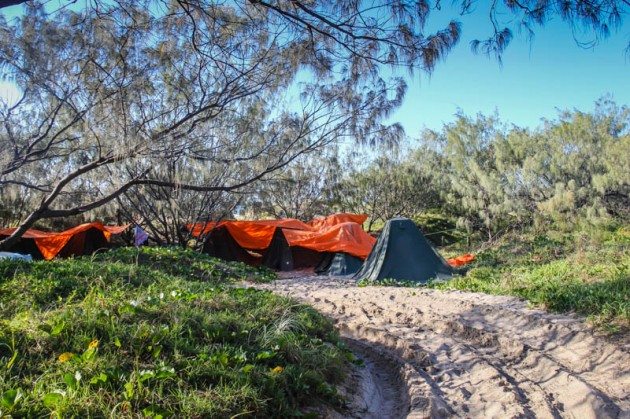 4. Sand Dune Camping
Fraser Island offers bush camping at it's finest. Where else can you camp next to a sand dune while listening to the ocean all night? We had an amazing, rustic experience camping out in tents with no amenities but a cooking cart.
We got to see the real side of Fraser Island and this made our tour really special.
Our guide briefed us on safety, as the dingoes come running when you light those barbeques, and we enjoyed some fantastic sunsets, great conversations with new friends, goon consumption and crazy games.
It was a memorable experience that neither of us will soon forget.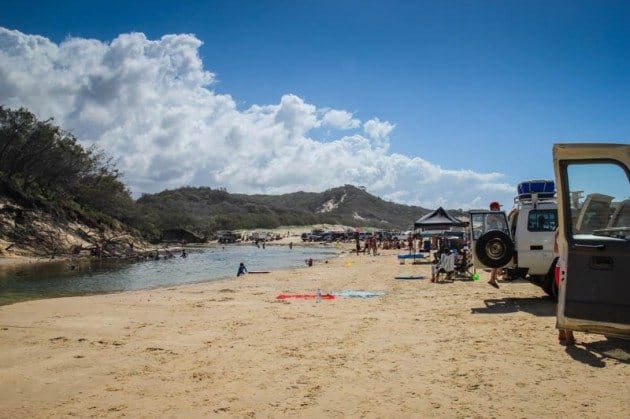 5. Eli Creek
For an island that is made of sand and surrounded by the salty ocean, it holds some amazing freshwater attractions. This includes Eli Creek, the largest freshwater creek on the island.
This small creek flows 4 million liters of water from its mouth onto the beach and into the ocean every hour. We were greeted with a boardwalk that takes you up the creek where you can enter the water and then either walk or float your way back to the beach.
It was a bit crowded and the coldest water we swam in on the island but it was so refreshing. We visited this site twice during our stay and even though half our group thought the water was too cold for a dip, we jumped in both times.
We are, in fact, from Wisconsin. We can handle the cold temps, Eli Creek didn't have anything on Lake Superior.
Book your 2-Day Fraser Island 4WD Tour from Brisbane or the Gold Coast just like we did today!
6. Maheno Shipwreck
This shipwreck is a classic icon on the island. The Maheno was built as a luxury cruise liner in 1905 and sailed the Tasman sea for most of its life before being pulled off the water, due to age, and sold to Japan in 1935.
While it was being towed up the coast it broke free from its tether during a violent storm and shipwrecked on the coast of Fraser Island.
Many attempts were made to rescue it, but the sandbars that surround the island made this task impossible and they gave up, relenting the ship to the beach, where it sits today.
Years of currents, tides and sand blowing have buried most of the ship right there on the beach. Today we see only the top of it, but it is a stunning sight to see against the blue ocean on a sunny day.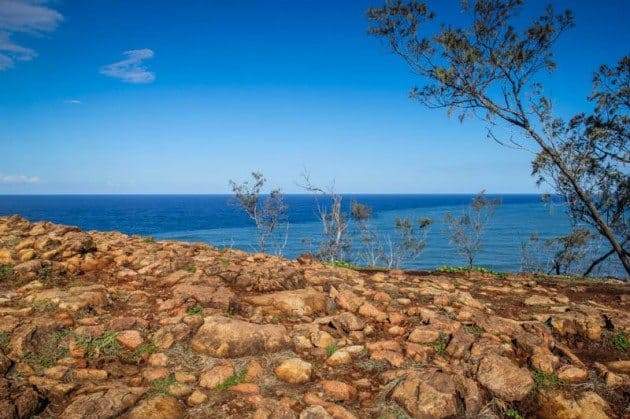 7. Indian Head
This lookout marks the most Easterly point of Fraser Island and is the ending of the North part of the 75-mile beach highway. The overlook was formed by volcanic activity and is formed of rhyolite.
It is a sacred site to the native Aboriginal people that lived on the island and we are lucky to have access to the top of it.
After navigating our way through an unmarked path to the top, you are awarded 360-degree panoramic views of the coast and island. It is a prime spot for seeing whales, sharks, dolphins and large fish in the waters below.
We were lucky to observe a small whale hunting in the shallow water between the beach and deep water.
Book your 2-Day Fraser Island 4WD Tour from Brisbane or the Gold Coast just like we did today!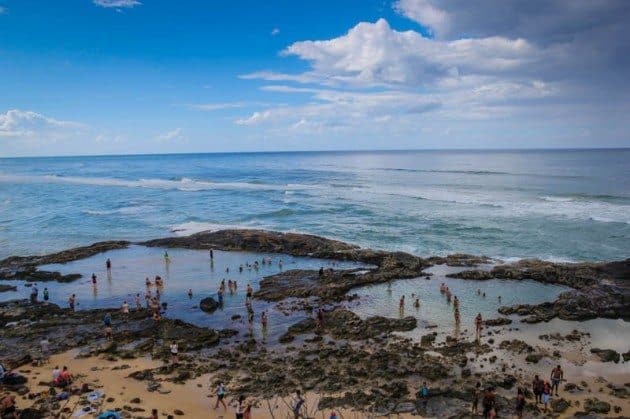 8. Champagne Pools
This was the only place we visited that wasn't made up of freshwater. The Champagne Pools are formed into the surrounding rocks creating shallow, saltwater pools.
The name comes from the water that trickles down the rocks into the pool after the waves crash on the side of them. It truly does look like someone popped some bubbly over the rocks.
The area is accessed by a boardwalk over a rocky hill and there is no beach in front of the pools. The day we visited they were overcrowded with people but enjoyable nonetheless.
Our favorite part was actually pausing on the overlook when walking back and getting an amazing view of the beach highway.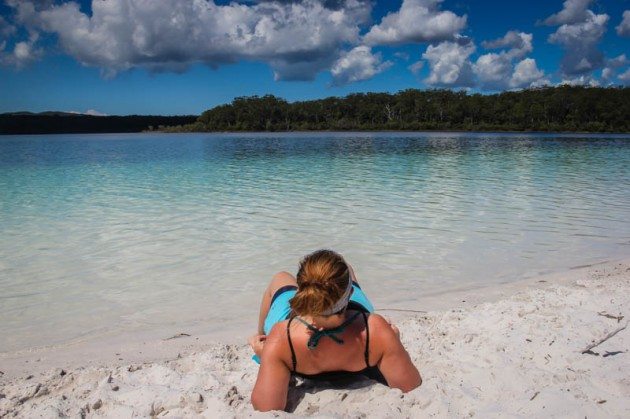 9. Lake McKenzie
Easily the most visited place on Fraser Island and for good reason. This lake is much like Lake Birabeen with it's freshwater and white sand beaches.
The beaches here cover a large amount of land and are pushed between lush forest and clear waters. It is a very beautiful spot and something you shouldn't miss on a visit to Fraser Island.
We spent the better part of our morning at this location, soaking in the sun, swimming, partaking in the spa rituals and observing kids playing in the water. It was a solid reminder of beautiful and diverse this planet is and how great it is to be out here experiencing these natural wonders.
10. Watch the Wildlife
This should probably just read Dingo. One word, one animal. We saw other animals while we were here, but the one that comes immediately to mind when someone mentions Fraser Island is Dingo.
I would equate them to a cross between say a coyote and a wolf, but their mannerisms are more like that of the coyote. They are stealthy and creepy. We had several close encounters with them during our time on the island.
Not in public places either, but in our camp. Although we did not feed them, they would come running the minute the BBQs were fired up. They lurked around the edges of camp in the dark and waited for their chances to loot anything they could.
We did a good job of keeping things put away, but they were there waiting for the opportune moment. Their presence made camping a real experience for many of us.
Our time on Fraser Island is one of our most memorable experiences of our time in Australia. We went out with an awesome group of people and the kindest guide we could have asked for.
We got to be hands-on with the island on our 4wd Guided Self-Drive and that made the visit special.
---
Top Tours of Fraser Island
2-Day Fraser Island 4WD Tour from Brisbane or the Gold Coast ** We did this one! **
Here's what Viator has to say about this tour. There's no other way to discover the natural beauty of Fraser Island. This is an ideal getaway for nature lovers. Enjoy stunning beaches in the Cooloola Recreation Area on the way, then enjoy offroading on the Seventy-Five Mile Beach to the famous Maheno shipwreck. Your knowledgeable local guide will show you all of the highlights, including swimming spots at Lake Birrabeen, Seventy-Five Mile Beach and Eli Creek, and lush rainforest walks at Pile Valley, Central Station and Wanggoolba Creek. Book your 2-Day Fraser Island 4WD Tour from Brisbane or the Gold Coast just like we did today!
2-Day Fraser Island Tour from Hervey Bay or Rainbow Beach
Here's what Viator has to say about this tour. Fraser Island named K'Gari (paradise) by the local Aborigines has over 100 freshwater lakes, extensive rainforest and giant sand dunes to explore. Discover this amazing Island with a local expert guide who leads rainforest walks at Pile Valley, Central Station, Wanggoolba Creek, and the Hammerstone Sandblow, and enjoy swimming opportunities at Eli Creek, Lake McKenzie, the Champagne Pools and Lake Wabby. Stay overnight at a lodge on Seventy-Five Mile Beach, see the Pinnacles and Maheno shipwreck, and have the option to book a scenic sightseeing flight on this fun and informative 2-day tour. Book your 2-Day Fraser Island Tour from Hervey Bay or Rainbow Beach today!
3 Day 4wd Tagalong Tour – Fraser Island
Here's what Viator has to say about this tour. Experience so much more of Fraser Island than on any other tour on this three-day adventure. Get off the beaten track and try your hand at driving a 4WD or just enjoy the ride as a passenger as you visit some of the best beaches, rainforest, lake, and even shipwrecks. Book your 3 Day 4wd Tagalong Tour of Fraser Island today!
Have you booked your trip yet to Australia?
We only partner and recommend the best tours and our friends over at G adventures offer great trips all around Australia. G adventures have 7 different tours around Australia include Fraser Island and below are our top 3 recommended by us.
More on Australia:
Did you like this story? Share it!