Bush camping on Fraser Island is one of the Top 100 Travel Adventures in the world. View the list and follow our mission to complete them.
From the right side to the left side; then to the back and then the front, the shocks bounce you around in the 4×4 as you head over uneven sandy ruts and large tree roots.
The low hanging branches wipe across the side of the truck down a one-way trail heading across the island to the beach.
Give it some gas so you don't get stuck in the deep sand as you leave the forest road and head out onto the beach. Nothing but sand and ocean in front of you.
This is Fraser Island. One of the jewels of Queensland in northeastern Australia.
Don't leave home without: Lonely Planet Discover Australia (Travel Guide)
---
Bush Camping on Fraser Island
---
We had the fantastic pleasure of visiting the World's largest sand island and we did this in a guided 4wd self-drive tour.
This means we had a guide that drove a 4wd at the front of the convoy followed by 3 other 4wd drive vehicles that everyone took turns driving.
Driving Conditions on Fraser Island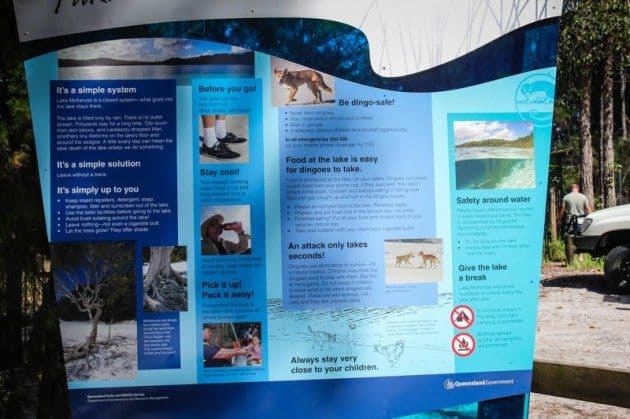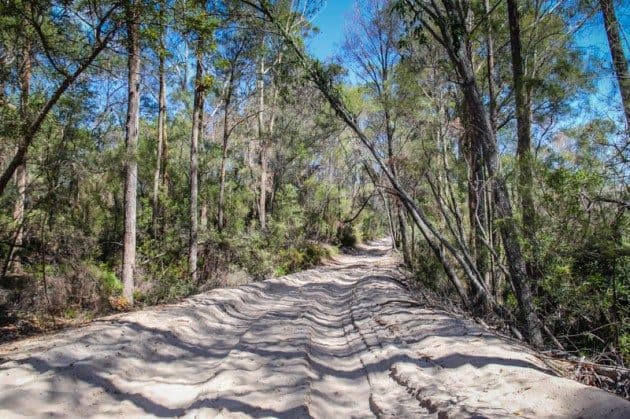 While driving on the island you will encounter many different driving conditions including sandy beaches, washed-out riverbeds with water rushing into the ocean, tide pools and rocky shore lines.
Driving on sand is different than the highways we are used to. On the sand you need to keep a steady speed while having less air in your tires.
You do not want your tires to dig in, if they do, you will be stuck. You will also need to make wide turns.
The best place to drive is on the existing wheel tracks; the sand will be padded down more and give better traction for you while navigating the roadways.
While driving inland, you encounter one-way trails and the rule is that you have to give away to traffic heading down a hill.
Otherwise, you will need to back up until you can find a solid spot to pull over. During times of the year when there is more rain, it is essential to get out at waterways that cross the beach and check their depth.
Some may be deeper then they look and the worse thing you could do is let off the gas while crossing one that is too deep.
Book your own adventure today with TourRadar: Fraser Island Camping Adventure 3D/2N
Using the Bush Camp on Fraser Island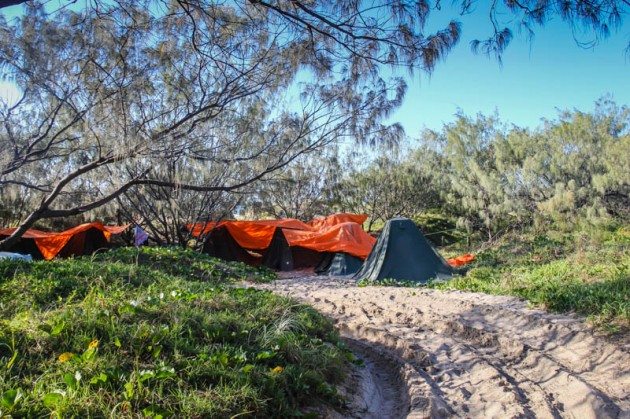 After a long day, off-road driving the setting sun tells you to make your way to camp.
We are literally bushed from our day's adventures and it's time to head back to our remote bush camp, which happens to sit behind a sand dune just steps away from the ocean.
The camp has a full turnaround where we parked the five 4X4's around the outside of the cooking/eating area.
Around the outside of the 4×4's were our four-person green bush tents. These things were the most solid tents I have ever slept in. Inside of the tent was just room for four people and that's it.
Anything you chose to bring in the tent was squeezed around the 4 people that were occupying it that night.
What To Bring for Camping on Fraser Island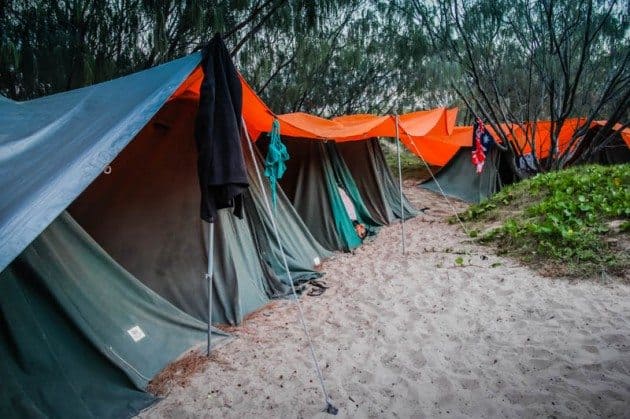 Everyone was given foam sleeping pads that were used for bed mats. They weren't thick, maybe 1/2 inch, but I guess better than sleeping directly on the tent floor.
You could bring sleeping bags and pillows if you had room in your 4×4 but there was not much room with all of the people and your three days worth of food.
Lina and I just had our Nemo blow-up pillows with large sleeping bag liners. A sleeping bag would have been nice but with the weather, it may have been way too warm to sleep comfortably.
Being we were on a sand island we had sand everywhere. Including the tent. You just can't do anything about it either.
Besides being loaded with sand, we had to be sure to always leave our tent zipped up, even when close, as the dingos will get in there when you're not looking. They are really that quick!
Beware of the Dingo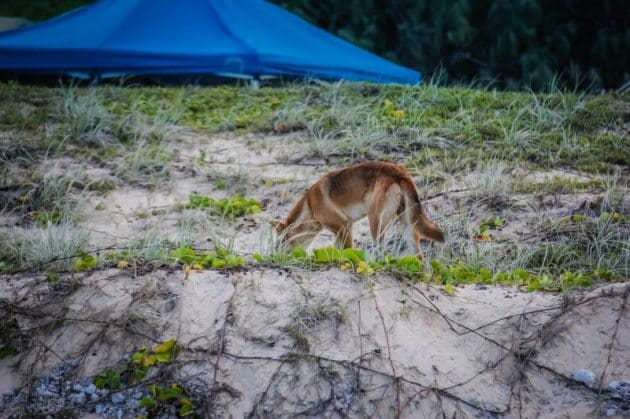 Dingos will also be sniffing around your tent at night so you do not want any food stored with you either. Everything should be packed in a safe spot like your 4×4 or the kitchen rig.
In another 4×4 a group of boys forgot to shut there door and the dingos took some swimming trunks and other items. Left makeup in your tent? They'll rip your tent down for that too. Best to leave it all on the mainland.
Everything must be removable from camp, there are no fixed buildings. Tables and seats are any chairs you may bring or milk cartons with boards on them.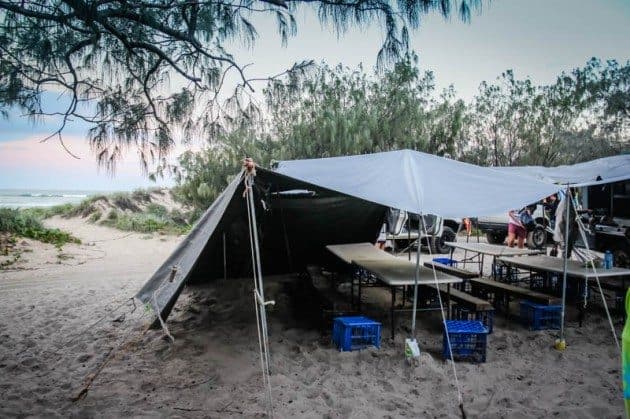 The cooking and eating area has two BBQs and one gas burner for cooking up your food. While cooking you will need to keep a close eye on all of your items. It does not matter what it is the dingos will run off with it.
They are quick and will be lurking in the dark just to tip over that grill and lick up the grease when you have gone to bed.
Safety & Bush Toilets While Camping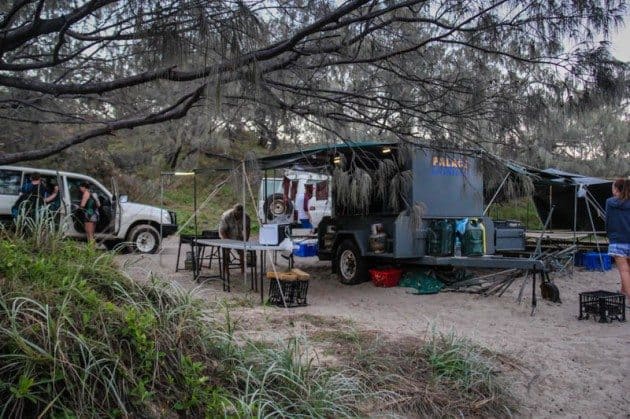 We really weren't prepared for the close dingo encounters. They really are everywhere but most of the time we saw them at night in and near our camp.
They are wild dogs that are curious but wild. You do not want to feed them, if you do, you will get fined hundreds of dollars.
The rangers do a good job of educating the public and managing the dingo's interaction with people.
They work hard to keep them wild because if they learn people equal food it leads to bad interaction that never ends well for the dingo. The rules are strict and enforced on Fraser Island.
Have to go to the bathroom? We made sure to pack toilet paper and baby wipes because there are no bathrooms at camp. Bathroom time at camp had its own set of rules and protocols.
Gotta go? Grab a dingo stick, the shovel, and head down to the beach. Everything was done on the buddy system, partners are essential as they will be useful scaring off any dingo you may come across while you're trying to get your business done.
More rules, if it's a #1, it's ok to go anywhere. Guys in the sea, girls near, but not on the sand dune. #2, well you must dig a 9-inch hole while watching for dingos to bury your waste.
It isn't glamorous but it sure beats the possibility of stepping in your friend's poo while defending yourself from a dingo.
Rustic and Beautiful Camping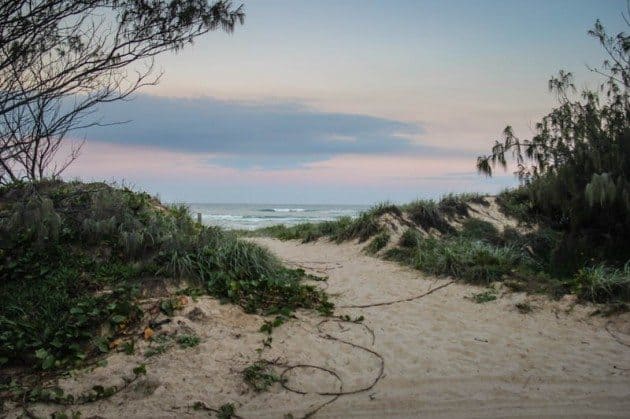 There are no showers in camp, so we were sure to take advantage of swimming in the lakes before returning for the night. The sand, well, you can't visit Fraser Island and avoid it.
Shower or not, it is everywhere and Lina is still shaking it out of the bikini bottoms she wore there.
The night winds down with everyone sitting at the make shift tables playing card games, obnoxious drinking games and drinking unhealthy amounts of goon while the moon rises over the ocean and the stars light up the sky.
Camping on Fraser Island is nothing short of magical, and despite all the dingo talk, you are more likely to get sand in your crack then have to fend off a dingo.
Camping on Fraser Island Rules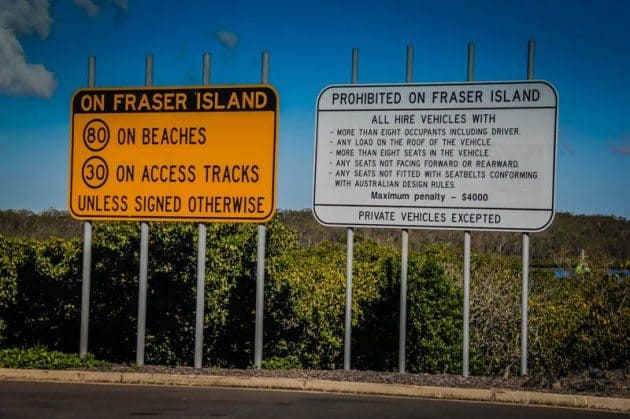 Of course, driving a 4wd on the largest sand island in the World comes with a large set of rules.
The rules are pretty simple:
Do not feed the dingos, you will get fined or die!
Do not speed, you will get fined or die!
Do not drive into the ocean, you will get fined or die!
Do not be under the influence of anything, they monitor this heavily on the island and if you do get busted, you will be fined or die! One AM on our trip they were testing all drivers.
You must take with you what you took on the island, fines are hundreds of dollars if you are littering. One AM Island officials came to make sure our camp was in good order, so they do check.
We were required to watch a safety video about camping and driving on Fraser Island. It is no exaggeration, they really do say you will be fined or could die on the video.
Related Article: The Best GoPro Accessories for Adventure Travel
Best Bush Camping on Fraser Island Tour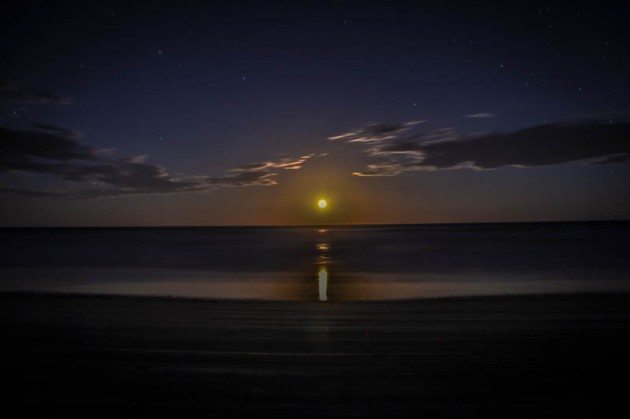 Start and end in Rainbow Beach! With the adventure tour Fraser Island Camping Adventure 3D/2N, you have a 3-day tour package taking you through Rainbow Beach, Australia, and Fraser Island.
Fraser Island Camping Adventure 3D/2N includes an expert guide, meals, transport and more.
More on Australia:
Did you like this story? Share it!