Taking the Sydney to Melbourne drive is the best way to travel between two of Australia's best east coast cities. It's also one of the best road trips in Australia.
Why fly when you can drive through the most beautiful outdoor scenery and visit the best destinations that Victoria and New South Wales have to offer?
Road trip along the spectacular southeastern coastline, calling in at national parks and small towns along the way.
Start your journey after exploring all the best sights and beaches of Sydney and end your road trip in Melbourne's cool cafes!
To inspire your next Aussie adventure, here's our guide to planning a Sydney to Melbourne road trip!
Don't leave home without: Lonely Planet Australia (Travel Guide)
---
Sydney to Melbourne Drive: Ultimate Road Trip Guide
---
How Long is a Sydney to Melbourne Road Trip?
Distances in Australia are pretty vast. This is a huge country, and it's not quick driving between any major cities. Sydney to Melbourne is one of the faster routes you can drive along the east coast.
The quickest way to travel by road is just over 500 miles, but this cuts straight through the outback and makes for a monotonous road trip. If you're in a hurry, you could drive this in a long day, though!
A better Sydney to Melbourne road trip will take you along the coast, giving you plenty of opportunities to enjoy the region's incredible natural and tourist attractions.
This is a longer route, covering around 700 miles. To really appreciate the stops, we'd recommend taking a week for the road trip, that way you're never driving for more than a few hours a day.
Quick Info:
---
Best Stops Along the Sydney to Melbourne Drive
---
This road trip itinerary predominantly sticks to the coast, where the best attractions are. After leaving Sydney, though, you have the chance to visit Canberra, the nation's capital.
However, this will add on a few extra miles as you'll need to head inland, then back to the coast.
While you're road tripping, you'll quickly realize that there are plenty more great stops you might want to visit, too, so it's great to stay flexible on the way from Sydney to Melbourne!
Sydney
Your journey begins in Sydney, one of Australia's most iconic destinations. Before heading out on the road, take a few days to explore the city, especially if it's your first time in Australia.
Sydney has so much to offer, with a bustling city center packed full of attractions waiting to be explored.
Visit the Sydney Opera House before taking on the adrenaline-inducing Sydney Harbour Bridge Climb for epic views over the harbor area.
Make sure you head out to the coast before you start your Sydney to Melbourne road trip. This is a city built by the ocean, and some of the country's favorite beaches are just a short drive from the center.
Visit Bondi Beach if you're into surfing and take a ferry across the harbor to Manly Beach to enjoy the sun, sea, and sand!
Stay awhile and truly feel the Sydney area:
Top 5 things to do in Sydney:
Blue Mountains
The first stop on your Sydney to Melbourne road trip should be a slight detour into the Blue Mountains.
This spectacular area of natural beauty is located just an hour away from the city, so you can always make this a day trip from Sydney before setting off south.
The Blue Mountains National Park is a spectacular place for hiking. Visit Katoomba, where you'll be greeted by epic clifftop walks and unique rock formations, such as the Three Sisters.
There are small mountain towns, a scenic cable car ride, and plenty more outdoor sights!
Stay awhile and truly feel the Blue Mountains area:
Top 5 things to do in the Blue Mountains:
Jervis Bay
Take the highway south from Sydney, and your first stop on the road trip will be Jervis Bay. This beautiful seaside community is home to what the locals claim is one of Australia's best beaches.
That's a huge claim, but when you see the beach for the first time, you might just agree. Spend your day relaxing on the soft sands or get active and enjoy the snorkeling because the water here is crystal clear.
Stay awhile and truly feel the Jervis Bay area:
Top 5 things to do in Jervis Bay:
Canberra (Detour)
From Jervis Bay, you can take a detour inland to visit the nation's capital. It's a two-hour drive away from the coast, but it's worth spending a full day to explore Canberra's museums.
The city is very underrated when it comes to tourism, and most travelers miss out on the capital.
Yes, it's purpose-built, but Canberra is where you'll find the country's best museums, as well as the Australian parliament building.
You can take a guided tour of the parliament to learn more about Aussie history and politics!
Stay awhile and truly feel the Canberra area:
Top 5 things to do in Canberra that you simply must do!
Eden
From Jervis Bay or Canberra, you now need to drive south, because your next stop is the aptly named town of Eden. This is the most southerly town in New South Wales, so after this, you'll be driving into the state of Victoria.
Visit the local museum, where you can learn about the town's whaling history, before heading to the beach to admire the spectacular coastline.
In the right season, you can join a whale-watching trip to see how the locals transitioned from whaling to whale watching!
Stay awhile and truly feel the Eden area:
Gippsland
Drive south into Victoria and make your way to Gippsland, where you can find the glorious Gippsland Lakes.
This coastal community is a popular holiday destination for Australians because the area is known for its delicious seafood and excellent wines.
Enjoy the lakes, take a boating trip, and enjoy the great food and great wine as you relax in Gippsland.
Stay awhile and truly feel the Gippsland area:
Walhalla
Your next stop in Victoria needs to be Walhalla, an old gold mining town where you can learn more about Victoria's gold mining history.
The town has just 20 residents but sees many more thousands of visitors each year. There's some dramatic scenery nearby, including forests and gorges.
The town itself has been preserved much as it would have looked in the mid-1800s when it was founded during the gold rush era.
Stay awhile and truly feel the Walhalla area:
Wilson's Promontory
One of the best stops on your Sydney to Melbourne road trip is Wilson's Promontory.
This small peninsula juts out from the mainland and offers exceptional views over the ocean and all along the windswept southern coastline.
The national park is home to some excellent beaches, but it's the hiking that will draw you into this protected area, and keep you for longer than you were planning.
You can find some great campsites around the area to get closer to nature and to give you the chance to take as much time as you want to enjoy this beautiful part of Australia!
Stay awhile and truly feel the Wilson's Promontory area:
Top tours that includes Wilson's Promontory.
Phillip Island
You're almost in Melbourne, but you've got a few great stops left still. For nature lovers, a trip to Phillip Island is a must, because this small, rugged, windswept island is home to thousands of friendly penguins.
If you can stay until the evening, you'll be able to witness the world-famous Penguin Parade, when the penguins return in vast numbers from the ocean where they've been fishing all day, to spend the night on Phillip Island.
Stay awhile and truly feel Phillip Island:
Top recommended tours for visiting Phillip Island:
St Kilda
Before you head into Melbourne itself, take a stop at St Kilda, where you'll find the city's best beach and most happening community.
St Kilda is popular amongst backpackers and travelers, and you might end up staying a lot longer than you anticipated!
Enjoy the beach and the markets, or take a trip to Luna Park, Australia's most famous amusement park. If you're a backpacker, why not check into a hostel and have a night out in St Kilda too?
Stay awhile and truly feel the St Kilda area:
Top recommended tours in St Kilda, Australia:
Melbourne
After several hundred miles of driving, you've made it to the end of your Sydney to Melbourne road trip! Take a few days to enjoy Australia's capital of coffee and all things cool.
Take a street art tour of Melbourne to see the city's artistic side, before visiting Queen Victoria Market, the botanic gardens, and the Old Gaol Museum.
If you've still got a few days at the end of your road trip, you could consider extending the itinerary to drive the Great Ocean Road.
This starts just outside of Melbourne in Torquay, and it's often named one of the best road trips in the world!
There are many awesome things to do in Melbourne, so be sure to plan in a few extra days on the end of your road trip to hit at least the highlights.
Top 3 places to stay in Melbourne:
Top 5 things to do in Melbourne that you simply must do!
Add On the Great Ocean Road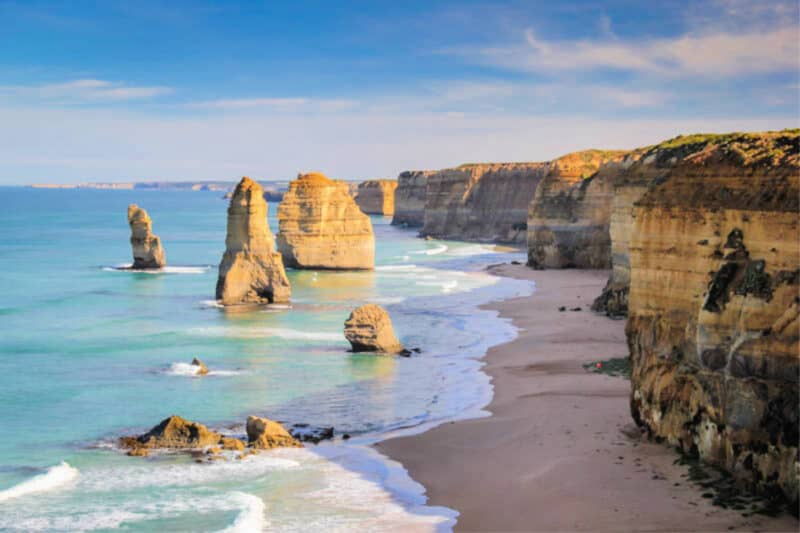 If you have more time in Australia and have seen the best that Melbourne has to offer, consider adding the Great Ocean Road drive to your itinerary.
This is one of the most iconic and scenic drives in all of Oceania, so if you have the time you do not want to miss it.
---
Doing A Melbourne to Sydney Drive Instead
Alternatively, it is possible to reverse this whole route by taking a Melbourne to Sydney road trip instead.
This will depend on if you can find cheap flights to Melbourne or Sydney when you arrive. There really is no right or wrong way to make this drive, so plan it in the direction that suits your plans best.
---
Road Safety in Australia
In Australia, you need to drive on the left-hand side of the road, but there are a few other things you might need to get used to on your Sydney to Melbourne road trip.
Once you're out of Sydney, you'll start to encounter wildlife in rural areas. You might be itching to see a kangaroo, but you don't want to meet them on the roads!
Kangaroos are a serious danger when you're driving along the highway, so try to avoid driving at dawn or dusk and after dark. This is when kangaroos are found bounding across the roads.
For a Sydney to Melbourne road trip, you really don't need a fancy four by four. Roads here are great, but do remember to get breakdown cover and insurance – you don't want to be stuck miles from the nearest town!
Supplies and Accommodation between Sydney and Melbourne
Compared to other parts of Australia, where things are much more remote and rural, the great thing about a Sydney to Melbourne road trip is that you don't need to plan too much.
There are always gas stations and supermarkets within easy reach.
As with anywhere in Australia, though, it's good practice to keep your gas tank full and stash a few supplies, especially water, in the car.
You'll find lots of accommodation along the route – from guesthouses and hotels in tourist destinations to campsites along the coast and in national parks.
A great way to explore the east coast is by campervan; you'll find these are welcome in caravan parks and campsites all the way from Sydney to Melbourne!
More on Australia:
Did you like this story? Share it!