It's that time of year again where the snow is starting to fly, the offices are stuffy with indoor heating systems and some of us haven't seen the sun in weeks going on months. We're starting to look for ways out, a relief and somewhere to relax after the holiday season.
Planning a vacation should never be taken lightly, as there are loads of destinations to choose from in your pursuit of the perfect place for rest and relaxation. I would be surprised if you didn't have Puerto Rico on your list of vacation prospects.
Not only does it have beautiful tropical weather, but the island is easy to access from the states and for US citizens, you don't need a passport to visit.
You probably don't need much more convincing that Puerto Rico is an ideal vacation spot, but I would be remiss if I didn't share with you some of the things you just shouldn't miss on your next vacation to this perfect little spot in the Caribbean.
Don't leave home without Lonely Planet Puerto Rico (Travel Guide)
---
Ultimate Puerto Rico Itinerary
---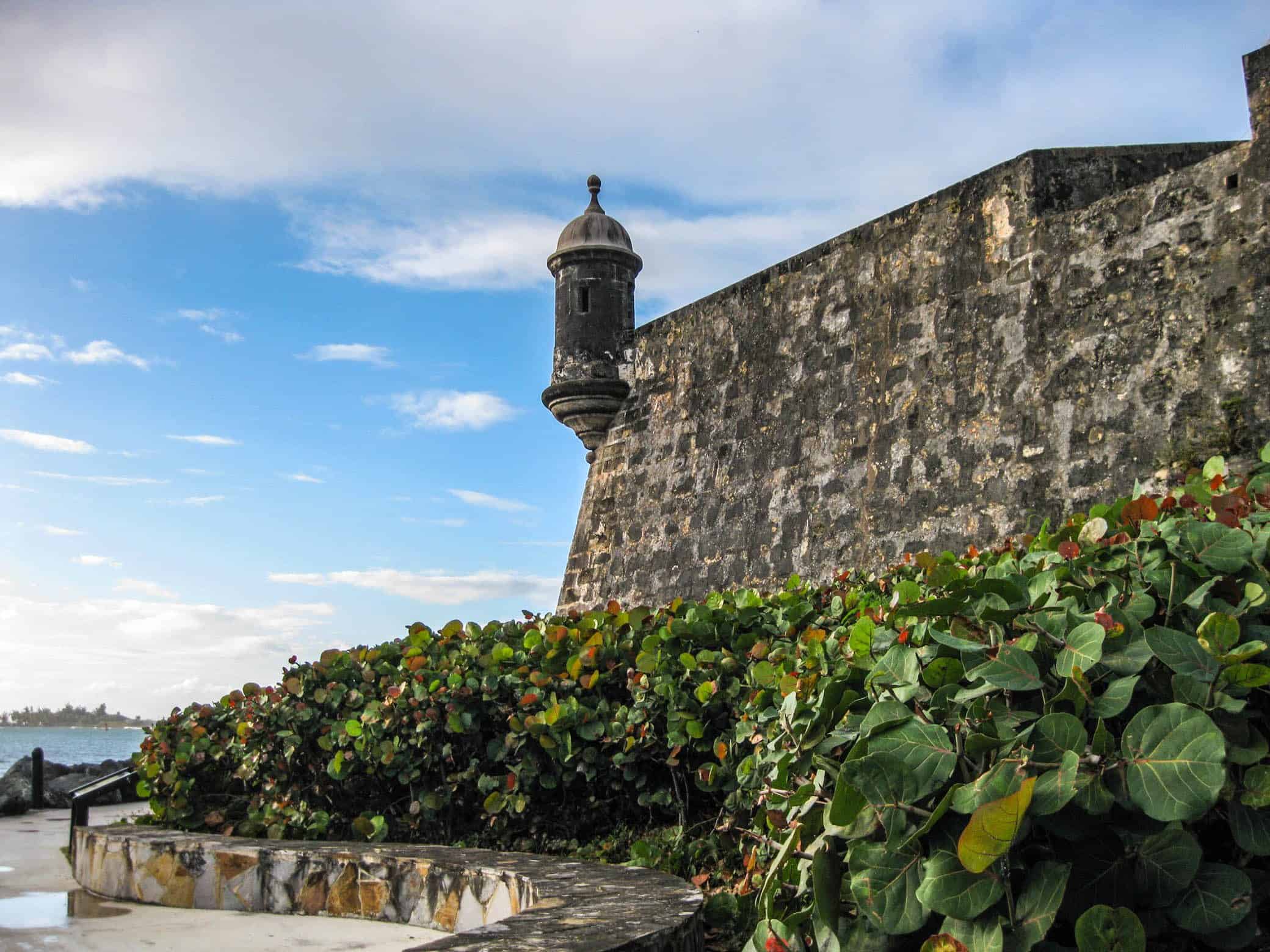 Old Town San Juan
Whether you are staying outside of the main city of San Juan or within the city limits, you must not miss a visit to the spectacular Old Town. This area of the city is preserved since its founding by the Spanish colonists in 1521 and you can wander among the narrow lanes exploring huge forts that sit right up against the ocean.
Just taking the time to wander in and out of the old buildings along some of the blue cobblestone streets that still function from the 16th century, will be a highlight of your time in Puerto Rico. Be sure to go inside at least 1 of the main forts and if you have time, check out the museum.
Looking for lodging in this fantastic area of Old San Juan? There is no shortage of great accommodation choices for every budget in this area. Two favorites of ours are Hotel El Convento and Condado Vanderbilt Hotel.
Top Things You Must See In Old Town San Juan:
Alcadia – San Juan's City hall, built-in 1602.
The Institute of Puerto Rican Culture
Casa Blanca, the western end of Calle San Sebastián, Ancestral home of the Ponce de Leon family, now a museum.
La Fortaleza, the western end of Calle Fortaleza, Oldest governor's mansion in continuous use in the New World.
San Jose Church – (1532) The second oldest church in continuous use in the New World.
San Juan Cathedral, 153 Calle Cristo. (1540) Burial site of Ponce de Leon.
San Juan Gate – Traditional entrance to San Juan.
Ballaja Barracks – Museum of Americas highlights colorful folk art.
La Casa del Libro – Museum of the art and history books through five centuries.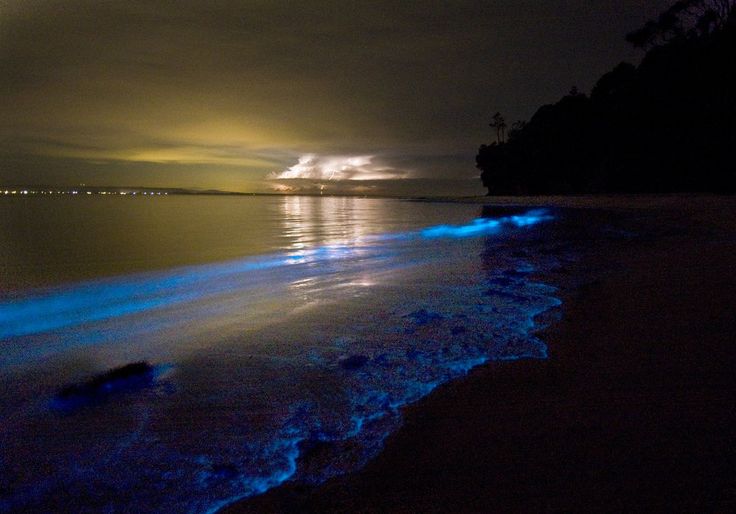 Night-time Dip in a Bioluminescent Bay
There are three bioluminescent bays in Puerto Rico and it was of the main highlights for a visit to this island paradise. What causes it? This natural phenomenon is caused by oceanic plankton that comes near to the shore and then lets off an ultramarine illumination when the water is disturbed. The water is best experienced more than 6 days after a full moon for the best illumination.
The best ways to experience the bio bays include snorkeling, swimming, and kayaking through the plankton filled waters.
The closest and most popular place to have these experiences is in Fajardo, the closest bio bay to San Juan. Fajardo is a small city and in Puerto Rico located in the east region of the island, bordering the Atlantic Ocean, north of Ceiba and east of Luquillo.
Fajardo's beaches are bounded by calm, clear teal water ideal for snorkeling, scuba diving, and stand-up paddleboarding. Day and Nightly trips are offered by kayak by local companies who give educational tours about the Bioluminescence.
You can also spend your day's island hopping. Near Fajardo, are the great Islands of Icacos, Palominos, Palomino, and Diablo.
If you are looking for a great place to stay in Fajardo consider the Las Casitas Village, A Waldorf Astoria Resort. Boasting a private beach and rave reviews about their amenities and great views.
El Yunque National Park
If you like nature and are looking to get away from the rush of the city or the sun of the beach, then head inland to the only rainforest registered with the National Park Service in the United States.
You can arrange tours that will take you to the best sights, waterfalls and swimming holes of the park on a day trip from San Juan. Or you can rent a car and explore on your own.
You could spend days in the park checking out the many hiking trails and hidden waterfalls. Sights you shouldn't miss on a visit to the park include the Sierra Palm Forest, Mt Britton Tower, the Dwarf forest and La Mina Falls.
Spend an adventurous day exploring two of Puerto's most incredible natural wonders on this full-day excursion to hike in the El Yunque Rainforest and kayak at the island's famed Bioluminescent Bay. This Puerto Rico outdoor adventure also includes round-trip hotel transport, professional guide, and national park fees.
Read reviews and check prices with our Hotel Search Engine, that gives you the best hotel deals found on the web. Our search engine pulls results from all of the major booking places, including Expedia, Hotels, Booking and more. All the options, all the deals, all in one place and just for you.
Camuy River Cave Park
The Camuy Caverns are part of a large cave system in Puerto Rico. The caverns are part of a large network of natural limestone caves and underground waterways carved out by the 3rd largest underground river in the world, the Río Camuy. Discovered in 1958, there are at least 10 miles of caverns, 220 caves and 17 entrances to the Camuy cave system.
Only a small part of the cave park is open to the public. The 268-acre park that was built around the cave system features tours to some of the caves and sinkholes and is easily one of the most popular natural attractions in Puerto Rico. Don't miss out on a chance to add a little adventure to your vacation.
No matter how you choose to spend your time to live your own 5-star vacation story in Puerto Rico, you will find there are things to keep you active, out exploring and enjoying your time on vacation.
---
Puerto Rico Travel Tips
---
Where is Puerto Rico?
Puerto Rico is the largest island in the eastern half of the Caribbean. The Dominican Republic lies not far to the west, while the US and British Virgin Islands are close to the east.
Puerto Rico is the name of the largest island, as well as the entire territory, which is actually made up of several smaller islands, many of which are uninhabited.
Puerto Rico is not an independent nation, but it is an unincorporated territory of the United States.
That means that although it is not a US state, Puerto Ricans are still US citizens, making for an interesting mix of cultures on the island.
How to Travel to Puerto Rico
Puerto Rico's Luis Muñoz Marín International Airport is the territory's primary gateway. It's a large airport, located just outside of the capital, San Juan, and there are hundreds of flights a day.
The majority of flights are to the US mainland, with Miami being just a short two hour trip for instance, while there are even long haul flights to Canada and Europe.
The international airport is also used increasingly as a bit of a hub by different US-based airlines to allow easy connections to the rest of the Caribbean islands, which are all just a quick flight away.
There are regular ferry trips between Puerto Rico and the nearby Dominican Republic, but the crossings can be quite long.
Many cruise ships also call into San Juan through the Caribbean cruising season, as it's a popular stop on itineraries.
Puerto Rico has the same visa restrictions as the rest of the United States, but for US citizens, it's an incredibly easy getaway, as no passport is even required to take the flight here if traveling domestically.
The main island's major cities and towns are all well connected through a highway system, and the easiest method of transport is to rent a car for the duration of your stay.
If you'd rather not do this, there is a cheap public transport system, with buses available to most large towns, and even an inner-city train system running in San Juan.
There are also many regular ferries operating to the smaller surrounding islands, many of which are very close.
Check out this guide if arriving by Cruise Ship: Fodor's Caribbean Cruise Ports of Call (Travel Guide)
The Best Time to Visit Puerto Rico
Puerto Rico enjoys a lovely, Caribbean climate, resulting in year-round warm temperatures and sunshine.
There is a distinct rainy and dry season though, and this will affect most traveler's plans to the region, as the best time to visit will be the dry season.
The rainy season brings torrential downpour, and violent storms, as well the odd destructive hurricane, the most recent hitting hard in 2017.
Although deals to Puerto Rico can be cheap in the wet, off-season which runs from June to November, consider the weather before booking. Prices will be higher in the dry season, between December and May, but the weather is much more predictable and enjoyable.
Where to Stay in Puerto Rico
Puerto Rico has accommodation suited for almost any level of budget or any style of travel. From real budget options like Hotel Melia Ponce, backpackers hostel Mango Mansion, or luxury resorts like Dorado Beach-Ritz Carlton Reserve.
The majority of the accommodation can be found in San Juan, generally in the areas overlooking the beaches of the city's foreshore, giving easy access to both Old San Juan, the beach and transport to other parts of the island.
Puerto Rico is a large place though and there are plenty of other options around the territory, and if you prefer a quiet stay, it may be best to look further afield from San Juan.
Read reviews and check prices with our Hotel Search Engine, that gives you the best hotel deals found on the web. Our search engine pulls results from all of the major booking places, including Expedia, Hotels, Booking and more. All the options, all the deals, all in one place and just for you.
Language and Currency in Puerto Rico
Being a longstanding Spanish colony for centuries, and only having been passed onto the United States at the turn of the 20th century, the predominant language in Puerto Rico is Spanish and for many residents, this is the sole language they will know.
Despite being a US territory, outside of the main tourist areas, it will come in handy to know Spanish, rather than using English.
The territory uses the US Dollar as its main currency, in keeping with the rest of the United States, and there are plenty of ATMs and banks on the island, making it a convenient Caribbean getaway for mainland Americans.
How Safe is Puerto Rico?
The touristy areas of Puerto Rico are very safe and there is always a large police presence patrolling to deter any unwanted crime, however, the island does have a gang problem.
This violent crime is mostly confined to the cities and to particular areas in those cities, so as long as you stick to the tourist zones and look out for your belongings, then a trip here should be trouble-free.
Be wary of visiting in hurricane season, as there have been dangerous storms, some in very recent years, that have caused extensive damage and loss of life.
Renting A Car In Puerto Rico
Should I rent a car in Puerto Rico? Yes, you should rent a car in Puerto Rico. Getting around Puerto Rico in a rental car is as easy as it gets.
It part of the United States, so you drive on the right side of the road. There are well-marked traffic signs making it easy to find locations all around the Island.
Renting a car allows you to discover hidden beaches where you to be the only people in paradise on them. Renting a car also allows you to have your own adventure, Puerto Rico is a small island.
So you can base yourself out of one area easily and see most of the island only if you have a rental car.
Need to book a car for your road trip adventure? We use Discover Car Hire for comparing car prices to find the best deal. They search both local & international rental companies.
More on the Caribbean:
Did you like this story? Share it!