Puerto Rico is a compact island that can easily be traversed in a week if you're in a hurry. That said, putting together the perfect Puerto Rico itinerary isn't always an easy task.
You can hit the highlights in as little as a 4 day itinerary. Plenty of people also plan 5 day itineraries with most people staying in Puerto Rico for one week.
We'd recommend staying longer that if you want to spend more time getting off the beaten track or spend a few extra days lounging on the beaches. Trust us, it will be worth it.
Not only does it have beautiful tropical weather, but the island is easy to access from the states and for US citizens, you don't need a passport to visit.
Don't leave home without Lonely Planet Puerto Rico (Travel Guide)
---
Putting Together A Puerto Rico Itinerary
---
Best Time to Visit Puerto Rico
Puerto Rico is hot, sunny, and tropical for the entire year; no matter when you visit the island, you're guaranteed warm weather.
Puerto Rico has a wet and dry season, with the wet season seeing a high chance of hurricanes (devastating hurricanes hit the country in very recent history).
The wet season falls between April and November, while the dry season falls between December and March.
Peak season is December through to February when winter sun-seekers start to arrive. Compared to other Caribbean islands, it's never too busy on Puerto Rico, except over Christmas and New Year.
The wet season is great if you don't mind risking thunderstorms and a potential hurricane. Prices are low, and the crowds are incredibly thin on the ground.
Getting Around Puerto Rico
The quickest way to travel around during your Puerto Rico itinerary is to rent a car or driver or take taxis. The taxi network is extensive and easy to use, with little hassle when it comes to prices.
However, if you're on a budget, this can be an expensive way to get around, so we'd recommend taking shared taxis between towns. These help you split the costs, and they are surprisingly easy to use and find.
If you're looking to save even more money, you can take the public buses. These are more limited, of course, but can get you between major destinations on the cheap.
In San Juan, you can use the urban rail network to get around.
If you're traveling out to Culebra Island or Vieques, you'll need to take a local ferry or join an organized boat tour. You could also enjoy sunset sailing cruises or catamaran tours to get around coastal areas.
Need to book a car for your road trip adventure? We use Discover Car Hire for comparing car prices to find the best deal. They search both local & international rental companies.
---
Ideal 5 Days in Puerto Rico Itinerary
---
While Puerto Rico seems like a small country, many people are surprised at how spread out the best sites in the country are. This means that you need some time to see the best of Puerto Rico.
If you're combining your visit to Puerto Rico with other islands or hopping on a cruise, chances are you will probably only spend 5 days in Puerto Rico. This is the absolute least amount of time you need to hit the highlights.
5 Day Puerto Rico Itinerary Overview:
Day 1: Arrive in San Juan
Day 2: Old Town San Juan
Day 3: El Yunque Rainforest
Day 4: Fajardo
Day 5: Fajardo
Day 6: Depart San Juan
I will not lie, this is going to be a rushed and shallow overview of what Puerto Rico has to offer. However, you will get a good taste of what the island is famous for.
---
San Juan
---
San Juan is the island's capital, and the perfect start and endpoint for your Puerto Rico itinerary.
San Juan's Old Town is packed full of colonial history dating back as far as 1521, but there's much more to see in the other, less trodden parts of the city too.
Take a tour of the Barcardi Rum Distillery, lounge on nearby beaches, or take in the museums and historical sites of the Puerto Rican capital.
Things To See in San Juan:
Old Town San Juan (See below for more info)
Castillo San Felipe del Morro: This imposing fortress overlooking the harbor was one of the first permanent structures built by the Spanish in the 16th century when they first began colonizing Puerto Rico. It remains a potent image of power and colonialism to this day.
Bacardi Rum Distillery Tour: World famous Barcardi Rum can trace its lineage to San Juan, where it's still distilled and bottled in the capital. Take a rum tour to learn about this iconic alcoholic spirit and sample a few cocktails!
Lounge at Condado Beach: You don't have to travel far to find some of the best beaches to add to your Puerto Rico itinerary. One of the most beautiful beaches you can visit near the city is Condado Beach, a popular hangout for locals and tourists.
Museo de las Americas: The finest and most encompassing museum in San Juan is the excellent Museo de las Americas. Set in a colonial-era army barracks, you can delve back into every era of local history.
Stroll along Calle Fortazela: The most colorful street in San Juan is Calle Fortazela, renowned for its street art and hanging umbrellas. Take a stroll to breathe some color into your Puerto Rico itinerary.
---
Old Town San Juan
---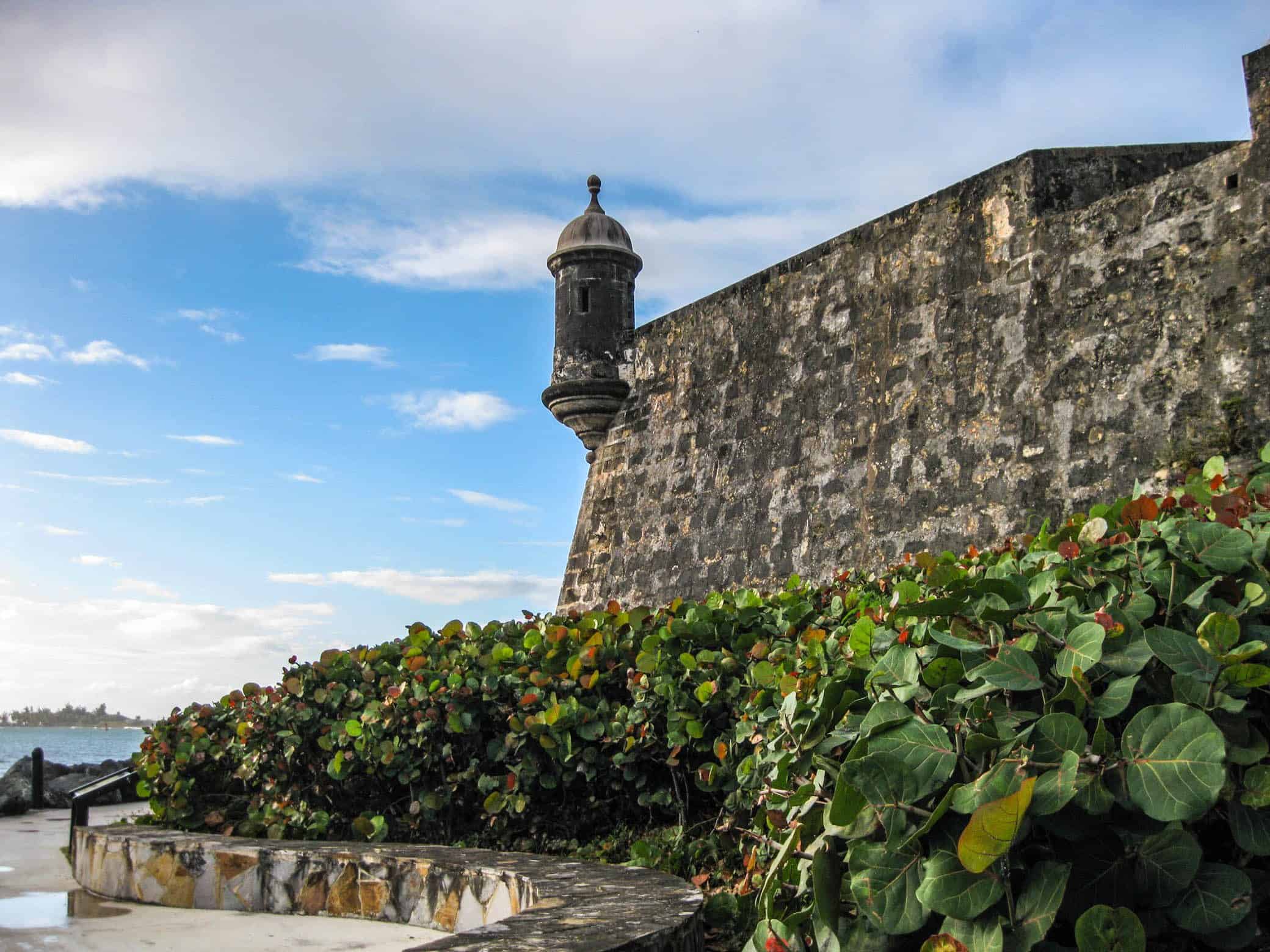 Whether you are staying outside of the main city of San Juan or within the city limits, you must not miss a visit to the spectacular Old Town.
This area of the city is preserved since its founding by the Spanish colonists in 1521 and you can wander among the narrow lanes exploring huge forts that sit right up against the ocean.
Just taking the time to wander in and out of the old buildings along some of the blue cobblestone streets that still function from the 16th century, will be a highlight of your time in Puerto Rico.
Be sure to go inside at least 1 of the main forts and if you have time, check out the museum.
Looking for lodging in this fantastic area of Old San Juan? There is no shortage of great accommodation choices for every budget in this area. Two favorites of ours are Hotel El Convento and Condado Vanderbilt Hotel.
Things To See in Old Town San Juan:
Alcadia: San Juan's City hall, built-in 1602.
The Institute of Puerto Rican Culture
Casa Blanca: The western end of Calle San Sebastián, Ancestral home of the Ponce de Leon family, now a museum.
La Fortaleza: The western end of Calle Fortaleza, Oldest governor's mansion in continuous use in the New World.
San Jose Church: (1532) The second oldest church in continuous use in the New World.
San Juan Cathedral: 153 Calle Cristo. (1540) Burial site of Ponce de Leon.
San Juan Gate: Traditional entrance to San Juan.
Ballaja Barracks: Museum of Americas highlights colorful folk art.
La Casa del Libro: Museum of the art and history books through five centuries.
---
Fajardo
---
The coastal tourism hub of Fajardo is the best base in Puerto Rico for exploring the eastern shoreline and the beautiful offshore islands of Culebra and Vieques.
You'll find excellent hotels and resorts, beautiful beaches, and easy access to the dense, jungle scenery of El Yunque National Forest.
Things To See in Fajardo:
El Yunque National Forest (see below for more info)
Culebra Island: Take a short ferry ride away from Fajardo, and you'll find one of the must-visit destinations on your Puerto Rico itinerary. Culebra Island is full of beautiful beaches (Flamenco Beach is the most famous), fantastic nature reserves, and colorful coral reefs.
Culebrita Island: Little Culebra is a deserted island paradise that makes for a wonderful escape from civilization. Enjoy the beaches and take in the diverse underwater world surrounding Culebrita Island.
Vieques: Another ferry ride or boat trip away from Fajardo takes you to the spectacular tropical climes of Vieques, one of Puerto Rico's most popular islands. As well as beaches and lovely island scenery, Vieques is famed for its mangroves and bioluminescence. (See more below)
Cay Santiago: Otherwise known as Monkey Island, this island isn't home to any humans – but is home to a huge population of monkeys that are being studied!
---
El Yunque National Park
---
If you like nature and are looking to get away from the rush of the city or the sun of the beach, then head inland to the only rainforest registered with the National Park Service in the United States.
You can arrange tours that will take you to the best sights, waterfalls and swimming holes of the park on a day trip from San Juan. Or you can rent a car and explore on your own.
You could spend days in the park checking out the many hiking trails and hidden waterfalls. Sights you shouldn't miss on a visit to the park include the Sierra Palm Forest, Mt Britton Tower, the Dwarf forest and La Mina Falls.
Spend an adventurous day exploring two of Puerto's most incredible natural wonders on this full-day excursion to hike in the El Yunque Rainforest and kayak at the island's famed Bioluminescent Bay.
This Puerto Rico outdoor adventure also includes round-trip hotel transport, professional guide, and national park fees.
---
Nighttime Dip in a Bioluminescent Bay
---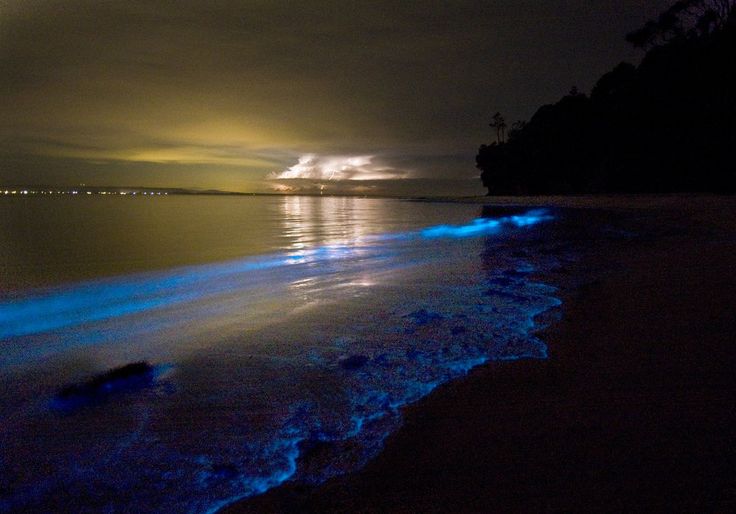 There are three bioluminescent bays in Puerto Rico and it was of the main highlights for a visit to this island paradise. What causes it?
This natural phenomenon is caused by oceanic plankton that comes near to the shore and then lets off an ultramarine illumination when the water is disturbed.
The water is best experienced more than 6 days after a full moon for the best illumination.
The best ways to experience the bio bays include snorkeling, swimming, and kayaking through the plankton filled waters.
The closest and most popular place to have these experiences is in Fajardo, the closest bio bay to San Juan.
Fajardo is a small city and in Puerto Rico located in the east region of the island, bordering the Atlantic Ocean, north of Ceiba and east of Luquillo.
Fajardo's beaches are bounded by calm, clear teal water ideal for snorkeling, scuba diving, and stand-up paddleboarding.
Day and Nightly trips are offered by kayak by local companies who give educational tours about the Bioluminescence.
You can also spend your day's island hopping. Near Fajardo, are the great Islands of Icacos, Palominos, Palomino, and Diablo.
If you are looking for a great place to stay in Fajardo consider the Las Casitas Village, A Waldorf Astoria Resort. Boasting a private beach and rave reviews about their amenities and great views.
---
Ideal 7 Day Puerto Rico Itinerary
---
While Puerto Rico seems like a small country, many people are surprised at how spread out the best sites in the country are. This means that you need some time to see the best of Puerto Rico.
If you're combining your visit to Puerto Rico with other islands or hopping on a cruise, chances are you will probably only spend 5 days in Puerto Rico. This is the absolute least amount of time you need to hit the highlights.
7 Day Puerto Rico Itinerary (One Week) Overview:
Day 1: Arrive in San Juan
Day 2: Old Town San Juan
Day 3: El Yunque Rainforest
Day 4: Fajardo
Day 5: Fajardo
Day 6: Ponce or Arecibo
Day 7:Ponce or Arecibo
Day 8: Depart San Juan
---
Ponce
---
Head to the southern shoreline to escape the tourist crowds and soak up the local cultures and traditions. Ponce is Puerto Rico's second-largest city; it's a hub for art, music, food, and much more.
The annual Ponce Carnaval is one of the best events that you could add to your Puerto Rico itinerary if you can time your visit right.
Things to See in Ponce:
Ponce Carnaval: In the week that leads up to Ash Wednesday (the day that Lent starts, before Easter), Ponce hosts Puerto Rico's most exciting festival. Ponce Carnaval is legendary. For a week, you can party, dance, eat, and enjoy the vibrant parades and performances of the Ponce locals.
Museo de Arte Ponce: Delve into the local art scene as you explore the galleries and exhibits of Puerto Rico's most popular gallery.
Hacienda Buena Vista: Head into the countryside to visit this historical, colonial-era coffee plantation and learn more about history, agriculture, and culture in Puerto Rico in the 19th century.
---
Arecibo
---
Along the northwest coast of Puerto Rico, you can explore the coast, mountains, and countryside of the Arecibo region.
Known for its dramatic outdoor scenery and exciting adventure travel opportunities, Arecibo is a great place to get closer to nature.
Things to See in Arecibo:
Camuy River Cave Park: (See more below)
Cueva Ventana: This vast cave is well worth the hike through the jungle to get here. Known as the Cave Window, you have breathtaking views over the surrounding valleys from the entranceway.
Cueva del Indio: This weather-beaten, coastal cave is home to ancient cave drawings composed in past centuries by the now lost indigenous Taino culture. There's little left of Taino culture today, so this is one of the best archeological sites to visit on your Puerto Rico itinerary.
Arecibo Lighthouse: Enjoy spectacular views over the windswept coastline of Puerto Rico from the iconic Arecibo Lighthouse, a historical monument dating back to 1898.
Arecibo Observatory: On a tall hilltop in the highlands, you can visit what was once the most powerful telescope on the planet. Learn more about astronomy at the intriguing visitor's center located by the Arecibo Observatory.
---
Camuy River Cave Park
---
The Camuy Caverns are part of a large cave system in Puerto Rico. The caverns are part of a large network of natural limestone caves and underground waterways carved out by the 3rd largest underground river in the world, the Río Camuy.
Discovered in 1958, there are at least 10 miles of caverns, 220 caves and 17 entrances to the Camuy cave system. Only a small part of the cave park is open to the public.
The 268-acre park that was built around the cave system features tours to some of the caves and sinkholes and is easily one of the most popular natural attractions in Puerto Rico.
---
Tips for Planning Your Puerto Rico Itinerary
---
Costs and Budget
As Puerto Rico is a territory of the United States, the US Dollar is the primary form of currency.
Cash is widespread, and there are plenty of ATMs and banks in the towns across the island (including several branches of US banks).
Credit or debit cards aren't so widely excepted outside of the tourist areas, so always carry cash when you can.
There can be significant differences in prices and costs for travelers. Public transport can cost just a few dollars for a cross-island trip, but a private taxi from a hotel to San Juan could cost upwards of USD 25 for short journeys.
Local food (try the Lechon!) is cheap, but again, expect to pay a premium for restaurant meals in hotels or tourist locales.
Accommodation is limited in scope and mostly aimed at midrange travelers upwards, rather than budget travelers.
Expect to pay more than 100 UD per night for decent accommodation (this will increase exponentially in peak season at resorts).
Safety in Puerto Rico
Your Puerto Rico itinerary should come off without a hitch because it is a very safe tourist destination.
Petty theft and crime do exist though, especially in poor neighborhoods in San Juan and tourist destinations. Be vigilant on the beaches, and always look out for your belongings.
The reality is that there's no more danger here than there is anywhere in the USA.
The only major danger comes from natural disasters, which, sadly, can be fairly common.
The island has spent some time recovering from devastating hurricanes and frequently gets rattled by earthquakes, so keep an eye on the news and the weather when you're visiting.
Where to Stay in Puerto Rico
Puerto Rico has accommodation suited for almost any level of budget or any style of travel. From real budget options like Hotel Melia Ponce, backpackers hostel Mango Mansion, or luxury resorts like Dorado Beach-Ritz Carlton Reserve.
The majority of the accommodation can be found in San Juan, generally in the areas overlooking the beaches of the city's foreshore, giving easy access to both Old San Juan, the beach and transport to other parts of the island.
Puerto Rico is a large place though and there are plenty of other options around the territory, and if you prefer a quiet stay, it may be best to look further afield from San Juan.
Read reviews and check prices with our Hotel Search Engine, that gives you the best hotel deals found on the web. Our search engine pulls results from all of the major booking places, including Expedia, Hotels, Booking and more. All the options, all the deals, all in one place and just for you.
More on the Caribbean:
Did you like this story? Share it!