Taking a Helicopter ride in Maui is one of the best things to do in Hawaii. If you're an adrenaline seeker, then we can highly recommend that you make it a doors off ride too.
The only way to really see Maui's breathtaking landscape is by flying high in a doors-off helicopter tour. Soaring above the Maui's cliffs, forest, volcanic shape, beaches, craters will leave you breathless.
A doors-off helicopter tour in Maui, Hawaii is more than just a helicopter tour it is a way to see untouched places of the island of Maui that normal tourist does not get to see.
Taking a helicopter ride over a scenic area has always been high on the things-to-do list. When plans came together for a trip to Maui, it was without question that we would be booking a helicopter ride.
Recommended Guide Book For Maui: Lonely Planet Maui
---
Helicopter Ride in Maui: Is It Scary With the Doors Off?
---
After spending some time researching our options, I couldn't help but be drawn to the adventure type option of taking a helicopter ride, without doors.
Yes, that's right, they take the doors off the front and back of the helicopter and you fly around without them.
Having never been in a helicopter before, I wasn't sure what to expect, let alone adding the element of no doors.
As we drove up to the helipad in Kahalui that morning, I couldn't help but hope I would get a seat right next to the opening. I was a little scared but knew this would be the best place for photos.
Arrival & Preparation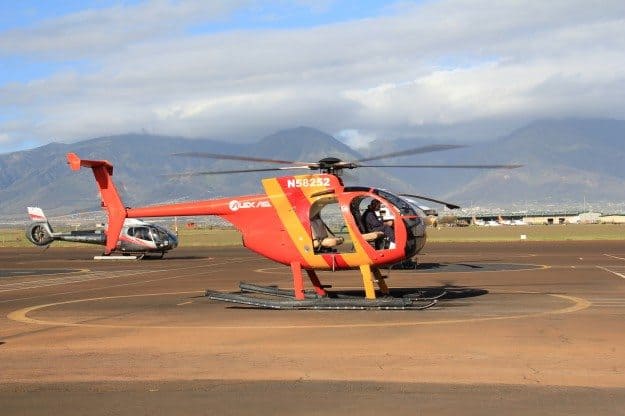 We arrived, signed in, stepped on a scale and then proceeded to dress in our jumpsuits. They fitted us with headgear and then asked us to wait while the prepared the helicopter.
It was the two of us, David and I and another couple. The odds just weren't in my favor as the informed is of our seating positions based on weight and height.
Being short, 5'2 and not weighing much, I got the crappiest seat in the house. Middle of the front bench seat between the pilot and my husband.
Although I was flattered to be the lightest, smallest person I was disappointed that I wouldn't have a 'front row' seat. Hmph.
Liftoff Over Maui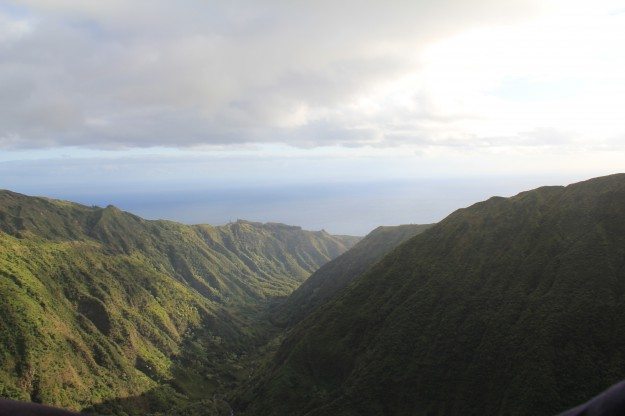 After squeezing into the front seat and lifting off, I found the seat wasn't so bad. I would spend the majority of the flight leaning over David snapping photos and entertaining the pilot.
Having the doors off on a ride like that is breathtaking. Especially when the pilot keeps you close to land only to drop you right over a cliff to nothingness.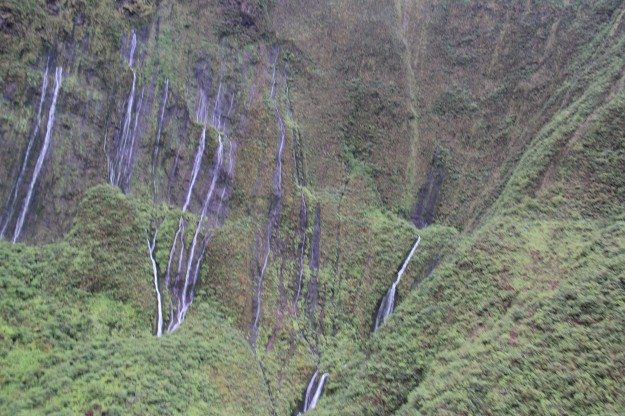 We were able to experience hidden waterfalls, valleys, and scenery that aren't accessible by foot. Flying into the valleys that were so deep you had lush flora under you and misty clouds above you were magical.
With the doors off, the mist from the wall of tears sprayed right into the helicopter as we hovered near it.
Recommended Guide Book For Maui: Lonely Planet Maui
Birds Eye Views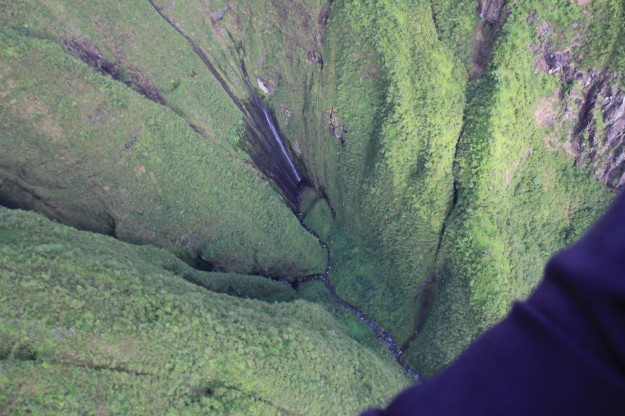 All of this paired with stunning, uninhabited coastlines and endless blue water makes it worth every penny spent to experience it.
Maui from the air is stunning and our tour lasted 45 minutes and explored all of West Maui and the Northside.
We had such an amazing time that we nearly bought another ticket when we landed back at the helipad.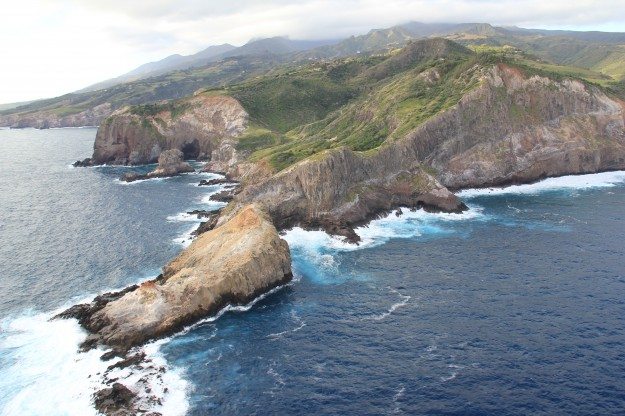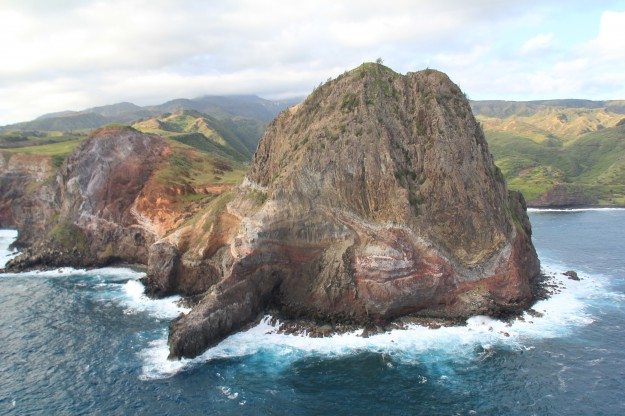 If you ever get the chance to take a helicopter flight, do not hesitate. It is one of the coolest things you can do on your travels as it gives you a different perspective of the places that you visit.
If your up to it, opt for the doors off, it is an experience unlike any other we've had to date.
---
Tips for Choosing A Helicopter Tour in Maui
---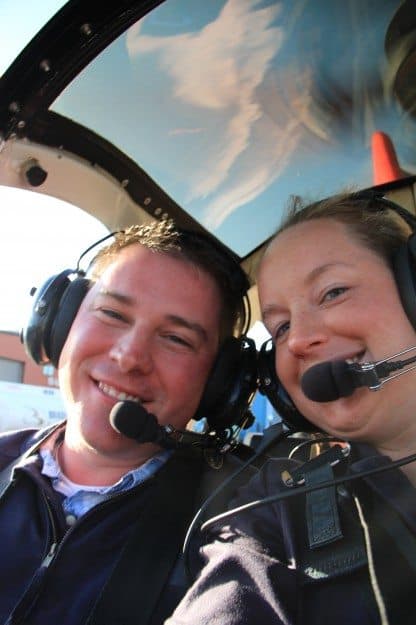 Before you take that epic helicopter tour in Maui, you should spend some time researching your options online.
Below are some tips to help you choose the best tour and truly enjoy Maui's landscape.
Make the safe choice when picking a helicopter tour in Maui
Thousands of visitors enjoy helicopter tours across the Hawaiian Islands every year. Before taking off, it is important to recognize that there are some risks. As with all adventures. Accidents are infrequent, but they can and do happen.
Your tour company and pilot will go over all rules and safety instructions before boarding the helicopter. This will ensure not just your safety but the safety of everyone.
How do you make a safe choice when picking a helicopter tour in Maui?
First, choose a helicopter tour that advertises that they are certified as an FAA Part 135 Air Carrier. What does that mean? In simple non-helicopter terms, it means the operator is subject to higher standards than general aviation operators.
This is the gold star for helicopter tours. Some helicopters tours in Maui are fly by night operations and do not meet those standards.
It is always best to do your research before booking or book with a well-known tour operator. (Like Viator) You may find it helpful to look up accidents from the National Transportation Safety Board.
If you are someone who worries about things like this, it will give you peace of mind before booking your helicopter tour in Maui.
You will find out most incidents are nonfatal and several incidents that have happened during flight while the instructor was training with no passengers were on board.
Note: Stay away from "doing business as" column as name changing is a little trick that helicopters tour companies play to try to disguise their safety incidents
Luckily Maui is one of the safest of the Hawaiian Islands to take a helicopter tour on.
Find out about the seating arrangement.
This will help make your helicopter tour experience better. Most helicopters used for touring around Maui are six passenger helicopters with a seating arrangement of two passengers in the front and four in the back.
That means that two people are going to be stuck in the middle seats in the back with limited views. Ours was only a four-person helicopter. They are harder to find, but all four passengers have a direct window view that makes for great photographs.
We did not know ours until we were weighted, just minutes before taking off. This is normal; so don't let this scare you when you are booking. Everything is based on the weight of you and your friend/partner.
The helicopter needs to be balanced so it can properly fly. Most if not all tours always put couples together.
For serious photographers like us, the doors-off helicopter tour is hands down the only way to go. Without the doors, you don't have to contend with reflections and distortions from the windows. With the doors off, you'll get much better photographs.
Yes, they strap you in good with large safety belts, you will not fall out. You will be exposed more to the elements and the cooler temperatures at the higher altitude as the helicopter flies, but it is worth it.
Make sure your camera equipment is secure. The wind gust will be bad.
Try to book your tour early in the mooring or later in the afternoon depending on the way the sunsets. When is the best time to book a helicopter tour in Maui?
For Maui, it is best to book a helicopter tour in the early morning.
What To Do and
Not

Do

DO
Be early, there are lots to do like Paperwork and weighing in. Most tour offices have a place to sit and have a cup of coffee.
Pay close attention and follow all safety instructions and don't hesitate to ask questions about them.
Wear dark clothing without patterns to minimize the glare on the windows.
If you are prone to motion sickness, take the proper medication.
It is always best to be hydrated before flying, so drink lots of water.
Make sure your camera is set to high speed.
Tip: Hold your camera lens near the window to minimize reflections. Just don't touch the window because the vibration will transfer to your hand and camera. That is why a doors-off helicopter tour is the best.
DON'T
Wear earrings because they could get in the way of your headphones.
You might want to avoid having a meal just before the tour.
Best Helicopter tours in Maui, Hawaii
We have put together some of the best helicopter tours offered in Maui. These tours are run by an experienced company that only uses the best local guides.
The other Hawaiian Islands you must see by a helicopter
No matter what island you are on, you really cannot go wrong with a helicopter tour. Maui has some pretty amazing landscape however it does not rate up to Kauai or the Big Island.
Kauai is always a top pick because of the great views of Waimea Canyon, the Na Pali Coast, and seeing the remote waterfalls at the Waialeale Crater. Check out the helicopter tours in Kauai.
The Big Island has great views of the active volcano of Kilauea and the Great Barrier Reef.
Top Hotels we recommend on Maui:
We got a killer deal at Days Inn Maui Oceanfront Maui (This hotel is right on the beach!)
Read reviews and check prices with our Hotel Search Engine, which gives you the best hotel deals found on the web. Our search engine pulls results from all of the major booking places, including Expedia, Hotels, Booking and more. All the options, all the deals, all in one place and just for you.
More on Hawaii:
Did you like this story? Share it!