I think it goes without saying that a visit to Maui would not be complete without a visit to one or more of the best beaches Maui. This is an island that offers diversity and you'll find quickly that no two beaches are the same. Be welcomed on Maui with traditional lei greetings at Kahului Airport.
Best Beaches in Maui Guide
This article is designed to help you find the best beaches in Maui. We've broken it down by region, highlighting the best beaches in each one. This includes the north, south, east and west parts of the island.
The beaches in this guide range from popular and well-known, to off the beaten track. In doing this, you're given a good balance and opportunity to search out the perfect vacation during your visit.
You can also plan your days easier by heading to one part of the island and visiting all the best beaches in that area. This is how we did it and it worked out great.
If you're planning your trip to Maui, I highly suggest that you rent a car during your stay. This will give you the freedom and flexibility to go where you want when you want to.
Having your own wheels also gives you the opportunity to combine the best hikes in Maui with the best beaches.
Need to book a car for your road trip adventure? We use Discover Car Hire for comparing car prices to find the best deal. They search both local & international rental companies. (use italics, do not center and use block quote)
---
Best South Maui Beaches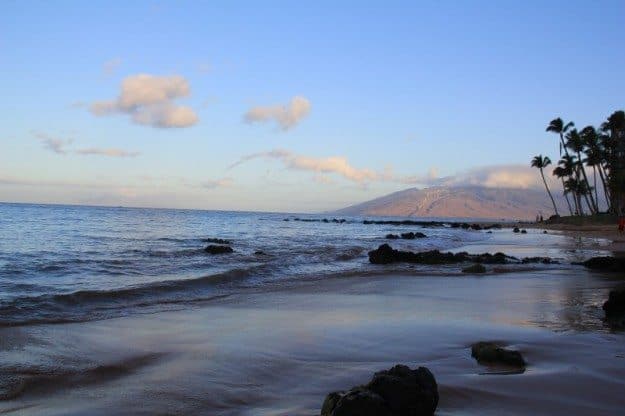 Keawakapu Beach
Keawakapu Beach is absolutely stunning! There is public access, the dirt parking lot between the Mana Kai and Days Inn Oceanfront properties. The public beach access here also has a shower and foot wash near the parking lot.
The beach is clean and beautiful with some decent snorkeling. You can see turtles here while snorkeling off the beach and during the correct season you can watch whales from the beach.
If you are into water activities, there is a public rental space in the Mana Kai, accessible from the beach that will allow rentals for snorkeling, kayaking, stand up paddle boarding and many more activities.
If you are someone who likes to scuba dive, Keawakapu Beach has a unique feature. Around 400 meters offshore is an artificial reef made up of 150 car bodies that were dumped there from a barge in 1962. If you are an antique car buff and a scuba diver this is the place for you.
Location
Kihei: at the south end of South Kihei Road, turn off between MM 9.6 & 10.4
GPS Coordinates: 20.699399,-156.445934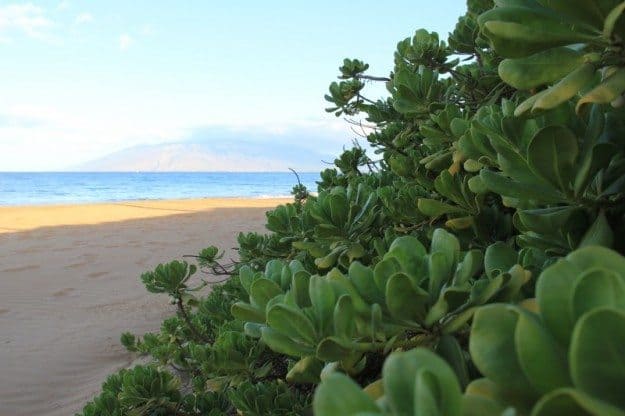 Wailea Beach
Not too far from Keawakapu beach is Wailea Beach. This area is fronted with numerous upscale resorts and an amazing view of Molokini from the beach.
The turtles are abundant in this area, so snorkeling from the beach alone is worth a stop here. If you're lucky you may even get a glimpse of a celebrity or two on this beach.
Wailea Beach gets busy in the mid-afternoon. It is best to enjoy this beach in the early morning and late afternoon. This beach is great for sunsets. People typically spend 1-3 hours enjoying Wailea Beach.
The beach features showers and bathrooms. There are no lifeguards.
Location
Wailea: Off Wailea Alanui Road at MM 0.4
GPS Coordinates: 20.681288,-156.441944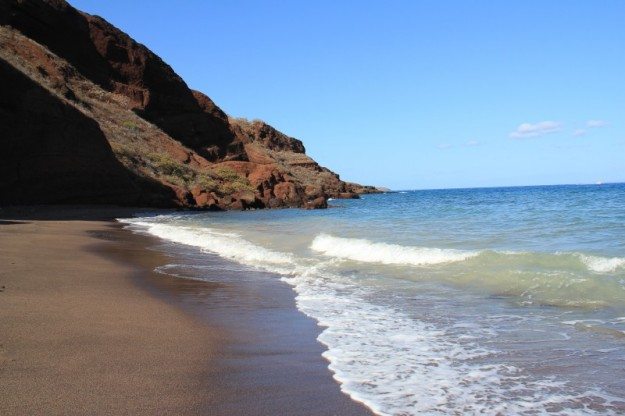 One'uli Beach
One'uli Beach is South Maui's red sand beach and you have to do a bit of off-roading to get to it! Don't worry, it is a public access point, but the road is not paved and winds through the woods on a narrow trail. The payoff is worth it.
This beach was formed after thousands of years of lava colliding with the water over a white sand beach. The beach itself looks like salt and pepper with an accent of crushed seashells that up against the blue water is absolutely stunning. There is some good snorkeling to be had here and you won't find a busy beach.
One'uli Beach is on most visitors must-see checklist when visiting Maui and is one of the lesser-known beaches on the Island.
One'uli Beach gets busy in the mid-afternoon. So it is best to enjoy this beach in the early morning and late afternoon. People typically spend 1-2 hours enjoying One'uli Beach.
Location
Makena State Park: Makena Alanui Road. The dirt access road is 3.8 miles south of Grand Wailea Resort, just before Pu'u & Big Beach lot
GPS Coordinates: 20.639928,-156.446868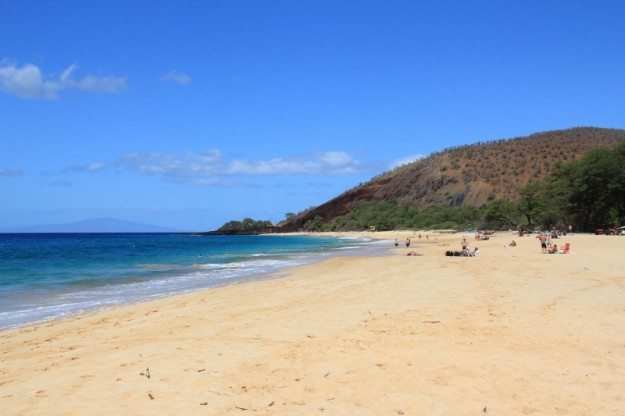 Big Beach
Big Beach, aka Oneloa Beach, is probably one of the prettiest beaches on Maui. The gorgeous sand and pristine waters attract snorkelers, swimmers, and sunbathers.
As with most beaches on Maui, pay attention to the rip tides. Enter the water where the locals are; they know what they are doing. Take some time to soak in the sun here and just enjoy the sheer beauty of the area.
Big Beach is one of the less crowded beaches in Maui. This beach is beautifully wild and undeveloped. The winds can be bad in the afternoon. I love big waves, and this beach is known for that, especially during the spring and summer.
Location
South of Wailea: MM#30.1 on Hwy 30, aka Honoapiilani Hwy. Turn onto Kapalua Resort Office Road and follow to end.
GPS Coordinates: 21.004144,-156.659793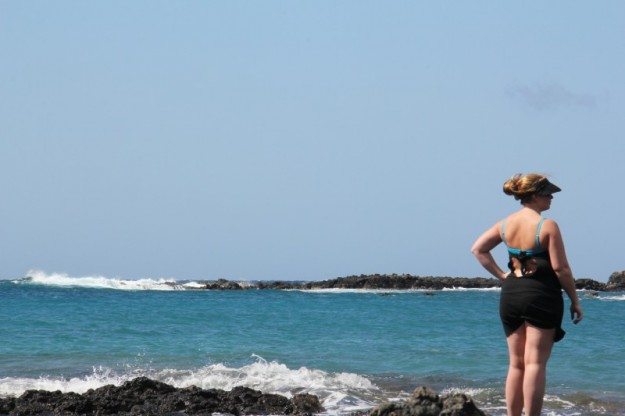 Ahi'hi-Kinau Natural Preserve
Lastly, although it is not a traditional beach, it is worth a drive to visit the Ahihi-Kinau Natural Preserve. It is a beautiful display of where lava has met the sea.
We don't suggest trying to swim or snorkel here as the riptides and waves combined with sharp jagged rock make the area unpredictable. However, drive to the end and take a walk to the edge of the rocks to play in the sea spray.
Just the contrast of the black lava rocks against the rich blue water makes it a perfect stop. It is just one example of Maui's intense diversity.
Visiting Hours: Access to the northern and most often visited portions of the reserve will be allowed during posted visiting hours of 5:30 a.m. to 7:30 p.m. daily.
This is an undeveloped area and there is no water, limited cell phone coverage, and nothing to buy.
Location
Ahi'hi-Kinau Natural Preserve: southwest corner of the island of Maui
Acres: Land 1,238 and Marine 807
---
Best North Maui Beaches
Baldwin Beach Park
Baldwin Beach Park is found on Maui's North Shore, very close to the town of Paia, and it's one of the most popular lengths of sand in the area. Prepare for Baldwin Beach Park to be busy on weekends, but rest assured, there's plenty of space for everyone.
There are great facilities to be found here, making it a favorite for families on holiday along the North Shore, and alongside protected swimming bays, and some good surf in the winter, there's something for every beach-goer here.
Location: Baldwin Beach Park, North Shore, Paia
Ho'okipa Beach Park
Also found on the North Shore, Ho'okipa Beach Park is one of the best beaches in Maui for windsurfers. Found to the east of Paia Bay, the coast here offers world-class windsurfing in optimal conditions and often features as part of international competitions.
If you are into your windsurfing, this is the place to come, but even you aren't, then you can still enjoy the dramatic views of the sportsmen out on the water, while the large waves are a sight to marvel at by themselves.
Just be warned, this isn't a place for swimming, with strong surf and plenty of rip currents waiting to carry off the unsuspecting tourist who ventures out into the ocean. The trade-off though is that there are usually large populations of green sea turtles enjoying this beach.
Enjoy seeing them but keep a safe distance for their sake. Do not harass them, touch them or leave anything near them.
Location: North Shore, Paia
Kanaha Beach
Kanaha Beach is found in an unusual location, being almost overlooked by the airport, which can put some tourists off visiting.
Actually, though, it's a great stretch of sand and is usually frequented more by locals than by travelers, giving it a more authentic feel in many ways to the overly pristine, resort beaches.
Kanaha Beach has almost everything you could ever need too, from camping grounds and BBQs to great snorkeling and wonderful conditions for sea kayaking.
Location: Kanaha Beach, Kahului
---
Best West Maui Beaches
Kahekili Beach Park
Kahekili Beach Park is located in the popular northwestern area of Maui, close to the large town and tourist center of Lahaina, making it an easy to reach the beach, in beautiful surroundings.
This long, sandy stretch of coastline is brilliant for snorkellers, as it's easy to simply walk into the ocean, before swimming across to the nearby reefs.
It's not uncommon to see turtles and plenty of exotic, tropical fish amongst the corals, just moments after you've swum out from the beach.
You can find great facilities here, and as well as being popular with snorkellers, Kahekili Beach Park is also one of the most popular destinations for divers to earn their certification in calm, clean surroundings.
Location: Kaanapali, Lahaina
Kapalua Beach
Kapalua is undoubtedly one of the best beaches in Maui, so much so that it's been awarded the title of the best beach in the entirety of the USA on previous occasions.
Found in the touristy region of Kapalua, the beach can and will get busy, particularly on weekends and during the holidays, but it certainly lives up to its hype.
The beach is sheltered by the Kapalua Bay, making it perfect for a wide range of water sports, but particularly for swimming and snorkeling. You'll likely spot turtles in the shallow coral reefs right after swimming out from the sandy shoreline.
Location: Kapalua, Lahaina
Ka'anapali Beach
Ka'anapali Beach is surrounding by high-end resorts along the coast from Lahaina, and despite the extravagance found here, the resorts were built here for the simple reason that the beach is beautiful.
It is more built-up than many of the other best beaches in Maui, but that just means that you can enjoy the white sands, the gentle surf, and the lovely views before retiring for a good meal or a few drinks at the varied array of restaurants and bars found nearby.
Location: Ka'anapali, Lahaina
Slaughterhouse Beach
The unusually named Slaughterhouse Beach might not sound like too inviting a place to visit while you are on holiday in Hawaii, but actually, this is one of the best beaches in Maui.
A nearby slaughterhouse did in fact once operate from the dramatic cliffs that you find here today, but it long ago ceased operations. Now, there is little but surging surf, rugged coastline, and outstanding vistas.
In wintertime, this is a favorite spot for surfers, with crashing waves and huge breaks opening up along the beach, while for the most part, Slaughterhouse Beach doesn't quite attract as much attention as many of the other nearby beaches around Kapalua.
Location: Slaughterhouse Beach, Kapalua, Lahaina
Honolua Bay
Honolua Bay isn't quite renowned for its beautiful, white-sand beaches. In fact, you won't find any white sand here, just plenty of rocks and lots of pebbles.
What it lacks in traditional beach beauty though, it makes up for in ruggedness and biodiversity. This is the place to come if you are looking for a quiet snorkel out on the reef.
You need to be a good swimmer because the best locations are found out in the bay, but it's worth the extra effort needed to experience a side of the Kapalua shore that most people miss out on.
Surfers will also find plenty of waves here to tackle, particularly in winter when the surf is very much up.
Location: Honolua Bay, Kapalua, Lahaina
Napili Bay Beach
Napili is consistently ranked as one of the best beaches in Maui, but it's also one of the most popular. Soft sand rises gently to the shore and is fringed by swaying palms on one side and blue water on the other.
It is a picturesque beach, with shallow water that's easy to enter from the coast, and that's sheltered enough to swim around. For this reason, it's a big hit with vacationing families staying in the Kapalua area, who can enjoy the great facilities found here and be assured that there are few dangers to be found along the beach.
Location: Napili Bay Beach, Lahaina
DT Fleming Beach Park
Another of the best beaches in Maui is found along the coast at Kapalua, in the DT Fleming Beach Park. Like many of Hawaii's beaches, DT Fleming Beach has previously been named one of the best beaches in the USA, and like others, it certainly lives up to the accolade.
The area is named for a local entrepreneur, the man who introduced pineapples to Maui and turned the fruit into big business locally.
There are excellent facilities here, but of course, the natural scenery is the biggest draw for visitors, and it's quite simply stunning, particularly as the sunsets.
Location: DT Fleming Beach Park, Kapalua, Lahaina
Baby Beach
Baby Beach is found right next to the main town of Lahaina, making it not only one of the best beaches in Maui but also one of the most accessible. As the name might suggest, Baby Beach is a great place for families with small children.
The sheltered shoreline offers calm waters for swimming, with shallow, easy entry from the beach. It's an excellent place to simply relax and do little at all, which is why it's so beloved by parents, who can let their kids run free along the beach or splash in the shallows.
Location: Baby Beach, Lahaina
---
Best East Maui Beaches
Hana Bay Beach Park
Found on the remoter east coast of Maui, Hana Bay Beach Park offers visitors the chance to enjoy a dramatic black sand beach, in beautiful surroundings.
The black sand is a result of the heavy volcanic activity in the area and has slowly formed over millions of years into the distinct and unusual color you find today. The water here is incredibly safe too, making it a great spot for swimming and bringing the whole family.
Location: Hana Bay Beach Park, Hana
Koki Beach Park
Koki Beach has one of the most unusually colorful hues of sand to be found on any beach in Maui. The sand is tinged red in color, but you can also find shades of black and other colors too, mostly down to the volcanic activity.
Koki Beach is found along the road to Hana, and while you won't want to be swimming here due to the deadly rip currents, you will want to take in the spectacular scenery in this beautiful part of Maui.
Location: Koki Beach, Hana
Waianapanapa Beach
Waianapanapa Beach is one of Maui's best beaches and one of the best black sand beaches you can find on the island.
Found in the northern part of Hana, the beach is just about as volcanic looking as you get in Hawaii, which is very volcanic indeed.
The black sand backs onto turquoise water and the scenery is stunning. The surrounding Waianapanapa State Park is just as beautiful too, and you can spend hours exploring the rugged coastline, searching out blowholes and jagged cliffs along the coast.
Location: Waianapanapa Beach, Waianapanapa State Park, Hana
Honomanu Beach
If you are looking for solitude and a little bit of isolation, then one of the beaches in Maui to visit is Honomanu Beach. Found on the east coast, you can stop off here if you are traversing the scenic Hana Highway, one of the best trips on the island.
Here at Honomanu Beach, you will find a secluded bay, little infrastructure, and beautiful views.
Location: Honomanu Beach, Hana
---
Maui Beach Vacation Packing Checklist
We have put together some items you must take with you on your trip to Maui. These are items that you must have when exploring the best beaches in South Maui, Hawaii.
Below are must-have beach items that you want to buy before heading to Maui. It is a small island so items are limited and you will pay almost 50% more than you would if you just got the items at home.
Who wants to spend their vacation time looking for things they could have gotten at home? I know I don't.
Maui Beach Essentials:
More on Hawaii:
Did you like this story? Share it!