Driving the Road to Hana is one of the best things to do in Maui and it should absolutely be part of your next vacation to Hawaii. It's one of the most beautiful drives in the world.
What is the Road to Hana?
The Road to Hana, also known as the Hana highway, is a 64.4 mile-long stretch of Hawaii routes 36 and 360 with connects Kahului with the town of Hana in east Maui. Even though it's only 64.4 miles long it takes the average tourists 2-3 hours to drive. That is without getting out and exploring.
The Road to Hana is all about getting out and exploring. This drive has amazing landscape views of the Maui's coastline, enchanting waterfalls, black sand beaches and much more.
There is no wonder why the road to Hana gets voted as one of the best road trips in the world every year.
There are numerous sources out there for researching your adventure to Hana and believe me, I am not one of the faint at heart when it comes to spending hours on the internet researching something.
That's why we've put together this extensive, in-depth planning guide to help you see the best of the Hana Highway, like we did!
Don't leave home without: Lonely Planet Maui
Road to Hana Highlights Map
HOW TO USE THIS MAP: Above you'll find a map of the best stops on the Road to Hana in Maui. Click on the top left of the map to find separate layers marking the route and points of interest. You can hide and show different layers, or click icons on the map to see the names of places we mention in this travel guide. "Star" the map to save it to your own Google Maps, or open the map in a new window for a larger version.
---
The Best Road to Hana Stops
---
It's not really possible to get lost, but it is always nice to know where you are going too. This map shows the loop around the East side of Maui to the town of Hana.
What it doesn't show you, though, is that the road is extremely winding for most of the way.
Road to Hana Map: Maui Hawaii Adventure Guide Waterproof Map
Tip: If you get car sick or motion sickness, take a Dramamine before leaving in the morning.
1. Pa'ia
Although there are many stops that you can make during your drive, if you plan to spend just one day on the Road to Hana you will need to pick and choose where to stop.
The map gives you good suggestions but we made up our own layout for the day.
Our day began early, as we were staying in Kihei, and we found ourselves driving through a total downpour in Paia at 7 A.M.
Because of this, we didn't stop but made our way slowly through the first part of the Road to Hana itinerary. However, we do recommend a stop here while in Maui.
NOTE: Pa'ia is the first and last place to fill up along the Road to Hana. The next gas station will be in the town of Hana.
It is recommended to fill up here, even if you are 1/2 full. Yes its only 64.4 miles but it is slow-moving with lots of stops, so you will use up more gas.
The city of Pa'ia is home to a mix of surfers and soul seekers. Pa'ia has a laidback atmosphere and at times is considered to be a hippie paradise. What has put Pa'ia on the map is windsurfers. Ho'okipa beach is to what Mt.Everest is to climbers.
Pa'ia is filled with many great restaurants. Cafe Des Amis is a great stop to grab a cup of coffee and breakfast before hitting the Road to Hana. Mama's fish house is a great place to have some seafood on the beach.
In case your just looking for something quick I would check out Mana Foods where you can get something to go or you can stock up your own cooler here.
Note: Cell phone reception is not good on the Road to Hana. It will come in and out and is not reliable. So do not depend on it.
2. Waikamoi Ridge Trail
Since this is the first place to stop and stretch your legs, we wasted no time pulling into the roadside parking area and setting off on a light hike through the woods.
The Waikamoi Ridge Trail on the Road to Hana is a 30-minute nature trail that takes you under towering eucalyptus trees where you will find a sign that reads "Quiet. Trees at work".
The hiking is not strenuous but can be slippery from the rain so use caution. There is an abundance of flora to be observed on this trail as you walk along the ridge.
During the rainy season, you can also catch a view of a hidden fall across the canyon if you look carefully.
The walk is peaceful, and although you won't likely be alone, it is a good place to set your mind for the adventures that are to come for the day.
3. Ke'anae Peninsula
Ke'anae Peninsula village is one of the last true old Hawaii villages that remain along the Road to Hana. Here you can stop and hear the grass grow with wild waves hitting the shoreline.
The heart of Ke'anae is a whitewashed church built out of lava rocks and coral mortar that dates back to 1860. Feel free to stop in and sign the guest book, the doors are always open to visitors.
Ke'anae Beach park is a beautiful example of what lava crashing into the sea looks like.
As you complete your drive to the end of the peninsula you are greeted by the most beautiful bright blue water you can imagine, crashing wildly into large displays of black lava rock.
You are free to get out there and explore but use caution as the waves are huge and crash way over the rocks, easily capable of knocking someone over. Take in the views and sea spray here before heading back towards the road.
However, don't miss a stop at the roadside stand to buy some banana bread and shaved ice for the road.
4. Upper Waikani Falls (Three Bear Falls)
In our opinion the best stop on the Road to Hana. Because the falls are located right off the road, most people just drive slowly in front of the falls, snap their photos and drive off.
However, if you crave a little more adventure than that, as we do, you can drive slightly past the falls and park in a small roadside parking lot. You will have to walk back towards the falls on the side of the road with no shoulder, but it is well worth it.
If you want a close up look at the falls and not just a drive-by photo you can climb under the bridge and across the rocks for a nice swim in the pool. The left side of the bridge offers you the only way down.
The first step is a doozy and can be slippery, so use caution, but we made it down with camera equipment.
You'll have to walk through some trees and brush and then negotiate some rocks across the river but once you are standing at the foot of the falls you will see that it is well worth the adventure to get there.
This site is absolutely stunning and worth a nice long stop, besides, most of the people taking drive-by photos will be shouting, "How did you get down there!?"
5. Makapipi Falls
This was one stop where if we had not had a CD guide we would have drove right past it- like we watched every other driver behind us do.
You can't see this one from your car, so after you drive over the bridge make sure you pull off at the first roadside parking area.
Walk back down the hill onto the bridge and then look over the side. It is an amazing view over the top of the waterfall. You are literally standing at the top watching the water rush over the falls.
This was one of my favorite stops on our drive.
6. Wai'anapanapa State Park
Having already witnessed so many amazing places it is hard to imagine that the stops can get better. Then you arrive at Wai'anapanapa State Park.
This will be the busiest and most crowded place you stop, but don't let that deter you. The black sand beach and hiking at this stop are worth it.
Allocate at least an hour here. The parking is abundant and it is a short walk to the most beautiful black sand beach you will lay eyes on.
There are many caves near the water and hiking paths beyond the beach but be mindful of the tides and caution signs as a fall in these areas would ruin your vacation.
You can find many great restaurants near Wai'anapanapa State Park: Up In Smoke offers some great BBQ. Jen's Thai food is one of the top 5 food stops along the Road to Hana. Cafe Romantic offers a great vegetarian option.
Wai'anapanapa State Park offers some great camping options on a shady lawn near the beach and the park has a dozen cabins that you can rent out.
2023 Update: Due to the popularity of the park, advance reservations are now required!
7. Hana
To many people, Hana itself is a letdown. After all, you have just experienced some amazing sites, but take some time to just take in Hana for what it is; a sleepy, authentic Hawaiian town with friendly people and beautiful scenery.
What Hana has to offer is best appreciated by those who stop and unwind. Many of Hawaii's most influential chiefs have been from the town of Hana. The city of Hana has some great beaches.
Hana Beach Park is a bayside park where you can hear music playing at all times of the day.
Families come here to take the kids for a dip and to picnic on the black-sand beach. Maybe that is not your thing check out Kaihalulu Beach where nothing is an option.
Our day allowed for a lunch stop at Braddah Hutt's roadside BBQ stand. The popularity of this stand is evident from the moment you drive up as you battle tourists and locals alike for a place in line.
Tip: Order the Fish Tacos- they are unbelievable!
Even though your Road to Hana adventure is over that does not mean the adventure part has to end.
Hana has many great adventure activities like kayaking the coastline, Hiking Lyon's Hill, Hang gliding, or ultralight flight to horseback riding at Hana Ranch Stables.
Maybe spend the night in Hana at one of the many hotels. The hotel Hana Kai-Maui is a great boutique hotel, unwind from those twisty roads at the Luana Spa Retreat or stay at the Hana Kolea condo where you are just a stone's throw away from Hana's hottest surfing beach.
8. Wailua Falls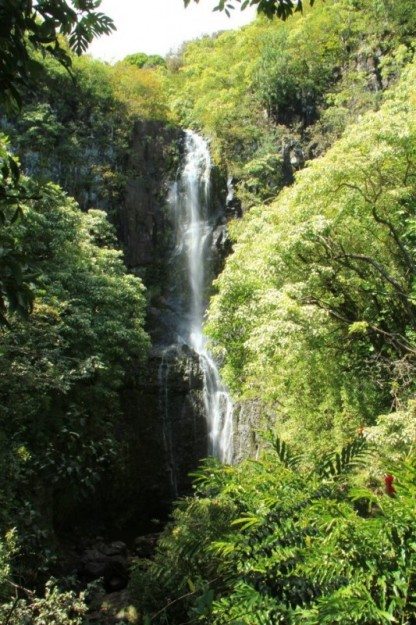 This should be your first stop after you leave Hana. The Wailua Falls are considered to be Maui's most photographed falls so they are worth the stop, but you won't be alone. To see the falls drive past them and then park at the roadside parking.
There will be numerous vendors and lots of people. Like Waikani Falls, you can climb under the bridge and visit the pool at the bottom of the falls. This is worth the adventure for a nice unobstructed photo op.
9. Waimoku Falls –Haleakala National Park
Continuing past Hana you enter Haleakala National Park where you can stop for a hike to Waimoku Falls (if you are up for it and have enough daylight) or a visit to the Seven Sacred Pools.
We opted to hike the Pipiwai trail for a 4-mile roundtrip hike through the lush forests of the park ending at the falls.
I would consider this a more advanced hike as the terrain varies wildly but the sites are amazing and you spend some part of it walking through a thick bamboo forest before arriving at the huge 400ft waterfall that is Waimoku Falls.
As stated in the CD Guide, make sure you have someone take a photo of you to really capture the height of these falls. We're hoping for a return visit so we can spend some time at the Seven Sacred Pools.
Need to book a car for your road trip adventure? We use Discover Car Hire for comparing car prices to find the best deal. They search both local & international rental companies.
10. Backside of Haleakala
Although many people are told you can't drive past this point, we opted to give it a try. I will agree that it is a non-populated area and that the areas just past Hana are harder to navigate if you have never driven on unpaved roads, but it was well worth it.
The backside of the crater is absolutely stunning as there are many colors and views to be had.
We were one of three cars that continued on that day. We stopped many times for breathtaking views and drove until we were above Kihei and then stopped for the sunset.
The vantage point from that road cannot be seen anywhere else on the island and we spent an hour photographing the sunset over Kihei, Molokini, and Kaho'Olawe.
---
Hana Highway Travel Tips
---
Road to Hana Mile Marker Stops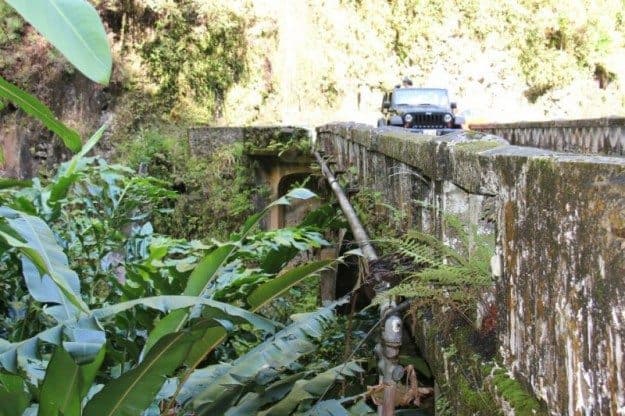 Most of the stop on the Road to Hana are marked my mile makers, this is what is nice about having the R2H CD. You just play the CD and it tells you what is the next mile marker that you stop at.
But if you do not have the disk, below are the mile markers of the best stops on the Road to Hana.
2.1 Mile marker, Twin Falls. (Well maintained but can get muddy, easy hike to the waterfalls and pools. Parking is easy. You can find some fresh fruit at the great fruit stand, Payment is a donation.)
6.7 Mile marker, Na'ili'ili-Haele Stream & Waterfalls. (Moderately difficult hike through bamboo, pools & waterfalls that can be muddy at times.)
10.5 Mile marker, Garden of Eden. (Very well-maintained arboretum. Trails & drive-through options. Nice easy Parking. Great snack stand if you are hungry.  Picnic tables for those who packed their own lunch. $15/person.)
14.1 Mile marker, Honomanu Bay. (You can see from the road, make the call to stop when you drive by)
16.7 Mile marker, Ke'anae Arboretum. (The Nice easy walking trail where most of it is paved. This is a public arboretum.)
16.8 Mile marker Ke'anae Peninsula (Very scenic, rugged, drive-up shoreline area. Has great places to stop for food.)
16.8 Mile marker Wailua & Wailua Valley State Wayside. (Great landscape views of Wailua Valley from the road. The best place is to pull into the very tiny wayside where you will have great views of both Mauka and Makai.)
19.6 Mile marker Upper Waikani Falls. (You can get a great view from the road. You can decide to stop and swim here if it looks tempting, we did!)
28 Mile marker Nahiku Marketplace. (Great snack stand/strip mall if you are looking for food.)
Waianapanapa Park. (Well marked without mile markers)
Red Sand Beach. ( Not marked well at all, You will need a map and directions to find it.)
Note: Hana To Kipahulu the mile markers reset after 35 the next mile marker is 51. It counts down from there.
50.1 Mile marker Koki Beach & Hamoa Beach
48.1 Mile marker Waioka Pond
How long does it take to get to Hana?
Driving times are as follows and are if you make no stops.
from Makena- 3 hours and 10 minutes
from Wailea – 3 hours
from Kihei – 2 hours and 50 minutes
from Maalaea – 2 hours and 4o minutes
from Wailuku – 2 1/2 hours
from Paia – 2 hours and 10 minutes
from Lahaina – 3 hours
from Kaanapali – 3 hours and 15 minutes
from Kapalua – 3 hours and 20 minutes
from Makawao – 2 hours and 15 minutes
from Kula – 2 hours
---
Best Stops on the Road to Hana FAQs
---
What is the best waterfall on the road to Hana?
The best waterfall on the road to Hana is the Three Bears Falls. You simply can not miss this triple-whammy beauty is the most picturesque waterfall on the entire drive.
What is the best beach on the road to Hana?
The best beach on the road to Hana is Pa'iloa Beach which is one of Maui's finest black-sand beaches.
What is the best hike on the road to Hana?
The best hike on the road to Hana is the Waikamoi Nature Trail.
How many stops are there on the road to Hana?
There are about 40 different steps! It's not reasonable to plan to stop at them all, which is why we shared our favorites, so you know which ones are worth it.
Do any of the stops on the Hana Highway require reservations?
Most don't – you're free to stop and go as you please. There is one exception, Waianapana State Park. Due to its popularity, advance reservations are now required.
---
Best Views on the Road To Hana
---
These are the best views on the road to Hana. So don't forget your camera, Maui is filled with amazing landscapes.
These lookouts you simply can not miss while driving the road to Hana.
Ke'anae Peninsula lookout
Wailua Valley State wayside.
Wai'anapanapa state park
Hinomaru Bay
Three Bears Falls
---
Tips for taking on the Road To Hana
---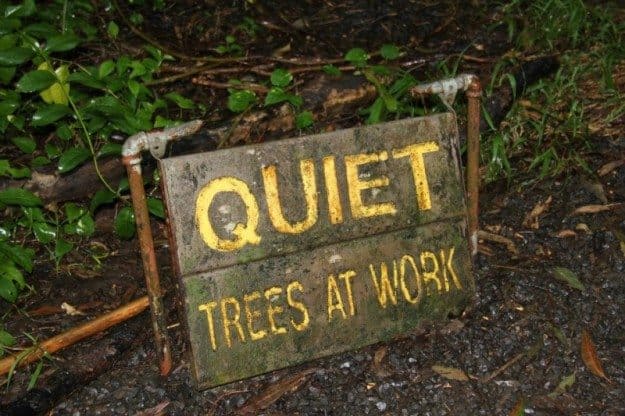 Start early to beat the crowds. I know you are on vacation and the last thing you want to do is wake up at sunrise but it is worth getting up to get a headstart. The little two-lane road Hana gets busy from 9 A.M – 5 P.M. and is slow-moving.
Fill up the tank in Pa'ia because the next gas station is in Hana. Sorry, but there are no other gas stations along this drive to fill up at so make sure you fill up when you can.
Wear a bathing suit under your clothing so you're ready for any impromptu swims. There are lots of stops along the way and many do not have places to change. Unless you are fine with changing in nature but it is not recommended.
Pullover to let local drivers pass. They dive this dive daily and they know the road. You do not, so you're speed will be different than theirs.
If you see two or three cars parked on the side of the road, there's probably something happing. So pull over and check it out. That's what the road to Hana is all about. We found many places that were unmarked just because we stopped.
If you see no trespassing signs or keep out signs it means no trespassing. Some of the stops along the road to Hana are on private property and if you see any signs you should obey them.
All beaches in Hawaii are public.
Take your time. Maui is about moving slowly. The road to Hana is also about moving slow and enjoying the gorgeous landscape.
The cell phone reception is not good on the Road to Hana. It will come in and out and is not reliable. So do not depend on it.
Lock your car doors and hide your valuables. Maui is known for car break-ins and they will break in for the most basic things.
---
Recommended Road to Hana Tours
---
Don't want to do the drive on your own? Consider taking a Road to Hana tour. There are several available that leave from Kihei and Lahaina.
They typically last all day driving to Hana and then returning on the same route. They have set stops that don't allow for the flexibility you'd have with your own car, but you'll still see some amazing things along the way.
On this guided Maui Hana Coast Day Trip, enjoy the diverse and tropical beauty of the famous Road to Hana.
Stop for photos at roadside waterfalls and stunning black sand beaches, and even wrap around the rugged backside of Haleakala volcano.
With an informative guide behind the wheel, this is one of the best ways to visit Hana
There are many different options for taking a tour but in our opinion the best Road to Hana tour is offered by Valley Isla Excursions, the only tour company that has permits to access the famed backside of Haleakala. The tour operates as a small group and stops at all the famous places along the route.
---
Best Places to Eat on the Road To Hana
---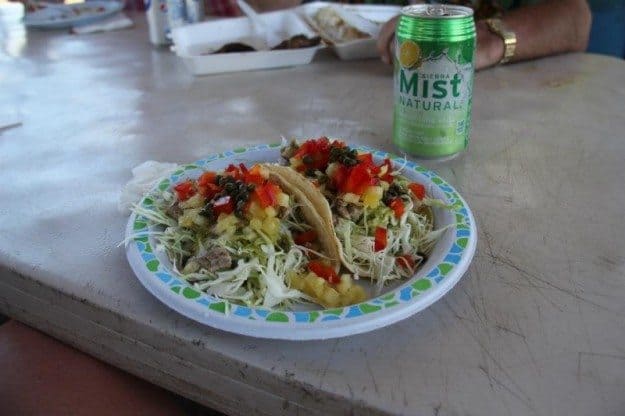 Hungry, we have found the top 5 places to eat on the road to Hana. Feel free to stop at all of them and grab a bite to eat while you are exploring the Road To Hana.
Huelo Lookout fruit stand
Ke'anae landing fruit stand
Up in Smoke
Jen's Thai food
Braddah Hutt's roadside BBQ stand
---
Best
Vehicles
for the Drive
---
The best vehicles for this drive really depend on what kind of adventure you are looking for. The road is paved the whole way and has lots of twists and turns.
If you do not mind going slow this may be a great option, but keep in mind Maui is known for its days that start sunny then turn rainy.
The day we did the Road To Hana it poured for 30 minutes and I would not want to be on a bike for those 30 minutes. Do you need a jeep for the Road To Hana? We rented a jeep and it was a blast!
I'm glad we had a jeep for the unpaved, rough road after Hana but for the road to Hana, you do not need a jeep.
---
Top Highlights Beyond the Road To Hana
---
The best beach beyond the road to Hana is Hamoa Beach which is one of the region's favorite sun and surf spots.
The best view beyond the road to Hana is Wailua Falls. This is the most dramatic cascade on a drive full of drama.
The best activity beyond the road to Hana is horseback riding at Maui Stables.
The best swimming spot beyond the road to Hana is Ohe'o Gulch.
The best hike beyond the road to Hana is Lyon's Hill hike.
---
Should I Drive the Backside of Haleakala?
---
We recommend going around the south side of the island. The landscape is 100% different than what you see along the road to Hana.
We did not see many cars at all and there are some epic spots to pull over and get some great photographs.
The road does bumpy and rocky so it is better if you have a jeep. Another great option is to head back down the road to Hana because you'll see all the things you missed on the way down. It is a different perspective.
R2H CD Guide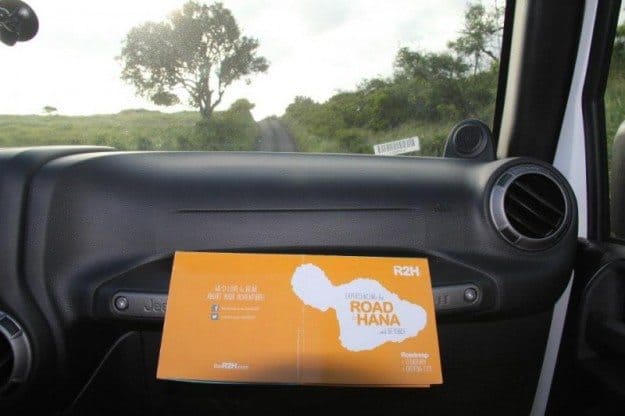 After it is all said and done, you really can't replace a good audio guide for when you are actually there and do not want to miss out on the magic that the Road to Hana offers.
The culmination of my research brought me to a company called R2H. Their CD guide which includes a map, proved invaluable as we were told about every amazing stop on the Road – WHILE WE WERE DRIVING – and were able to make our own itinerary based on what we wanted to do that day.
Most of the stops we made were passed up by everyone else and we found ourselves alone to explore.
The R2H Guide is now available as a digital download too!
---
Items to Bring on the Road To Hana
---
We have put together a list of items you should bring on your Road To Hana road trip in Maui.
You can use this list as a packing list for your Maui road trip. Some items can be found once you are in Maui however, Maui is a small island and they normally are out of a lot of items so it's better to stock up.
Mosquito Repellent
Quick Drying Towel
Good footwear for mud and water: We use and like: Keen Sandals, Crocs waterproof shoes, and Merrel hiking shoes.
Plastic trash bags for wet/muddy clothing
Changes in clothing
Swimsuits
Food & Water
Baby Wipes or Wet Wipes
Hats (We love our Buffs)
Travel First-aid Kit
Sunglasses
Day Bag
Camera Rain Cover
Bring along a Frisbee, ball, or beach tennis racket so antsy kids (and adults!)  can blow off a little steam at rest stops.
Power cords for phones, GoPro's, and anything else you may need to change. I love our car power inverter that allows us to plugin using a USB or a basic three-prong plug. It works great for charging up my drone.
---
You might also like:
Did you like this story? Share it!