You should consider a Maui jeep rental because it will give you the flexibility to explore the island at your own pace and get away from the crowds. Pack a lunch for the day and hit the open road, there are many beaches and forests to explore along the way.
Aloha! Be welcomed on Maui with traditional lei greetings at Kahului Airport.
There are tons of places around Maui where you can pull off the road to access a beach, see a waterfall or just pull over to watch the sunset.
Some places you would need to jump the curb, don't worry there are thousands of people doing it and you want to be able to do it when your wife yells out, "Hey pullover! There's a whale jumping out of the water over there!"
Bonus: the main roads are paved and well-marked, so you don't have to worry about getting lost.
Need to book a car for your road trip adventure? We use Discover Car Hire for comparing car prices to find the best deal. They search both local & international rental companies.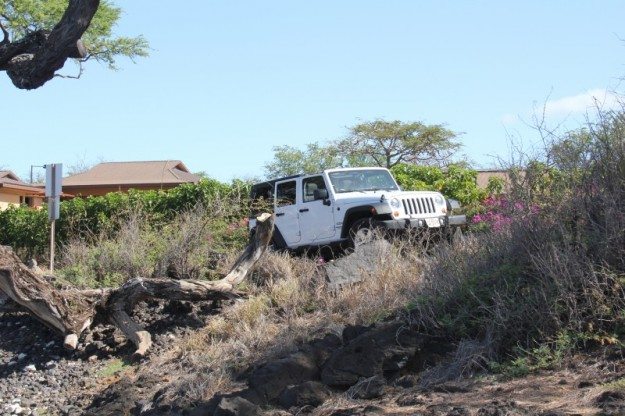 Maui Jeep Rental – Choosing A Rental Vehicle
Of course, you can rent just about any type of vehicle that is currently on the market. The most popular choices are the convertible Ford Mustangs and the Jeep Wranglers.
As we mentioned before, the roads are paved and well-marked, 99% of the places you will want to visit during your vacation in Maui will be accessible from paved roads. It is not necessary to have a 4×4 vehicle to get around Maui.
However, there are a few places up the east side of the island that you simply cannot access without a 4×4. We would never have been able to complete the full loop on the Road to Hana without our Maui jeep rental. The roads were just too rough.
There are also a lot of beaches throughout all of Maui that require you to drive down some rough non-paved roads to the non-paved parking areas. I hate to tell you just doing that will void your rental car agreement from anyone, but everyone does it.
This is not just to the beaches of Maui that no one knows about, this is to some of the most popular beaches. Having a jeep allowed us to take on those roads without worrying about bottoming out or getting stuck in the deep sandy ruts. Almost all of the pretty convertible cars were getting stuck.
We initially rented a basic car because our budget did not allow for a Maui Jeep rental. However, when we got to the rental place the person upgraded us to a JEEP at no cost! Even if you do not get the free upgrade you should, without a doubt, upgrade to a Jeep rental in Maui.
Being able to access some beautiful hidden beaches will make it all worth the while.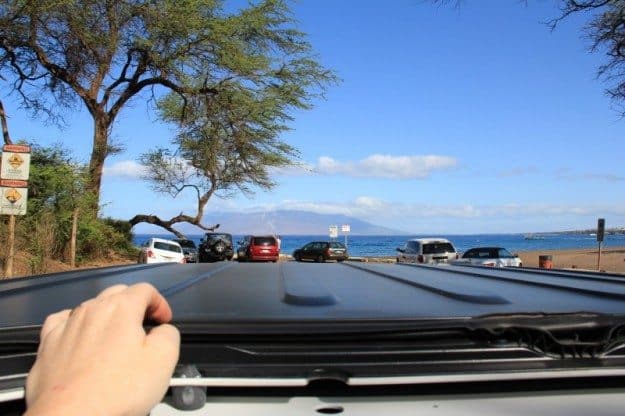 Tips for Safety with your Maui Jeep Rental
We did worry about people breaking in, as Maui is notorious for car break-ins but we did not have issues with that, we were smart and kept only the basics in the Jeep and we locked the doors at every stop.
The best advice we can give to anyone visiting Maui and renting a car or Jeep- don't wait until you are at your destination to get out and situate your things.
Thieves will watch from afar and a sure thing for them is people putting things in a trunk and locking it. They will have that lock picked before you even reach where you are going. So make sure you don't leave valuables in your car, and if you do, make sure everything is situated BEFORE you stop.
Our Maui jeep rental had a hardtop but it came off in two pieces like t-tops. We had the tops off 90% of the time. The best was being able to stand up and take photos out the top of the Jeep when you needed to.
Sometimes while the other was driving and other times just to pull over quickly and snap some photos. However, we had to put them back on at each stop we left the vehicle if we hadn't someone could have climbed right into the Jeep from the top.
Tips For Driving in Maui
The tips below will help you drive safely around the island of Maui. Just keep in mind you're on vacation. Go slow, take it easy, relax and you will get there when you get there.
Since it is an American state you drive on the right side of the road. (You would not believe the people who have asked us that question.)
All road signs are in English
The speed limit signs are in miles per hour.
Everything is in Miles not Kilometers.
Use your seat belts. It is the law for all passengers.
It is ok to turn on red after coming to a complete stop.
You must use your turn signals.
Be considerate to other drivers.
Use your headlights from dusk to dawn, on mountain roads or when it is raining or foggy.
Go slow when driving in the mountains or on windy roads.
Lock your doors and hide your valuables.
Never park somewhere that is not well lit at night.
Need to book a car for your road trip adventure? We use Discover Car Hire for comparing car prices to find the best deal. They search both local & international rental companies.
~ Off-roading and finding adventure in Maui ~
Hawaii Jeep Rental Ethics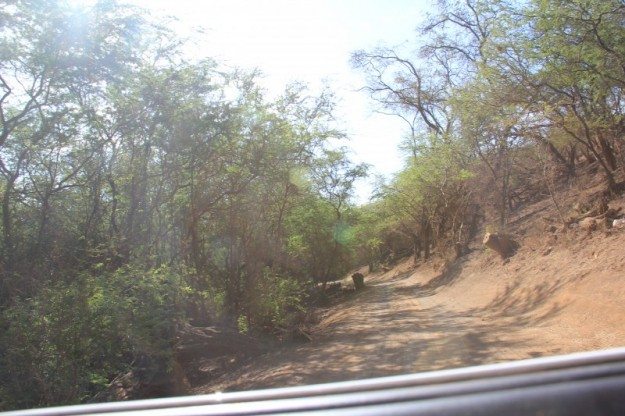 It was nice not to worry about anything, we took the jeep everywhere and anywhere. Maui does have some rugged coastline and there are tons of off the road paths where I would have been worried about taking a car on, but with the Jeep, we were good to go.
The biggest thing to remember with Jeep rentals in Maui, when heading off on your adventures is to be respectful of the local residents on the island. They live there, they own the land there and they deserve our respect.
No matter how cool something looks, if there is a sign posted that says 'No Trespassing', abide by it. How would you feel if someone came to where you live and rammed a 4×4 across your signposted land?
If you show up at a hidden beach to find locals enjoying it, away from the masses of tourists, be respectful and quiet. By all means, join them, but don't start running around, shouting or starting a drinking party with your music blasting. Let them enjoy their hidden haven away from the tourist areas.
How to Secure a Jeep Rental in Maui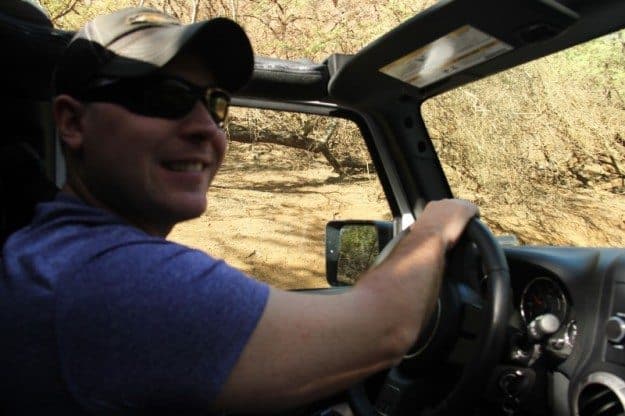 Updated information to help you have a Maui Jeep Adventure:
We use Discover Car Hire for comparing car prices to find the best deal. They search both local & international rental companies. So through them, we ended up with an Avis rental. I highly recommend pricing through them as they ended up being about $100 cheaper for the week rental and we got the free jeep upgrade! They didn't have any issues about us driving it everywhere- and the agent actually gave us some good tips on places to go without the crowds.
Renting a Jeep vs a Convertible in Maui
Below we will cover the pros and cons of having a jeep and the pros and cons of having a convertible car so you can make the right choice for you.
Renting convertible car Pros and Cons in Maui:
Cons of renting a convertible car in Maui
Convertibles and cars are lower to the ground that makes them near impossible to drive down some of the ruff roads in Maui.
Convertibles cost considerably more to rent than compact and midsize cars.
Convertibles tend to be more bug-infested.
You will not have the top-down nearly as much as you anticipated.
The soft tops can make it easier for a thief to access your valuables.
Even with the top up, convertibles ten to be noisy.
Pros of renting a convertible car in Maui
You can put the top down when the weather is nice.
You can just push a button and the roof retracts. You don't have to pull off, jump out and manually close the rood during a sudden rainstorm.
Convertibles get great gas mileage, compared to a jeep 4×4.
Nice luggage room for all of your bags.
Most convertibles seat 5 people.
Convertibles are just fun to drive.
Renting a Jeep Pros and Cons in Maui: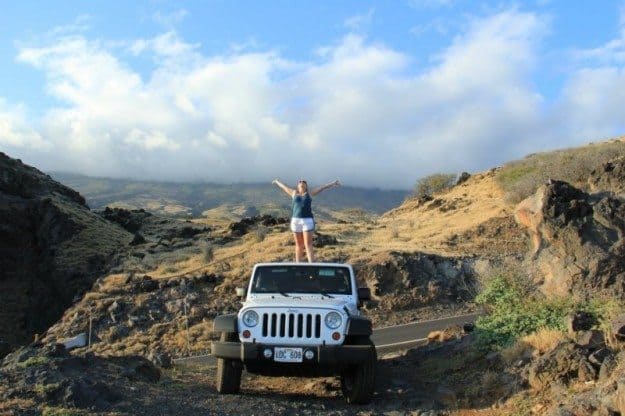 Pros for renting a jeep in Maui:
A jeep can handle any road anywhere around the Island of Maui
Height advantage over most cars allows you to have greater visibility.
The small size allows for tight turning and small parking.
Jeeps are rugged and durable.
They are just fun to drive.
Cons for renting a jeep in Maui:
They cost the most to rent.
The gas mileage is not the best compared to other cars.
Limited storage space for luggage.
You will have to pull over to put up the top it bad weather blows in when you have the top off.
Most jeeps only seat 2-4 people.
Even with the top up, jeeps ten to be noisy.
~ Pulling over on the backside of Haleakala ~
---
Top Maui Road Trips
We have put together some of the best Maui drives you simply cannot miss when renting a car in Maui.
The Road To Hana
The Road To Hana is one of Maui's best day drives. This popular dive will take you through some of Maui's best landscapes including black sand beaches and waterfalls.
The Hana Highway is a 64.4-mile-long stretch of Hawaii routes 36 and 360 which connects Kahului and the town of Hana in east Maui. This is a must-do road trip if you are renting any type of car in Maui.
Good for all types of cars with nice paved two-lane roads. Takes 3-4 hours one way because of all of the stops.
The "Back Road" From Hana
If you like the roads less traveled, head past Hana around Haleakala is a road trip adventure with taking. The "Back Road" From Hana stretch or road is totally different than the road to Hana stretch of road.
The trip will proceed through several climate zones as the scenery transforms from lush jungles, through ranchland, dry grasslands, rocky lavascapes and ultimately back into lush green views.
Good only for Jeeps or trucks. The road becomes rough and for portions and rental car companies say "you're on your own." Diving here voids almost all rental car contracts. This drive is not for everyone, it is rough bumpy roads.
Kahekili Highway
The Kahekill Highway is a strip of one-lane paved road that has large rocks on one side and sheer cliff drop-offs on the other side.
It is a legendary road trip road on the Island of Maui with snaking turns, narrow passages, and dangerous road conditions. This challenging road, which hugs the rugged northern tip of Maui is for the more adventurous type of divers.
Great for little cars, Jeeps and SUV's it can be difficult to navigate on the very narrow road. The Kahekili Highway is slow-moving, usually 15 mph or slower.
Haleakala and the upcountry loop
Known as one of the most beautiful landscape road trips you can take on the Island of Maui, the Haleakala drive is often compared to the countryside in Scotland. Maui's upcountry and the beautiful Haleakala National Park are an adventure's paradise.
Zip on by the surroundings over the west Maui Mounts and waterfalls. If you are like us do not forget your hiking shoes. This Maui road trip route will have you ditching your rental car and hitting the trails. The Haleakala and the upcountry loop is good for all types of cars.
---
Items to Bring to Maui if you are Renting a Car
We have put together a list of items you should bring if you are renting a car Maui. You can use this list as a packing list for your Maui road trip.
Some items can be found once you are in Maui however, Maui is a small island and they normally are out of a lot of items so it's better to stock up.
More on Hawaii:
Did you like this post? Share it!