Buff Headwear is an extremely versatile product that we recommend every traveler carries with them on their travels. How to wear a Buff you ask? Never fear, we're going to take a look at the many ways to wear a Buff.
First things first, you may ask what is a Buff Headwear? A Buff Headwear is a tubular bandanna that has way more features than a plain bandanna or simple headband.
They come in many different materials and a wide variety of colors. We are crazy about these and often find ourselves wearing our Buffs when hiking and traveling all the time. As a result, we carry a variety of fabrics and designs with us at all times.
---
How to Wear a Buff Headwear
---
As you can see from the diagram below, there are many ways to wear a Buff. The versatility of this simple item is unparalleled.
There is a bit of a learning curve though, so it pays to take the time and play with your Buff when you get it.
We found that watching various tutorials on YouTube was very helpful in figuring out some of the more complex configurations, like the balaclava and cap.
You will find some sample photos below that are helpful in figuring that out too.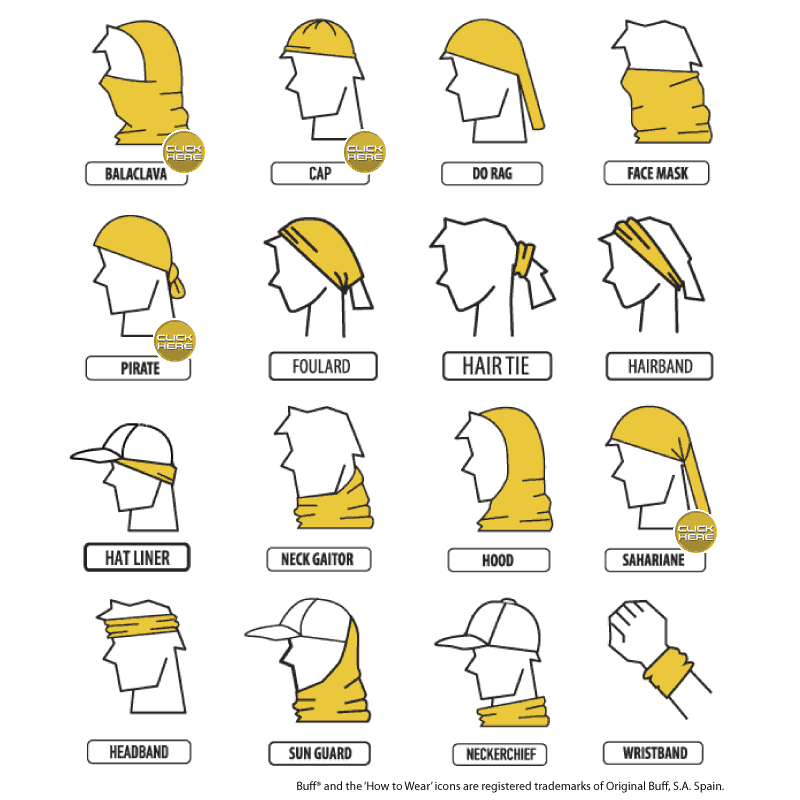 Our Favorite Ways To Wear Buff Headwear
We both love the versatility that comes with wearing a Buff. There are many ways to wear a Buff and we want to share our favorites with you.
While they can be worn in many ways, this is our favorite way to wear a buff. How to wear a buff does not have to be complicated.
Facemask
For such a simple item, using it for a facemask is not only easy but effective. Just put the tube over your head and down around your neck.
Then pull up the front part to cover your nose and mouth. It's that easy and one of our favorite uses for our Buff headwear.
We actually use them this way a lot. It comes in handy when you find yourself somewhere dusty while on your travels, at a festival where they throw colored powders, in a hostel where they are spraying cleaners, or if you have to walk through a smelly area.
Headband
This is one of Lina's favorite ways to wear a Buff Headwear. She often folds it up into a 3-4 inch headband and wears it over her ears.
Other times she wears it like a conventional headband to tame her wild hair.
This keeps out the dust, wind, and sweat when you're exposed to the elements during your travels. If you look through our photos, you'll see Lina wearing her Buff like this a lot. (see below on safari in Africa!)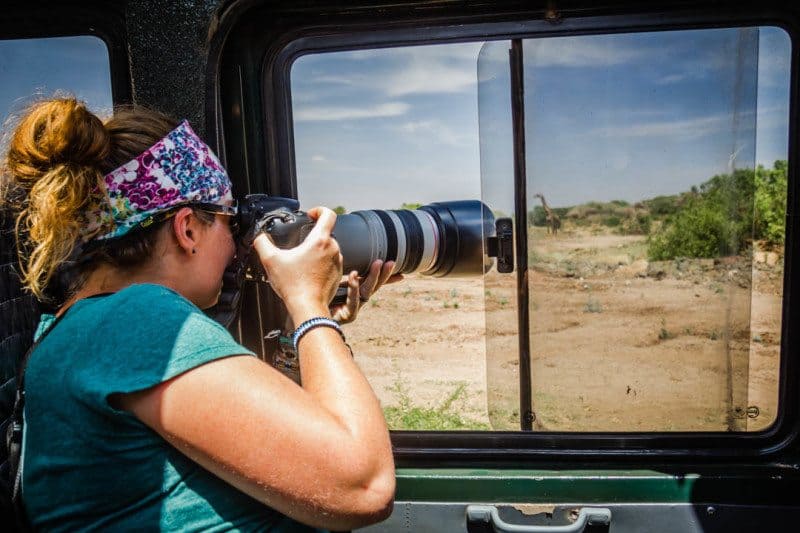 Neckerchief or Neck Gaiter
This is one of my favorite ways to wear a Buff Headwear. I like being able to just throw it over my head and around my neck in a quick fashion.
It blocks the wind from my neck and also soaks up a sweat it hotter climates.
Balaclava
This particular way to wear a Buff came in handy for us on our recent travels through Africa and the Middle East. Lina was able to use it to cover up in busy market places as needed.
We also used the balaclava to keep thick dust out of our ears, nose, and mouths during dusty drive days in our overland truck during our 17 week trip through Africa.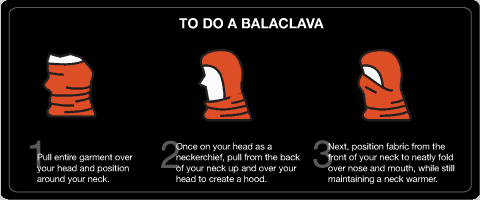 Do Rag
Another of my favorites, I like to wear my Buff this way when it is too hot to wear a ball cap but I want to keep the sun off my head. The lightweight UV Buffs are really great for this.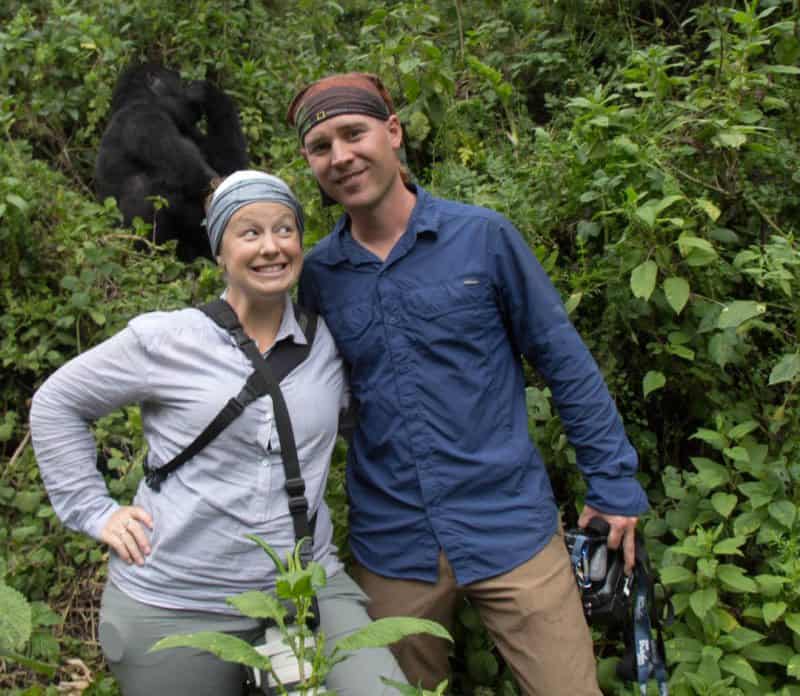 Wristband
Surprisingly, I love wearing my buff like this. Lina hates it, but for me, I find it keeps the sweat from trickling off my wrist onto the hand.
This makes handling my video camera equipment easier when I'm hiking and trekking.
It is also really easy for me to wipe down my camera or my brow when it gets dusty on the trail.
Cap
Another one of Lina's favorite configurations is to wear the Buff as a cap. She often carriers a merino wool buff with her when we are out hiking and will configure the Buff into a cap to keep the chill off.
This saves the space of having to carry a hat and provides good coverage when the sun goes down in the evening at camp or early mornings on the trail.
Obviously there are many ways to wear a Buff, these are just some of our favorites.
---
What Buff Material Do We Carry?
One thing I am sure you have noticed is that Buff Headwear comes in a variety of materials, shapes, and designs.
While the UV tubular original is the most marketed, we have branched off to try a couple of other varieties as well.
The great thing is that with most Buff Headwear, despite the material, you have several ways to wear a Buff still.
Merino Wool
We each have a Merino Wool Buff. Merino wool is mostly used in high-end, performance athletic wear used by people like you and me.
It is commonly utilized for hiking, running, cycling, backpacking and any other outdoor activities that command a performance different from any other fabrics.
Merino is above all other fabrics at regulating body temperature. The wool provides some warmth, without overheating the wearer. It draws all moisture away from the skin by wicking.
So this Buff serves its purpose when we are hiking in elevation or in jungles with intense humidity. It is also good at mitigating odors.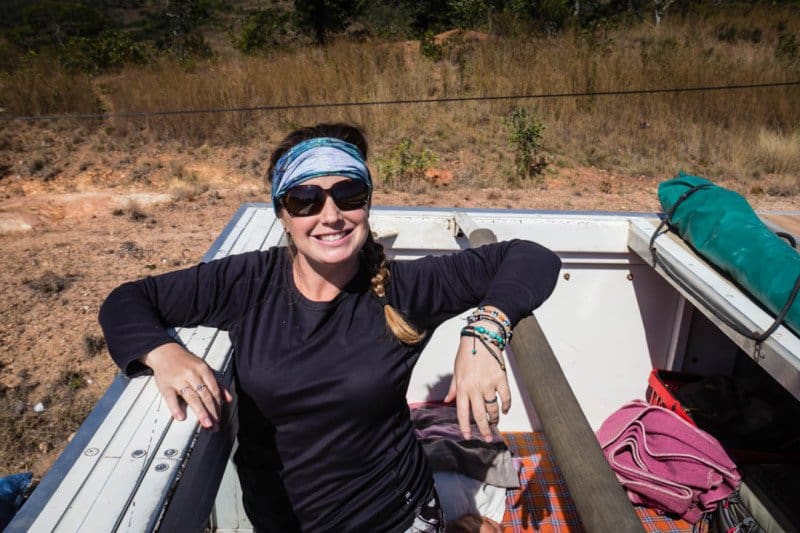 UV Polyester Blend
We are currently carrying two UV buffs. These are made of a lighter microfiber polyester that is perfect for use in hot climates.
They have built-in UV protection and are able to be purchased in the full length tubular, half tube and headband styles.
We carry 2 full-lengths tubular and 1 headband styles.
Insect Shield
These Buffs are infused with an insect repellent that is said to last for up to 70 washes. The Insect Shield Buff is touted to repel mosquitoes, ticks, ants, flies, chiggers, and midges (no-see-um).
This one we got on sale and since the bugs think Lina is a candy bar, I figured it can't hurt to carry it along. She ended up wearing this one a lot in Africa to keep the mosquitoes at bay and it worked well.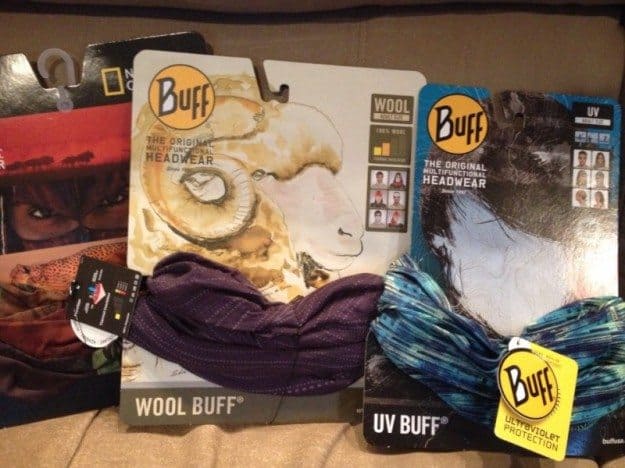 There are Many Ways To Wear a Buff
The main reason we carry these is that they are versatile. They can be worn in twelve different ways, which makes them ideal for any situation we may find ourselves in while on the road. You really can't go wrong.
Keep your eyes open for photos of us in our Buffs while we explore the world.
Looking for your own multi-purpose travel companion? There are many Buff Headwear options to choose from. DO NOT BE FOOLED BY BUFF LOOK-A-LIKES! They are not the same.
More on Travel Gear:
Did you like this story? Share it!