The tropical island of Cozumel lies just 20 kilometers away from the Mexican mainland, looking over the Yucatan Peninsula and the Mayan Riviera from the beautiful, clear and warm waters of the Caribbean Sea.
Cozumel Island is one of Mexico's original tourist destinations. Its stunning white sand beaches, incredible coral reefs, and paradisiacal outlook have long made it a favorite amongst visitors looking for a laid-back vacation, sunshine and incredible scenery.
The surrounding Caribbean Sea is home to some of the most diverse marine life in the world, and Cozumel is famous for its fantastic dive and snorkeling sites.
The small island isn't just for the beach and water lovers though, there are Mayan ruins to explore, a lively bar and restaurant scene and the Yucatan is just a short boat ride away.
With so much to see on Mexico's best holiday island, here's our guide on the best things to do in Cozumel.
Don't leave home without: Lonely Planet Cancun, Cozumel & the Yucatan (Travel Guide)
---
Things to do in Cozumel
Cozumel is a haven for divers, snorkelers, and beach lovers. There are hundreds of sites around the island offering beautiful, colorful marine experiences and long stretches of sandy, white beach to be enjoyed.
Putting together the best things to do in Cozumel is not hard!
1. Snorkeling and Diving
Snorkeling and diving are the main reasons to visit Cozumel. The island is surrounded by a diverse and naturally protected coral reef that attracts an abundance of different marine life. Enjoy white-sand beaches and snorkeling on a great Cozumel day trip.
It's the perfect place to learn to dive if you have never done so before, with a multitude of different sites for all abilities ready to be explored. More experienced divers can also tackle the numerous caves and underwater cenotes found in the area.
2. Go Beach-Hopping
Cozumel's beaches are, essentially, paradise. The island is surrounded by beautiful stretches of pristine sand. The beaches on the west coast are the best, as the bays and shorelines are protected by the natural geography of the island.
This is where most of the resorts are found on the island as well as some of the best shore snorkeling.
The east coast of Cozumel is much less developed, with more wild scenery to enjoy, but the beaches aren't as suitable for swimming due to the strong currents and winds that hit the shore and can be potentially dangerous to unwary tourists.
3. Chankanaab National Park
This small national park is one of the most popular destinations for tourists on the island. It's a spectacular place, set around a beautiful beach and home to underground cenotes, jungle, and even a few iguanas.
There's offshore snorkeling on the protected reefs as well as a few adventurous activities such as zip-lining and kayaking trips.. While swimming with dolphins is available here, we advise against participating in these types of activities for the welfare of the animals involved.
4. Mayan Ruins of San Gervasio
Cozumel was for centuries inhabited by the ancient Mayans until European colonization led to the ultimate demise of this civilization. Abandoned and overgrown, the San Gervasio ruins on the island are the most impressive remnants left behind by the Mayans.
Immerse yourself in Mexico's past at the Maya ruins of San Gervasio, an archaeological site on Cozumel. A professional guide leads you on an informative tour past ancient structures and shares insight about this civilization.
This was an important religious site on Cozumel, and there are many houses and temples to explore. The ruins also form part of a wildlife park, and amongst them, you may find a few iguana hiding.
5. Coastal Ruins of Tulum
Further afield, on the Yucatan mainland just a short ferry ride away, it's possible to visit the ancient Mayan ruins of Tulum, a few hours travel away. These incredible ruins are found in a dramatic location along the cliffs of the Mayan Riviera.
6. Mighty Chichen Itza
Even further away, in the interior of the Mexican mainland, can be found Chichen Itza, the most extensive and best-preserved example of a Mayan city, with huge temples standing tall in the jungle. It's an unmissable sight to see. It's a long day trip from Cozumel but a trip that many make.
7. Day Trip to Playa del Carmen
Across the short straight to the Yucatan Peninsula, can be found the beach-side city of Playa del Carmen. This is an excellent vacation destination in its own right but also makes a great day trip if you want to be based in Cozumel.
Just a 45-minute ferry ride away from Cozumel, Playa del Carmen is worth making the trip across the water to explore the white sands and enjoy a few drinks at the beach bars.
For the adventurous, visit the jungle-based adventure parks that are popular with visitors looking to experience the raw nature of the Yucatan.
Along the coast from Playa del Carmen, Cancun is waiting to be visited too. This is arguably Mexico's most famous resort city and a trip to the spectacular if busy, beaches are worth the effort from Cozumel.
8. Day Trip to Cancun
Experience some of the Yucatan's most exciting and exhilarating activities with a Cancun Combo tour. Select from four outstanding options, visiting captivating attractions such as Xcaret, Xel-Ha, Xplor and Chichen Itza.
Immerse yourself in the natural and historical majesty of some of Mexico's best aquatic, adventure and archaeological parks, touring ancient sites and legendary landmarks with a knowledgeable and experienced guide.
9. Try Deep Sea Fishing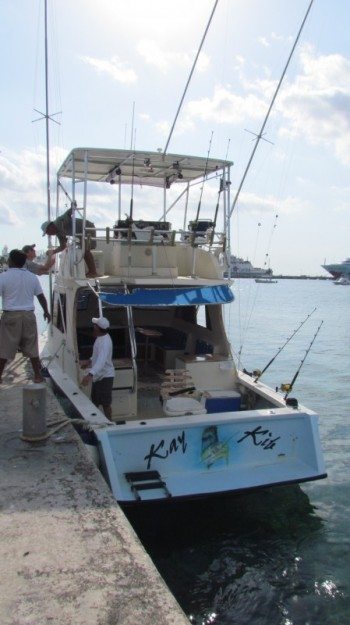 One of the best fishing trips we have ever done was in Cozumel. The waters that rush between the island and the Yucatan Peninsula is rich with ocean sport fish. Booking with the right company will have you out on a fancy fishing boat with huge trawlers.
Make a day of it and charter a boat with friends, as we did. Taking turns reeling in the various fish, we caught Baracudda, Jack Fish, Tuna, snappers and more. It was an exciting day on the water and easily one of the top activities in Cozumel.
---
Cozumel Travel Planning Tips
Location & How to Travel to Cozumel
Cozumel is found just off the coast of Mexico's southern Yucatan Peninsular, a place equally as popular with tourists, for its stunning beaches and beautiful scenery.
Cozumel, although part of Mexico, technically is a Caribbean island, and it benefits from the warm waters and beautiful conditions created by the Caribbean Sea that it lies in.
For such a small island, stretching just 50 kilometers at its longest point, Cozumel is incredibly well connected. It has long been a favored tourist destination and as such the transportation infrastructure is efficient, well used and well maintained.
The easiest and quickest way to arrive on Cozumel is to fly into the international airport. There are direct flights available from here to many cities across the world, particularly in North America and of course domestically throughout Mexico.
On the mainland, Cancun is just a few hours away, and many visitors will fly into Cancun International Airport before taking a bus or private transport to the city of Playa del Carmen, to then board the ferry for a short 45-minute ride over to Cozumel.
Although a much longer journey, Cancun has a much busier airport and prices may be significantly lower flying here instead.
Cozumel is a huge destination for cruise liners and many people will arrive on the island as part of a Caribbean or Mexican tour. Cozumel has a large, deep water port, and as such can accommodate several cruise ships at any one time.
Check out this travel guide if arriving by cruise ship: Fodor's Caribbean Cruise Ports of Call
Traveling Around Cozumel
Cozumel has little in the way of public transport, meaning that despite its small size, it can be difficult to traverse the island without your own transport. Most of the hotels and resorts are centrally located, near to the main town of San Miguel, so it's possible to walk this central area.
There are also, however, plenty of car rental agencies, and one popular method of transport is to hire a scooter, although on the Mexican roads this can prove dangerous.
If you don't fancy driving around the beaches and tourist sights, many tour companies will arrange trips, either privately or as part of a group.
Best Time to Visit Cozumel
Cozumel enjoys a beautiful, subtropical climate, with all-round sunny, warm weather to be enjoyed by visitors. July to October is considered the wet season when substantial downpours hit the island. This is also the most unpredictable time to visit, as it's the official hurricane season.
Although huge hurricanes are rare, there are plenty of storms, and fairly recently, in 2005, Hurricane Wilma passed right over the island causing a lot of damage to the reefs and to property, so be wary of traveling here during this season.
The rest of the year, the weather is perfect, with the coolest months being December through to March, and of course, also being the busiest.
Where to Stay in Cozumel
Much of Cozumel is rugged, wild jungle and raw scenery, as most of the island's tourist developments, have been kept within a few miles of San Miguel, the main town, and port. Most of the hotels cater to vacationers and can be pricier than the mainland.
The cheapest accommodation can be found in San Miguel town, away from the coastline, while the best located and more expensive hotels will be found along the shorefront. There are a few all-inclusive resorts and most hotels can help arrange excursions around the island and offshore.
Here are a few of the best hotel options for your stay in Cozumel:
Read reviews and check prices with our Hotel Search Engine, that gives you the best hotel deals found on the web. Our search engine pulls results from all of the major booking places, including Expedia, Hotels, Booking and more. All the options, all the deals, all in one place and just for you.
Is Cozumel Safe to Visit?
Mexico doesn't always have the best reputation when it comes to crime and safety, particularly violent, gang-related crime. Cozumel however, is an island that's a world away from the troubles of the mainland.
Crime is relatively unheard of, and the most dangerous thing to tourists will be either riding a moped or being careless in the potentially strong, offshore currents.
More on Mexico:
Did you like this story? Share it!