Regarded as one of the most pristine and beautiful islands in Fiji, Taveuni is often known as the world's soft coral capital or Fiji's Garden Island. The primary feature of the island is its vast and diverse ecology that attracts a lot of nature lovers – volcanic peaks, acres of virgin rainforest, and lots and lots of water sports.
A typical tropical island, Taveuni is filled with admiring nature, gorgeous flowers, and a great diversity of birdlife. Fortunately for the island, mongoose was not introduced here like the rest of the Fiji Islands (to control the rat population) which is one of the primary reasons that Taveuni is richer in fauna than Viti Levu and Vanua Levu – the two most prominent islands of Fiji and home to 87% of the country's total population.
We spent six days exploring the Island of Taveuni. Every day was truly magical and it's adventures are limitless. Taveuni is one of the most overlooked Islands in Fiji but we feel it is one of the best, so we decided to put together this travel guide to showcase Fiji's Garden Island.
In this travel guide you will find basic information like: Where is Taveuni Island located? When is the best time to visit? How to get to Taveuni? Top things to do in Taveuni and where to stay. This guide is also filled with insider tips from locals and tips from travelers. We hope our travel guide to Taveuni Island will help you plan your visit.
Don't leave home without your Lonely Planet Fiji (Travel Guide)

Location of the Island
Taveuni, the third largest island in the country of Fiji, is situated in the northern tip of the Koro Sea. It is surrounded by the Pacific Ocean. Taveuni coordinates: 16°47'37"S 180°00'00'E
As you can see from the above map, the island is situated much farther north from where you arrive in Nadi or Suva on Viti Levu.
How to get there
The easiest way to get to Taveuni is from the islands of Viti Levu and Vanua Levu. To get to the island, you can either choose to fly or you can take a ferry from the other islands. Below we have listed out how to get to Taveuni Island.
Fly:
There are daily flights from Nadi Airport and Nausori Airport (Suva) to Taveuni. More popular air carriers include Fiji Link and Northern Air. You can also book a charter with Island Hoppers and Pacific Island Air. From Nadi, it takes about an hour and a half whereas, from Nausori Airport, it takes about an hour.
Routes are often heavily booked and are canceled all of the time with the smallest hint of bad weather. Try to plan for a grace period between Taveuni and your international flight in case you get stuck a day or two. It is also best to book your flights in advance since seats are limited due to the small plane size.
Note: The Nausori Airport is small and only operates right before flights arrive. There is a place to buy a soda and little snacks but otherwise, that is it.
Book your flight today! Search for Flights: Priceline or Skyscanner offers great deals to Fiji.
Ferry:
At present, there are only a couple of ferry services (MV Lomaiviti Princess) between Taveuni and Suva via Vanua Levu and one (Grace Ferry) from Buca Bay in Vanua Levu to Taveuni.
We took the local Grace Ferry over from Vanua Levu to Taveuni and it took around two hours. It was basic with wood seats and lots of locals. That day we were the only travelers on the local ferry.
Note: The ferry port has little to nothing there, so buy your snacks or water before showing up.
Combine your visit to Taveuni with a stay on Vanua Levu at the Koro Sun Resort
Getting Around the Island of Taveuni
Getting around the Island of Taveuni can be difficult at times and it does require a bit of planning. This was something we were not prepared for. It may be a small Island but it still takes around 2 hours to drive from the southside to the north side of the island simply due to road conditions.
Take this into consideration when booking your hotel. There is one main road that follows the coastline, stretching from north to south. From Matei to Wairiki is paved, otherwise it is slow moving dirt roads. Many islanders have 4×4's and most hotels will pick you up from the airport or at the ferry port upon request.
There are taxi's around and everyone is pretty friendly to negotiate with tourists. There are main buses that run three times a day, Mondays thru Saturday, and once a day on Sunday. It is best to double-check times, buses are known to show up early and be hours late.
It is best to hire a car and driver for the day, your hotel or hostel will have all of that information. All hotels and hostels use local guides that they have solid relationships with and can be trusted. It's better to use these guides than the ones found on the street. You can also rent a car on the island, however, cars are limited so book early.
When is the Best Time to Visit Taveuni
The best time to visit Taveuni is year around, that's what makes Fiji a great place to visit. Keep in mind though that Taveuni is not named the Garden Island for noting. What makes everything grow? Rain. So while you can visit year round, be prepared for rain throughout the year.
The rainiest months on the island of Taveuni are from Nov to April. On our visit, it would be raining on the south side of the Island but be nice and sunny on the north side. This is normal.
Temperatures stay pretty constant throughout the year while ranging with highs in the 80's to lows in the 60's (fahrenheit). From November to April, you may encounter some tropical storms. Peak travel season occurs between July and September when the weather is dry and sunny.
This is when you will also experience sky-high prices. The shoulder season on the island of Taveuni is short, May to June and at the end of October. This is one of the best times to visit since prices will be lower and there will be fewer people.
What To Do On The Island
With such diverse nature and a great shoreline, Taveuni has a great many options for wildlife lovers as well as water sports enthusiasts. Diving and snorkeling are two of the most popular activities around the island, for amateurs and professionals alike, but they aren't the only attractions to be enjoyed in the Garden Island of Fiji.
Here are some of the most popular activities and places around the island:
Lavena Coastal Walk
One of the most prominent attractions in Taveuni, Lavena Coastal Walk takes you through a 5 kilometers stretch of fine, white-sand of Lavena beach, breathtaking views of jungle, remote local villages, black sand, and ends at Fiji's most magnificent and iconic cascading waterfall.
It's a great spot for swimming and snorkeling as well. The best way to see the spots around the Coastal Walk is to hire a local guide – not only do they have the best information, but it's also a great way to support the local tourism.
Reserve half a day for the hike as it essentially takes about four to five hours to complete and then some more to enjoy the natural beauty you encounter on your way.
Bring your swimming suit (and a waterproof camera if you'd like) for you will have to swim about 100 meters to reach the main waterfall pit.
Note: Some tours offer a boat trip back from the waterfall. This can be great for those who can not hike much. However, keep in mind the waves can be bad at times and that can make for an unplesnet boat trip.
Pre-book the Lavena Coastal Walk Waterfall
Bouma Waterfalls
Tavoro Waterfalls, also at times known as the Bouma Waterfalls, within the Bouma National Park in Taveuni, is the most prominent attraction on the island. There are not one but three waterfalls to come across on your three-hour return hike around the vicinity. Each of the three waterfalls presents you with a natural volcanic pool, perfect for swimming and relaxing after the long hike.
As soon as you start hiking, within 10 minutes you come across the first waterfall, the most famous of the three. At 24-metres high, it's a good place to have a picnic and BBQ with your group.
The other two waterfalls are a bit quieter and tougher to get to but the route offers you some stunning scenery of the surrounding forests. Bring your snorkeling gear to spot numerous shrimps swimming in the water.
Scuba Diving
The Somosomo Strait, stretching between Taveuni and Vanua Levu, is one of the finest known dive locations in the oceanic country of Fiji. Fiji's "soft coral capital of the world" title is well deserved and the Strait is served by several dive resorts, which are also considered the best way to dive into the waters.
An extremely rich marine eco-system filled with corals and fish and other underwater creatures thrives in the waters here making it an absolute haven for diving aficionados. However, it's not considered a perfect place for amateur divers, the Strait offers strong currents which only professional divers can fathom.
About 3 kilometers from Taveuni shores, you'll come across one of the most famous and magnificent reefs known as the Rainbow Reef, a part of the popular Great White Wall. Named after the unusual soft coral reefs inhabiting the area, this section of the diving site is swarming with magical almost-luminescent white corals.
One of the best scuba diving resorts is Paradise Taveuni. We spent three nights at this resort and enjoyed scuba diving with them.
For those who are less adventurous, Taveuni Island offers great snorkeling right off its shores. One of the best snorkeling spots on Taveuni Island is at Waitabu Marine Park. It is spectacular and be prepared to spend the whole day swimming around looking at giant clams and bright colored corals.
Waitavala Waterslide
A complete natural slide in the middle of all that Fiji wilderness, Waitavala Waterslide is a real fun thing to do, whether you're 10 or 40! The best way to enjoy the slide is to watch and learn how the local boys do it. A 20-minutes walk from Waiyevo, the Waterslide is in a beautiful secluded spot where you can slide down a natural slipper rock and find yourself in a refreshing pool at the bottom.
Sit at the top of the pool and dam up the water, once the water is almost pushing you down the slide let it rip and head down.This natural waterside on Taveuni Island has four runs that start with a pool and ending in a pool. It is best when it has been raining since the water will be flowing faster and will require less daming.
You are sliding on the natural stone so it is hard and ruff on your back. I would not plan on more than 30-40 minutes enjoying this natural wonder only found on Taveuni Island Fiji.
Note: Watch out while you are walking barefoot around the slides, there's lots of glass and you could cut your foot. This is also a popular place for locals on the weekends.
Cannibal Cave Tour
Fiji has many great cave systems that are amazing to explore. Some are known as the best secret swimming spots in Fiji and others are known for darker reasons. The ones on Taveuni Island are known for cannibalism. Yes, people eaters. The island of Taveuni was home to Fiji's last cannibal tribe but don't worry cannibalism ended on Taveuni in 1867.
Exploring the cannibal caves on Taveuni Island in Fiji is a great way to experience Fiji's tribal past and hidden culture. Be transported back into tribal times where cannibals ruled this small Island. Climb among the remains of warriors where tribal rituals were performed and yes where they were eaten.
Many of the large bones have been removed after the caves were discovered, however there are still a small amount of bones that have been left that add a creepy cannibal chill as you explore.
Southern Blowhole (Vuna Blowhole)
The coastline of Taveuni is filled with black sand beaches and jagged volcanic rocks. Located on Taveuni's Southern tip is a dramatic spectacle of spouting water with rainbow filled mist against the black volcanic rocks.
This unique geological site known as the Southern blowhole, or Vuna blowhole, is located next to the village of Vuna. It has rows of blowholes scatted across the coastline where water for Vuna reef crashes onto the jagged shore making a natural spectacle that can reach up to 50 meters high.
At low tide, you can climb up over the rocks to get a close look at the blowhole, however this is not recommended. The blowhole is most active at high tides, this is when it will be at its tallest. This is also a great spot for you to go snorkeling or enjoy a quiet beach.
Site of the International Dateline
The International Dateline in Taveuni is the site where you can stand with one foot in the present and another in yesterday. A huge map, split into two halves, indicate that the Garden Island of Fiji is intersected by the 180° or in other words, the International Date Line.
The site is located within the Millennium Park. For explorers, it's a delight to finally stand on the first land mass that experiences and celebrates New Year anywhere in the world.
Wairiki Mission
In an island full of wilderness, coral reefs, and intriguing flora and fauna, the Wairiki Mission, also known as the Taveuni Catholic Church, is the most architecturally fascinating structure in Taveuni. A brilliant specimen of British colonial Romanesque architecture, the Church is situated on the edge of a picturesque coconut plantation.
Constructed in 1907, the Taveuni Catholic Church is dedicated to a French missionary who successfully helped the local warriors to defeat an army of thousands of Tongans during a major battle. Come on a Sunday to experience a beautiful service hosted by locals where you can join in on the wonderful singing.
Visitors are invited to attend mass on Sundays from 7 A.M. to 9 A.M. Dress well and be prepared to sit on the floor since there are no pews or seats.
Other Things to Do on Taveuni
Apart from the above-mentioned popular sites, there are a few other attractions that can be enjoyed on a visit to Taveuni, Fiji. Among them is the Des Veaux Peak which can be hiked to or you can take a four-wheel drive, but at present, these are the only two options to reach the peak.
1,196 meters above sea-level, the Peak is home to Fiji's National Flower, Tagimoucia – you can't find this anywhere else in the world. The second highest peak in Fiji, Des Veaux also has an abundance of other flora and fauna.
Looking for more great things to do in Taveuni? Below we have put together a travelers bucket list of everything you must do when visiting the Island of Taveuni, Fiji. Your trip to Taveuni would not be complete until you:
Visit an authentic Taveuni, Fijian village
Go scuba diving or snorkeling
Visit the caves
Drink a Fiji beer
Try some Kava
Go hiking
Lear to speak Fijian
Doze off in a hammock
Visit the international dateline
Take in a cultural show
Go kayaking around paradise
Try out the natural waterslides of Waitavala
Get lost in nature in Bouma National Heritage Park
Have a fresh coconut
Take in an epic Taveuni sunset
Try frond weaving with the locals
Take a dip in an amazing pool
Enjoy a Fijian massage
Get to much sun
Play in the crystal clear ocean waters around Taveuni.
Do nothing and just relax in Taveuni's paradise.
Where to Stay in Taveuni
Taveuni, the third largest island in the country and home to such spectacular natural beauty, is certainly a place you could spend a few days – on your own, with your partner, or with a group. The island, although not brimming with hotels, has quite a few accommodation options to suit every type of traveler.
Below you will find what hotels we recommend for your stay on Taveuni Island. We have listed them from budget, midrange to luxury.
Beverly's Campground ***** Excellent Traveler Rating by TripAdvisor
For budget travelers, Beverly's Campground offers a huge variety of accommodation options and facilities. You could pitch your own tent here for around $20 or stay in one of theirs for $25. You can also book a bunk in their dorm or stay in a private room. In business since 1983, they offer a fully equipped kitchen, internet kiosks, and a lot of water sport activities. Book your stay at Beverly's Campground today with TripAdvisor.
Maravu Taveuni Lodge ***** Excellent Traveler Rating by TripAdvisor
Alternatively, you can also book with Maravu Taveuni Lodge. Not as cheap as Beverley's, Maravu offers dorm room accommodation with AC for $17 a night and a private room with AC, private bathroom, free Wi-Fi, and a seating area for $99. If you're traveling in a group of 3 to 4, you can also book their lovely villa for around $150. Book your stay at Maravu Taveuni Lodge today with TripAdvisor.
Paradise Taveuni ***** Excellent Traveler Rating by TripAdvisor
If you're willing to spend a slightly higher price, Paradise Taveuni in Waiyevo can offer you a splendid bungalow with a pleasant view of the ocean, a huge double-bed, AC, patio, and full board for around $230. We spent 3 nights here and it was great. It's a popular place for scuba divers and be prepared for some amazing sunsets. Book your stay at Paradise Taveuni today with TripAdvisor.
Qamea Island Resort & Spa ***** Excellent Traveler Rating by TripAdvisor
Qamea Island Resort & Spa in Qamea, on the other hand, provides you with a beachfront bungalow, one extra-large double bed and an extra single bed, AC, minibar, and breakfast for approximately $470. We also spent 3 nights with Qamea on their luxury island and it truly was hands down luxury. Book your stay at Qamea Island Resort today with TripAdvisor.
Matangi Private Island Resort ***** Excellent Traveler Rating by TripAdvisor
For those of you who like living in luxury and don't care too much about the price tag, or for those on your honeymoon, Matangi Private Island Resort on Matangi Island presents you with a beautiful ocean view bungalow, full board, and ensuite bathroom for approximately $800 a night. Book your stay at Matangi Private Island Resort today with TripAdvisor.
Taveuni Palms Resort ***** Excellent Traveler Rating by TripAdvisor
Alternatively, Taveuni Palms Resort in Matei provides you with a 3-bedroom private villa with bathtub, flat screen TV, private pool, gaming console, and a lot more for up to 6 people at approximately $3,000 per night. Book your stay at Taveuni Palms Resort today with TripAdvisor.
Find Accommodation in Taveuni Island Fiji: Read reviews and check prices for hotels all over Taveuni at TripAdvisor or AirBnB.

The Main Town on Taveuni Island
The main town on Taveuni is the little village of Somosomo and Naqara. They are little and not very touristy. You won't find many gift shops selling tourist items here instead it is local housing, housing for Taveuni's high chief, government buildings, and a graveyard.
This was surprising to us since we expected tourist shops, bars and all of that good stuff that comes with beachside towns. But that is not the case here. It seems most travelers stick to their resorts.
This little village does operate on island time, so keep that in mind. That means late openings and Sundays off. Sundays off in Fiji are typical so don't plan on going out shopping or even booking tours on Sundays since most places do not operate.
ATM's on Taveuni Island
The island of Taveuni is a different place compared to the other major islands. ATM's are limited and you will not find them all around the island. It is best to plan on not needing one while you are visiting. Get cash out at the Nadi airport before visiting, but if you are in need of an ATM there is one located at the Bank of South Pacific in the main town.
The ATM cash machine takes foreign credit cards and allows you to withdraw the local currency, for a fee. This ATM is known for not working at times so like we said before, get cash out before visiting.
Most places like hotels and dive shops on the island will take credit cards, however their fees are crazy. It is safe to use your credit card but be prepared to pay up to 10% in fees.
Cellphone Service and WIFI
You are not in paradise to be on your cellphone so put it way. If you still feel the need, don't bother because cellphone service is limited on Taveuni. Just like most island towns in Fiji, you will have ok cellphone service around villages but once you get away from those villages you will have none.
Since there are only a small amount of villages on the Island of Taveuni, cellphone service is limited. We had no service while exploring Bouma National Heritage Park and while hiking the Lavena Coastal Walk. Sorry, Snapchaters and Instagram storytellers, ditch that phone and enjoy pure Fiji.
It is best to buy a sim card with data at the Nadi Airport otherwise your options are small convenient stores or roadside shops. We like the airport options the best since they will get it up and running right there for you.
Roadside shops, on the other hand, are great but they can be difficult since they may not speak English and most of the time they don't set it for you, that's your issue. The best cell service in Fiji is Vodafone and it worked well for our three weeks in Fiji.
WIFI is limited but available at most hotels and hostels. Once again it's island Wifi so it's going to be overpriced and slow. Don't expect free WIFI anywhere on Taveuni including top luxury resorts.
Fiji Tours
We have put together a list of the best tours you can find on the island of Taveuni, Fiji. These tours are run by some of the best tour operators and the best guides from reputable companies like Viator and TourRadar.
Spice of life superfood tour: Taveuni Island by Viator. Be a piece of this special Taveuni Island involvement in Fiji. Taste the experience as you appreciate new tropical rarities while taking in the dazzling sea sees and investigating the ridges of Fiji's garden island. Gaiatree Sanctuary is a natural zest estate, day club and nectar lab that enjoys awesome serving these visits astounding superfood imbued suppers. After a guided visit through the rich greenery enclosures, you will be served crisp homegrown tonics, smoothies, and refreshments. Settle in for a veggie lover supper "straight from the homestead" including regular organic products, treasure vegetables, house-made sauces and dressings, crisp slices of bread and unfenced chicken eggs. Transportation to and from a focal gathering point is incorporated on this little gathering visit for up to 8 visitors. Book this tour today with Viator.
Lavena Coastal Walk Waterfall by Viator. The Lavena Coastal Walk and Waterfall is a piece of the Bouma National Heritage Park venture went for saving the rainforest of Taveuni and the Vanua Bouma (the land, the ocean, and individuals of Bouma). The Park was set up in 1990 to ensure the woods as well as methods for creating a wage for the four towns whose land is limited by the Park. Lavena Coastal Walk and Waterfall additionally including swimming and picnicking timberland and meadow strolls, eminent perspectives, waterfalls, birdsong, stop stays, town visits, outdoors and overnight trekking, Guides are provided for strolls and town visits. Book this tour today with Viator.
8 Day Remote Northern Colonial Discovery Cruise by Viator. Go past the Yasawa Islands on an 8-day voyage to Ovalau and Levuka Historical Port Town, a UNESCO World Heritage Site, on an 8-day journey from Denarau. Visit the tropical garden heaven of Taveuni, eminent for world-class plunging openings, wonder about the Savusavu wiped out the volcanic cavity, and find the remote northern islands of Fiji. On the voyage deliver, you'll appreciate offices, for example, a swimming pool, hot tubs, a rec center, day spa, and library, and have the chance to take a glass-base vessel ride and to snorkel. Book this tour today with Viator.
Click to view all of the tours Viator offers on the Island of Taveuni
Another great option for tours in Fiji is TourRadar. Their motto is booking tours made easy. This is a great option if you do not want to plan anything out. You find the tour that best fits you and they do the rest. No need for making plans on where to stay and who to book day tours with, it's all done for you. Click to see what tours TourRadar offers in Fiji and book your vacation today. Below are some of the top Fiji tours from TourRadar.
Lei Low by TourRadar. Here is what TourRadar has to say about this epic Fiji tour: Start and end in Nadi! With the adventure tour Lei Low, you have a 6-day tour package taking you through Nadi, Fiji and 7 other destinations in Fiji. Lei Low includes accommodation in a hostel as well as an expert guide, meals, transport. Book this tour today with TourRadar.
Wanderlands Fiji by TourRadar. Here is what TourRadar has to say about this epic Fiji tour: Start in Nadi and end in Mantaray Island! With the adventure tour Wanderlands Fiji, you have an 8-day tour package taking you through Nadi, Fiji and 3 other destinations in Fiji. Wanderlands Fiji is a small group tour that includes accommodation as well as an expert guide, transport and more. Book this tour today with TourRadar.
Fiji Viti Levu Island Experience 6D/5N by TourRadar.Start and end in Nadi! With the in-depth cultural tour Fiji Viti Levu Island Experience 6D/5N, you have a 6-day tour package taking you through Nadi, Fiji and 4 other destinations in Fiji. Fiji Viti Levu Island Experience 6D/5N includes accommodation as well as transport and more. Book this tour today with TourRadar.
Click to view the 10 best Fiji tours & trips offered by TourRadar.
Tipping on Taveuni
Tipping is always a headache as a traveler. We feel tipping should be based off going above and beyond, not just doing basic services. In Fiji and on Taveuni, tipping is not customary and is not required. However, it is now started to be expected.
Fiji is a communal society, and as such, everything is shared. Most resorts will have a "Staff Christmas Fund" box available so their guest can put in a tip for the whole staff. This is a great way to spread the wealth among everyone, not just the people you see every day but the people behind the scenes you do not see.
Our Thoughts on Taveuni
Taveuni is one of the best islands to visit in Fiji. It was easily one of our favorite islands visited when we traveled to Fiji. It was also surprising talking to other travelers who did not know about the island or felt it was not worth visiting. The amount of wide eyed looks we got when we shared photos was priceless.
We can tell you it is worth visiting and you will not be disappointed by the Garden Island. It's epic, don't be that person that misses it. It's not like the other islands in Fiji, it is in a class of its own.
Did you like this post? Share it!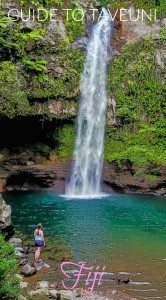 ---
---
Looking for more on Fiji?
---
Resources For Planning Your Taveuni Island Visit:
Recommended Guide Books For Taveuni Island Fiji: Lonely Planet Fiji (Travel Guide)
Search for Flights: Priceline or Skyscanner offers great deals to Fiji.
Find Accommodation in Taveuni Island Fiji: Read reviews and check prices for hotels all over Taveuni at TripAdvisor or AirBnB.
Travel Insurance: We use for Allianz for travel insurance and have since our first trip to Mexico in 2003. They've been there for us on our adventures – and many friends and readers – multiple times over! If you want to book with Allianz Travel Insurance, simply use this link to get their travel insurance!
Disclosure: All opinions are 100% mine, as always. This post contains affiliate links, meaning we receive a small commission at no extra cost to you.